We kick off the season premiere of Monday Night RAW live from Phoenix Arizona with our new commentary team, stage set, and pyro! The Master of the 619, Rey Mysterio is out first. He picked up a win in last week's Fatal Five-Way match to become the number one contender for the Universal Championship. The camera cut to a shot of his son, Dominik, in the crowd.
THERE. IT. IS.

??? The SEASON PREMIERE of #RAW is LIVE on @USA_Network! pic.twitter.com/o86TVVE7p4

— WWE (@WWE) October 1, 2019
Rey cut his promo in Spanish and English and dedicated the match to Dominik until he was interrupted by Mr. Suplex City himself, Brock Lesnar and his advocate Paul Heyman. They entered the ring and Heyman snatched the microphone from Rey. Mysterio snatched it back and before he could say anything, Brock grabbed him up and hit him with two F-5's. Brock then glared menacingly at Dominik before grabbing him from his ringside seat and driving him into the ring post. He threw Dominik into the ring and gave him an F-5. Rey tried to stop him but ate his third F-5 for his trouble. Lesnar left the ring and took a few steps up the ramp before turning around and jumping back on the ring apron. He suplexed both Rey and Dominik. The announce team put it over as a message to WWE Champion Kofi Kingston before their match this Friday on Smackdown Live's Fox debut. Lesnar left the ring again and several referees and backstage agents ran down to the ring. As Heyman tried to get him to leave, he went back in the ring and tossed the agents and refs out before again manhandling Rey and Dominik. After clearing the ring, Brock took off his shirt and posed in the middle of the ring.
Back from commercial, they show a replay of the carnage Brock Lesnar left in the ring. The announcers insinuated that the authorities may have been called. They showed footage of Rey comforting Dominik, who was on a stretcher and being tended to by paramedics.
HERE. COMES. @SashaBanksWWE! #RAW pic.twitter.com/C67dA6CrXP

— WWE (@WWE) October 1, 2019
The Boss, Sasha Banks made her way to ringside to prepare for her match against Alexa Bliss, one half of the Women's Tag Team Champion. WWE Smackdown Women's Champion, Bayley and Nikki Cross have been barred from ringside for this match. Before they could start the in-ring action, Becky Lynch's music hit and "The Man" came around to the announce table at the top of the ramp. She was wearing a blazer on top of her outfit and mentioned that had 'dressed for the occasion.' The action in the ring took a back seat to the buzz of Becky Lynch showing up, especially when halfway through the match, The Man stood up on the announce table and began wrapping her fists with tape. Jerry Lawler tried to dissuade her from interfering in the match. The Boss would defeat Alexa Bliss and no sooner than the bell rang, Becky Lynch made her way to the ring. She and Sasha exchanged fisticuffs before she got the best of Sasha causing her to retreat through the crowd. Becky grabbed a mic and told her that this Sunday at Hell in a Cell, there would be nowhere to run.
"You made it personal, I'm gonna make it PAINFUL!" @BeckyLynchWWE sends a message to @SashaBanksWWE on #RAW! #HIAC pic.twitter.com/lKGVZPGgtE

— WWE (@WWE) October 1, 2019
In a backstage interview, the Universal Champion Seth Rollins said that he understood Rey wouldn't be able to compete on Raw tonight after the beatdown he and his son suffered at the hands of Brock Lesnar. He told the WWE Universe in attendance that there would be a championship match tonight and turned it into somewhat of an open challenge. He addressed his upcoming match against The Fiend, Bray Wyatt this Sunday and said again, just like last week, that he'll survive.
Heavy Machinery would take of the Raw Tag Team Champions, Robert Roode and Dolph Ziggler in a title match next. The two teams have been embroiled in a series of tough matches over the last few weeks with Heavy Machinery earning a title shot. After the formal in-ring introductions, the action got underway. The end of the match saw Heavy Machinery's double team effort thwarted by Dolph Ziggler's Zig-Zag on Tucker. Roode would follow it up with a Glorious DDT on Tucker to secure the win for the Raw Tag Team Champions, who going into this match had some detractors mentioning the fact that they weren't a 'real team' or that they had been thrown together and wouldn't be champs very long.
WOOOOO!

WATCHA GONNA DO when @HulkHogan & @RicFlairNatrBoy join @mikethemiz on #MizTV NEXT on #RAW?! pic.twitter.com/UGBot0GrLs

— WWE (@WWE) October 1, 2019
MizTV was next on Raw with Hall of Famers, Ric Flair, and Hulk Hogan. There was a tease of some tension between the two with Flair telling Hogan that he might have been the biggest draw in WWE history, but inside the squared circle, Flair has no equal. That moment led to the announcement that WWE is returning to Saudi Arabia again on October 31st. Hogan and Flair will be team captains and choose five superstars to face off in a ten-man tag match at Crown Jewel. Seth Rollins was revealed as Hogan's number pick while Randy Orton, a former member of Evolution alongside The Nature Boy was the first pick for Team Flair. Seth challenged Randy to a match right then and there, so they cleared the ring of the MizTV set and carpet but before any action could take place, King Corbin appeared and along with Mr. RKO, put a beating on Seth Rollins. The save was made shockingly by Rusev, who helped Seth clear the ring of Corbin and Orton.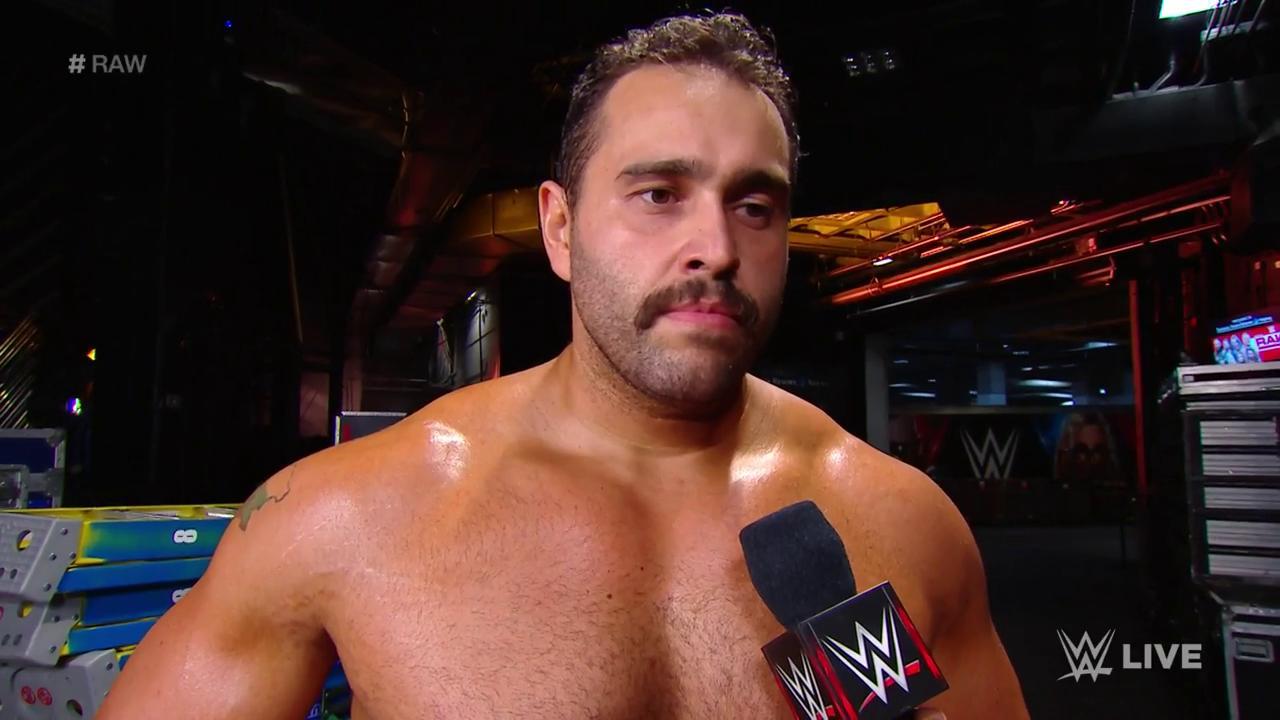 After a commercial, Rusev was backstage. He refused to answer a question about his wife, Lana. He did tell Seth Rollins that since he saved his life out there, that he is accepting his challenge for a match later tonight on Raw for the Universal Championship. The Authors of Pain are back again this week with another sit-down promo segment. This week they talk about violence and how much they love and live it. They alternated between speaking English and their native language.
The #VikingRaiders @Erik_WWE & @Ivar_WWE are in action against #TheOC's @LukeGallowsWWE & @KarlAndersonWWE NEXT on #RAW! pic.twitter.com/VNoPXZy7SF

— WWE (@WWE) October 1, 2019
The Viking Raiders have more real competition this week as they take on The O.C. Luke Gallows and Karl Anderson. The two teams have been at for a few weeks now. Viking Raiders are out first and The O.C. follows; the four men stare each other down before the contest starts. The end of the match saw Karl Anderson taken over the top rope and out of the ring by a diving Ivar with Gallows still in the ring. Erik slammed Gallows and Ivar hit a splash off the top rope for the Viking Raiders to pick up the win over The O.C.
Cesaro is backstage talking to Charly and he says there's nothing wrong with what Brock Lesnar did to Rey and Dominik. He is interrupted by Ricochet, who challenged him to a match later. Cesaro accepted the challenge. After starting fast and then enduring some brutality from the Swiss Cyborg, Ricochet would pick up the win with a West Coast Pop, paying a small homage to Rey Mysterio.
The #FireflyFunHouse isn't very FUN for #RamblinRabbit right about now… #RAW pic.twitter.com/AeM1i3Z3L6

— WWE Universe (@WWEUniverse) October 1, 2019
Bray's Firefly Fun House was up next on Raw. The puppets were shaking scared of what The Fiend is going to do to Seth Rollins this Sunday. Ramblin Rabbit is 'scared to death' and eventually kills over and dies. Bray pretends to leave on a mission to warn Seth about what The Fiend is going to do to him, but says he's only kidding before staring into the camera and saying, "Let me in."
The United States Champion AJ Styles would face off against Cedric Alexander in a scheduled title match, the second of Raw's season premiere. After the formal in-ring introductions, we're underway. AJ jumped on Cedric early and often. Cedric would rally back, however, and after some fierce back and forth action, the crowd in attendance would rally and chant for both superstars; but it was AJ Styles picking up the win and retaining his title after blocking Cedric's Lumbar Check and turning it into a Style's Clash for the 1-2-3.
DON'T MESS WITH A HART.#RAW @NatbyNature pic.twitter.com/HoJPKp19Sq

— WWE Universe (@WWEUniverse) October 1, 2019
Lacey Evans would face off against Natalya in their running feud. Evans has seemingly gotten the best of Nattie in the last few weeks and that would not change. As the referee was distracted, Lacey would (illegally) rake Natalya across the eyes and roll her up using her tights for extra leverage and the pin. After the match as Lacey was having her hand raised, Natalya stood up only to be dropped again with Lacey's Woman's Right.
Backstage, Paul Heyman says that everything that happened to Rey is Vince's fault for putting Heyman in charge on a night where he knows Brock Lesnar is in fight mode, preparing for Kofi Kingston this Friday. He offers–not a prediction, but a spoiler and claims that Brock will be the new WWE Champion after he defeats Kofi on Smackdown's Fox debut.
#TheBoss @SashaBanksWWE gives #TheMan @BeckyLynchWWE an important history lesson just days away from #HIAC! #RAW pic.twitter.com/yHr3pfXOwF

— WWE (@WWE) October 1, 2019
Maria Kanellis is backstage and tells Charly that obviously, Rusev is not her child's father and he has bigger issues to worry about. After Maria walks away, enter Sasha Banks who directed her words to Becky Lynch and promised to make her tap out at Hell in a Cell.
The Universal Champion Seth Rollins and his opponent, Rusev made their way to ringside. After their formal introductions, we've got ourselves a Universal title match on Raw. King Corbin and Randy Orton made their appearance on the ramp to look on as their two upcoming rivals for Crown Jewel battled for the Big Red Belt. The match was exciting, with both competitors giving all they had, but sadly for them and the WWE Universe, the two biggest talking points to come out of the match were not about the match itself. Someone's music started to play. Whose? Bobby Lashley's. The crowd was unmoved. He motioned to the back a few times before Rusev's wife Lana came out! After standing next to Bobby for a second, the two began making out with a devastated Rusev looking on from the ring.
GIF REACTIONS NEEDED. PLEASE.#RAW @fightbobby @LanaWWE pic.twitter.com/RYq4q9fMyT

— WWE Universe (@WWEUniverse) October 1, 2019
Then….the lights went dark and The Fiend made his appearance, attacking Seth Rollins outside the ring and laying him out with the Mandible Claw as  Raw came to a close.
#TheFiend @WWEBrayWyatt HAS @WWERollins in his clutches! #RAW pic.twitter.com/iQseNuD0g3

— WWE (@WWE) October 1, 2019