Coming off of one of the most impressive debuts for a tag team in NXT history which culminated in them winning the 2021 iteration of the Dusty Classic, MSK has garnered a lot of well-deserved praise and hype.
But how did we get here? What did Triple H and other members of management see in this team that made them comfortable enough to strap the proverbial rockets to their backs right out of the gate? In order to answer that question, we have to start in 2015.
MSK – An Exciting Young Team
Nash Carter and Wes Lee (FKA Zachary Wentz and Dezmond Xavier, respectively) both came up in and around the Dayton, Ohio, wrestling scene. They had locally built quite the reputation of being great, high-flying up-and-comers. Rookies with such immense potential that the sky was the limit.
The two teamed together for the first time on December 12, 2015, at the Dayton, Ohio-based Rockstar Pro. Their opponents were the team of Jake and Dave Crist (going by the name Ohio Is 4 Killers). It was a great back-and-forth match. It excellently told the story of OI4K being the more experienced team while their opponents were the fiery, explosive babyfaces. To many in the crowd's surprise, Carter and Lee were victorious.
They continued regularly tagging until February 2016.  They then formed an alliance with JT Davidson, Dave Crist, and Brittany Blake, known as Scarlet and Graves. The stable began strongly, with the trio of Dave Crist, Carter, and Lee defeating Conor Claxton, Frankie Pickard, and Neiko Sozio at Combat Zone Wrestling's event CZW Seventeen.
As members of Scarlet and Graves, Lee and Carter's stock only continued to rise. By August 13, 2016, they were challenging EYFBO (Angel Ortiz and Mike Draztik) for CZW Tag Team Championship. Although they were unsuccessful in their first quest for gold, everyone in attendance was certain that both Nash Carter and Wes Lee were here to stay.
First Taste of Gold
The duo continued to build their resume. They began frequently teaming up with future stars such as AEW's Joey Janella and Impact's Sami Callihan. By December of 2016, after a couple more failed attempts, MSK finally held their first tag team gold. They defeated EYFBO for the CZW Tag Team Championship at CZW Cage of Death 18.
Carter and Lee continued their impressive run by holding onto the titles for over five months. They eventually lost them on May 19 to CCK (Chris Brookes and Mondai Lykos) in a 3-way tag match. Shortly after their title loss, Scarlet and Graves disbanded though Carter and Lee continued teaming together.
In July of the same year, the duo teamed up with Trey Miguel for the first time. They competed in a 6-man tag team doors match in a victorious effort against OI4K.
On August 5, 2017, Carter and Lee secured their second tag team championship. They defeated AR Fox and Jeff Cobb (who was filling in for an injured Rey Fenix) for the AAW Tag Team Championship. They held onto the titles for a little over two months. During their reign, they had successful defenses against OI4K and the team of Stephen Wolfe and Trey Miguel. They then lost the belts to The Besties In The World (Davey Vega and Mat Fitchett) at AAW Hell Hath No Fury 2017 on November 3.
Less than a month after the loss of the AAW titles, Carter and Lee regained the CZW Tag Team Championship.  They avenged their loss against CCK in a 3-way tag match that also featured the team of Kip Sabian and Damian Dunne. The reign was short-lived, though, as they lost them seven days later to The REP (Nate Carter and Dave McCall).
Beating The Elite
By the beginning of 2018, the duo began an excursion to Asia. First, wrestling with Dragon Gate, then with CIMA's promotion OWE. They continued traveling and building their name, competing in Mexico, the United Kingdom, and Pro Wrestling Guerilla. All within the first four months of the year!
It was also around this time that the duo began to call themselves the Rascalz. They adopted a "stoner" gimmick complete with marijuana leaves on their gear and all. On April 7, Lee and Carter added Trey Miguel and Myron Reed to the Rascalz, officially making it a stable.
On April 20, 2018, a day very close to the hearts of fellow marijuana enthusiasts, the team of Nash Carter and Wes Lee secured the biggest victory of their still very young career. At PWG All-Star Weekend Weekend 14, they defeated the Young Bucks and the Chosen Bros (Matt Riddle and Jeff Cobb) to become the new PWG World Tag Team Champions.
They would go on to hold the title for over two years, in the process becoming the longest-reigning PWG Tag Team Champions in history. In fact, they are the current champions at the time of writing this article.
MSK's big year continued in 2018, as they made their first appearance with Sami Callihan's promotion Pro Wrestling Revolver. They also made their IMPACT debut at the joint PWR/Impact show "Penta Does Iowa" in May. In their IMPACT debut, they were defeated by the team of Dave Crist, Jake Crist, and Sami Callihan (now going by the name of OVE since signing to IMPACT!).
Making An IMPACT!
As if this team wasn't on fire already, on June 29 of, 2018, MSK added even more tag team gold to their trophy case. Carter and Lee won the Pro Wrestling Revolver Tag Team Championship. They defeated the then champions, Pete Dunne and Millie Mckenzie, as well as the Besties In The World in a three-way tag match. They then defended the title in the coming weeks against opponents such as Santana and Ortiz, at the time performing under the name LAX.
After a return trip to Asia, still carrying two sets of tag team gold, the Rascalz began feuding with the CIMA-led faction, the Stronghearts. After a great series of matches, the young performers earned the respect of the leader, as CIMA invited them to become members of the Stronghearts, which they accepted.
In the fall of 2018, Myron Reed left the Rascalz, as Wes, Nash, and Trey Miguel all accepted contracts to IMPACT Wrestling. They competed in their first match since signing on the November 11 episode of IMPACT, defeating the team of Chris Bey and Matt Sydal.
In the coming weeks, they would also make their debuts in the Japanese promotion DDT as members of the Stronghearts. In early 2019, they would begin their first rivalry in Impact! with Moose. That would lead to their first IMPACT PPV match. The trio of Wes Lee, Nash Carter, and Trey Miguel were defeated by the team of Moose and the North (Ethan Page and Josh Alexander).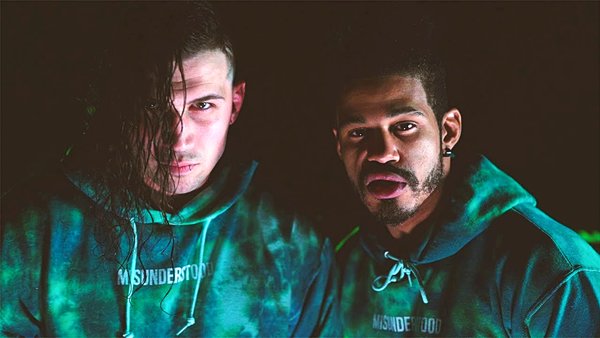 Before MSK | World Renown Rascalz
On January 18, 2019, Carter and Lee defended the PWG World Tag Team Championship in an incredible match against future AEW team Best Friends (Trent Beretta and Chuck Taylor). In March, they continued their hot streak by defending the PWG titles once again against the Lucha Bros (Penta Zero M and Rey Fenix) as well as Santana and Ortiz.
They continued defending both the PWG and the PWR titles successfully, as well as competing on Impact! on a near-weekly basis for the first six months of 2019. They had established themselves as one of the best tag teams in the world.
At the PWR event "Pancakes and Piledrivers 3," MSK finally lost one of their two titles, as they were defeated by Team Tremendous (Bill Carr and Dan Barry). They, however, continued to defend the PWG titles, albeit somewhat less frequently as their attention was more focused toward Impact! since signing. They would then start a short program with the OVE stable, now consisting of Jake Crist, Dave Crist, Sami Callihan, and Madman Fulton.
On the April 5, 2019, episode of IMPACT Wrestling, MSK received their first Impact! World Tag Team Championship opportunity. After a great, competitive match with then-champions LAX, they came up short. The Rascalz shortly after became the number one contender's once again and were slated to take on LAX at Slammiversary in July of 2019.
However, the North defeated LAX prior to the event, so it became a three-way tag match. MSK was once again unsuccessful in their hunt, as the North retained. The duo remained active on IMPACT! Television, although not receiving another title shot for the rest of the year. They had programs with the Desi Hit Squad, as well as several fantastic matches with IMPACT's loaded tag division.
From Rascalz to MSK | All Things Must Past
As the Covid-19 pandemic ravaged the entire world, the wrestling world was not spared. The beginning of 2020 was quiet for MSK, as travel restrictions, less indie booking, and the general headache the pandemic caused us all limited their exposure. However, by June 16 of 2020, they were right back in the title scene against a familiar foe. They, however, were once again unsuccessful in securing the IMPACT World Tag Team Championship from the North.
At the 2020 edition of Slammiversary, MSK were the first opponents for the returning Motor City Machine Guns. MCMG were huge inspirations for them growing up, though they eventually lost to the returning legends. However, they certainly got to show off how incredibly skilled they were while sharing the ring with one of the great tag teams of their generation.
Two months later, in September, they got their rematch against MCMG for the IMPACT tag team titles. Once again, both teams put on a clinic, but once again, MSK was unsuccessful.
They would go on to beat XXXL (Larry D and Acey Romero) at Victory Road 2020 on October 3. They defeated them once again in the rematch three days later. Later in the month, they lost to the Deaners (Cody Deaner and Cousin Jake) at Bound For Glory.
It was right after BFG that the rumors started swirling that there was significant interest in both All Elite Wrestling and World Wrestling Entertainment. IMPACT confirmed that the Rascalz would, in fact, be leaving the company via social media. In their last match in Impact! on November 17, MSK competed against fellow Rascal Trey Miguel and close friend Rich Swann. After the match, all four embraced in the ring for an emotional goodbye.
MSK IS NXT
On December 2, 2020, it was announced that MSK had been signed to a developmental deal with NXT. They debuted on the January 13th, 2021, episode of NXT, winning the first round of the Dusty Classic. The rest, as they say, is history, as they dominated the tournament, winning the coveted trophy.
When you look back at the numerous accomplishments these young men have achieved in their relatively short time in the business, it's easy to tell why they've had such an early impact on NXT's tag division in such a short time. Their resume precedes them: four different continents, multiple tag team titles, excellent match after excellent match. The most exciting part apart this team is, they're seemingly just getting started.
"We're the same exact guys from Dayton, Ohio, fighting and scrapping for every opportunity. But once we get it…. we are not letting go"
– Wes Lee of MSK

__________
Before the journey began for several WWE talent, their skills were honed in gymnasiums, auditoriums, and crowds of a few hundred people. They never wavered in the pursuit of their goals, and those roads they traveled helped them achieve the success they have today. The "Before the E" series title is derived from 'The E' which is inspired by a common nickname for WWE. To understand where talent is today, it is essential to know how they came to be part of the Entertainment side of World Wrestling Entertainment. This week we present MSK before The E.