Welcome to a new little piece I'll be doing for the site known as the Puroresu Press. This is where I'll be talking about some news from a few promotions from the Japanese scene outside NJPW. For these, I'll be talking about tournament winners, rumors, big match announcements, and anything else in-between except for new champions since those will be separate articles. Anyway, let's get this show on the road and see what I'll be talking about for this week on the first edition of the Puroresu Press.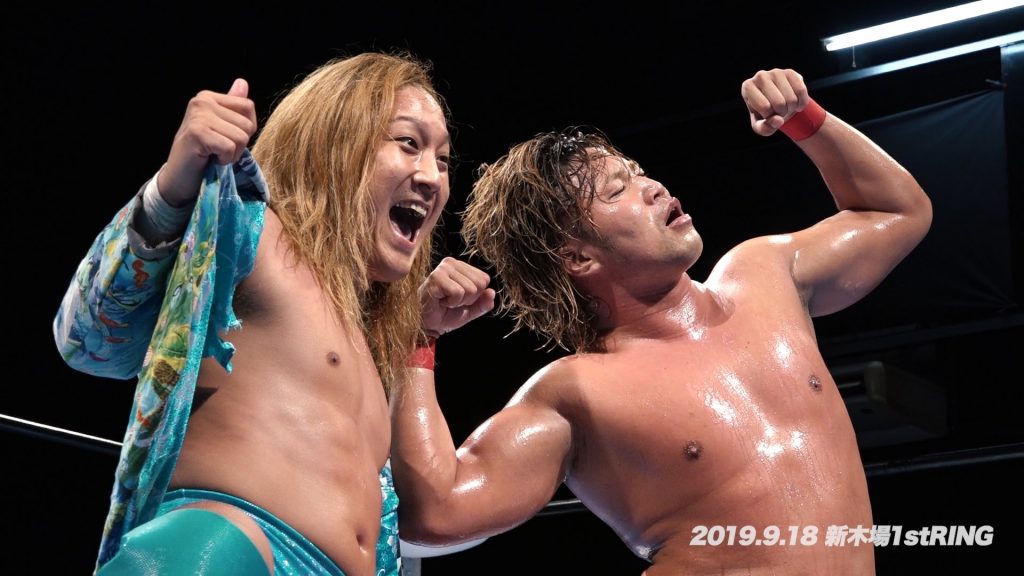 Jiro 'Ikemen' Kuroshio Rumored to Join WWE!?
That's right, another one of Japan's top stars has been rumored to be going over to the WWE but nothing is entirely set in stone just yet. Sometime in March after he failed to defeat T-Hawk for the Wrestle-1 Championship, he would announce that he would be leaving the company to become a Freelancer and talked about wanting to live in the United States. He has traveled to a couple of promotions such as DDT and All Japan Pro Wrestling, so he has been keeping himself busy in the meantime and was even apart of AJPW's Odo Tournament which he lost in the second round to Kento Miyahara.
In July, however, he actually did go to a WWE tryout and according to NXT's head coach, Matt Bloom (FKA Albert/Tensai), he was very impressed with Jiro's work during the tryout and said he would be a star in the making. This twenty-seven-year-old charismatic person has shown some promise to a lot of people and has impressed a lot of fans. He's got a good look, young, charismatic, athletic, and just fucking kawaii. I mean just look at that adorable face of his. Jiro is someone who still has a ways to go.
Despite being talent and maybe a trip to the United States would be a good change of pace for him. With a new environment and a new audience to show what Jiro could do. Despite how people feel about wrestlers going to WWE, I wish him nothing but the best of luck in whatever he decides to do.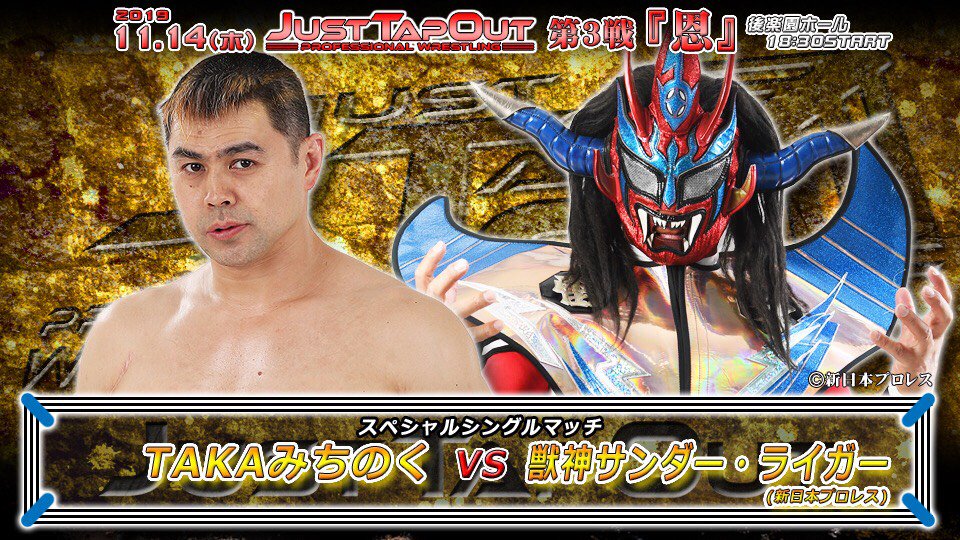 Big Match Announced at the Next JTO Show
TAKA Michinoku has been making some moves in his career after the situation with his affair going public and leaving K-DOJO at the beginning of the year. On April 11th, he would create a new promotion called JTO or Just Tap Out, for his quote as Zack Sabre Jr's hype man and what about his roster? His roster is basically eight rookies with a promising future as they all have shown promise and he's confident enough to lead with them. On his first show in July, he would get some names in there to help keep interested such as; Minoru Suzuki and TAKA.
On the September 24th show, they had T-Hawk, Sareee, and Daisuke Sekimoto involved in the show as well. They are also some big names in the Japanese wrestling scene. His promotion is legit and has a lot of connections to call people in for a big show. Their next show on November 14th has a big match for this show as TAKA himself will take on the legend himself, Jushin Thunder Liger. Jushin will be making a stop to JTO during his retirement tour to fight TAKA one more time in singles competition. We'll be sure to keep an eye out on the remainder of the card. This match alone should have people come back for more.
The company has had two shows under their belt and both of them were solid shows. With the promising talent that can grow into something great in the future with a great mentor. Be sure to keep an eye out on them.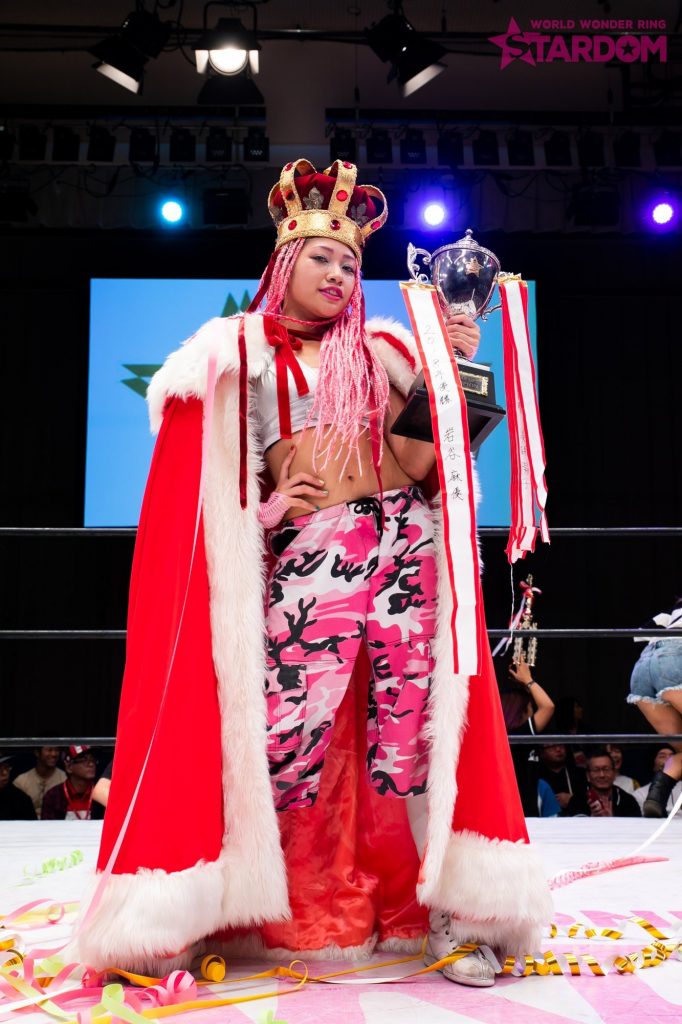 Hana Kimura wins Stardom's 5Star Grand Prix! (And More!)
On August 17th, Stardom ran its annual tournament called the 5Star Grand Prix, which is a round-robin similar to the G1 Climax, N-1 Victory or the Champion Carnival and it recently came to an end on September 22nd. From the Red Stars Block, Hana Kimura was able to advance where she took on the winner of the Blue Stars Block, Konami. The two would fight for about fourteen minutes and Hana Kimura was able to survive the torture done to her legs to win the tournament.
Hana Kimura has made a lot of changes in her career after joining Stardom officially as she would now be wrestling full-time, has a new look and attitude, and would create her own faction, Tokyo Cyber Squad. Hana and her group started to become marketable with how colorful they were. She has talked about wanting to win Stardom's big tournament. Hana would then go on to do. After the match, she called out the World of Stardom Champion, Bea Priestley into the ring. Hana talked about how she wanted to kick her ass and take that red title.
Hana Kimura vs Bea Priestley
During the press conference on October 1st, it was announced that the match will take place on October 14th. We'll see the Wonder of Stardom Title match between Arisa Hoshiki and Kagetsu take place. Congratulations to Hana Kimura on winning the tournament. We're looking forward to your future title match with Bea.
Another thing Stardom has announced was the participants for the Goddesses of Stardom Tag League from October 12th-November 15th where the winner of this tournament will fight the Goddesses of Stardom Champions, Jungle Kyona and Konami for the championships. These are the blocks and participants down below.
Red Goddesses Block: Hazuki/Natsuko Tora, Bea Priestley/Jamie Hayter, Momo Watanabe/AZM, Riho/Starlight Kid, Mayu Iwatani/Saki Kashima, & Jungle Kyona/Konami (Champions)
Blue Goddesses Block: Kagetsu/Andras Miyagi, Saya Iida/Saya Kamitani, Bobbi Tyler/Zoe Lucas, Hana Kimura/Death Yama-San, Natsu Sumire/Session Moth Martina, & Arisa Hoshiki/Tam Nakano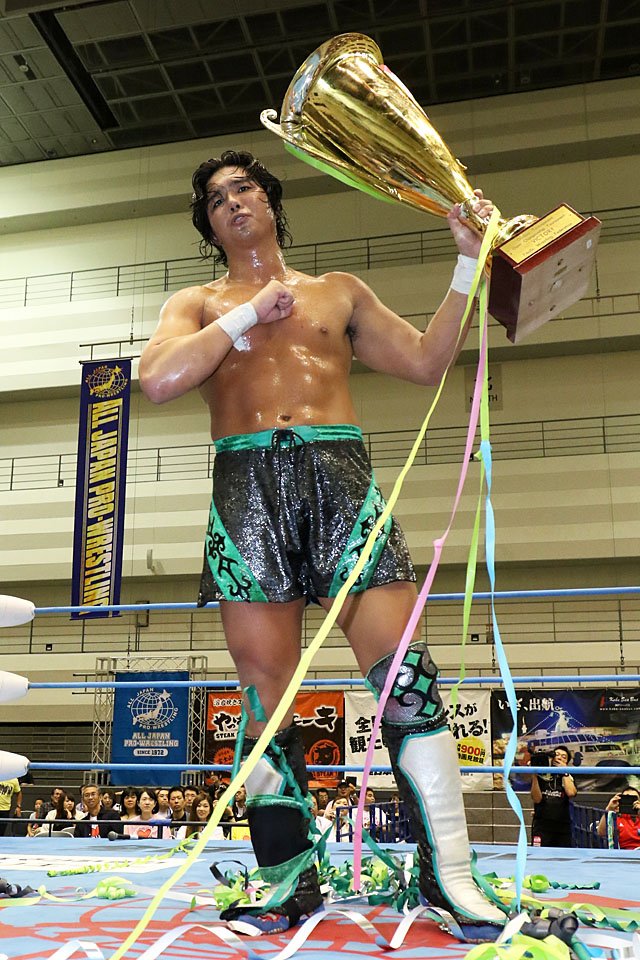 Jake Lee finally defeats Kento Miyahara!
From September 14th to September 23rd, All Japan Pro Wrestling would hold their 7th annual tournament called the Royal Road Tournament or Odo. However, you call it since there are various names for it. They had some top names in there and the winner of that match would get the next shot at the Triple Crown Champion, Kento Miyahara. Kento was also apart of the tournament and he also did win it last year and defeated Zeus. It was a month after he won the Triple Crown Championship for the fourth time.
The finals were set as Kento Miyahara would once again wrestle in the final round. His opponent this time would be someone he's very familiar with, Jake Lee. These two have a history together and ever since Jake returned from injury last year. He has fought Kento numerous times and while he would always come close to defeating him. Jake would always come up short and fail at the end. Despite Jake losing all the time, the two would have great matches. Especially during the Champion Carnival final earlier in the year and this one was no different.
Jake Lee
What was different this time around was Jake Lee would finally defeat his rival to win the tournament. Unlike the match between Hana Kimura/Bea Priestley, we do have an official date. Kento Miyahara will defend his Triple Crown Championship against Jake Lee as it will happen October 24th at the 47th Anniversary Tour at Korakuen Hall. While these two have fought each other in regular and tournament matches, this will be the first time that they'll be facing off for the championship. We could have another classic on our hands. So be sure to look for it on ajpw.tv.
More Details to Ultimo Dragon's Dragon Gate Deal Revealed
On September 11th, the impossible happened when Ultimo Dragon finally came home and would join the promotion that he once created. We knew that he joined but we didn't know what type of deal he made until now. Dragon Gate posted the update on their Facebook page. "Dragon Gate are happy to announce that Ultimo Dragon has officially joined the company in a senior advisor role".
In this role, he is able to provide invaluable coaching and training for the younger generation. At the same time continuing to compete in the ring when his schedule allows it. DG wrestlers & staff, now together with Ultimo Dragon, will continue to strive to make Dragon Gate an exciting and enjoyable experience for our fans. Please join us in welcoming Ultimo Dragon back home." It looks like he'll still be able to Freelance with other promotions while still being a key figure to Dragon Gate behind the scenes while doing some matches for them. Not sure if we can expect a big part in storylines or title runs for him, but I'm sure he's well aware and content with that.
Pro Wrestling NOAH Will Create a New Championship!
As of October 3rd, NOAH revealed that they will be creating a new championship called the GHC National Championship. Not only have they announced the championship, but they would also announce the two that will be competing for it. It will be taking place on NOAH's big show on November 2nd, The BEST. The two people that will be fighting for the title will be Takashi Sugiura and Michael Elgin! This was a match I've been waiting forever since Michael Elgin was announced to face Naomichi Marufuji at IMPACT's Bound for Glory PPV. It would lead to more opportunities for Elgin in NOAH. It would also allow NOAH trying to get partnerships with IMPACT and MLW.
There is no current design for the title or when it'll be revealed. However, we'll be sure to keep you posted when we find out. NOAH is also pulling a lot of stops for this show due to the venue and what it could mean if it's a success. We even have Eddie Edwards and Super Crazy confirmed for the event. Naomichi Marufuji taking on The Great Muta, and AXIZ defending the GHC Tag Team Championships against Misa Kitamiya and Yoshiki Inamura. Kaito Kiyomiya will defend the GHC Heavyweight Championship against N-1 Victory winner, Kenoh. If this show turns out to be a hit it will lead to possible bigger venues for NOAH.
That's all the time we have for this week and thank you all for taking the time out of your day to read the article as I explore the world of Puroresu from different promotions and wrestlers. Be sure to find out what will be posted next week.