Hello there and welcome back to the PROGRESS Prerogative, the column that takes a look back at each of PROGRESS Wrestling's Chapters in turn. We've reached the grand old age of 24 with Hit the North, and this is the first Chapter to run in a venue outside of London. The O2 Ritz in Manchester is a venue I know well having not missed a show there for the last three years. There's a stacked card for the inaugural show there, so let's jump right on it.
PROGRESS Wrestling Chapter 24: Hit The North! December 6th, 2015. The O2 Ritz, Manchester, UK.
Mark Haskins vs Bubblegum
If a picture is worth a thousand words, then a video of the match has to be worth a couple of hundred, surely?
https://www.youtube.com/watch?v=bdt3rXEEH8Y
Ashton Smith vs Kyle Ashmore – Natural Progression Series Quarter Final
The contest between Ashton Smith and Kyle Ashmore isn't necessarily a bad one by any stretch of the imagination. But deary me there are a lot of botches during the course of the match. It's a real shame because both of the lads are very talented and put their all into the match. I'm not sure whether Smith and Ashmore just don't click as opponents or what quite happened. Smith, in particular, takes a few nasty knocks and appears to be suffering during post-match celebrations. He takes the win with a nicely done Go 2 Sleep (after an initial botched roll through) and appears to holding his side and arm. Ashton Smith advances to the NPS semi-finals, but you couldn't say that it was a champagne debut for him in PROGRESS.
FSU & Jack Gallagher vs The Origin
FSU – Eddie Dennis and Mark Andrews – reunite as they team with Jack Gallagher to take on The Origin in a six-man tag. All three of the babyfaces have beef with The Origin, most recently Gallagher with big Dave Mastiff, so this one has a big match feel. The best sequence happens very early on as Mandrews squares off with El Ligero. They exchange lightning-quick arm drags, run the ropes, and hit numerous reversals; lovely stuff. Each of the six men gets their chance to shine, with Gentleman Jack, in particular, getting great offense in front of his home crowd. He holds a delayed vertical suplex that would make the British Bulldog proud as the Ultras count along.
But just as it seems as though FSU will take the win with a Next Stop Driver to Ligero, things fall apart. Dave Mastiff hits a low blow on Eddie Dennis which allows Ligs to get the rollup pin. Damn your eyes The Origin!!! This was an excellent, fast-paced, fiery match. It also keeps a few plates spinning as regards feuds involving Nathan Cruz's faction – a big thumbs up from me.
Zack Sabre Jr vs Tommaso Ciampa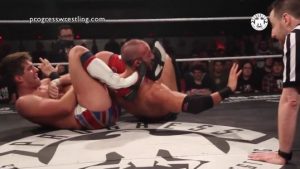 In a rematch from Super Strong Style 16, Zack Sabre Jr Takes on Tommaso Ciampa next. There's no word that can sum up this match more than 'wow'. Two professional wrestlers at the absolute top of their game, going hell for leather, for nearly 30 minutes? Beautiful. Sabre works Ciampa's arm in the early going, attempting to set him up for the armbar from the get-go. Psycho Killer retaliates by unsuccessfully trying for Project Ciampa within the first few minutes. The action goes out to ringside and there's a wonderful spot where Sabre drags Tommaso across the front row whilst being his wrist backwards. A simple sequence, but it has a real, visceral edge to it. That doesn't prevent Ciampa from taking control for a portion of the match, smashing Zack with knees and assorted high impact moves.
As they move into the endgame, we see the big moves get traded back and forth. ZSJ locks in the armbar only for the Sicilian Psychopath to lift him up into Project Ciampa. That only gets a two count though and Sabre batters the arm some more. The finish effectively sees Ciampa beat Zack at his own game by executing a well-timed counter. As Zack rolls up Tommy, Ciampa rolls straight through and gets the three count with a gorgeous neck bridge. The two gents now have a win apiece – when will the inevitable rubber match take place, I wonder.
Sumerian Death Squad vs London Riots
The issue between Sumerian Death Squad and the London Riots has been building for the last couple of chapters prior to Hit the North. They teamed up at Chapter 22 in a losing effort against The Origin that resulted in a shoving match. At Chapter 23 SDS lost the tag shields back to The Origin in a triple threat that also featured the Riots. On commentary, Callum Leslie lets us know that these two teams simply do not like one another, which seems a good enough reason to fight to me. Two sets of babyfaces going at it isn't a common occurrence in PROGRESS, but the guys really do give one another a battering here. All four are bruisers, and I'm sure they were feeling the effects of the match the morning after.
The finish is a bit of a shocker when you consider that Michael Dante and Tommy End definitely edge being the more popular of the two teams in Manchester. SDS hit Black Mass on James Davis but refuse to go for the pin despite the fact that they've clearly won. Instead, End brings a chair into the ring which prompts RJ Singh to run down from commentary. Tommy End nails him with a bicycle kick and Dante proceeds to powerbomb Davis through the chair for the disqualification. I guess Sumerian Death Squad are heels now? The match wasn't anything to shout about, but that post-match angle was very hot.
Rampage Brown vs Marty Scurll
Marty Scurll continues his rise to the top of the card as he faces off with Rampage Brown in the penultimate contest at Hit the North. Indeed, despite a flurry in the opening moments, it's surprising just how much of the match The Villain dominates. He keeps the former PROGRESS champion grounded for long stretches, and works over the arm to soften it up for the chicken wing. It isn't a squash match though. Rampage does rally and hit some of his typically rugged offense. A particular high point sees him pick Marty up from the mat and hoist him straight into a sitdown powerbomb. It's Scurll who takes the win through villainous means, natch.
As the pair are tangled in the ropes along with the referee, Marty whacks Rampage with his umbrella to get the pinfall. Strangely, Rampage does a Hogan and kicks out immediately after the three is counted. He then flattens Marty with a big-time lariat whilst the Villain is celebrating. A decent match, with a couple of odd choices after the decision.
Will Ospreay (c) vs Zack Gibson vs Flash Morgan Webster – PROGRESS Title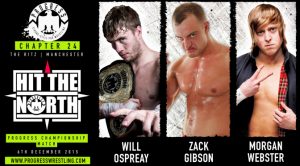 Will Ospreay defends the PROGRESS title against Zack Gibson and Flash Morgan Webster in a triple threat match in the main event of Hit the North. The story being told during the first half of the match is basically building to Will and Flash's first exchange. They each individually clash with Gibson, but every time they themselves are about to lock horns Liverpool's Number 1 sticks his nose in. It's a bit of an odd structure in my opinion. Although Ospreay and Webster are undoubtedly talented it isn't an Earth-shaking amount of anticipation to them locking up. Ospreay is acting like a bit of a cocky bellend during the match too. At one point he even struts around like Ric Flair – a far cry from his plucky babyface act opposite Jimmy Havoc.
When the Welshman and the Essexican do finally clash it is good stuff, don't get me wrong.
They trade near falls back and forth, and have one particularly excellent sequence of reversals based around a hurricanrana. Gibson continues to play his part during all of the pyrotechnics with his solid, mat-based offense. When it looks as though the champ will retain with a 630 splash, The Origin head out to the ring to pull him outside the ring. They hold Will down as Gibson hits a big brainbuster to Flash for a very near fall. Before Gibson can finish the job, FSU and Jack Gallagher run in to take out the black and gold baddies.
Once ringside has been made safe, Flash and Ospreay head to the top rope for the finish. Flash drills Gibson with a 450 splash, but Ospreay hits Flash with a 630 before he can get the win. Will Ospreay retains the belt with a pinfall on Flash Morgan Webster.
After the match, after the celebrations, after the end credits for the on-demand have finished Marty Scurll runs down to the ring with a steel chair. He smashes Ospreay's arm with the said chair and places his arm in it a la Steve Austin/Brian Pillman. He demands a title shot at Chapter 25 or he'll break the champion's arm. Jim Smallman agrees to the matchup, and Scurll stomps on the chair anyway. Ooh, you bad sod.
And there we have Chapter 24, Hit The North was a good show overall, and a strong debut for the new venue in Manchester. It certainly had some flaws, but when you hold PROGRESS to a high standard the flaws are small fry compared to the issues you see in WWE. We'll be back for that big Ospreay vs Scurll match next week. Until next time…