Happy Unboxing Day, everyone!!! Hopefully this week's PROGRESS Prerogative will tide you over as you queue for this year's mystery show. If you're unfamiliar with the column, this is where we take a look back at each PROGRESS Chapter in turn to see if they cut the mustard. We've come a long way together so far as we arrive at Chapter 23. We've seen the rise and fall and rise of Nathan Cruz in various guises. We've seen Jimmy Havoc's reign of terror. Now, we're in the midst of Will Ospreay's well-earned championship run. Let's get cracking!
PROGRESS Wrestling Chapter 23: What A Time To Be Alive! November 29th, 2015. The Electric Ballroom, Camden, UK.
Rampage Brown vs Big Daddy Walter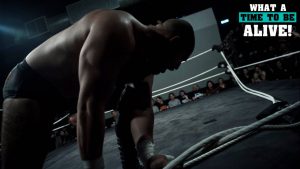 Kicking things off is a battle of the big men as Rampage and Walter face each other in a rematch from Super Strong Style 16. They pick up pretty much where they left off as they take turns leveling one another with clubbing blows. The complexion of the match changes from a move as simple as an Irish Whip. Walter whips Brown into the corner and the top two ropes snap from the ring post; gimmicked, obviously, but a cool sight nonetheless. Surprisingly, it doesn't really affect the quality of the match as both work around the limitation that has been imposed upon them. The giant Austrian even manages a decent bit of height executing a splash from the bottom rope. However, it's Rampage who takes the win, as he did last time, with a piledriver. An excellent match to kick off the show; interesting to see Walter before he was an unstoppable monster.
Shen Woo vs Damon Moser vs Jack Sexsmith – Natural Progression Series Quarter Final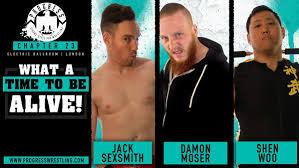 Three ProJo graduates face off in NPS3 in Jack Sexsmith, Shen Woo, and Damon Moser. I have to admit, I'm not a fan of this earlier version of the Sexsmith character. Coming out with a gimp and a big dildo concealed in your trunks isn't a particularly funny thing for me to watch as a fully grown adult. There's still that winning Sexsmith charisma and in-ring ability, it just needs the act dialed down a touch. Aside from Jack's shenanigans during the match (getting his arse out mainly), there isn't too much to note about this match. I'm not sure whatever happened to Shen Woo, but he didn't look bad in this one. Nonetheless, it's Woo who eats the loss. Moser pins him after a running knee to advance to the semi-finals. This wasn't great, but all three men are works in progress so it's understandable.
Mark Haskins vs Paul Robinson
The next contest is a real battle of the strikers as Paul Robinson and Mark Haskins face off. Neither wants to give the other an inch as they take it in turns cracking one another with stiff kicks the arms, body, and legs. I would be amazed if they weren't both covered in bruises the day after this match. Interesting to note that both men were the last two challengers to Will Ospreay's PROGRESS title. Is a match against each other the consolation prize? The crowd is really enjoying getting on Robbo's back here too, chanting "chat shit, get banged" at him. I'm pretty sure that winds up being a title of one of the later chapters. The final sequence of the match sees both men trying to finish the match with big moves. Robinson misses his curb stomp; Haskins gets a two from a DVD. Robbo gets a near fall off a Robinson Special; Haskins fluffs a Stretch Muffler. Finally, it's Haskins who gets a tapout victory with a great looking rollover armbar. Quite a decent match, but these two left a lot in the tank. They can do a lot more than they showed here.
Tommaso Ciampa vs Marty Scurll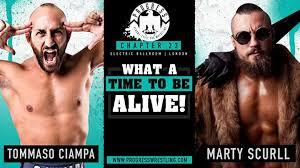 In hindsight, this is probably the biggest match on the card in terms of name value of the competitors. Marty Scurll and Tommaso Ciampa square off next. Ciampa comes out first and just about makes it to the ring before Scurll appears from nowhere to jump him. The first ten minutes of the match see The Villain dominate as a result of the surprise attack. When the NXT signee makes his comeback, he does so with pleasing ferocity. Ciampa batters Scurll with knees and high impact moves, though he can't keep the Brit down. Even Project Ciampa doesn't get the job done, so the Psycho Killer resorts to pulling the ring apart. He undoes the bungees that hold the canvas down and pulls the padding from the wooden boards in the ring. As referee Paz is distracted with the mayhem, Scurll wraps one of the bungee cords around Ciampa's throat. He then covers up the cord by locking in a chicken wing; the cord causes Ciampa to pass out. A beautiful finish to an excellent, fiery contest. Scurll is very much on the ascendancy.
Sumerian Death Squad (c) vs The Origin vs London Riots – Tag Title Match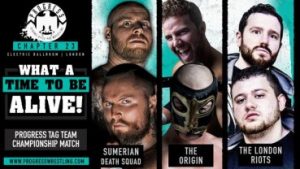 The tag titles are on the line in a three-way dance as Sumerian Death Squad defend against both the London Riots and former champions The Origin. The action is all over the place in the early going as SDS and the Riots take turns battering Nathan Cruz and El Ligero. It's once the match hits the outside that it seems to gain any real form. We have a dive sequence that culminates in Michael Dante flattening everyone else with a tope con hilo. We also see an excellent sequence inside the ring with the Riots leveling The Origin with big moves before Tommy End comes in to nail some sweet kicks on all four. Shockingly, the finish sees The Origin regain the tag titles as they use the Riots' cricket bat to hit End and roll him up. The Origin are the first two-time PROGRESS tag team champions! Following the decision, SDS and the Riots have a big pull-apart brawl during which the locker room empties to try and separate them. I don't recall seeing that in PROGRESS before. A nice match, followed by a nice angle then as Sumerian Death Squad and the London Riots are on a collision course.
Flash Morgan Webster vs Zack Gibson – Number One Contenders Match
Flash Morgan Webster and Zack Gibson face off in a rematch from the NPS2 final next. Not only is it a rematch, but it is for the trophy and the attached title shot. I can't really fathom why they took this from Flash other than to assume that they hadn't thought far enough ahead to what his title shot would entail when he initially won the trophy. Bizarre. It's a characteristically solid outing from both men. The Ultras give Gibson the usual stick about him being from Liverpool, including a "kill the Scouser" chant that I felt was a bit much. The numbers game is what wins the match effectively. Gibson's Origin teammate Nathan Cruz comes down to help distract the referee/cheat on Gibbo's behalf. Liverpool's Number One locks the Shankly Gates in for the tapout win and the NPS2 trophy! Post-match, Zack gets on the mic and declares that he will take his title shot at Chapter 24 in Manchester. Oooooooooooooh!
Will Ospreay (c) vs Mark Andrews – PROGRESS Title Match
Mark Andrews faces off against the man he has never lost to, PROGRESS champion Will Ospreay, in the main event. As you would expect from these lads, the action is as smooth as anything. They fly back and forth for the duration of the contest in a real corker of a contest. There's an added WrestleMania-like feel to things as they trade finishers. Mandrews smashes Ospreay with an Essex Destroyer; Ospreay hits the Welshman with a shooting star. It is lovely stuff and great to see two wrestlers of this size and style in a main event that the crowd is lapping up. It's the Aerial Assassin who comes out on top, though, hitting his 630 splash for the pin and title retention. That's three successful title defences from Will now, but his title reign hasn't had a real through line to distinguish it. The match quality is most definitely there, but in terms of pro wrestling drama, it's a real step down from Jimmy Havoc's run.
And that was that for Chapter 23. A pretty decent show, albeit one that had me checking the runtime on a few occasions. I hope you enjoyed the show and the Prerogative, and if you're at Chapter 100 today, enjoy Jim's curtain call. I'll be there wishing him a fond farewell with you. See you next week for another edition ladies and gents.