We are back with another edition of the PROGRESS Prerogative. This is the weekly column that casts its eye over each of PROGRESS's Chapters in turn. We've reached the grand, old age of 22 this week, and a cracker of an Office reference for the title (the British version, mind you). As an accompaniment to the title, PROGRESS made a rather excellent little intro video with The Geezers. Observe: Trust Encouragement Reward Loyalty Satisfaction.
And on that note, let's dig in to the show.
PROGRESS Wrestling Chapter 22: Trust, Encouragement, Reward, Loyalty… Satisfaction. October 18th, 2015. The Electric Ballroom, Camden, UK.
Dave Mastiff vs Jack Gallagher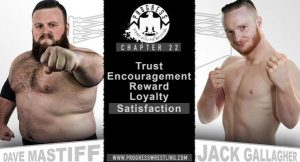 You might have assumed that Dave Mastiff and Jack Gallagher would contest a traditional big man/little man style match. Such is the size disparity between the two, I would have been inclined to agree with prior to watching them wrestle. They actually have something closer to a big hoss battle as Gallagher matches Mastiff in terms of sheer power. The Gentleman keeps his larger opponent at bay for the majority of the contest, and quite handily too. Just after Jack G finishes his excellent top rope handstand spot the match is interrupted by none other than Zack Gibson. he makes his way down the aisle, microphone in hand, declaring at length that both men are worthy of being in The Origin. As he speaks, the Bastard headbutts Gallagher in the back of the head and locks in a chokehold for the victory by stoppage. Post match, Mastiff agrees that, as a PROGRESS original, he belongs in The Origin and that the fans can shove it etc. This would have made a lot more sense if Mastiff had been facing Noam Dar whom he has had an issue with over the last several chapters, but hey ho. Quite a decent little match to kick things off with Jack Gallagher looking particularly impressive in defeat.
Tyler Bate vs Pastor William Eaver – Natural Progression Series Round One
NPS3 kicks off with a debuting Tyler Bate facing the mega-over Pastor William Eaver. I don't think I realised just how popular Bill was until recently. The crowd love him. Tyler gets a big reaction too, alongside chants of 'Master Bate', which is a chant I'm certainly glad didn't catch on. The action really shows off just what Tyler is capable of as he runs rings around the Pastor. He seems to have an answer for everything that Bill tries, and makes good use of counter attacking. It's a Clothesline From Heaven that proves to be the difference maker in the end though, as Eaver takes the win from outta nowhere to advance to round two. A good showcase for Tyler, and an excellent win for Pastor Bill.
The Geezers vs Lord Jonathan Windsor and Rampage Brown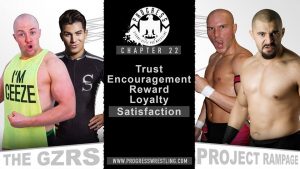 The Geezers face Lord Jonathan Windsor and Rampage Brown in a change to the advertised match. Martin Kirby had a family issue to deal with and so one of the ProJo's trainers was drafted in to take his place. An incredibly lengthy comedy match follows as the snooty Lord turns his nose up at Tom Irvin and Sebastian's antics. Irvin, incidentally, wrestles the majority of the match wearing the emu costume from the PROffice opening video. Rampage is an extremely reluctant partner to Windsor and eventually turns on the blue blood, drilling him with a clothesline. In the meantime, The Geezers have brought a slip and slide into the ring and doused it with water! Rampage, the former PROGRESS champion, then launches Irvin into Windsor's groin and abandons him. One Stunner later and Seb and Tom have their first victory on a mainline chapter. Good stuff, if a tad overlong at around twenty minutes.
Tommaso Ciampa vs Mark Haskins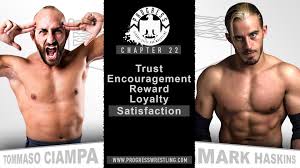 A pure wrestling match might be what you'd be expecting from Tommaso Ciampa and Mark Haskins. But you would only be part way correct in assuming that. For the first five minutes or so, Ciampa has a bit of fun with the crowd and Haskins with some comedy spots. Haskins is not amused. The Sicilian Psychopath has a terrible time of it trying to execute a kip up, and repeatedly offers Haskins his arm only to grab the ropes for the break. Once things get serious however this match absolutely sings. Neither man is a stranger to working ultra-fast paced, cutting edge, modern wrestling and it shows in their exchanges. As they go back and forth, I wonder whether this will be the match of the show. The conclusion: yes, it certainly is. A particularly brutal sequence, involving chairs and cardigans, results in Haskins getting dropped through a steel chair onto the Ballroom floor. Very nasty indeed. Haskins manages to weather the storm, including a huge Project Ciampa, and make a comeback. The young Brit takes the win via verbal submission with a double arm bar. This match is essential viewing for any PROGRESS fan who has yet to see it; I recommend it very highly.
Flash Morgan Webster vs Marty Scurll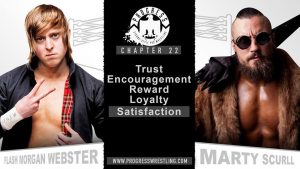 The winner of NPS2 (still yet to cash in) Flash Morgan Webster takes on Marty Scurll to kick off the second half of the show at Trust Encouragement Reward Loyalty Satisfaction. Although the Modfather and Marty have a well-worked match, it isn't one that I would call particularly compelling or memorable. Scurll's Villain persona is coming on leaps and bounds, and the crowd are really starting to despise him. The finish sees Scurll cheat not once, not twice, but thrice. He manages to distract referee Paz and hit a low blow to Flash. Then he distracts Paz again and hits another low blow followed by putting his feet onto the ropes for the winning pin. Following his dubious victory, Scurll gets on the mic and says that he will do whatever he wants. He'll go and win BOLA for PWG, sign for ROH, wrestle for New Japan, or beat up some NXT guys. That brings NXT guy Tommaso Ciampa out to request to face Marty at Chapter 23. Jim Smallman has already spoken to William Regal (?) and the match is made for the next show. Niiiiiice.
Sumerian Death Squad & London Riots vs The Origin – Tornado Match
Tag champions the Sumerian Death Squad team with London Riots to face The Origin in the semi-main event at Trust Encouragement Reward Loyalty Satisfaction. Chaos ensues almost instantly as all eight men spill outside the ring and brawl into the crowd. Dave Mastiff, as the newest member of The Origin, gets a lot of big spots in the match, particularly against Michael Dante. Rob Lynch executes an insane dropkick from the ring apron to the floor and lands hard which takes him out of the match for a spell. That was unnecessarily risky in my opinion. When the chaps finally make it into the ring, they fight in singles and various duos at a furious pace so that you don't notice who's outside the ring resting.
Tommy End and El Ligero have an excellent, fast-paced exchange with lots of kicks, knees and fists being thrown. The Mexican Sensation makes for an excellent here and comes across as genuinely bilious. Spot of the match goes to rob Lynch: as he is being carted backstage Ligero attacks him. Atop the entrance ramp, Lynch gets the luchador in a fireman's lift and launches him to the floor (and onto the other wrestlers). Ultimately, the match is decided by the fact that the babyfaces are two separate teams trying to coexist. As SDS confer with Rob Lynch, who appears exasperated, Dave Mastiff rolls up Tommy End for the win. The Riots and the Death Squad argue following the decision as The Origin gloat at ringside.
Will Ospreay (c) vs Paul Robinson – PROGRESS Title Match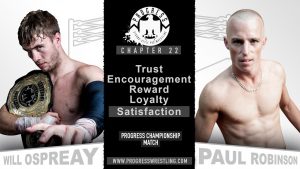 Before the main event between the former Swords of Essex Will Ospreay and Paul Robinson begins we get a nice little hype video. Robbo is one intense personality, isn't he, at Trust Encouragement Reward Loyalty Satisfaction?
Robinson and Ospreay go hell for leather from the opening bell, hitting big moves and strikes back and forth. Saying that the match also contrasts very nicely with the eight-man tag that preceded it. Although the action is fierce, as befits their history, the two competitors don't really take any hardcore or walk and brawl, shortcuts. The match is really built upon solid action and a clear divide between babyface and heel. Robinson is especially vile in this match, blowing snot out of his nose at the champ and spitting all over him at various points.
Gross. And despite being the PROGRESS champion Will Ospreay is an excellent babyface in peril. He fights back and gives as good as he gets, yet always seems to be on the verge of annihilation. Some noteworthy spots include Robbo kicking out of the Essex Destroyer, Ospreay hitting a shooting star from the apron onto the floor, and Robbo hitting a picture-perfect Acid Rainmaker. The finish of the match keeps the challenger strong as his curb stomp is countered by Ospreay into a cradle for the pin.
Robinson gets straight up after the pin and pounds Ospreay with punches and pushes a credit card into his mouth. Before he can hit it with a chair (or, I think that's the idea) some unfamiliar music plays over the PA. After a few moments we discover who the music belongs to: making his return to PROGRESS, it's Mark Andrews! White Lightning heads down the aisle causing Robbo to take a powder. The Welshman then makes his true intentions known as he challenges Ospreay to a title match at Chapter 23! Young Will agrees and we have our main event set for next time.
And that's your lot for this week , everybody. I'd like to take this opportunity to wish everyone a Happy Christmas if you're celebrating it. The PROGRESS Prerogative will be back next Monday as per usual for a card that is already looking quite tasty. So long.