The era of Regression has ended, and Will Ospreay faces a slew of new challengers to his PROGRESS championship. Welcome to the PROGRESS Prerogative, the column that looks back at each of the company's Chapters in turn and gives you the sitch. We're entering a new phase in PROGRESS history as of now, so let's have a gander at what went down at You Know We Don't Like To Use The Sit Down Gun.
PROGRESS Wrestling Chapter 21: You Know We Don't Like To Use The Sit Down Gun. September 6th, 2015. The Electric Ballroom, Camden, UK.
Geezers Promo
Before Jim Smallman can do his usual introductions, two suspiciously placed Stormtroopers whip their masks off to reveal The Geezers. Sebastian and Tom Irvin cut a promo basically saying that they will win the PROGRESS tag shields within a year. That's it. They are both incredibly charismatic, however, so the segment is a win for my money.
London Riots vs The Origin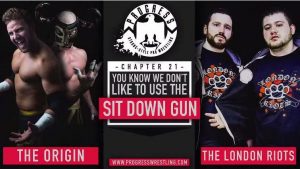 In a slight change of pace, in terms of opening contests, The Origin and London Riots have a reasonably lengthy encounter. They go at it for close to twenty minutes in a hard fought, back and forth contest that really shows both teams at their best. There's a lot of nasty looking suplexes on both sides; Nathan Cruz and James Davis both get dropped right on their heads in those cases. The blood pressure reaches its highest when the Riots powerbomb El Ligero into the crowd, ie straight onto steel chairs/floor. That's a ridiculous spot for a fairly meaningless opening match on a show. I don't think they should have done that one. It's The Origin who finally manage to get a tick in the win column here with the help of Zack Gibson. He hands Cruz a fork whilst the referee's back is turned which is then used to score the pin. Gibson has joined The Origin, but their recruitment drive isn't over just yet. That was a good match, but had a couple of moments that were a bit too risky for my liking.
Pastor William Eaver vs Jack Gallagher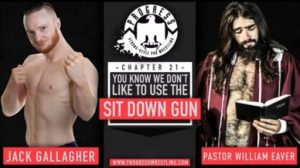 Pastor William Eaver continues to show that's he got a ton of potential as he faces off with Jack Gallagher. The Jesus lookie-likey from Hackney Parish scored a surprise win over Noam Dar at Chapter 20, but can he vanquish the Extraordinary Gentleman? No, in a word. But he really does give a great account for himself in between being stretched mercilessly by Jack G. The crowd too are really starting to get behind Eaver, and that's a delight to see happen. The finish sees Gallagher lock in the King Crab for the TapouT victory, but Eaver loses absolutely nothing in defeat. An excellently worked match that both wrestlers came out of looking great.
Eddie Dennis vs Zack Gibson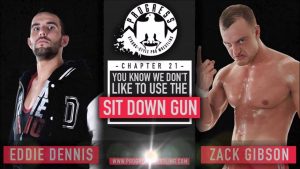 Zack Gibson is accompanied to the ring by his new teammate Nathan Cruz as he clashes with Eddie Dennis at You Know We Don't Like To Use The Sit Down Gun. There's a bit of a story to this one as Dennis (along with Mark Andrews) lost the PROGRESS tag titles to The Faceless. Who turned out to be The Origin. It's not as convoluted as it sounds, but I'm sure you've been reading along each week. Liverpool's Number One and the Pride of Wales have a bit of a middling contest to be honest. It's a perfectly serviceable encounter, but nothing overly noteworthy happens during the course of the match. The finish comes when Cruz causes a distraction that allows Gibson to hit a low blow and score the pin from a roll-up. I didn't love it, but that might have been more down to me than the quality of the match itself.
Paul Robinson vs Jimmy Havoc – No Disqualification Match
Jimmy Havoc, Paul Robinson and The Omega make their way down to the ring unannounced at You Know We Don't Like To Use The Sit Down Gun. Regression is in the house, and Jimmy wants his belt back. He says that he wants a number one contenders match right now, he doesn't care against who. Jim Smallman says that he thought that something like this might happen. Havoc can have his match right now! It's also a no disqualification match, and there are numerous surprises under the ring! His opponent? Paul Robinson!
The Omega takes his leave before the match can begin, seeming to be unable to decide which man is the lesser of two evils. Robinson kicks things off by rolling Jimmy up from behind for a count of two. Things degenerate into a wild slugfest straight away and the two brawl to the outside. Havoc pulls a table out from under the ring and piledrives Robbo through it. They aren't wasting any time here – this escalated quickly. Jimmy then pulls out some light tubes from beneath the ring and tapes a set to the ring post outside the ring. Rather than be whipped into them, Robbo makes a dive to get into the ring. Once Havoc re-joins him, Robinson gives him a good slapping with a frying pan.
A stapler is next on Robbo's list of implements to use against his former (?) running buddy. He busts Havoc wide open when he staples his forehead, chest and, finally, groin. They tumble back outside a Jimmy misses a wild swing for an Acid Rainmaker and hits the light tubes that were earlier taped to the ring post. The drawing pins come out next and both men take some back bumps on them and are both bleeding profusely. Robbo hits a curb stomp onto a steel chair followed by an Acid Rainmaker onto the drawing pins, but it only gets a two. Robinson retrieves the remaining light tubes from outside the ring. He sets them up so that they are laying atop two steel chairs. He then curb stomps Havoc through them as in the photograph above. Holy moly, Paul Robinson just pinned Jimmy Havoc and is the new number one contender to the PROGRESS title!
Post-match, Jimmy is on his knees and throws a chair over to Jim Smallman and tells him to hit him with it. Refraining from violence, Smallman instead extends his hand to Havoc and helps him to his feet. Jimmy Havoc leaves the ring to an absolutely booming standing ovation, penance paid, babyface turn complete. Perfect.
Kris Travis vs Marty Scurll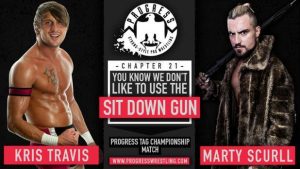 There's a very interesting story being told throughout Kris Travis's first match back for PROGRESS at You Know We Don't Like To Use The Sit Down Gun. That is that he and Marty Scurll are friends and that they wrestled one another around the country. Essentially, Marty is a safe pair of hands for Trav as he has not long beaten cancer. And indeed it plays out as a friendly sporting contest for the first half of the match. Bit by bit, though, The Villain starts to become a force that can't be controlled and Marty's offense becomes a bit stiffer, a touch more ruthless as the match goes on. Travis looks great, incidentally, he really hadn't missed a beat in his enforced time away from the ring. The real turn happens at the end of the match, naturally. Scurll holds Trav in Cattle Mutilation for nearly a minute before lifting him up in order to finish him off with the Chicken Wing. That backfires on him when Travis sneaks a little roll up in and gets the win!
Post-match, Marty raises Kris Travis's hand and turns him to each side of the Ballroom to soak in the applause. Once that is out of the way, The Villain nails Trav with a kick to the stomach and locks in a very tight Chicken Wing. The Geezers, Eddie Dennis, Darrell Allen, and RJ Singh all hit the ring along with the crew to try and pry him away from Trav. Scurll eventually relents and leaves to loud jeers for his heinous actions. A new monster has been created, and PROGRESS is about to become a very dangerous place again.
Sumerian Death Squad (c) vs Roderick Strong & Adam Cole – Tag Team Title Match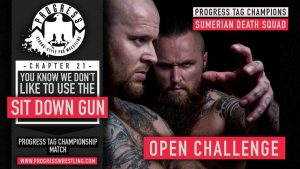 Before they were The Undisputed Era Adam Cole (bay bay) and Roderick Strong would team on the indy circuit. On this occasion, for PROGRESS, they would answer Sumerian Death Squad's open challenge for the tag shields at You Know We Don't Like To Use The Sit Down Gun. And a fabulous match ensues, which features much chanting about Strong's little boots again. The early going is dominated by Adam Cole (bay bay) and Strong as they give Tommy End a ruddy good kicking.
As soon as Michael Dante enters the fray things get on an even footing. The teams go back and forth at a furious pace, and the challengers nearly claim victory several times. A sequence where both the figure four and Strong Hold are locked in is a real nail-biter. It's the reigning champions who walk out victorious though after hitting a barrage of double team moves. Black Mass, Arc Moon, and Anti Hero are all employed to keep Adam Cole (bay bay) down for the three count.
Will Ospreay (c) vs Mark Haskins – PROGRESS Championship Match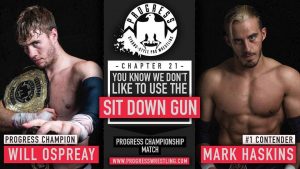 Now that Will Ospreay holds the PROGRESS title, you'd have thought that he'd have an easier time of it at You Know We Don't Like To Use The Sit Down Gun. Jimmy Havoc and Regression not breathing down his neck anymore – life as champion must be pretty sweet, right? Not if this match with Mark Haskins is any indication. Haskins takes the fight to the Aerial Assassin from the opening bell and doesn't give an inch for the first ten minutes of the bout. As noted on commentary, the former Star Attraction has dramatically changed his ring style and really shows it off here. He smashes the Essexican with stiff kicks and tightly wound submission holds. It appears to be the challenger's match to lose for the majority.
The final couple of minutes of the match are Ospreay's chance to shine. He hits his signature moves: the Essex Destroyer, Phoenix Splash, and Oscutter. Just when it seems as though Haskins can't be beaten, the champ absolutely flattens him with a 630 splash. Seriously, that one really looked as though it hurt. Will Ospreay retains the PROGRESS championship in a quite tidy match, but one in which the challenger shone the most.
And that's all for another week, another Chapter, another PROGRESS Preroragtive. It's been very interesting seeing the company reshape itself following the conclusion of the epic Regression storyline. We shall continue to do so when we return next week. Goodbye for now.