Hello one, hello all, and welcome to the PROGRESS Prerogative. This is the weekly column that looks at each PROGRESS show in chronological order to recap and review the happenings. We've got a big show on our hands this week as Chapter 20 sees the culmination of the Jimmy Havoc – Will Ospreay feud for THUNDERBASTARD Beyond Thunder Bastard. Regression has been a thorn in PROGRESS's side for over 18 months now, and we're in the endgame now. Interestingly, this marks the first show with live commentary which is handled by Glen Joseph and RJ Singh. Prior Chapters had the commentary taped after the fact by Jimmy Barnett (Jim Smallman).
I'm going to try and be a bit briefer this week, as I think the column may have gotten too bloated recently. The plan is to put more detail into matches that have a story or feud built into them. Undercard matches will be a bit lighter with specifics. With that in mind, let's dive straight in.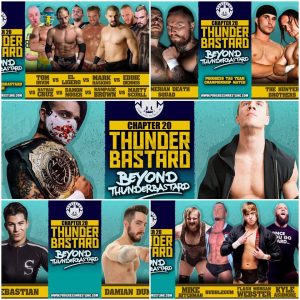 PROGRESS Wrestling Chapter 20: THUNDERBASTARD: Beyond Thunderbastard. 26th July 2015. The Electric Ballroom, Camden, UK.
Noam Dar vs Pastor William Eaver
Despite being a last-minute replacement for Dave Mastiff, William Eaver gives the majority of the offense in his match with Noam Dar. The contest seems designed to showcase the ProJo graduate which suits me fine as Bill is an excellent worker. There's some funny religion-based humor (careful!), as Dar tells the Pastor and the Ultras that he's Jewish. I remember him delivering a promo in Yiddish to Gail Kim on TNA's British Boot Camp. It's always interesting to hear wrestle speak in a different language to me. Anyway, the match goes just about ten minutes and Eaver gets the surprise pinfall victory with a Clothesline From Heaven. Both men moved through the match at a decent clip, and it did what it was supposed to, so a thumbs up from me.
Wild Boar vs Bubblegum vs Kyle Ashmore vs Flash Morgan Webster
Four-way matches can be a bit of a mixed bag. Sometimes they follow the WWE formula of just having two of the wrestlers in the ring at once and swapping people in and out. That doesn't happen here as all four men are constantly in contact, in the ring, and on form. We're reminded by RJ Singh, on commentary, that Flash Morgan Webster still has yet to cash in his NPS title shot. I had genuinely forgotten that in fairness. There's a nice finishing sequence to this as Bubblegum gets smashed with a Meltzer Driver by Wild Boar and Ashmore. Boar throws Ashmore out and makes the cover, but Flash breaks up the cover with a 450 splash. The Modfather and steals the pin for himself and keeps his momentum up for a potential cash in.
Sebastien vs Damian Dunne – Natural Progression Series
Sebastien is a guy you don't really hear much of wrestling-wise these days which is a hell of a shame at Thunderbastard Beyond Thunder Bastard. He's wrestling as a babyface here, but he would go on to have an amazing run as a heel in PROGRESS. His feud with Pastor William Eaver drew absolutely nuclear heat, and I'm very much looking forward to getting to that. He and Damian Dunne have a good showcase match here, with both getting a chance to show the Ultras what they're capable of. Seb's Geezers teammate Tom Irvin acts as cheerleader on the outside with an amusing WWE parody routine. The Dudley Boys 'wassup' gets a good airing when referee Paz's back is turned. Sebastien advances to the semi-finals of NPS after a lovely Geeze To Sleep. A strong start for both wrestlers in PROGRESS.
Sumerian Death Squad (c) vs Hunter Brothers – PROGRESS Tag Title Match
Perennially underrated, The Hunter Brothers put in an excellent showing against tag team champions the Sumerian Death Squad next during Thunderbastard Beyond Thunder Bastard. It's possible that because they don't have a flashy look or gimmick that Jim and Lee Hunter are often discounted by fans. And that seems to be the case here as the chants for SDS ring out loud and clear during the introductions. By the time the match finishes though, the Hunters leave to a standing ovation of chants of 'that was awesome'. And indeed it is. SDS's tag reign gets off to a flying start as the two teams bring out the best in one another.
On several occasions, it looks as though Tommy End and Michael Dante will lose the tag shields on their first defense. Ultimately, that proves to not be the case as SDS overwhelm the Hunters with slick double team moves. They get the pin after the Anti Hero – a sort of assisted Blockbuster from the top rope. Really, really great match between two great teams.
Thunderbastard Match
Tom Irvin vs Nathan Cruz vs Damon Moser vs El Ligero vs Mark Haskins vs Marty Scurll vs Eddie Dennis vs Rampage Brown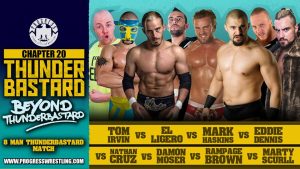 As you may have guessed from the show's title, the Thunderbastard Beyond Thunder bastard match makes a return. Starting as a one on one match, every two minutes another wrestler enters the fray until all men are in the ring. Eliminations occur via pinfall or submission, and the Thunderbastard wins a title shot at a time and place of their choosing.
Order of entry: Nathan Cruz, Damon Moser, El Ligero, Rampage Brown, Mark Haskins, Marty Scurll, Eddie Dennis, Tom Irvin.
Order of elimination: Damon Moser pinned by El Ligero. El Ligero pinned by Tom Irvin. Tom Irvin pinned by Nathan Cruz. Rampage Brown pinned by Eddie Dennis. Eddie Dennis pinned by Nathan Cruz. Nathan Cruz pinned by Marty Scurll. Marty Scurll pinned by Mark Haskins.
The Thunderbastard match itself is a bit of an odd one. It has several pre-existing issues built into it, such as when the former Screw Indy Wrestling trio face-off with one another. That helps to bring the match alive and give the scrapping a bit of context at times. I just wasn't a fan of the layout of the first several eliminations. It pretty much goes wrestler A eliminates wrestler B, then is instantly eliminated by wrestler C. It seems to fall back on multi-man tropes that WWE has established in that regard.
The final sequence with Nathan Cruz, Marty Scurll and Mark Haskins is a delight, however.
All three give it everything they have, and you'd have to say that the right man wins as Haskins claims the win. On the mic after the bout, Haskins says he's cashing in the Thunderbastard at Chapter 21, no matter who the champion is.
PROGRESS Title Match
Will Ospreay vs Jimmy Havoc (c)
https://www.youtube.com/watch?v=iRBydoI6BWQ
This is the big one; the match one year in the making – Will Ospreay and Jimmy Havoc are settling their score once and for all at THUNDERBASTARD Beyond Thunder Bastard 😉 After Ospreay's seconds, The London Riots, have made their way out, young William gets a special entrance. It's not the least cheesy thing I've ever seen, as a couple of extras are dressed as characters from the Assassin's Creed game series that ospreay is such a big fan of. They hand him his robe as he makes his way to the ring after a bunch of cut scene dialogue exchanges from one of the games has played over the PA. Cool. Jimmy enters complete with a cool face paint job, and Regression made up in masks as though they've been shot through the head. It's pretty rad.
The atmosphere is electric as the two stares each other down for a good minute after the opening bell has sounded. A slugfest breaks the stoicism, and each takes wild swings for the other. It's Ospreay who comes out on top as Havoc takes a powder on the outside. That doesn't deter Will though who hits him with a Space Flying Tiger Drop then launches him into the seating! It's a very hot start to the match, to say the least, entirely befitting a blood feud like this one. The Aerial Assassin sets up Chekov's table on the outside to be used at a later time. Just after he finishes the setup Jimmy starts to absolute leather him with a kendo stick. One particularly nasty shot sees Ospreay's head snap back and audibly strike the ring post with a dull thud. Nasty.
Once the action makes it back into the ring it soon fills up with hardware
A table and a big pile of chairs come into play as Havoc takes an X Plex onto the steel. Unbowed, Jimmy introduces a bag full of drawing pins into the match. After spreading them over the mat in the corner of the ring, he stuffs a handful into Ospreay's mouth and gives him a big right. That makes for a great visual as Will spits the pins out on impact. Jimmy follows up by hitting a grim-looking Burning Hammer onto an unfolded chair for a two count.
This is living up to all of the pre-match hype
Just as it looks as though Ospreay has the advantage back, The Omega emerges on the stage to attract the London Riots' attention. Unbeknownst to them, this gives Paul Robinson the opportunity to enter the ring and give his former tag partner a kicking. Robbo gives Will a curb stomp then immediately dives to the outside, landing on the Riots and Omega. The four of them brawl to the back as Havoc can only manage a two count in the ring. After an Acid Rainmaker only yields another two count, the PROGRESS champion loses his 'cool' and takes out referee Chris Roberts with that same move. As RJ Singh notes, he literally clotheslined him out of his shoes.
There's a scary moment on the top rope as both men jockey for position to put the other through a table that stands in the ring. Jimmy and Will seem to lose their footing and go crashing through the said table with all their weight. Joel Allen runs down to count the fall, but again it's only a two count. Ospreay follows that up with a 450, then a Red Arrow, but still it's only good for two! Spying Chekov's table on the floor, Ospreay sets Jimmy up on the top rope. The champ is having none of that and perches the challenger on the ring apron before stomping him through the table emphatically.
When that doesn't secure him the win, Jimmy loses his rag with another official and Joel Allen eats an Acid Rainmaker. Paz has apparently already left the Ballroom and so there's only one person left capable of officiating.
The man who reluctantly counted the pinfall on Havoc's title victory 609 days ago: Jim Smallman
When yet another Acid Rainmaker fails to get the job done Jimmy makes good on his promise from Chapter 19 and produces an ax. Will stops him the champ in his tracks and hits him with a low blow. He follows up with an Acid Rainmaker, Oscutter, and a Next Stop Driver before setting up the Essex Destroyer. Havoc counters that one into yet another Acid Rainmaker of his own, but it still can't keep Ospreay down for three! Running the ropes now, Jimmy keeps trying to catch Will in a final Rainmaker but instead gets flipped in an Essex Destroyer. Ospreay heads straight to the top and, after taking a pause for posterity, drills Havoc with an inch-perfect 630 splash. 1, 2, 3, we have a new PROGRESS champion in Will Ospreay!!!
What a tremendous ending to a near two-year-long storyline with Regression. The match was worked beautifully, and the poetic symmetry of Jim Smallman presenting Ospreay with the belt was a great touch during THUNDERBASTARD Beyond Thunder Bastard. And that's it for this week, I'm afraid. Let me know what you think of the slightly amended format, and I'll see you next week for Chapter 21.