Ahoy there landlubber, and welcome to the good ship PROGRESS Prerogative. The is the vessel (or column, if you'd rather, you square!) where we take a look at each of PROGRESS Wrestling's shows in chronological order. We'll examine the storylines (mainly involving factions at this point), and the matches that went into making PROGRESS the hottest company in BritWres. This week we're looking at Super Strong Style 16 day 2 of the inaugural Super Strong Style 16 tournament. This is a long old show by anybody's reckoning, clocking in at four and a half hours. Let's drop the anchor and make with the show…
PROGRESS Wrestling Chapter 19: Super Strong Style 16, Day 2. May 25th, 2015. The Electric Ballroom, Camden, UK. 
Will Ospreay vs Mark Haskins – Quarter Final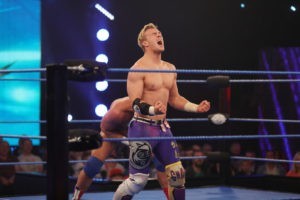 We're kicking off with the quarter-finals of SSS16 and Will Ospreay and Mark Haskins. It's the Star Attraction who takes control instantly as he shuts down anything Ospreay can throw at him. He batters the young Essexican with powerful kicks and knees, making himself look like an absolute killer. Will tries to rally several times, getting put firmly in his place, before he finally catches Marky Mark with a forearm to gain the advantage.
The Aerial Assassin goes off on one from that point, living up to his nickname with a standing shooting star. For the second show in a row, he also pays homage to Rob Van Dam – this time hitting a split-legged moonsault. He comes a cropper when he scales the top rope though: his fear of using his most spectacular moves hasn't yet subsided. He hops down, straight into a stiff kick from Haskins, who continues to properly tee off on his chest.
Haskins works over Ospreay's leg for a short while (wonder if he'll sell that later?), to negate his offense and also set up for his new submission. A particularly impressive spot see Haskins catch Ospreay as he tries for a Space Flying Tiger Drop and powerbomb him. Yowza, that counter is an absolute beauty. Haskins follows up by attempting his stretch muffler/Boston crab combo. Will counters that into a sunset flip style pin and gets the three count! Will Ospreay is in the semi-finals!
Rampage Brown vs Roderick Strong – Quarter Final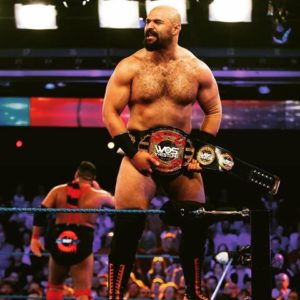 Rampage Brown and Roderick Strong are in action in the next quarter-final. Much like Roddy's match on day 1, he begins the match by stalling on the outside. Also making a return appearance are the Ultras chanting negatively about his wee boots. Rampage joins in with the banter by diving at Strong's feet to try and remove them. It's pretty funny stuff in all fairness. When the fisticuffs finally start it's Brown who asserts himself at the start. He knocks the Messiah of the Backbreaker down with big shoulder tackles, a rudimentary move that Rampage manages to make look impressive. Fair play. The big man also hits a dropkick that he gets absolute monster height on. Fair play, again.
From there, Roddy takes control and the match settles into the PWG champion's pace. A mixture of wear down holds and high-impact strikes and throws. Another amusing moment has him use the Olympic Slam only for the Ultras to chants 'that's not your move'. Strong appears genuinely perplexed at the sheer amount and variety of chants directed at him. Very funny stuff. The finish sees the former PROGRESS champion try to finish Strong off with his trademark piledriver. Roddy manages to reverse that into a cradle and gets the three count! This is like a WWE show; cradles are the most deadly move! Roderick Strong is in the semi-finals!
Dave Mastiff vs Marty Scurll – Quarter Final
Dave Mastiff and Marty Scurll go head to head in the third quarter-final. Marty is acting crazier in each of his successive appearances for PROGRESS, and he's proper losing the plot here. Snarling, twitching and gurning around ringside, he charges the ring all of a sudden and attacks Mastiff. Initially, his tactic succeeds as he flails away with punches, but not for long as The Bastard takes exception to a senton. Big Dave holds Scurll up for a delayed suplex for so long that the crowd loses count, and knocks Marty senseless.
They then go back and forth like the proverbial clappers for the remainder of the match.
Dave hits a shotgun dropkick; Marty hits a seated top rope dropkick. Dave hits a slam; Marty chops his chest raw. On the floor, Marty hits several superkicks; Dave launches him powerbomb style into the ring post. Big moves by both men and neither want to give the other an inch. The difference-maker turns out to be an outside party – specifically, it's a young man called Noam Dar. He jaw jacks to Mastiff from ringside distracting both Dave and the referee. Marty takes advantage by cracking his opponent with his umbrella and locking in the chicken wing. Mastiff verbally submits, and Marty Scurll is in the semi-finals!
Following Scurll's exit, Noam Dar gets on the house microphone. He says that Mastiff concussed him on day 1 and that with this interference they are even. He has too much respect for Dave to continue their feud on over the coming months. And with that, the Scotsman leaves. Once he's gone, Mastiff takes the microphone and contends that they are far even. He says to name the time and place and he'll give him a good kicking again. I'm not a fan of this concussion based storyline one bit.
Zack Sabre Jr vs Tommaso Ciampa – Quarter Final
Zack Sabre Jr takes on Tommaso Ciampa in a match that you would have to be mad to not be excited about. The closest thing that I can compare the opening sequence to is a high-level game of snooker. Both men are very tactical as they shift and reverse each other's moves whilst on the mat. The crowd helps immensely by remaining essentially silent during the lock-ups and bursting into applause at the close of each sequence. They also have an excellent exchange in which both are fully extended in neck bridges. They are face to face and begin to slap each other as hard as they can. These two guys.
It's Ciampa who edges a lead first as his aggression begins to emerge.
He clatters ZSJ with strong knees and several nice counters to attempted comebacks. The swishest of those sees Psycho Killer turn a T-Bone suplex into a top rope draping DDT. Damn, Ciampa's a tremendous professional wrestler. Sabre intermittently begins to target the American's arm, beginning to soften it up for an armbar. It's only dribs and drabs of offense from him though, as Ciampa is in firm control. There's a slightly scary moment later on as the Sicilian Psychopath hits the Air Raid Crash on the apron.
Sabre's lower back comes down right on the edge of the corner of the ring; it looks very nasty. They roll straight back into the ring for a two count from there, so presumably, it wasn't as bad as it looked.
ZSJ comes close to ending with an armbar in a spot that features another great counter from Ciampa. He hoists Sabre up to head level and drops him straight back down into Project Ciampa. More than any other wrestler, it feels as though Tommaso has the measure of Sabre. It devolves into a slug-fest, each man nailing the other with forearm blows. Ciampa, again, comes out on top and lifts ZSJ into a suplex. Quick as a flash, Sabre mounts Tommy's back forcing him to the mat and locks in a tight armbar. He wrenches the other arm over and kicks at Ciampa's head for the verbal submission! What an absolute corker of a match! Zack Sabre Jr is through to the semi-finals!
Pollyanna vs Jinny – No Disqualifications
Another first for PROGRESS as Jinny and Pollyanna contest the first women's match at a Chapter. There wouldn't be a women's title created for another couple of years, but Rome wasn't built in a day (but we don't have the time Rome had). As befitting the match stipulation, it isn't long before the women start producing some hardware. Jinny's assistant, Elizabeth/Laura Di Matteo, produces a Singapore cane for her liege to use. Which Jinny does, except Pollyanna ducks and Elizabeth takes a can to the forehead. Polly follows that up with running double knees to Jinny who is on a steel chair. They appear to be set on battering one another to make their mark. A sound plan, in all fairness.
Back inside the ring, Jinny takes charge and makes good use of the tools available to her.
She reverses a powerbomb into an X-Factor onto a steel chair that looks very nasty but is very safe. The cane makes a reappearance and is promptly smashed to pieces across Pollyanna's back. Nevertheless, Pollyanna rallies after a struggle on the top rope to deliver a double foot stomp. Another Singapore cane enters the ring, and it's Jinny's turn to take her licks as Pollyanna flays her back and midsection.
Elizabeth then introduces a steel chair to the ring to change the tide for her boss. Jinny sets to work with the chair but gets caught with a double underhook. Pollyanna proceeds to deliver a facebuster on top of two chairs for… a two count. Huh, that should have been the finish. It turns out that Polly has something else in mind as she introduces a table to the proceedings. Okay, I'm down with that. Unusually for a PROGRESS match involving a table as a weapon, it breaks when Jinny gets powerbombed onto it. 1, 2, 3, and Pollyanna is your winner! An excellent match there as the women's division gets off to a flying start.
Will Ospreay vs Roderick Strong – Semi-Final
Roderick Strong starts semi-final number one off with a bang as he nails Will Ospreay with a leaping knee during the introductions. In contrast to his first two matches, there's zero stalling from Strong. He batters Will around ringside, launching him into the fans several times. Great aggression on display from Roddy in the opening sequence. This continues in the ring, and Roddy wears down his young opponent with stiff strikes. It's the crowd that proves to be his undoing as he gets distracted by yet more chanting about his tiny wee boots. Ospreay hits him with a knee to the face of his own to take charge of the distraction.
The Aerial Assassin pummels the PWG champion with a somersault plancha, a slingshot tornado DDT and sling blade in rapid order.
That isn't enough to keep Strong down though, and the match continues. Will ascends the ropes, ready to hit something from the top. Once again, however, his nerves get the better of him and Strong takes advantage of his hesitation. A boot to the face leaves Ospreay vulnerable to the more experienced man. A beautiful superplex only yields a count of two, and then the match enters the endgame. Near falls are traded back and forth. Ospreay hits a cradle hurricanrana. Roddy hits an Olympic Slam. Ospreay hits a spiral tap from the second rope. Roddy hits a sick kick. Great stuff.
WWE's favorite finish strikes again as Ospreay reverses a powerbomb into a rollup for the surprise victory. Will Ospreay advances to the final of Super Strong Style 16! Post-match, Roddy gets a 'please come back' chant from the crowd. After walking to the top of the entrance stage he waves to the crowd briefly before turning his middle finger on them. Excellent heelwork, right until the end following a tremendous three matches. Lovely jubbly.
Zack Sabre Jr vs Marty Scurll – Semi-Final
There's some fun and games before the bell as Marty Scurll and Zack Sabre Jr pelt each other with errant streamers. Scurll then proceeds to jokingly harass referee Chris Roberts, slapping his hand and kneeling to make a marriage proposal. The jocular tone continues well into the match as Marty attempts to outwrestle Sabre unsuccessfully. He tries ZSJ's reversals on him and gets continually caught out by the Technical Wizard. A particularly good spot sees both men seated on the canvas with their legs wrapped around one another. They're tangled so much that neither can escape and when Roberts comes close to check on them, they shove his down in between their legs. Ooh, la la!
Things take a turn for the serious following an exchange in which Scurll is attempting to break free from a full nelson.
A snapdragon suplex by ZSJ caps it off, and from there the pair start to properly go off on one another. A sharp series of simultaneous clotheslines gives way to a set of forearms, leaving red chests in their wake. Armbars and chicken wings are the order of the day next. Specifically, each competitor attempting to soften up his opponent in preparation for their submission finisher. The Villain locks a chicken wing on Sabre, only for him to roll through and escape.
ZSJ locks in a tight armbar, but Marty manages to escape and lock in an armbar of his own. Sabre makes the ropes, and then the two exchange strikes. Marty locks in the chicken wing one final time but Sabre can escape and lock in another armbar. He pelts his tag partner with solid boots to the face as he has in position and Scurll has no choice but to tap out. Zack Sabre Jr is in the Super Strong 16 final! They leave the ringside by side, friendship, as always with these two, intact. What an excellent display from both wrestlers.
The Sumerian Death Squad vs The Origin (c) (Nathan Cruz & El Ligero) – PROGRESS Tag Team Title Match
The Sumerian Death Squad take their tag title match against champions The Origin next. If you remember, the masked Faceless beat FSU for the titles before unmasking at day 1 of SSS16 to reveal themselves as Nathan Cruz, El Ligero, Damon Moser, and Danny Garnell. Garnell was then immediately expelled from the group because… reasons. We're off to an absolute flyer in this match as The Origin run to attack SDS in the entrance aisle as they make their way out to the ring. Damon Moser gets taken out of action fairly rapidly, and then we get a bit of the old walk and brawl. Ultras are scattered to the wind as the four men brawl through the crowd, knocking chairs hither and thither.
After a good five minutes of action on the outside, Ligero and Michael Dante make it into the ring and the bell rings.
Waheyyyy, the match has officially started. It is but a moment until that pair are back outside and it's Nath Cruz and Tommy End scrapping inside the ring. I have no idea who are the legal men at this point, it's absolute chaos. When things calm down a touch, it's interesting to see just how well The Origin work as a tag team. They have plenty of smooth double team sequences, such as a suplex/top rope dropkick and running power slam/frog splash. Their cohesiveness genuinely took me by surprise.
Tommy End accidentally knees referee Paz in the face to enter the final sequences of the match. Of course, The Origin takes full advantage of this. Damon Moser re-enters the fray and puts the boots to End. Ligero and Cruz use the tag shields as weapons and batter End with them. There's a brief moment of dissension as Moser refuses to hit a prone End with a steel chair and he takes a spear from Dante for his troubles. A Black Mass to Ligero later and we have new PROGRESS tag team champions! Sumerian Death Squad takes a face full of appropriately black streamers.
Following the match, Damon Moser is violently expelled from The Origin. What an odd and puzzling first day on the job for this new heel faction.
Eddie Dennis vs Big Daddy Walter vs Damo O'Connor vs Jack Gallagher vs Zack Gibson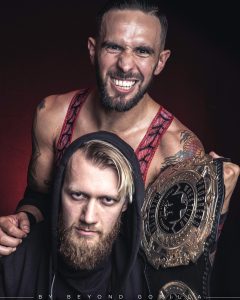 It's time for the first round losers match! Eddie Dennis, Walter, Damo, Jack Gallagher, and Zack Gibson clash to see who the least worst loser is. I'm joking, but it does seem to be a bit of a redundant match on a show that is excessively long. Walter and Damo starts out in a slugfest until Eddie and Gallagher break them up. The big men then team up against the Gentleman and Pride of Wales and may they regret that stoppage. Spot of the match sees Damo holding Eddie on his back and Gallagher in his front. Then Walter casually saunters over and hits a German suplex on Damo. very nice indeed.
A nice callback sees Zack Gibson produce a fork from his boot against Damo.
You might recall that that was how Gibson won the first encounter between the pair. It doesn't work nearly so well this time as Damo simply swats the implement from Zack's hand. He then swats Gibson also. Damo is involved in the finish of the match, but not in a good way, unfortunately. Eddie Dennis once again displays his deceptive strength as he lifts Damo way up high to drill him with a Next Stop Driver. Eddie takes the win, and Damo takes yet another loss in PROGRESS. This was fine, but as I said at the top it just feels a touch pointless.
Will Ospreay vs Zack Sabre Jr – Super Strong Style 16 Final
It's time for the final of Super Strong Style 16 as Will Ospreay and Zack Sabre Jr duke it out. Surprisingly, it's Ospreay who comes flying out of the blocks at the bell displaying new aggression. He pummels Sabre with kicks and forearms and hits a big dive on the outside. He hits one Oscutter for a two count but gets his arm kicked out from under him when he tries for another. That is precisely the opening ZSJ needs, and he then proceeds to work over Will's arm mercilessly.
Aside from the odd rally, Sabre takes the action the next ten minutes or so. He clamps down on the Aerial Assassin's wrist and arm, twisting them until Ospreay squeals in pain. It's well worth noting at this point, that Will's selling is absolutely top-notch in this match. You can well believe that he is in crippling pain at some points; fantastic work. It's Ospreay's resilience that gets a chance to shine during the match. We're well accustomed, as viewers, to seeing his spectacular moves.
But an underappreciated part of his act is that he takes an absolute kicking but keep on fighting the good fight. Case in point, ZSJ levels Will with a dragon suplex, followed by two penalty kicks for a two count. Wrestling is a work, but those moves look and sound as though they hurt, and so when Ospreay kicks out emphatically it leaves a real impression.
It all turns around rather quickly at the close of the match.
Both wrestlers ascend the ropes and it looks as though ZSJ will nail a dragon from the top rope. Ospreay lays in a few elbows to Sabre's face and repositions himself to hit a poison 'rana from the top! Quick as a flash, he's back up to the top rope and executes a shooting star press! He's conquered the nerves that have held him back for the last several Chapters! He heads back to the top rope and hits a Red Arrow for the pin! Will Ospreay wins Super Strong Style 16! Just as Jim Smallman is congratulating Will on the microphone (and saying that he will get his title shot at the next Chapter), AFI's I Hope You Suffer begins playing…
Regression hold PROGRESS hostage
Regression, Jimmy Havoc, Paul Robinson and The Omega, head to the ring as ZSJ and Ospreay go back to back ready for the attack. They're overwhelmed quickly, having each wrestled three times. Havoc gets the microphone and starts throwing C bombs left, right and center. Jim is a c bomb, so's his wife (!), several in the crowd are… and their mums. Bloody hell. We get a reprise of a couple of Chapters ago as Robbo places Ospreay's mouth on the bottom rope in position for a curb stomp. Instead of that, Jimmy roots around under the ring and produces an axe.
He says that he'll chop the lad's head off if PROGRESS doesn't give him what he wants.
He wants a pay rise, as he says everyone pays to see him, he's the biggest merch seller…etc. He also wants his match with Ospreay at Chapter 20 to be no DQ.
The trio leave the ring after setting out their demands to a chorus of boos and chanting. Before they can head backstage, Smallman addresses them on the microphone. He says that he can have all his demands. But in Chapter 20 the London Riots will be at ringside to cover Ospreay's back. Jimmy Havoc's time as champion is up, insists Jim. We're in the endgame now, everybody. Ospreay vs Havoc – No DQ at Chapter 20, which I will be covering in next week's column.
A fantastic beginning to what is now an annual tradition at Super Strong Style 16. The standouts were definitely the two finalists along with Marty Scurll and Sumerian Death Squad. They'll go far in the business, I'm sure 😉
That's all for this time: I am outta heeeeere…