Well, hello there. I didn't see you come in. I suppose I should welcome you to The PROGRESS Prerogative. This is the column that casts an eye back at each of PROGRESS's shows in sequential order. Super Strong Style 16 is PROGRESS Wrestling's annual tournament in which 16 wrestlers compete over two (latterly three) days. The winner can claim a PROGRESS championship shot at a time of their choosing. Chapter 19 represents the first of these tournaments, and as such will always remain a special couple of days. Day one features the eight first-round matches plus Regression taking on London Riots. There's a lot to get through so let's ch, ch, check it out.
PROGRESS Wrestling Chapter 19: Super Strong Style 16 – Day 1
May 24th, 2015. The Electric Ballroom, Camden, UK
Before the matches get underway, Kris Travis makes his return to PROGRESS following treatment for cancer. It's a tremendously uplifting sight to see him receive a booming, standing ovation from the Ultras. It's also tremendously sad because that cancer would return and take his life just a short time later. What a man he was, and what a horrendous loss to his family it must have been. Kris talks about his roadmap to return to the ring and says that he hopes to be wrestling by the end of the year.
El Ligero vs Will Ospreay
The tournament kicks off with a bang as two of the UK's premier high flyers, in El Ligero and Will Ospreay, faces off. Ospreay enters the match wearing a gum shield due to the curb stomp from Jimmy Havoc at Chapter 18. That's a nice little storytelling detail that you don't often see.
They start out running the ropes, and Ospreay takes the advantage with Rolling Thunder followed by the RVD pose. They transition back into lucha style crisscrossing until Ligero counters a handspring elbow with a dropkick. Ospreay's selling here is great, incidentally.
There's no period where either man takes control of the flow of the match. It really is back and forth the entire way through. The Mexican Sensation concentrates his offense on strikes to Ospreay – plenty of kicks and dropkicks used by the former PROGRESS champion. The Aerial Assassin takes care of the more spectacular stuff. Although that's tempered by his (storyline) reluctance to use the top rope. Again, great longterm storytelling and continuity from both company and talent.
The final sequence sees both guys go absolutely nuts with the near falls. It's Will Ospreay who comes out on top after hitting a hook kick, superkick and an Essex Destroyer for the pin. A very tidy opening match then, and Ospreay moves through to the quarter-finals.
Jack Gallagher vs Mark Haskins
Jack Gallagher makes his PROGRESS debut against Mark Haskins next. Two points of interest to note: 1 – Gallagher enters to Dvorak's Symphony No. 9, which is odd considering who is wrestling in the match after this one. 2 -Mark Haskins has finally dropped everything related to the albatross that was Screw Indy Wrestling. He's beginning to hear the support of the crowd too, surely in part due to the death of that gimmick.
There's a fantastic chain wrestling sequence at the top of this contest where both men flex their technical muscles. There's real aggression to it at the same time. It really helps make this feel like a real contest. The strategies of both wrestlers come into focus as the Gentleman targets Haskins' arm. Once The Star Attraction gets on top we see that he is focussing his attack on Gallagher's legs. Great stuff. We get a good helping of strong style too. Jack European uppercuts Haskins' chest until it's bright red. Haskins returns fire with some stiff kicks to Gallagher's chest as he kneels on the mat.
The leg was the right body part for Haskins to target as that's what gets him the tapout victory. After a nasty looking crusher on Jack, Haskins locks in an excellent stretch muffler/Boston crab. Again, it looks nice and snug and ultra believable. Another excellent contest in the books for the inaugural SSS16.
Rampage Brown vs Big Daddy Walter
Walter makes his debut sans the music that we all associate him with. He faces off against Rampage Brown in a match that one could reasonably expect to leave a mark on both. Instantly, Walter wades in with chops, punches, and kicks. Rampage doesn't appear amused and fires back with forearms and knees before sending both men outside with a Cactus Clothesline.
The story of this match sees Rampage trying, and failing to overpower the larger Austrian. He lifts Walter up in a fireman's carry only to collapse under the weight. He attempts a suplex, but his back gives out and Walter reverses it. Even in a common or garden strike exchange, Big Daddy Walter flattens the former PROGRESS champion. It appears that he is simply outmatched.
That all turns around rather abruptly as Brown catches Walter with a lariat that knocks him flat. He just about manages to power the Ring General up into a piledriver and scores the pin. I enjoyed the match, but the ending felt incredibly rushed to me. That was a John Cena style comeback out of nowhere when it would have benefitted from being a slow build. Hey ho, Rampage makes it to the quarters.
Tommy End vs Roderick Strong
The third debut in a row belongs to Roderick Strong as he takes on Tommy End. Roddy works the Ultras beautifully before either man makes contact with the other. He stalls as they chant about his small boots leaving the ring until the count of nine. Once he re-enters, he flips the crowd off and rolls back out. I love that old-school heelwork. It's so simple yet so effective. Once he commits to the ring, Strong finds himself fighting from underneath. Tommy plasters him with kicks and throws. So… he heads back outside.
Strong is met by a flying Dutchman as End leaps from the apron onto him. Tommy gets caught in a cradle position and absolutely launches onto the corner of the ring apron for his troubles. The Messiah of the Backbreaker has begun to live up to his nickname. From there, Roddy takes control with his impactful deliberate offense on the mat. There's a bit of a dodgy moment as Strong fluffs a superplex by landing on his feet. But both men are fine thank goodness.
The strong end sequence sees End and Strong hitting each other very hard indeed. As soon as Tommy connects with a leaping knee the PWG champion hits back with one of his own. End tries for a ripcord knee, Strong counters into a shotgun backbreaker. It's a frantic sequence with Strong executing the End of Heartache for the three count. Tommy End has been eliminated in round one!
The Faceless Promo Segment
Tommy End's night isn't over yet though as the PROGRESS tag team champions, The Faceless, make their way down the aisle. The Sumerian Death Squad are the number one contenders to their shields. So they are wanting to wear down one half of them. After a bit of a blah beatdown, a Faceless in a suit comes out on stage. He tells the two in the ring to unmask and they do. Revealing Damon Moser and Danny Garnell. The dude in the suit, who is still masked, motions for someone to come out from the back. And El Ligero emerges clutching the Fawkes mask. I suppose they had to stage it like that due to the horns on Ligs's mask?
They make their way down to the ring and the Faceless with the suit unmasks to reveal himself as Nathan Cruz! He gets on the mic and says that they are at war with the PROGRESS fans who have forgotten about what each man has accomplished. And during any war the footsoldiers are the first to perish – then Ligero and Cruz attack Garnell. This is very oddly staged. If they wanted to reveal who the other fourth man really is why couldn't they have moved his match to earlier in the card? Cruz closes a long, somewhat dull promo, by saying The Faceless are no more, they are now The Origin.
Eddie Dennis vs Marty Scurll
The Villain Marty Scurll tries to take down Eddie Dennis in the next SSS16 clash. It's a case of finesse versus brute force. Two very different styles of wrestling from each man. Former tag champion Dennis tries to outmuscle Scurll in the early going, but The Villain is having none of it.
He continually takes the Welshman off his feet with single-leg takedowns and some sweet pin attempts. The old finger breaking spot takes the big man off his feet also as Scurll imposes his will on the match.
The only thing that causes Marty to come a cropper is a mistimed tope. He gets caught by Dennis in mid-air and slammed onto the ring apron. That puts the Pride of Wales firmly in the (next stop) driver's seat. He then goes to work on Marty's back.
They return to the ring and Eddie hits his crucifix buckle bomb for a two count. He goes straight for the finish, but The Villain flips over his head and locks in a Chicken Wing. Dennis struggles to reach out for the ropes but has to give in and tap out. Marty Scurll advances to the quarter-finals.
Noam Dar vs Dave Mastiff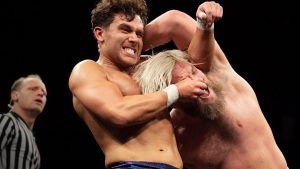 The match between Noam Dar and Dave Mastiff sprung forth after the Scotsman eliminated the Bastard from the world title match at Chapter 18. It's nice to have a match within the tournament that has an issue built into it. Indeed, the match begins with Mastiff refusing to shake the Scotsman's hand. To quote Justin Roberts 'he is a bastard'. Surprisingly, it's Dar who takes the advantage in the opening exchanges. He takes the big man down to the mat with various wristlock variations and appears to be in control.
Mastiff takes a spill to the outside and gets met by a Dar tope. An innovative spot sees the Scottish Supernova get two members of the audience to whip him into Mastiff. Unfortunately, he gets caught in a bear hug instantly and squeezed like an orange on a forehead.
The match takes a turn for the slightly macabre from there as it gets built around Dar having a (kayfabe) concussion. Even so it's an uncomfortable watch as Dar runs the ropes and hits them chest first and crumples to the mat. Mastiff intermittently protests that Jon Briley should ring the bell to end the match and smashes Noam with realistic-looking headshots.
It's quite an uncomfortable viewing experience in the wrong way. The match gets stopped after about five minutes of Dar being concussed as big Dave stomps on his head. I'm all for wrestling blurring the lines between kayfabe and shoot, but I was not a fan of this one bit. I don't believe concussions and CTE are something to make a storyline out of no matter the context. Mastiff is in the quarters.
Damo O'Connor vs Tommaso Ciampa
Another big debut comes next as Tommaso Ciampa squares off with Damo O'Connor. Ciampa doesn't stand on ceremony and hits Damo with a dropkick as the referee checks his boots for foreign objects. He then hits two big old running knees – trying to take the big man out fast.
The Sicilian Psychopath rallies after taking a shotgun dropkick on the outside and levels the bigger man with more knees to the face. It's surprising to see how much Ciampa dominates the match because the size difference in the two is quite stark.
Every time Damo tries to impress his will upon Ciampa he gets cut off. He tries to stand on Ciampa's chest into a senton – Ciampa gets the knees up. He tries to suplex Tomasso – that gets countered into a knee and White Noise! There's no let-up from the barrage that the Irishman is on the receiving end of.
Even when he hits a One-Winged Angel that barely scrapes a two count. It all reaches a logical conclusion when Project Ciampa gets unleashed from the top rope. 1, 2, 3, and Tommaso Ciampa advances into the quarter-finals. What an oddly one-sided match. Damo isn't having a great time of it in PROGRESS so far, but obviously Ciampa was the bigger star and had to go over.
Zack Sabre Jr vs Zack Gibson
Battle of the Zacks is next as Sabre faces off with Gibson in the final first-round match of SSS16. The inevitable happens as soon as the match gets going as ZSJ takes Gibson to the mat. Sabre starts tying Gibson in knots and shows off an unbelievable neck bridge whilst he has him in an Indian Deathlock.
Liverpool's Number 1 manages to play ZSJ at his own game briefly and gets a couple of wristlock takedowns in. They don't keep Sabre down for long though, and he takes charge once again.
Sabre continues to wear Gibson down for the next five minutes or so. Gibson finds his way into the match via a little move known as a hammerlock. He locks is counterpart in several of those and slams him into the turnbuckles at the same time. Zack G then takes his time working over that same arm looking to submit the submission specialist. He can't keep that momentum going, however, and Zack SJ crushes him with three full-speed running uppercuts.
Things get a wee bit more evenly matched in the final stretch as the two Zacks go back and forth. Highlights include Gibson's middle rope lungblower, and ZSJ's penalty kick and float over Northern Lights suplex – beautiful. The right man wins when Sabre locks in the armbar for a tapout victory.
He joins Will Ospreay, Mark Haskins, Rampage Brown, Roderick Strong, Marty Scurll, Dave Mastiff and Tommaso Ciampa in the quarter-finals on day two. That's quite the killer's row of talent, isn't it?
London Riots vs Regression: Jimmy Havoc & Paul Robinson
The main event sees the return to the ring of London Riots to face off against former stablemates Jimmy Havoc and Paul Robinson. Tasty.
The Riots jump Regression before the bell and the fists are flying with reckless abandon. That gives way to the multi-man main event special of a brawl out into the crowd. Havoc gets launched into seats whilst still wearing his entrance gear. Rob Lynch launches Robbo over the top rope onto Havoc and James Davis on the floor. A particularly brutal/silly spot sees Jimmy powerbomb JD straight onto the floor from the apron.
The action finally settles in the ring as Davis is given medical assistance at ringside, and Regression do a number on Lynch. The crowd heat at this point is nuclear and Robinson appears to be reveling in it. He stamps on his opponent's back in time to their chanting and appears to be getting a real kick out of the reaction.
He and Havoc dominate until Davis suddenly re-emerges and levels both with a clothesline. A great spot follows: Davis launches Robbo in the air and Jimmy catches him. Then Lynch grabs Jimmy's waist and hits a German suplex whilst he is still holding Robinson in a horizontal position. That's a chef's kiss of a sequence right there.
Each of the Riots misses a big move from the top rope: a moonsault and a spiral tap. They take a bit of a thrashing as Regression lay into them with a rudimentary offense. In the end, it matters not. Rather surprisingly, the Riots launch Jimmy into the pop-up spear and get the pin over the PROGRESS champion. That's the first time that Jimmy has lost since Chapter 8. Ironically, he was pinned by James Davis at that event – the more you know 😉
---
And that wraps up day one of Super Strong Style 16. A good start for the new, annual format, I feel. There's some serious talent going through to the next round and some great stuff booked for day two besides the tournament matches. We know we're getting Sumerian Death Squad vs The Origin for a start, and you would have to think Regression will be heavily involved. I'll be back same time, same place next week to review what happened on a concluding day. See you then.
As always you can catch up with each and every PROGRESS Prerogative right here!