Longevity is key in the world of professional wrestling. Very few get the opportunity to shine on a big platform at such a young age. It is important to hone one's craft after years and years of experience to get where most want to be. "The Murderhawk Monster" Lance Archer is a true journeyman. He's nearly been everywhere and yet to be featured on a top flagship show. The 43-year-old veteran resurfaced as one of the scariest big men in this industry in recent years. His superb talents did not go unnoticed much longer as he signed a contract with AEW earlier this year. The MurderHawk is on the loose in AEW, and he's looking to mark true on his tagline. EVERYBODY DIES.
Getting the Start:
Lance Vance Hoyt was born on February 28th, 1977. He was born and raised in Hearne Texas, and much like many Texans his mind was completely fascinated with Football. Archer wasn't fully immersed with wrestling either. He didn't start watching until he was about 17 in 1994. He went to college and played quarterback at Howard Payne University for 3 years. Unfortunately, he didn't feel that he had the support of his coaches due to his long hair and piercings. Only needing one more year he transferred to Southwest Texas State University where he finished and received his degree in English.
Once he graduated college, he did what most 6 foot 8 guys would do; He was a bouncer at a night club. It was the owner of a club in downtown Austin that opened the professional wrestling door for Lance. The owner knew someone who ran the Southwest Wrestling Federation whose head trainer was at the time was Ivan Putski. When Archer arrived, the owner had a falling out with Putski that resulted in him no longer training there. So, Archer was trained by Solo Fitali who had been trained by Putski. Archer was in a whole new world, and it wasn't as easy as he thought it would be:
"I had no idea what I had gotten myself into when I signed up for training. I had participated in theater training in high school and college so I admired the theatrical aspect I had been seeing on TV. The athletics combined with the theatrics hooked me. I did one day of training, more like a tryout and it hurt so bad I almost didn't go back."
– Lance Archer on beginning wrestling training
Archer did go back because he didn't know what else to do after college. He continued training and just a month later he made his professional wrestling debut in July of 2000.
Early Career:
Archer got his first taste of a live crowd in early July in 100-degree weather. He said they would dump buckets of water on the canvas as it quickly turned to stream. The tape on the ropes were melting off the ropes. He did a run in later in the show and the roaring crowd of 5 people was a little underwhelming. Archer had his first match against Tarzan Taylor. It was at a car dealership with a crowd of 500 people. Archer has noted that although it went well, he shouldn't have wrestled as he had only been training for a month.
Archer has had many names throughout his career, and the early days were responsible for most of them. He originally debuted as Lance Steele. He later worked on a card that had someone named Lance Romance and Jared Steele. Prior to coming up with Lance Steele he had originally came up with a character named Shadow. So that was the debut of Shadow who was a dark and twisted heel. Once he forgot his gear for a show, so he came up with a new character called Breakdown. He chose Breakdown because Archer has a passion for dancing and can be described as an amped up cheerleader.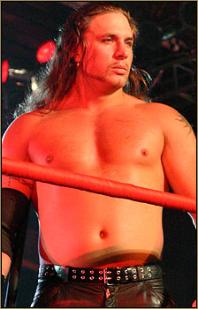 Archer would spend the first four years of his wrestling career working in the Texas independents. He worked predominately for Professional Championship Wrestling as Shadow. He would claim their Television title once, and their World Championship on two occasions.
First Break:
Another name change would come when the big man was signed to TNA in 2004. He would debut as Dallas in March of 2004. He was immediately paired with Kid Kash and was given the heater role. After just two weeks of being on screen Archer and Kash won the NWA World Tag Team Championships. They would defeat Low Ki and Christopher Daniels in the finals to claim the vacant titles. They would lose the straps just two weeks later D'Lo Brown and Apolo but would regain them just 7 days later once more.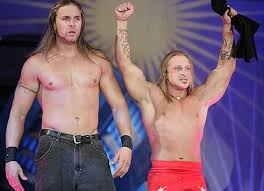 Archer soon began wrestling under his given name per the instruction of Dusty Rhodes. He didn't want any confusion between him and Diamond Dallas Page. And so, Lance Hoyt made his debut in TNA. Lance continue his run in TNA with little impact. He never claimed any gold since holding the tag titles with Kash. Nearing the end of his TNA career he was involved in a comedic duo. Paired with Jimmy Rave and managed by Christie Hemme they would be called The Rock 'n Rave Infection. They would make their entrance with Guitar Hero controllers while Hemme would scream nonsense into a microphone. On February 10, 2009, Hoyt was released from his TNA contract.
The Big Leagues:
After his release from TNA Lance would sign a developmental deal with WWE on April 26, 2009. He would once again make a name change and this time, he was given the name Lance Archer. I wonder if that ever stuck. Well, not at this company because after 7 months at FCW he would be called up to ECW. He would now debut under the name Vance Archer. He would feud with Shelton Benjamin during his stint in ECW. Archer would get the chance to wrestle on the preshow of WrestleMania 26 where he lost in a 26 man battle royal.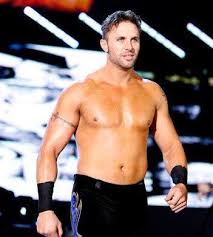 In 2010 the reboot of ECW was folded, and Archer was set to make his debut on SmackDown. He formed a team with Curt Hawkins named The Gatecrashers. The team would only last a few months and their breakup angle played out on an episode of Superstars. On November 19, 2010, Archer was released from his contract after just a year with the company.
"The Murderhawk Monster" Lance Archer | Rebuilding
Hoyt made his debut for New Japan Pro Wrestling on May 15, 2011. This was during the promotion's first-ever tour of the United States. It was announced that his ring name would be Lance Archer and it finally stuck. He would first find himself aligned with Minoru Suzuki's faction Suzuki-Gun. He would later team with another member of Suzuki-Gun Davey Boy Smith Jr. The duo would be named K.E.S. which stood for Killer Elite Squad. Elite you say? Foreshadowing a bit?
K.E.S. would claim IWGP Tag Team gold on October 8th, 2012 and held them for 207 days. The team would hold the tag titles on two other occasions during their NJPW stint. Davey Boy would leave NJPW which opened the door for a monster to emerge. Lance Archer rebranded as the Murderhawk Monster just in time for the 2019 G1 Climax. He went 3-6 in the tournament, but he had made a big impression on the fans and NJPW bookers.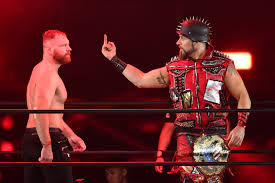 On October 10th, 2019 Lance Archer would defeat Juice Robison to claim the vacant IWGP United States Heavyweight Championship. The man who vacated the championship was none other than current AEW World Champion Jon Moxley. Moxley had vacated the belt due to travel restrictions, and Archer and Moxley battled on Night 1 of Wrestle Kingdom 14. Moxley would be victorious and would regain the United States Championship. This certainly left a bad taste in the mouth of the Murderhawk Monster who will look for redemption. He won't have to wait long as he is the current number one contender for the AEW World Championship.
"The Murderhawk Monster Lance Archer is All Elite: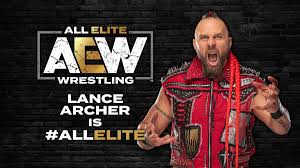 Lance Archer was signed to an AEW multi-year contract on February 26, 2020. He made his debut on April 1st against Marko Stunt, and absolutely massacred him. He made good on his tagline – EVERYBODY DIES. Archer would continue to mow through challengers and had a vignette of him taking on nearly 20 men. He would align himself with Jake "The Snake" Roberts and immediately started to feud with Cody. The two men faced of in the finals of the TNT Championship tournament at Double or Nothing. Archer would end up losing and since then has been back on a rampage.
Archer would get the opportunity at All Out to win the number one contendership for a bigger prize. The AEW World Heavyweight Championship. Archer competing against 20 other men in the Casino Battle Royal. He would be victorious after last eliminating Eddie Kingston. At the end of the PPV Lance Archer watched from the stands as Jon Moxley retained his championship.
The stage is now set. The bad blood still tasting bitter in Archer's mouth from losing the IWGP United States Championship to Jon Moxley. Now is the time for redemption. The Murderhawk Monster looks to make do on this opportunity.