Macho Man Randy Savage was now a broadcaster and enjoying life outside the ring. Hulk Hogan, on the other hand, was turning back challenges from Ric Flair, Sgt Slaughter, and a new force in the WWF, The Undertaker.
It was an altercation with the Undertaker that Savage and Hogan would once again cross paths. Hogan was attacked on the Funeral Parlor, a show hosted by Undertaker's manager Paul Bearer. This is the story of how the Mega Powers reunited.
When The Undertaker attacked Hogan from behind, it was Macho Man Randy Savage and Rowdy Roddy Piper who ran off the Undertaker. Randy Savage felt a new commitment to paying back Hulk Hogan for all his help earlier as the Mega Powers.
It was during this time that Jake The Snake Roberts started terrorizing Randy Savage and Elizabeth. Roberts even went as far as to have his pet cobra bit Randy's arm. Jake Roberts played on the fact that since Randy Savage was contractually obligated never to wrestle again, Jake could do whatever he wanted.
This led to a fan campaign with the slogan "Reinstate him, yes we can. Reinstate the Macho Man". Thanks to the fans, Macho Man Randy Savage was once again back in a WWF ring. He even defeated Ric Flair at Wrestlemania VIII for the WWF Championship.
The Departure From The WWF
In 1992 Elizabeth filed for divorce from Randy Savage. Once again, Savage began to distrust Hulk Hogan but this time in real life. Randy Savage blamed Hulk Hogan and his family for talking Elizabeth into leaving him. Macho Man even went so far as to voice his shoot open in a rap song called "Be a Man Hogan".
In the early 90s, Hulk Hogan lost his WWF championship to The Undertaker. However, much like Macho Man, he did become WWF champion one more time at Wrestlemania XI against Yokozuna.
Unfortunately, Hulk Hogan was defeated by Yokozuna a month later at the King of The Ring 1993. Sensing that Hulk Hogan did all he could do in the WWF, he left for greener pastures. And World Championship Wrestling welcomed Hulk Hogan with open arms.
After Hogan's departure, Macho Man and Hulk Hogan patched up their friendship. In 1993 Macho Man Randy Savage was not happy in the WWF.
Hulk Hogan knew this and talked Savage into joining WCW. Once again, The Madness and Hulkamania were under the same roof. Randy Savage made his official WCW debut, and he immediately let WCW know he was there for one man, Hulk Hogan.
Fans wondered whether Randy Savage was in WCW to help Hogan or to continue their feud. At Starrcade 1994, Savage answered that question when he helped Hulk Hogan, who was being double-teamed. The Mega Powers were back …but this time in World Championship Wrestling.
The Mega Powers REUNITED –
Alliance To End Hulkamania
It was around this time that the Four Horseman, led by Ric Flair, and The Dungeon of Doom, led by Kevin Sullivan, banded together to form the Alliance to End Hulkamania.
Once again, Savage stood by his friend. At WCW uncensored, The Mega Powers defeated the Alliance to End Hulkamania in a Doomsday Cage Match.
The Mega Powers have now been on top of the world in both the World Wrestling Federation and World Championship Wrestling. However, what happened next shocked every fan.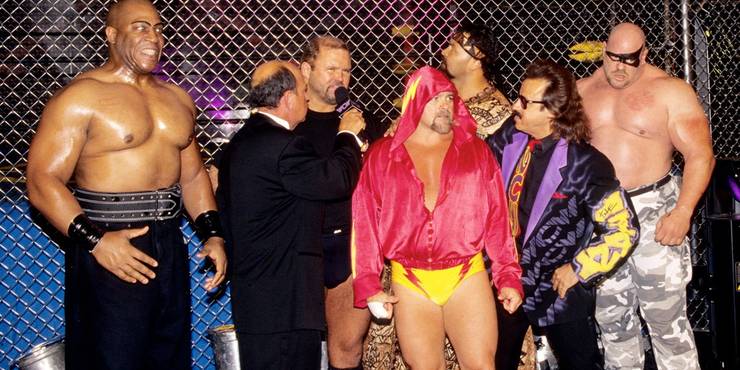 At WCW Bash at Beach 1996, Randy Savage teamed with another Hulk Hogan supporter, The Man they call Sting. A few weeks before WCW had been invaded by people Savage and Hogan knew all too well.
The Outsiders, Kevin Nash, and Scott Hall invaded WCW and left destruction in their path. They would frequently claim they were here to take over WCW and they "were not alone". Going into Bash at the Beach, no one knew really what that meant.
Macho Man and Sting represented WCW in a match against the Outsiders. When it looked as though the Outsiders were going to win the match, out came Hulk Hogan.
The Mega Powers REUNITED No More
Everyone thought that Hogan was there to save WCW. Instead, Hogan's leg dropped his Mega Powers tag partner Randy Savage three times, causing the Outsiders to win the match.
The New World Order was born.
Hulkamania was dead, and Hogan had turned his back on WCW. Hogan even made it a point to tell Randy Savage that he didn't want someone as ungrateful as Savage for a friend. His true friends were the NWO.
In the following weeks, the NWO attacked WCW, and one of their first targets was the Macho Man. The New World Order ganged up on Randy Savage. Elizabeth, who was with Ric Flair and the Four Horseman, ran out to the ring to shield Savage.
Unlike the Hulkster of the past Hollywood Hulk Hogan not only spray painted Randy Savage but also Elizabeth.
After that beat down Randy Savage left WCW and Hollywood Hulk Hogan began feuding with another rival, Roddy Rowdy Piper. Piper challenged Hogan to a WCW title match at Halloween Havoc.
And it's here that Macho Man Randy Savage returned. Most fans thought Savage would go after Hogan because of the incident before. To everyone's surprise, Macho Man helped Hulk Hogan defeat Roddy Piper when he gave the champ a pair of brass knuckles to knock out Piper. The Mega Powers were once again on the same page.
The Mega Powers REUNITED | new World order
This time it was the black and white page of the nWo. The nWo was the hottest thing in wrestling in the late '90s. Based on the huge star power of both Hollywood Hulk Hogan and Macho Man Randy Savage, fans often debated who was the true leader.
Hogan and Savage teamed often alongside the Outsiders. Sting had returned to WCW, but unlike Savage, Sting did not want to be friends with Hollywood Hulk Hogan. Sting began stalking Hogan and fighting for WCW.
This year-long story culminated at Starrcade 1997 when Sting defeated Hollywood Hulk Hogan for the WCW Championship. After this match, Savage began to question Hogans's ability to be the leader of the nWo.
Add to this, Kevin Nash also began to question both Savage and Hogan's leadership. Hollywood Hogan convinced Nash that Savage was the weak link in the nWo. He then convinced Savage that Nash was the weak link of the group.
After a few weeks, both Randy Savage and Kevin Nash realized that Hollywood Hulk Hogan was playing mind games with them to stay on top.
Randy Savage took it upon himself to take the WCW title away from Sting and prove he was more fit to lead the nWo. And true enough, Macho Man stuck to his word and defeated Sting. Hollywood Hogan immediately challenged Macho Man for the WCW Championship and won it the very next night on Nitro with help from nWo sympathizer Bret Hart.
It was because of the selfishness of Hulk Hogan that the nWo split into two groups. nWo Hollywood was led by Hogan, and the nWo Wolfpack was led by Kevin Nash and Macho Man himself.
Once Again Divided
At the Great American Bash 1998, Macho Man Randy Savage teamed with Rowdy Roddy Piper against Hollywood Hulk Hogan and Bret Hart. The match ended with Savage tapping out to Bret Harts Sharpshooter.
After this match, Savage took a hiatus from World Championship Wrestling. Hollywood Hogan, on the other hand, continued to defend the title. In July at Nitro at the Georgia Dome, a newcomer by the name of Bill Goldberg defeated Hulk Hogan to become the new WCW champion.
Shortly after that, Hogan teamed with Dennis Rodman to take on Diamond Dallas Page and Karl Malone.
Macho Man Randy Savage returned to WCW in April 1999. He returned with an entourage including Madusa, Gorgeous George, and Miss Madness, aka Molly Holly. Macho Man Randy Savage once again became WCW Champion when he defeated Kevin Nash.
However, history tends to repeat itself, and the next night on Nitro, Randy's Mega Power rival Hollywood Hulk Hogan returned and won the WCW Championship from Savage. Macho Man took another leave from WCW. Hogan went on the disband the nWo and become the Hulkster again.
The Mega Powers REUNITED & Dissolve
In 2001 WCW was experiencing financial issues, and the company folded. Hulk Hogan would go on to be a part of WWE. Unfortunately, Macho Man Randy Savage passed away due to cardiac arrest.
After running wild for two decades, the Mega Powers were an iconic part of pro wrestling history. Never before had two stars of this caliber crossed paths in two different organizations.
As individuals, they became icons. As a tag team, they became legends. Macho Man Randy Savage and Hulk Hogan together have won a total of 19 World Heavyweight Championships.
They rivaled each other in popularity in two different organizations. Both Macho Man Randy Savage and Hulk Hogan are Hall of Famers and are known worldwide. Wrestling could have not asked for a better combination of madness and mania all in one rivalry.
This was the tale of how the Mega Powers reunited during their time in WCW one final time.