Hello, everyone! On this life entry on my time as a referee, I will sum up my experiences at Empire State Wrestling's (ESW) Wrestlebash X event held on Saturday, November 23rd. It was held at the Kenan Center in Lockport, N.Y. which is a very special place for me. This is – my Wrestlebash X experience.
As some people may know from my very first post on here, I began my referee career in Ohio in September 2007. I did not ref my first event in my home state of New York until the following summer. That very first New York booking was at the Kenan Center, so ESW's return to it held an extra special place in my heart.
To describe the Kenan Center, it is a much bigger venue than where ESW regularly ran at the St. Johnsburg Fire Hall. Instead of the normal audiences of 400 fans, previous Kenan Center events drew as many as 1,000 people.
With this being a bigger venue and a relatively easier drive, my parents, wife, and daughter were all able to attend this one. So instead of driving myself up, I took a Lyft from my house to the show considering I would eventually be driving my wife's vehicle home. I used these quiet moments to relax a bit on the ride there as I anticipated there being a lot of things to do once I arrived.
Wrestlebash X – My Experience
Prior to the show, I got in touch with Lockport Community Television (LCTV) – a public access television station that records many events in the city – to cover the show. When I arrived, one of the first things I did was coordinate with them on where they would set up. The other issue was LCTV needed a color commentator to go along with their play-by-play person. I was able to get our friend of ESW Russ Pacenzia from The Closed Fist podcast to provide his services. He attends the vast majority of ESW events and would possess a lot of product knowledge as well as good speaking skills for the role.
Leading up to Wrestlebash, I designed a media guide of sorts because I expected that some of the members of the TV crew would likely not know a lot (or maybe nothing) about the performers. I wrote up some briefs tied to the announced matches and printed them out the day before. However, I left them at home. With me taking a Lyft there, I had no way (or time) to run back to my house and pick them up. Thankfully, the Kenan Center staffer in the office allowed me to access my email and print out two copies of the media guide.
I then got my match assignments for the night – Tag Team Championship match, the Ilio DiPaolo Cup match, plus the Last Chance Battle Royal and War Games match with the other two referees. When I found out about an additional wrestler in the battle royal I did not know about ahead of time, I ran back out to the LCTV announce team and updated them on it.
Wrestlebash X – My Experience
After that, I got to chill for a second and eat my packed lunch. Over the last week, I was fighting off a cold. I also started taking digestive enzymes to help boost my overall well-being against the lingering side effects from the gallbladder removal I do think I needed in January (that's a whole other blog and I will just stop there). So it was important for me to stop and take his quick lunch break to make sure I was fueled up enough to make it through the evening without any issues (I did not want a repeat of the way I felt at the ESW Rochester show in February).
First up was the Last Chance Battle Royal. It was Andrew Mollon (making his final regular ESW event appearance), Nolan Evans and I working the outside edges of the ring looking for eliminations. Overall, it was a fun battle royal to watch and saw "Unkillable" Kevin Blackwood win despite some shenanigans from "The Big Bang" Jerk Cockins.
Right after the battle royal, I was up next with the tag team titles match which saw Handcrafted (R.J. City and Gregory Iron) defend the belts against High Seas ("Your Captain" Nick Ando and Cloudy). There were two real notable moments for me personally during this match. The first was when I went down for a pin-fall awkwardly. With the hard cameras for the TV and live streaming recording and the camera-persons and photographers around ringside.
I do my best to avoid blocking their angles. So when I got down for this one, I tried to get quickly into a good position. Based off where I was, I ended up getting hit in the forehead upon the kick out. It did not sting as bad as it last year when I got hit, but I did need to shake it off a little to keep going.
Wrestlebash X – My Experience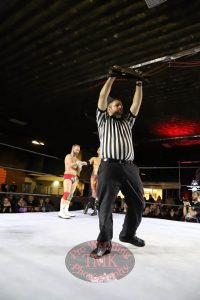 The second was toward the end. It was a fun comedy spot where all the wrestlers were chopping each other in a row, and Cloudy almost chopped me accidentally but I warned him. Then I felt someone chop me in the back and scolded Ando until I felt another back chop and turned around to see Cloudy still standing there. So I yelled at him a bit until he shoved his middle finger in my face. At that point, I started to pull my fist back to unload a big punch at him. When City grabbed my arm and said he was going to disqualify me. We all got real confused in the moment.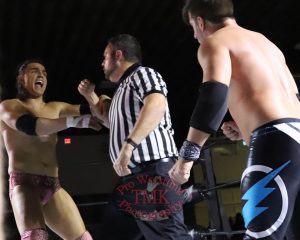 If you want to see this match to get a better idea of what I am talking about, head over to one of ESW's live-streaming outlets such as Powerslam.TV to check it out.
My next assignment was the Ilio DiPaolo Cup match. It was a six-way elimination match that saw each participant enter the match at a set interval. The match consisted of Blackwood, plus A.R. Fox, "Big Time" Bill Collier, Atticus Cogar, "The Patron Saint of Professional Wrestling" Brandon Thurston and Puf. The match was allocated 20 minutes for which I stayed on top of to get the show flowing at a good speed. The cage was going up at intermission. Thus we needed to be right on time to make sure it could be put up in speedy fashion. I was also a little nervous about my cardio conditioning for this one. I do not remember the last time I refereed a match that was scheduled for this much time. And with me just getting over a bad cold, I was hoping to make it through all right.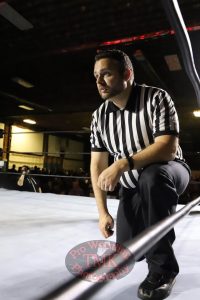 The match was great and all the wrestlers took the audience on a story with several peaks and valleys. In the end, Blackwood was able to make last year's winner, Thurston, submit. And became the first person to ever win the Last Chance Battle Royal and DiPaolo Cup in the same night. This was a great way for him to cap off his year. And cement the strong come back he embarked upon after healing from his car accident injuries.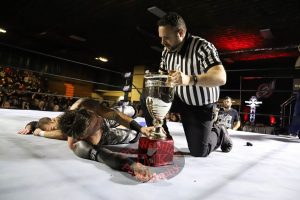 I was done with my official assignments, per se. However, there were more responsibilities left for me. Right before intermission, Cockins returned to the ring to confront D-Von Dudley and things didn't go well for Cockins. To Infinity & Beyond ended up putting him through a table and I needed to get Cockins out of the ring. In the process of walking out there to get him, a child in the audience yelled out to D-Von for a low five. When D-Von reached out, he accidentally hit my hand instead to my surprise.
Wrestlebash X – My Experience
Next was an intermission and setting up the cage for the main event. This was the first time I was involved in setting up this specific cage. And there were many people on hand to help. But just like whenever something is done for the first time, it can be a tough go-about. I was able to see my friends and family for a little bit during this time. My daughter kept asking me about the "boo-boo" on my forehead and I kept telling her I was fine. They all were enjoying themselves which made me happy.
Eventually, the cage was secured and the main event began. I was one of the people holding the cage in place around ringside. Making sure it was steady when the wrestlers inside collided with it. The cage went straight to the floor unlike the previous cage we used that went just to the apron. In my opinion, it was a little more steady. But the extra reinforcement was still good to utilize to keep everyone safe.
Wrestlebash X – My Experience
The match was as brutal as expected. Throw in some thumbtacks and "None of a Kind" Anthony Gaines hitting a moonsault off the top of the cage. I think this is one of the most memorable ESW matches of the year. Which, that alone, is saying something considering how many emotional moments there were in 2019.
After the show, the teardown was one of the roughest I was around for a long time. There were normal items like the ring, production equipment, chairs, etc. There was the added cage that needed to go, too. Then, when many of us thought it was done, there was an entire stage that needed to be torn down that most people did not realize. Then there was additional production equipment that needed to be taken care of since this was a bigger venue. Lastly, we needed to sweep most of the arena floor before we could part. The show ended around 10:00 p.m. but we did not leave the Kenan Center until 12:30 a.m.
That sums up ESW, and Western New York's, biggest independent wrestling event of the year from my perspective. My next entry will be about my time at the Every Time I Die Christmas show "'TID The Season" in about a week.
As always, thanks for reading!