As the fall season approaches, so does we preview Empire State Wrestling as they present Overdrive. It is the biggest event of the year. But before Western New York's premier independent wrestling promotion can head full-steam toward the prestigious event, it must first launch itself into overdrive.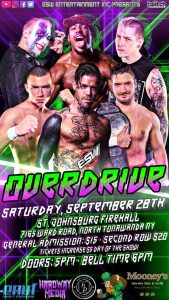 This Saturday, Empire State Wrestling (ESW) will host its next show, "Overdrive", from the familiar confines of the St. Johnsburg Fire Hall in North Tonawanda, N.Y.
Overdrive will feature four qualifier matches for the Ilio DiPaolo Cup match that will be held at "WrestleBash" in November. The DiPaolo Cup match consists of 6 wrestlers. The four qualifier match winners, a special guest, and the winner of a "last chance" battle royale held at the beginning of WrestleBash. Each participant enters the match at different intervals and can be eliminated at any time by pinfall, submission or knockout. The final combatant wins the DiPaolo Cup which can be "cashed-in" for a shot at the ESW Heavyweight Championship at any time.
One half of the current Evolve Tag Team Champions AR Fox will face Beyond Wrestling's "Blue Thunder" Jay Freddie in a qualifier match. Fox has made several appearances over the years in ESW while Freddie challenged ESW Heavyweight Champion Daniel Garcia for his title at the last event.
"Fox is one of the innovators of aerial offense, truly a game-changer before the boom of what you see today," Freddie said. "But to counter a great offense, you need a great defense and I'm not going to allow him to get moving. I'm gonna keep him grounded and drag the match into deep waters and later minutes and just attack him like a hammer, keep wailing away, and he will crumble – hands of stone."
Preview Empire State Wrestling Present Overdrive
Ethan Page will make his ESW return in a qualifier match. One half of the current Impact Wrestling Tag Team Champions will take on Buffalo, N.Y. native Puf.
"Unkillable" Kevin Blackwood will face "Big Time" Bill Collier in a rematch from last month. However, a spot in the DiPaolo Cup match will be on the line this time. In August, Blackwood made his surprise return to ESW after accepting and winning an open challenge issued by Collier.
The fourth qualifier match features "The Remix" Kevin Bennett against Atticus Cogar of Cleveland, Ohio. The two tangled as part of a triple threat match last show. That also featured Evolve's Josh Briggs and saw Cogar getting the win.
After successfully defending the ESW Heavyweight Championship against Freddie in August, Garcia will team with a mystery partner against The Butcher & The Blade (Every Time I Die guitarist Andy Williams and Ex-Impact Wrestling star Pepper Parks). 
On the title defense front, ESW Interstate Champion Frankie Feathers will defend his belt against Tonawanda, N.Y. native "The Big Bang" Jerk Cockins. The two faced-off earlier this year at ESW's Albion, N.Y. event. The team of James Sayga and Vince Valor will receive an opportunity to regain the ESW Tag Team Championships from Famous (Will Calrissian and Chris Cooper).
"These are the guys I once looked up to," Valor said. "I had the utmost respect for them and admired all they've done to build ESW up to what it is today. But as time has passed, things have changed. They've shown their true colors. Using every dirty tactic in the book in an effort to reclaim what they feel is still theirs. Come Saturday, we're taking it all back."
Former Handcrafted tag team partners R.J City and Gregory Iron will continue their feud by facing off in a deathmatch.
"I don't mean to alarm anyone, but this is a Death Match, so, according to the rules, one of us will die," City said. "The #IronCityFeud has gone too far."
In another rematch, viral star "None of a Kind" Anthony Gaines will face ESW legend Jonny Puma. Their match in September ended with Puma winning by count-out after delivering a "Jonny-On-The-Spot" from the apron to the floor. And some assistance from ESW Commissioner The Caesar.
"I'm ready to end this," Gaines said. "I'm ready to end Puma and Caesar, and the rest of his AARP card-holding buds, and I'm willing to die doing so."
General admission tickets are $15. Front and second-row tickets are sold out. Doors open at 5 p.m. with bell-time at 6 p.m. Overdrive will be recorded for ESW's live streaming feeds.