Ending 2018 in front of a capacity crowd at its biggest event of the year is only fitting for Empire State Wrestling (ESW). Western New York's premier independent wrestling promotion concluded what is considered to be it's most successful to date in strong fashion. Here is a preview of A Night at the Johnsburg. ESW aspires to build off this success in 2019 as it holds its first event of the year, "A Night at the St. Johnsburg" in North Tonawanda, N.Y. on Saturday, January 19. The event will also be broadcast over live streaming service Twitch, with select matches being recorded exclusively for Powerslam.TV.
"We are ready to kick off 2019 in a huge way," said ESW promoter Brett Mednik. "I invite everyone out to a night at the Johnsburg. And this event is not just for wrestling fans, as it is sure to provide the best entertainment in the area on January 19th."
Headlining the event will be two time former World Wrestling Entertainment (WWE) Women's Champion Lisa Marie Varon, formerly known as Victoria, against Impact Wrestling star Allie. This will be Varon's debut and likely only appearance in an ESW ring, as she recently stated that 2019 will be her last year in pro wrestling. Meanwhile, Allie makes her return to wrestling ESW after a several year hiatus.
ESW Heavyweight Champion Pepper Parks will defend his title against North Tonawanda's own Kevin Bennett in a street fight. This feud reached a boiling point in November after Parks interfered in the Last Chance Battle Royal by eliminating Bennett even though he was not in the match. This was followed by Bennett running out and seeking retribution on Parks after the champion defend his title against Rickey Shane Page later on that night.
A Night at the Johnsburg
"Honestly, I'm excited," Bennett said. "This time, there's no holding back, no rules, no nonsense. It's an even playing field where everything goes. (Parks) may have been my "mentor" over the years, but now I look at him as nothing more than a bitter, old guy who let his emotions get the best of him, mainly because one of his students was outshining him. I've had enough of this big, bad Pepper Parks attitude as well as his mind games and cheating b*llsh*t. This month, I'm beating his ass and taking that strap back."
After successfully defending their the ESW Tag Team Championships against The Private Party at "WrestleBash", Vince Valor and James Sayga will next put the belts on the line against Handcrafted (Gregory Iron and R.J. City). Handcrafted earned the title shot after teaming with their ring enforcer Roscoe Black to defeat the team of Space Monkey, Puf and Dick Justice in November.
"A Night At The St. Johnsburg will mark 8 months to the date since Sayga and I captured the ESW Tag Team Championships," Valor said. "Since forming in 2018, it didn't take very long for us to find success as a team. But the same can easily be said for RJ and Greg. This will be an interesting and competitive matchup, to say the least. We hope to start the new year the right way, securing a big victory."
Randy P and Andy C Face-Off!
Former Oliver Street Express tag partners Randy P. and Andy C. will square off one-on-one for the first time. The ex-friends began to implode months ago after losing the tag team titles and continued on a losing streak that they never recovered from.
Unfortunately, "Red Death" Daniel Garcia and Kevin Blackwood will not in action as originally announced. Both wrestlers suffered serious injuries from a major motor vehicle accident this past weekend and will not be able to compete in the foreseeable future. Brandon Thurston was originally scheduled to put the DiPaolo Cup on the line against Garcia, but will face another opponent instead. Blackwood was supposed to go against Cleveland, Ohio's Atticus Cogar and the debuting Zachary Wentz in a triple threat match. That match is now changed to a one-on-one bout between Cogar and Wentz.
"Fate is an unpredictable thing," said Cogar's manager Brother Christianson. "Blackwood was destined to suffer at Atticus hands, but fate wasn't patient enough to wait until the 19th for his reckoning. Now our sole focus is 'Too sick for this world' Wentz. If he thinks he is too sick for this world, he has no concept of how sick of a world Atticus lives in. I look forward to him finding out."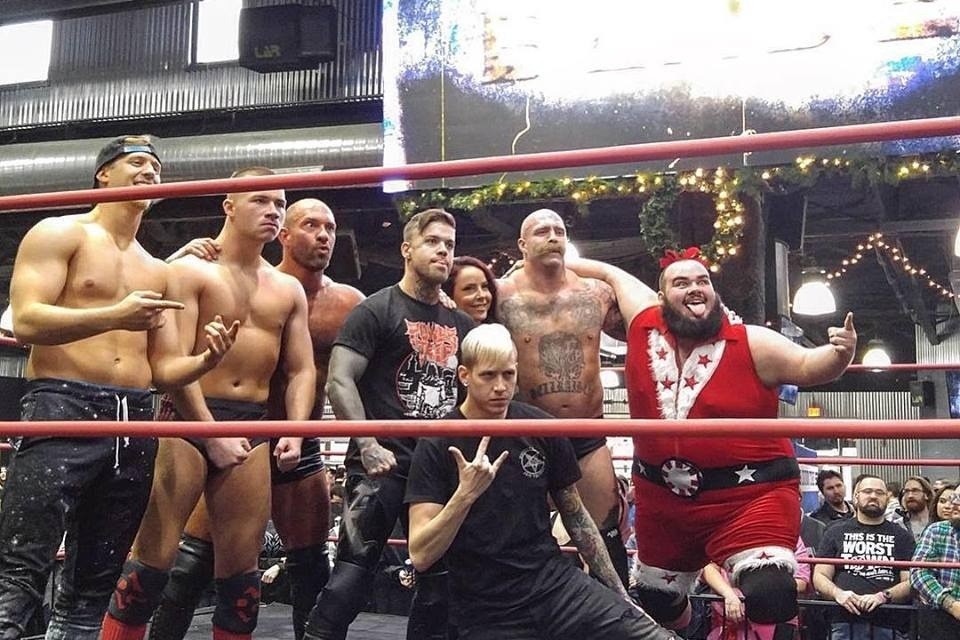 A Go Fund Me page was established to help offset their medical costs. You can access it here: https://www.gofundme.com/buffalo-brothers-car-accident-recovery-fund
A Night at the Johnsburg
Frankie Feathers will hold a celebration in honor of winning the ESW Interstate Championship. This was after beating former WWE star Colin Delaney at WrestleBash. The title was vacated at "Overdrive" by Anthony Gaines due to injury.
Former ESW Heavyweight Champion Bill Collier will also be in action. Although his opponent is still not set, Collier remains optimistic about the opportunity ahead of him.
"I'm going to kick 2019 off right," he said, "by punching in someone's face on January 19th!"
General admission tickets are available for $15 and increase $5 on the day of the show. First and second row tickets are sold out. Doors open at 5 p.m. with bell-time at 6 p.m.
To check out more about Empire State Wrestling visit Powerslam TV to watch it thousands of hours of content. Click the link below to do so.