Bullet Club has become one of the most known stables within professional wrestling. One can watch any major promotion and see a Bullet Club t-shirt being worn in the crowd. Thus proving how popular this all-heel faction truly is within the wrestling community.
Bullet Club was started in 2013 within the New Japan Pro Wrestling promotion. Since then, the club has had five different leaders, leading up to a brand-new leader in 2020 after New Japan Cup 2020 Final. Over seven parts, we are going to explore the history of Bullet Club and the different leaders who have held the reigns of this now-historic faction.
The Cleaner, Kenny Omega is often argued as one of the best & sometimes one of the worst leaders Bullet Club ever saw. This is the History of Bullet Club Part 3.
Goodbye Tyson Smith, Hello Kenny Omega
Kenny Omega, or Tyson Smith, was born in Winnipeg, Manitoba, Canada, on October 16th, 1983. He debuted for Premier Championship Wrestling (PCW) in 2001 and since then has become one of the most celebrated and well-known wrestlers of all time.
Kenny Omega was awarded Sports Illustrated's Wrestler Of The Year 2017. He topped Pro Wrestling Illustrated's top 500 male wrestlers in 2018 and won two matches of the year.
Omega currently holds Dave Meltzer's highest rating awarded to a professional wrestling match. He has wrestled all over the world for some of the biggest International promotions and well-known independent promotions. Including Ring of Honor, New Japan Pro Wrestling, DDT Pro-Wrestling, Pro Wrestling Guerrilla, and currently All Elite Wrestling.
Kenny Omega's career within Japan started thanks to Kota Ibushi. After watching several of Ibushi's matches, Omega focused on getting noticed by DDT (Dramatic Dream Team) and therefore getting the opportunity to fight Ibushi. In 2008 Omega debuted for DDT and had his dream match with Kota Ibushi.
This match sparked the creation of the Golden Lovers as the duo teamed up. Kenny Omega had a rather successful career as a single and tag wrestler within DDT before the Golden Lovers moved to New Japan Pro Wrestling in 2010. The team competed within New Japan's squared circle until 2011, when they returned to focus on DDT. This was while Ibushi returned to NJPW as a semi-regular.
The Golden Lovers came to an end in 2014 as Omega focused solely on NJPW as a junior heavyweight.
The History Of Bullet Club Part 3 – Omega's Future
Omega's future within wrestling was cemented at a press conference on October 3rd, 2014. During the press conference, Kenny Omega would join NJPW full-time as his DDT contract expired. Omega dubbed himself 'The Cleaner.' Just over a month later, The Cleaner would join Bullet Club at Power Struggle.
We Don't Need To Be Phenomenal; We Need To Clean 
The Cleaner decided to take control of Bullet Club the night after Wrestle Kingdom 10. Omega, with the help of the Young Bucks, removed AJ Styles as leader. The split second it took the Bucks to hit their former ally with Superkicks was all it took to change Bullet Club and professional wrestling forever. Tama Tonga discussed the decision for Omega to become the leader to NJPW1972;
"When we knew that Kenny was going to be leading the group, I was behind that. I'm a big-picture thinker, I'm always thinking about what would be best for the group as a whole."
Though Kenny Omega's actions would bring large success to the group, especially The Elite, Omega would also raise questions within the club. It would make his Bullet Club brothers question him more and more. Tama Tonga continued his interview, stating;
"but… I guess he had other intentions. He had different goals in mind. I kind of started to see it when you saw him do more stuff popping up with the Elite here and there, but I was just trying to be supportive."
But before we dive into the groundbreaking world of The Elite, let's jump back to the events of January 4th, 2016, at Wrestle Kingdom 10.
The History Of Bullet Club Part 3
Wrestle Kingdom 10 Failures
The faction competed in five of the major championship matches at Wrestle Kingdom 10. The Young Bucks regained the IWGP Junior Heavyweight Tag Team titles. Bad Luck Fale, Takahashi, and Tonga were unsuccessful in their attempt to win the NEVER Openweight 6-Man Tag Team Championship. Kenny Omega continued Bullet Club's losing streak as he lost his IWGP Junior Heavyweight Championship to Kushida.
Bullet Club's luck didn't get any better at Wrestle Kingdom 10. Anderson and Gallows lost the IWGP Tag Team Championships.
A.J. Styles was the last Bullet Club to lose. He lost to then-current IWGP Intercontinental Champion Shinsuke Nakamura. Only several hours later, Anderson, Gallows, and Styles had all given notice that they would be leaving New Japan Pro Wrestling. The next day Bullet Club removed Styles and looked to the future as Kenny Omega announced he would be graduating from the junior heavyweight division and challenging Nakamura for the IWGP Intercontinental Championship.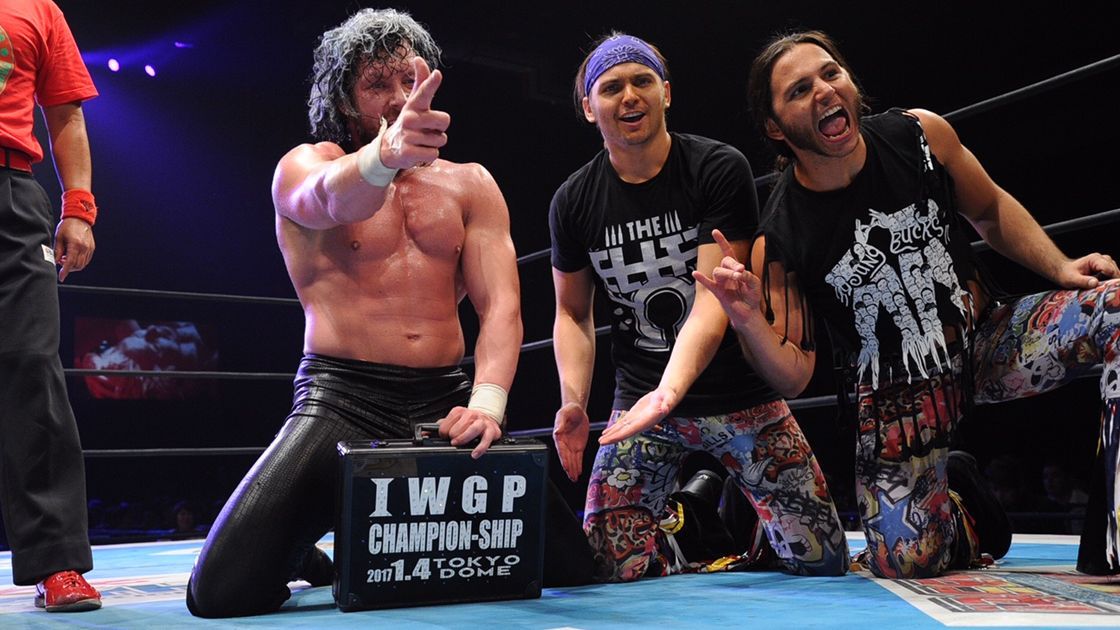 "I Want Everyone To Know That Myself, Nick, And Matt Jackson Are The Elite" 
A.J. Styles didn't even have one foot on the plane before Kenny Omega started to make changes to Bullet Club. Omega created The Elite along with the Young Bucks. This was a huge change for Bullet Club and its members, as it seemed the Bullet Club would be taking a back seat. Kenny Omega explained his thoughts on The Elite being a part of Bullet Club with Rolling Stone;
"The Bullet Club has sort of become this pop-culture phenomenon. You don't even have to like wrestling or follow our product, and you can wear a Bullet Club shirt, and it's cool. I can understand how New Japan wants to keep up with that.
That's their cash cow. If we are still the Bullet Club, in parentheses, then I'm OK with that. But I want everyone to know that myself, Nick and Matt Jackson are The Elite. I want to push that hard, especially this year."
The History Of Bullet Club Part 3
The Elite
Bullet Club continued on with the creation of The Elite. On March 12th, 2016, Tama Tonga announced his brother, Tanga Loa, would be joining the Bullet Club. Together they became his tag team partner. The pair debuted together, competing in an IWGP Tag Team Championship match. They were calling themselves G.O.D or Guerrillas of Destiny. A few months later in May, two ROH wrestlers joined the faction, Adam Cole and Adam Page.
Page would rename himself 'Hangman' Adam Page. Heading into the midpart of the year Bullet Club had regained some of its precious titles. G.O.D held the IWGP Tag Titles, Omega was carrying the Intercontinental Championship after winning the 2016 G1 Climax and Young Bucks won the IWGP Jr Tag Team Titles.
Bullet Club continued adding new members before the end of 2016 as Captain New Japan, who changed his name to Bone Solider, and Cody joined the faction. Under Kenny Omega's leadership, some Bullet Club members were also regularly competing within Ring Of Honor. Adam Cole held the ROH World Championship until Final Battle 2016, and the Young Bucks brought home the ROH World Tag Team Championships.
Matt and Nick Jackson held both the ROH World Tag Team Championships and the IWGP Junior Heavyweight Tag Team Championships until Wrestle Kingdom 11 in January 2017. At Wrestle Kingdom 11 the Young Bucks lost the IWGP Junior Heavyweight Tag Team Championships to Roppongi Vice.
Wrestle Kingdom 11 Okada Vs Omega – Round 1 
This was not the only lost belts at Wrestle Kingdom 11 for Bullet Club though. G.O.D also lost their IWGP Tag Team Championship titles to Tomohiro Ishii and Toru Yano. Wrestle Kingdom 11 also made history as the first time Bullet Club leader Kenny Omega challenged, unsuccessfully, Kazuchika Okada for the IWGP Heavyweight Championship.
The loss to Okada clearly affected the usually calm and rather arrogant Omega as he took a break from New Japan Pro Wrestling, claiming he wanted to reassess the future.
Omega did return a month later though, on the 26th of February. Omega's return seemed to set off a number of problems within The Elite. As Adam Cole and the Young Bucks grew closer while working within Ring Of Honor, Omega grew jealous. Clearly wanting Cole out of the faction.
This feud would continue to heat up over the next coming months. March 4th marked another lost title for Bullet Club and The Elite as The Young Bucks were defeated by The Hardys and lost their ROH World Tag Team Championship belts. Omega and Cole's problems once again appeared within May 2017. Omega had bided his time, waiting for a chance for the Young Bucks to turn on Cole.
This time finally came on May the 12th as Omega and the Bucks fired Cole from Bullet Club replacing him with Marty Scurll.
The History Of Bullet Club Part 3
Adam Cole, Bay Bay….. No Actually Bye Bye 
Kenny Omega then focused on having another shot at the IWGP Heavyweight Championship and Okada. At Wrestling Dontaku 2017, Omega defeated Ishii. He was therefore nominated by Okada for a rematch at Dominion 6.11. Omega and Okada fought an incredible 60-minute match at Dominion 6.11, which ended in a time-limit draw. Both competitors gave their all but never could secure the victory.
The 60-minute match also started more problems for Omega and his leadership, as Cody desperately wanted to throw the towel in for Omega. Kenny didn't seem too keen on that option. At Dominion 6.11, the Young Bucks regained their IWGP Junior Heavyweight Tag Team Championships against Roppongi Vice.
Ring Of Honor Success and New Japan Loses 
Cody was next to bring a championship belt to Bullet Club. He defeated Christopher Daniels to win the ROH World Championship during ROH's Best In The World. Cody then challenged Okada for the IWGP Heavyweight Championship. A match he lost. But further cracks within Cody and Omega's relationship were forming as Omega tried to throw the towel in during that match.
On July 2nd, 2017, Kenny Omega became the first-ever IWGP United States Heavyweight Champion as he defeated Tomohiro Ishii.
It wasn't only with Cody that Kenny Omega appeared to be having problems keeping control. His leadership with the original members of Bullet Club was also cracking. For the 2017 G1 Climax, Tama Tonga, Bad Luck Fale, and Omega all entered the tournament. While Omega did advance to the finals and managed to defeat rival Okada, he did run into some problems with his own team.
Omega and Tonga ended up facing one another. After the match, Tama Tonga started to question Omega's leadership once again. He pointed to him being too distracted with The Elite. Tama Tonga continued his relationship with Bullet Club, minus the problems with Omega. Tama and Loa then brought their youngest brother, Leo Tonga, into the club.
Back in Ring Of Honor, The Young Bucks lost their ROH World Tag Team Championship belts to The Motor City Machine Guns at Death Before Dishonor XV. Two months later, Marty Scrull won the IWGP Junior Heavyweight Championship at Power Struggle. During Ring Of Honor's Final Battle, Cody lost the ROH World Championship to Dalton Castle.
Bullet Club continued and replaced the lost titles with the NEVER Openweight 6-Man Tag Team Championships as Bad Luck Fale and G.O.D defeated Los Ingobernables on the 17th of December.
The History Of Bullet Club Part 3
Are You Bullet Club, OR Are You Elite?! 
At the end of 2017, Kenny Omega's leadership seemed to be slipping away from him. He was facing problems with Cody and the original Bullet Club members. Bad Luck Fale discussed Omega's leadership to New Japan Pro Wrestling as,
"it really felt like we were losing our identity."
Omega continued his leadership into 2018, but how would it end? Would Cody take over? Would Bullet Club rebel against Omega? This was The History Of Bullet Club Part 3; tune in next week to continue the story.
All images and videos courtesy of New Japan Pro Wrestling, Bullet Club, Ring Of Honor, Kenny Omega, Chaos OrbitYT, Boke Man Sam, and WWETV UK