From the inception of The Great Kabuki, the Japanese character was shrouded in mystery. At times, a wrestler's vision needs assistance to come to life. In other cases, the character's success isn't necessarily attributed to themselves but rather to those closest to them.
Akihisa Mera may have portrayed the Great Kabuki, but it was the brainchild of legendary wrestling manager Gary Hart. While the character was said to be based on a character used by former wrestler Ray Urbano, Kabuki had layers to him that Gary Hart had shared were what made him quite unique.
But to know about how the Great Kabuki came to be, it is essential to know about the man behind the guise and how he came to be.
The Great Kabuki – The Origins of A Mystery
Akishia Mera first began to wrestle at the age of 16 in 1964 for the Japanese Wrestling Association. He would begin to compete in the 1970s abroad in the United States.
So, while he competed in notable Japanese promotions such as All Japan Pro Wrestling and as part of the Mid-South Continental Wrestling Association, NWA, and WCCW, he would do so under the moniker Akihisa Takachiho and Yoshino Sato.
The latter name was inspired by his mentor in the Japanese Wrestling Association, Yoshinosato. It should be noted that Sato would later be known as Mr. Sato but was different from the Akio Sato, who also went by the same name.
The land of the rising sun has been home to several mysterious and intriguing wrestling characters, and the Great Kabuki was no different. As briefly mentioned earlier, a brainchild of the late great Gary Hart, The Great Kabuki, was born and bred in World Class Championship Wrestling in 1981.
As retold by Hart himself, he explains his vision despite having a roster that boasted names the likes of Tim Brooks, Bruiser Brody, and Mark Lewin.
My dream was to create an evil Japanese character, unlike anything the wrestling world had ever seen before. During the 1950s – right after World War II – just being billed from Japan was all that was needed to give a Japanese wrestler enough heat to get into a main event position.
That mindset lasted well into the 70's. During that time, Japanese wrestlers were always portrayed as sneaks who "pearl harbored" their opponent before the match and would then throw salt in their eyes.
With Hart's vision clear, he needed someone to represent this character, and it would be the late Bruiser Brody who believed he may have found the man who could give life to Hart's vision.
I mentioned my plan to Bruiser Brody, and told him of the character I wanted to develop. He thought it was a great idea, and one day, when he came back from Kansas City, he told me that he may have found my man – a wrestler named Takachiho.
Upon meeting Takachiko, the man would later become Kabuki. The two would discuss Japanese culture and, in the process, begin to form a bond. They discussed martial arts, Samurai Warriors, Kamikaze pilots, and Kabuki theatre.
For those unaware, Kabuki theatre combines dramatic performance with that of traditional dance. At the same time, Kamikaze pilots were Japanese pilots who would intentionally crash into their enemies' targets, killing themselves in the process. 
Hart realized the shift in Western culture that would come to embrace Japanese products such as Honda's and portable music devices such as Walkman's. The evil Japanese character needed more to them than simply being from the Orient.
Hart would also incorporate his admiration of Martial films and the legendary Bruce Lee into whoever his prime jewel would be, so it became integral for him to have someone who could combine all those qualities. 
Upon the recommendation of Takachiko from Bruiser Brody, Gary Hart recalls first meeting with him and knew he was the one.
I watched Takachiho's match that night, and I liked what I saw in the ring. When I introduced myself to him later that evening, he had no idea who I was.
He spoke broken English, but it was enough so that we were able to have a conversation. We started talking about Japanese culture – which I had been studying as I prepared for the development of 
this character – and discussed martial arts, samurai warriors, kamikaze pilots, and the Kabuki theatre. It was his well-versed knowledge in all of those things that convinced me that Brody was right – he was the one I was looking for. 
When Hart had initially built the hype around the Great Kabuki, he shared about the origins of his character and where he came from. He shared that he was from Singapore, and during a match, he suffered burns to his face by 'Indians' scaring him forever!
This rationale justified the use of face paint that he would sport when he would unmask and compete. Before the Great Kabuki stepped foot into the ring, he was already feared. Hart conveyed that Bill Mercier, who was in Texas then, said he would leave if The Great Kabuki was coming!
With the backing of Mark Lewin (another man who would be managed under Gary Hart) along with Hart, The Great Kabuki already had both fear and anticipation surrounding him without seeing him!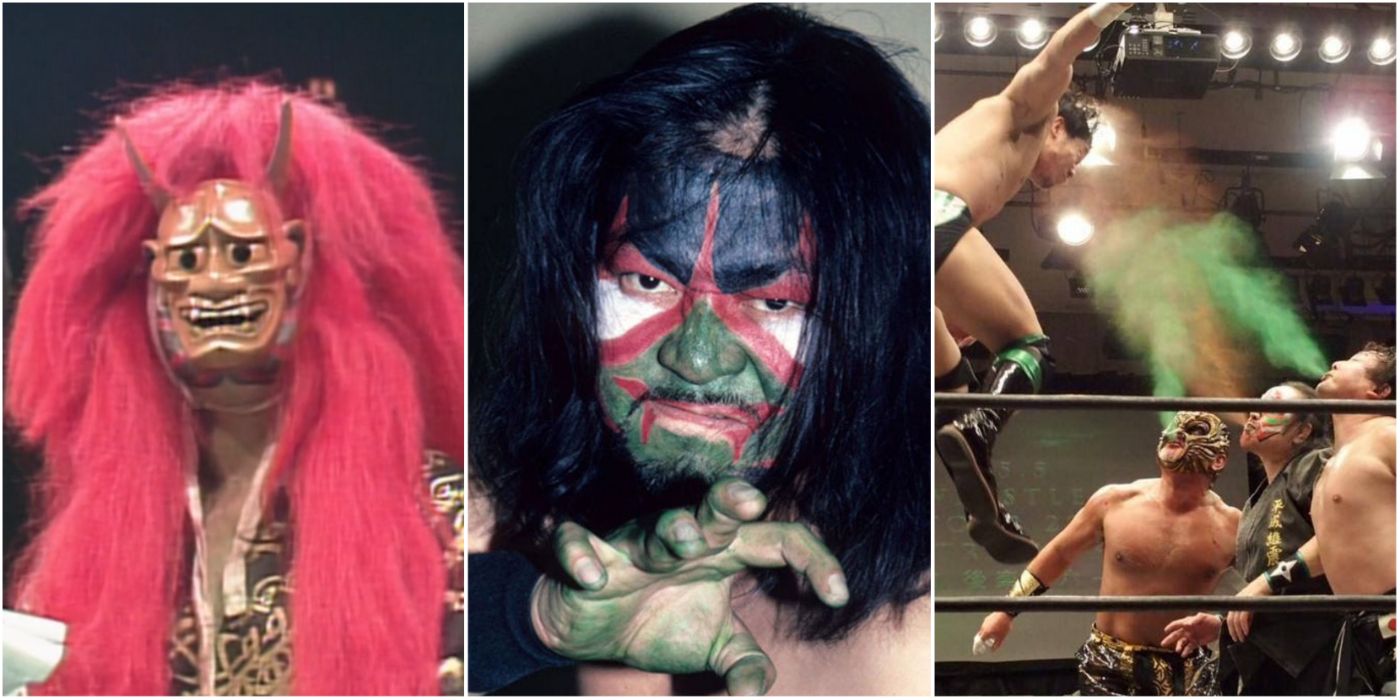 Now, when the Great Kabuki did initially arrive, his stature left a lot to be desired. What The Great Kabuki had been missing in size, he more than made up for with the allure of his persona and skill in the ring. 
Fans marveled at the nun chuck-wielding, Kabuki mask-wearing martial artist. The visual alone turned heads. He wasn't a heel fans were accustomed to. He combined all those elements that Hart wanted and was also frightening in his presentation.
One of the most remarkable things that would happen with the Great Kabuki is that when Hart would say 'Song-Song' during a match, it was as if a switch would go off, and The Great Kabuki the wrestler would become the Great Kabuki, the martial artist. He would throw spin kicks through this process.
The Great Kabuki captivated audiences during his debut and changed the doubters' minds in the locker room. Gary Hart went from appearing like a joke to those behind the scenes to looking like a genius.
The Great Kabuki and The Birth of The Mist
One of the many nuances that made the Great Kabuki special was that he would throw spiderwebs to those in attendance. But the expensive purchase of spiderwebs led to what would forever go down as a history-defining moment and the creation of something still used today. 
One afternoon, my wife was making cookies for our children, and when she accidentally spilled a bottle of green food coloring, I thought, "That's it!" 
I took a little mouthwash, mixed in some green food coloring, poured it into a condom, and tied it off really tight…Since I knew the green mist was going to be huge, I wanted it to debut with a tremendous impact.
I waited until Fritz was giving an interview…when I felt his interview time had overrun, I stepped in with The Great Kabuki and told him…
Fritz immediately grabbed me, and as he did, The Great Kabuki blew the green mist all over him. When Fritz was standing there all green, the fans didn't know what to think because they had never seen anything like that before. 
The Great Kabuki is credited as being the first person to use the infamous green mist. After The Great Kabuki spent time in WCCW, Gary Hart was called upon to come to TBS by Jim Barnett in Atlanta.
He would have an entrance that was dark and menacing, considering the time Hart said it would resemble that of a Star Wars/Darth Vader-like entrance. Kabuki was an immediate success in Atlanta. He was in such demand that he appeared all over Georgia because of that.
During his time in Atlanta, he would face Dusty Rhodes, Andre the Giant, and Bruiser Brody. He created such fear and panic in crowds that a riot broke out in one instance. Gart Hart shared an example in which The Great Kabuki faced Andre the Giant and what it resulted in.
….Andre lifted The Great Kabuki over his head and got sprayed with the green mist. Andre ran screaming through the audience, covering his eyes, and the audience became so upset at The Great Kabuki that a riot broke out. 
The Great Kabuki was always performed by Takichiko except for a period in time in Georgia. Hart had sent The Magic Dragon to perform as The Great Kabuki, with no one being able to tell the difference.
Hart said that if he wasn't accompanying the Great Kabuki, it wasn't him competing but The Magic Dragon in his place. Together, the Magic Dragon (the late Kazuharu Sonoda) would team with the Great Kabuki.
After returning to Japan in 1990, The Great Kabuki and Jumbo Tsruta would capture the World Tag Team Championships. He would compete in New Japan Pro Wrestling and later be IWA Japan's co-founder.
The Great Kabuki would have moments in the WWE upon participating in the 1994 Royal Rumble but would retire from full-time competition in 1998. His last recorded match was as recent as 2018, when he competed in a small show at the age of 70.
From the mystique of his character to the allure of his presence, the Great Kabuki had a haunting presence about him that was not unlike that of more contemporary audiences may compare to The Undertaker.
As a one-time member of Skandor Akbar's Devastation Inc, the frightening nature of The Great Kabuki, along with the innovation of the green mist, suggests his indelible mark on the industry and one that should be forever commemorated. 
All Quotes Available via Gary Hart's Book – My Life In Wrestling With A Little Help from My Friend