Once again, the WWE's NXT brand presents The Great American Bash, this time for 2021. This year's event features five matches, all with significant implications tied to them. Fans will witness as many as four championship matches, including the Million Dollar Championship title being on the line. However, one of the most notable matches on the card isn't for a title but involves two men with animosity for one another. In a rematch between former friends and now bitter foes Kyle O'Reilly and Adam Cole square off against one another in what could have future championship title implications. Here is the Great American Bash 2021 preview for this week's edition of WWE NXT.
__________________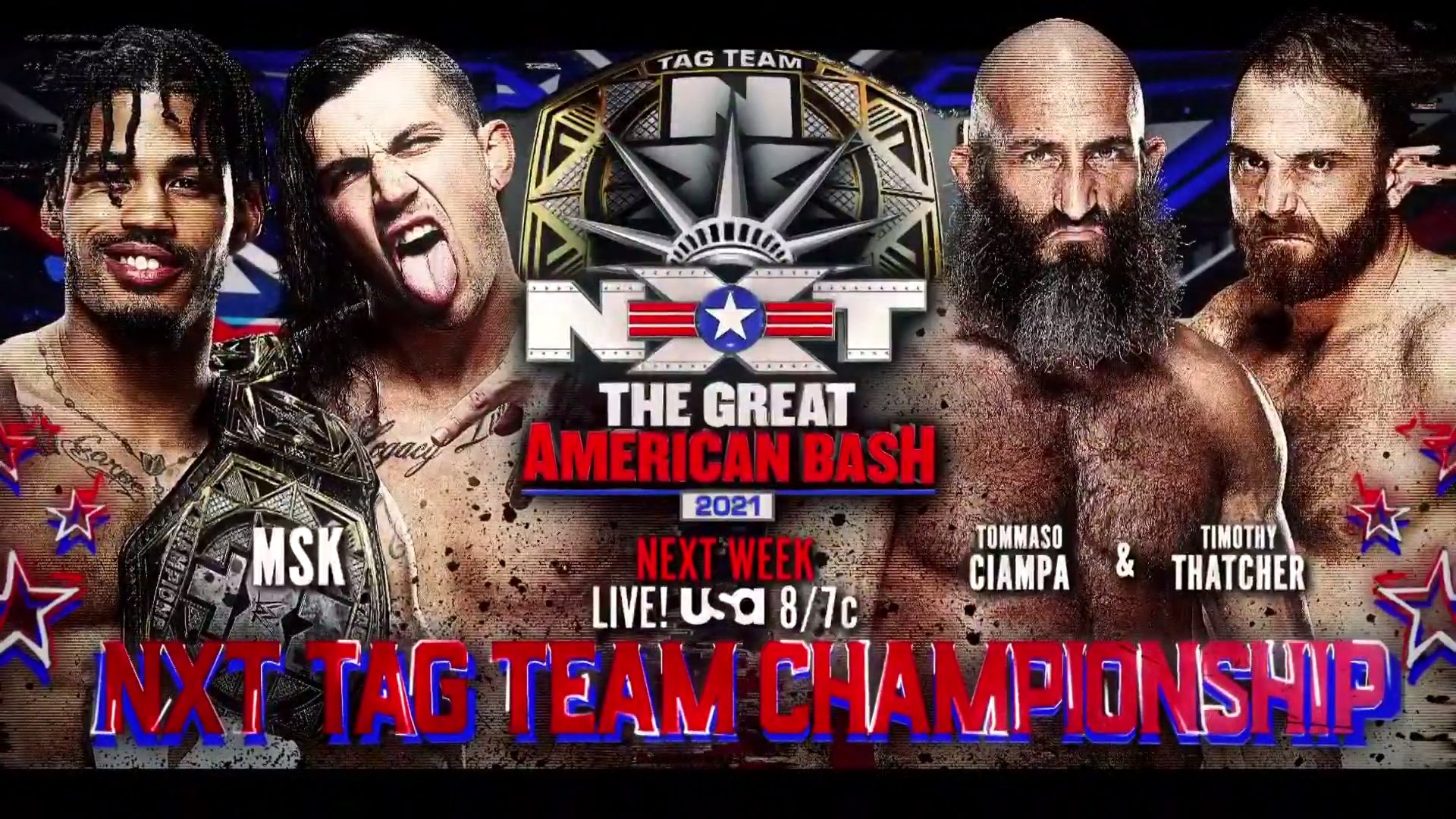 NXT Tag Team Championship
MSK vs. Tommaso Ciampa & Timothy Thatcher
If two teams could be any more different in NXT today, we would like to see who they would be. Unfortunately, the carefree and happy-go-lucky nature of the NXT Tag Team Champions may be forced to change their style. On the opposite side of the ring, Ciampa and Thatcher's fiery and intense nature has their sights set on the current titleholders. For Ciampa, he has tasted NXT Tag Team Championship gold in the past, so he knows what it feels like.
The hunger that it takes to become a champion is sure to be a driving factor in Ciampa today. In the case of Timothy Thatcher, he has yet to hold a title in NXT. So this match is sure to make 'Toothless Timmy' determined to want to bring all the desire to become a champion here in this match.
The Great American Bash 2021
  NXT Championship
Karrion Kross vs Johnny Gargano
Since recapturing the NXT Championship, Karrion Kross has faced 'criticism' as the champion. In the build-up to his NXT TakeOver In Your House five-way battle, fans will recall that Kross was faced with threats from several challengers. Despite being victorious in the match-up, Kross was not believed to be the most impressive individual in that match. As always, Johnny Gargano showed how effective he could be in any match, and this was no different.
Since his involvement in that matchup, the former NXT Champion was on a mission to prove he was equally determined to prove he should be the champion. For Kross, he will have to overcome the speed, technique, and heart often synonymous with Johnny Gargano. Unlike his times in the past, we could see Austin Theory play a role or at least attempt to play a role in this match.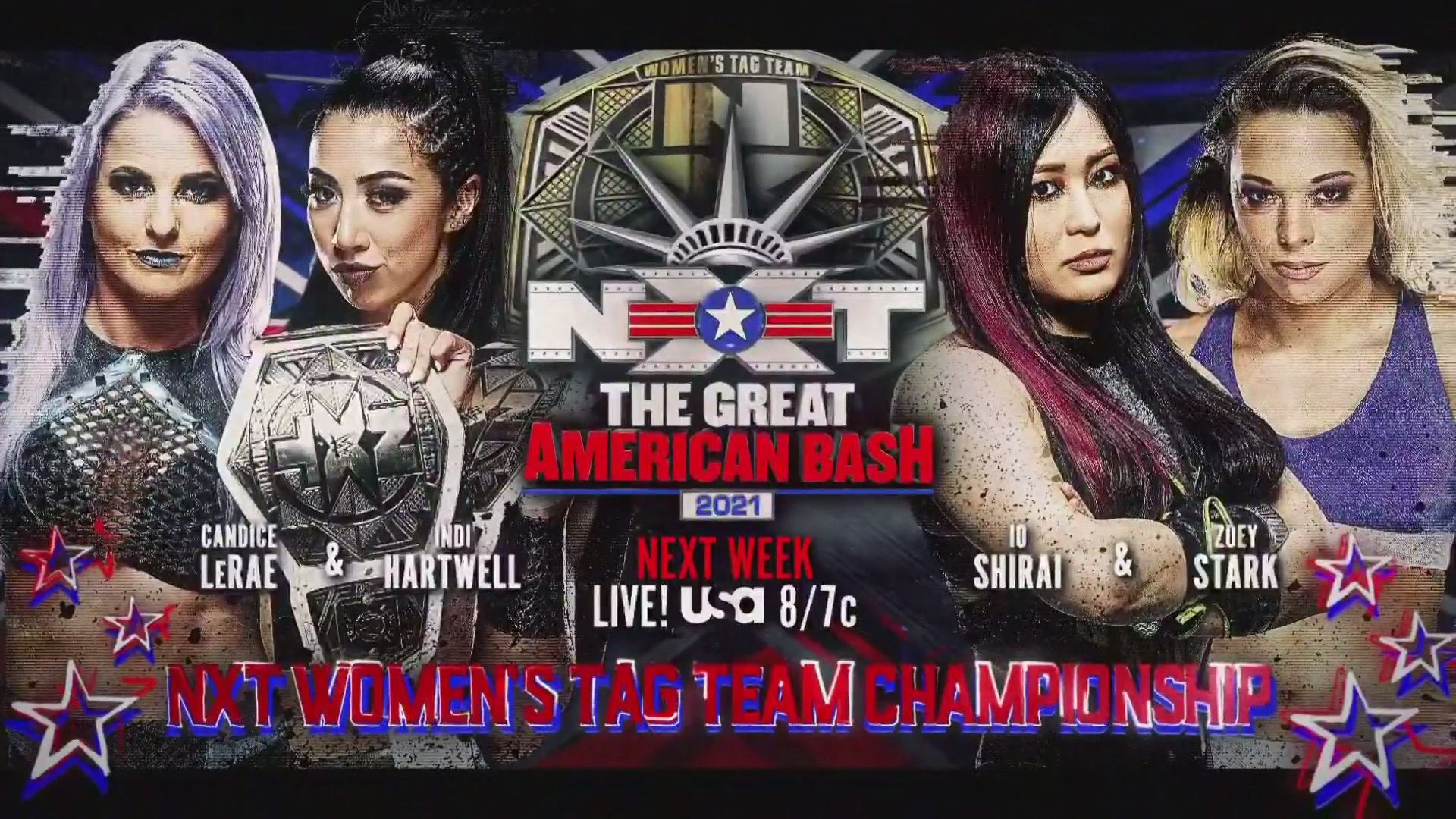 NXT Women's Tag Team Championship
Candice LaRae & Indi Hartwell vs. Io Shirai & Zoey Stark
The history between Candice LaRae and Io Shirai has once again manifested itself. This time the two women are facing one another, with both being in different roles. In this instance, LaRae is the co-holder of a championship, and the former NXT Women's Champion is in the role of the title chaser. In addition, their rivalry will now include two other women in Zoey Stark and Indi Hartwell.
What remains interesting in this matchup is how, while there is a united front between LaRae and Hartwell that there may be some uncertainty between Stark and Shirai. 'I respect you, but I don't like you'. Those words resonate as the NXT Women's Tag Team Championship is on the line. Will the champions retain their titles, or will we witness new NXT Tag Team Champions?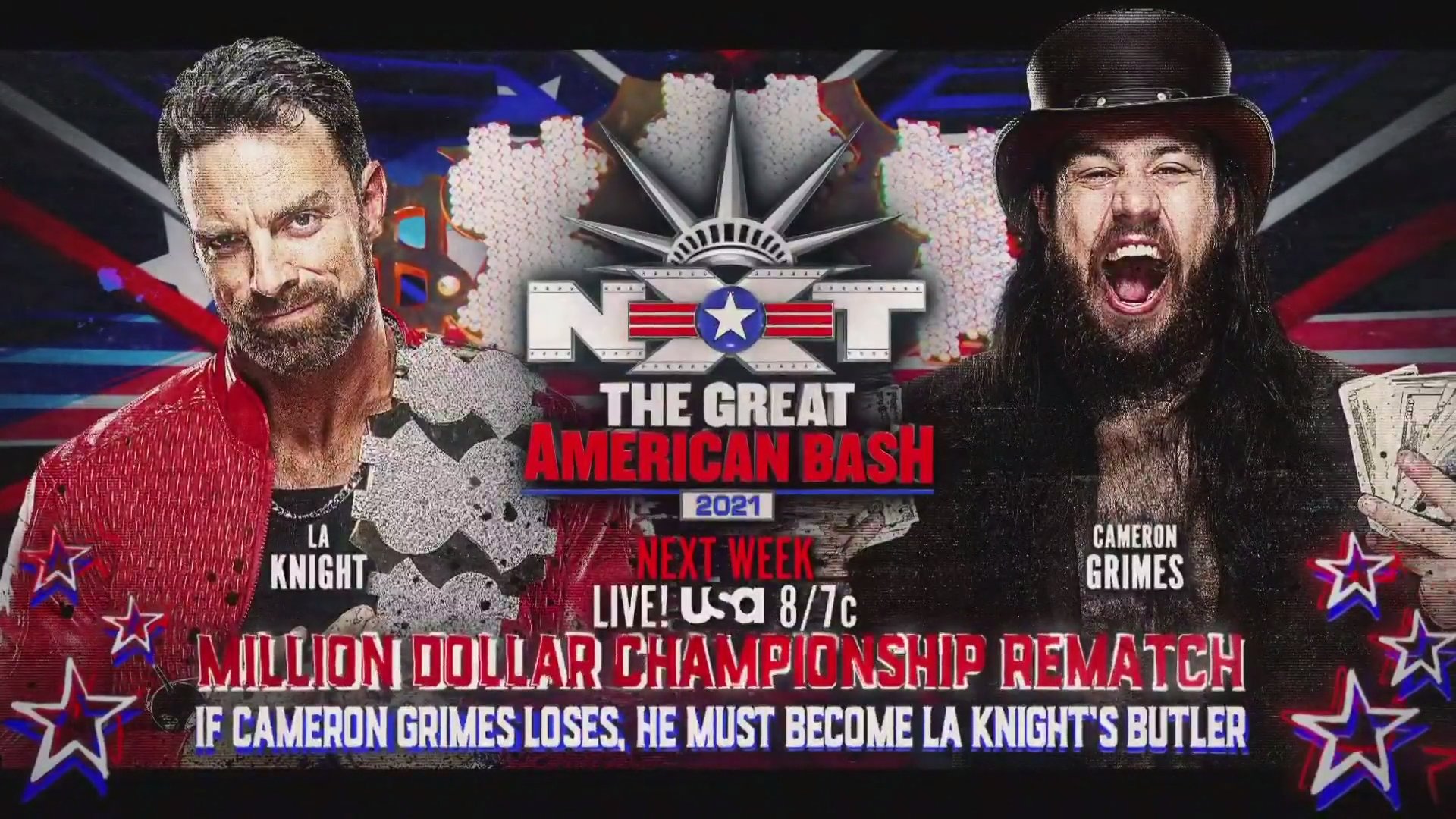 LA Knight vs. Cameron Grimes
Million Dollar Championship Rematch
(If Cameron Grimes loses, he must become LA Knight's Butler)
Since capturing the Millon Dollar Championship, Knight has been on a trajectory to leave all challengers behind him. All challengers except for Cameron Grimes. Grimes' motivation of trying to seek retribution for what happened to Ted DiBiase is evident. It has become more than showing how much money he has or who has a price for him. Cameron Grimes has captured the imagination of the NXT universe and proven that he has a heart. Knight wants to make the most of Grimes' animosity towards him, and this could be that match.
For Grimes, he is willing to risk his freedom and wealth all to be the butler of LA Knight. Will his willingness to put himself at risk all because of this hate for Knight? Grimes may very well have a price for LA Knight.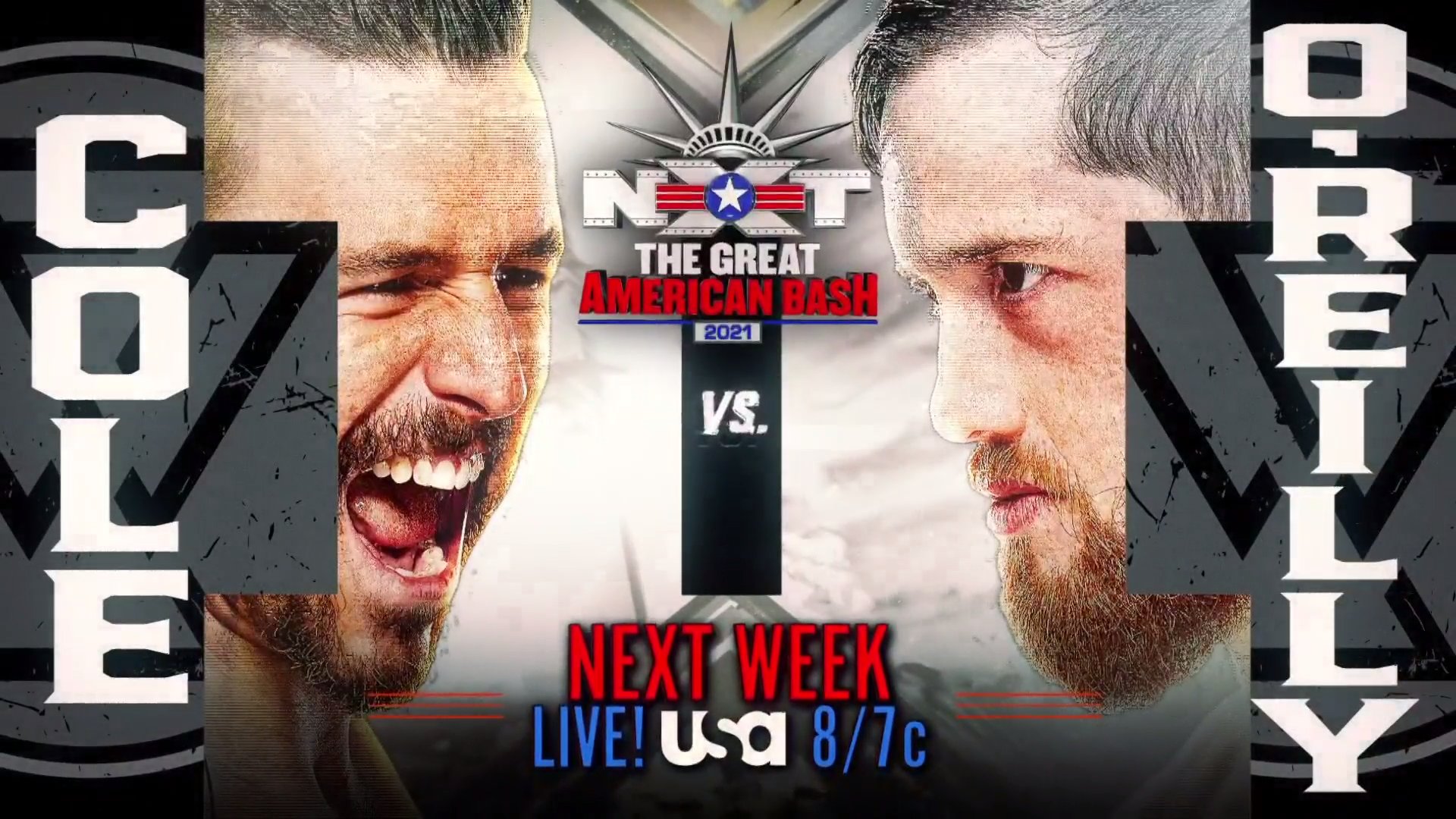 The Great American Bash 2021
Adam Cole vs. Kyle O'Reilly
II
Nothing appeared to be settled after their first match, and this one is believed to settle the score between them. During their last match, O'Reilly came out victorious. However, the last match these two were involved in it was O'Reilly, who NXT Champion Karrion Kross choked out. In the midst of trying to make Cole surrender, it was O'Reilly who would have faded and ultimately made to tape out. Cole was recently choked out by Samoa Joe, so he, too, has faced the wrath of a former NXT Champion.
With championship title implications likely coming from this match, the question is who will be the one to come out of this match on top? O'Reilly still likely comes into this match as the underdog. Despite getting the better of Cole the first time, O'Reilly may be hard-pressed to repeat that performance against the former NXT Champion.
******
Be sure to stay tuned to the Pro Wrestling Post for this and additional stories from the wrestling world. Readers can rely on Pro Wrestling Post to be their daily source for everything inside the squared circle. As a result, readers can expect daily news, history, and so much more. Please visit WWE NXT's official website here for news on the promotion and upcoming events.