The Samoan Dynasty dates back generations. From the origins of Afa and Sika, the Wild Samoans, a number have sat and grown from beneath the learning tree of these two brothers.
As the years passed and their sons and nephews had successful careers, only one generation has risen head and shoulders above the rest of the family. With Roman Reigns leading them, The Bloodline has been a focal point of the WWE for nearly three years. But with every great story told, it must have a beginning.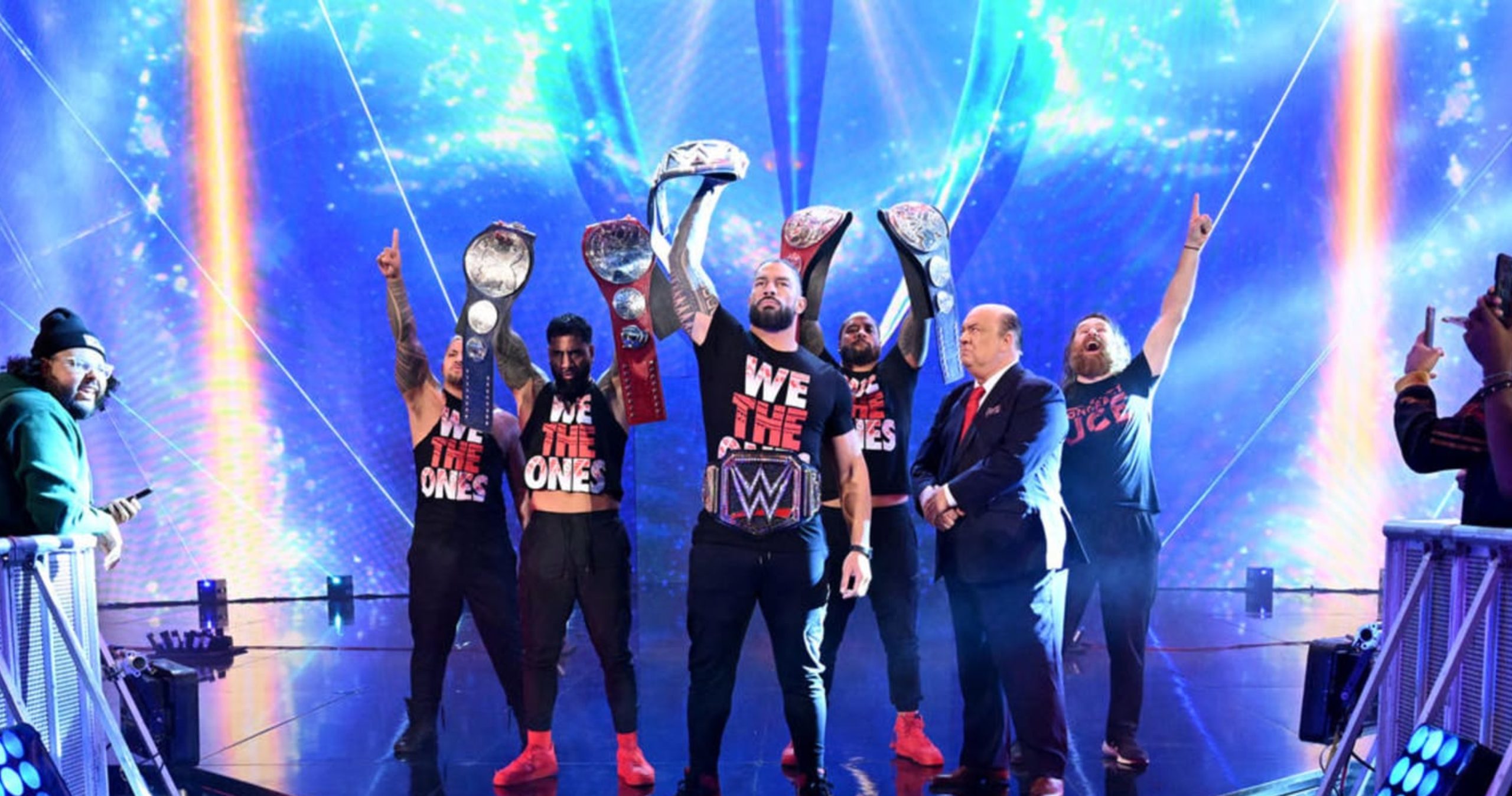 On August 23
rd
, 2020, WWE Universal Champion Bray Wyatt and Braun Strowman were both victims of an attack by the returning Roman Reigns. Even upon his return, something was different about Reigns.
A week later, Reigns would be aligned with 'the Wiseman' Paul Heyman. Heyman's connection to the Anoai's dates back years, including his managing of Roman's cousin's Jimmy and Jey Uso's father Rikiski as part of the Samoan Swat Team in World Championship Wrestling.
The Bloodline – They're The Ones
A few days after the aligning of Heyman with Reigns, Reigns would face Wyatt and Strowman for the WWE Universal Title at Payback 2020. Regins would defeat both men to capture the championship for a second time. This win would set forth the wheels in motion of a union based on family and, depending on whom you ask, manipulation, gaslighting and intimidation.
With his brother Jimmy out of action due to an injury, Jey would win an opportunity to face his cousin Roman for the Universal Championship. But the win came about due to a technical knockout as Jey's twin Jimmy would throw in the towel, causing Jey to lose. The once close cousins were on opposite sides, but Reigns would attempt to question his cousin's loyalty to their family and his place in their families, place at the table. Often would attempt to play into Jey's insecurities and made to feel it wasn't equal to his cousin.
"This was a one and done, supposed to be. They were like 'this sh*t is fire right here, bro'. I think I was just to get Roman to the next homie but man, you see the storytelling, this is real.
The feeling's right there, the promos right there. If you watch the match back, the match was basic, what grooved is the damn story and that is the main thing."
–Jey Uso on facing Roman Reigns
The following month, Jey would get another opportunity to challenge Roman for the WWE Universal Championship. This time it would be in a Hell in a Cell with match also having the added stipulation of being an 'I Quit" match as well. The stipulation also added here was that if Jey was to lose again to Roman than he would have to follow Roman's orders or face the threat of being kicked out of the family. A family that is as rich in tradition and admiration would collectively turn their backs on Jey if he didn't follow his cousin, Roman.
At the end of the match, with Jey on the cusp of winning the match his brother Jimmy would come down hoping to make peace between his twin and his cousin. The result was Roman attacking the injured Jimmy forcing Jey to say 'I Quit" in the process to save him from further injury.
"From the sandbox, we met each other when we was like 4. We grew up all the way, elementary, middle school playing football, all the way through middle school.
Everyone knew we was part of a wrestling family, but what protected us and gave us our own stripes, we was real good at football. Joe (Roman) was a high prospect, getting recruited by D1 colleges."
–Jey on how close he was to Roman Reigns
At the end of October 2020, Jey would defeat Daniel Bryan to qualify for the Team Smackdown for the upcoming year's Survivor Series team. And while under the direction of his cousin Roman, Jey was forced to attack Bryan and turning heel in the process.
This would see Jey earn the moniker of 'Right Hand Man' and later as 'Main Event' Jey. Both names elevated Jey from simply being seen as a tag team wrestler to being a legitimate threat in singles action.
In February of the following year, Jey would be the second last man remaining in the Elimination Chamber against Daniel Bryan. The winner would face Roman Reigns for the Universal Championship later on in the evening.
While a win by Uso would have all but secured another Reigns victory as he would do as he was told to by Reigns, it wouldn't be. Jey was defeated by Bryan. But he did achieve singles success capturing the annual Andre The Giant Battle Royal.
"I had to go out there and show them. Jimmy! Jim. Don't text me, don't call me, don't FaceTime me, don't tell your brother to text me, don't hit me up on the group chat, we're gonna have to talk about this, but we'll do it on my show. Friday night. My SmackDown. Have a good week, Uce. I'll see you in a few,"
–Roman Reigns message to Jimmy Uso
The following month, after nearly a year of inactivity due to injury, Jimmy would return to action, and The Uso's were once again realigned. But much like Jey's initial apprehension in falling in line with his cousin Roman, Jimmy would now be skeptical of doing the very same. Roman's actions of brutally attacking Dominik and Rey Mysterio was even called into question by Jimmy.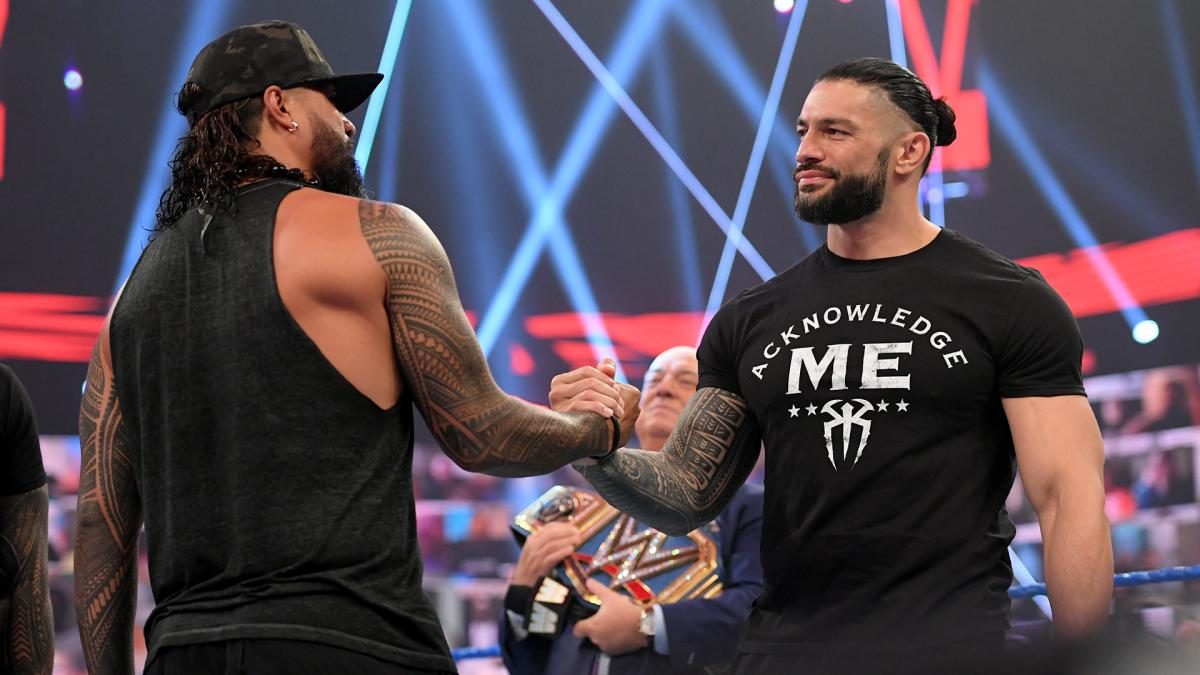 Reigns' stranglehold over his cousins was never called into question. With his recent actions leading to more dissension between he and Jimmy, Jey's allegiance was called into question. This would lead to Jey walking out and Reigns manipulating guilt in the mind of Jimmy for the reason for it.
As a means to make amends, Jimmy offered to show his support to Reigns in his upcoming match against Rey Mysterio at the 2021 Hell in a Cell. Jimmy would raise Reigns hand following the match.
On July 9th, 2021, Jey would return and would resume his tag team with his brother Jimmy subsequently securing the tandem and their place in The Bloodline alongside Roman Reigns. The following week on the WWE's SmackDown program, Roman Reigns, Jimmy, and Jey Uso would battle the Mysterio's and Edge in a six-man matchup.
Then in the Money in the Bank 2021 pre-show Jimmy and Jey Uso defeated The Mysterio's to capture the WWE Tag Team SmackDown Championships. This win made every member of The Bloodline a champion.
All three men remained champions and only added to their title count in 2022. At WrestleMania 38 on night two, Reigns defeated then-WWE Champion Brock Lesnar, unifying the titles in the process of becoming the Undisputed WWE Universal Champion. The following month, Jimmy and Jey Uso defeated then WWE Raw Tag Team Champions, RK-Bro in Matt Riddle and Randy Orton in becoming the Undisputed WWE Tag Team Champions. Every member of the faction had become a double champion strengthening themselves as a faction in the process.
At the WWE's Clash at the Castle premium live event, The Uso's younger brother Solo Sikoa would debut, coming to the aid of Roman Reigns and adding to the numbers in the Bloodline.
Towards the latter part of the Summer of 2022, Sami Zayn would approach Roman Reigns and The Bloodline, offering to be of some help to the group. He had issues with Drew McIntyre, someone Reigns previously had issues with, and after some time, would find acceptance within the group.
What appeared as simply a one or two-off appearance would garner so much of a response by fans that Zayn's inclusion in the group continued to grow. But while he was accepted by Jimmy, Jey remained quite apprehensive of Zayn and would have to work to earn his acceptance.
After wearing the signature Bloodline t-shirt of the group and accompanying them to the ring time and time again, Zayn would have his shirt ripped off by Reigns. Much to the delight of Jey, believing that they Reigns had seen through Zayn's façade. Only to be presented with an 'Honorary Uce' shirt.
Fans in attendance would rejoice in that Zayn's place in the group was valued. Jimmy and Zayn embraced as did Zayn and Roman. Jey couldn't believe what he had witnessed separating himself from the group.
"I was entertained by him when he did the Jacka.. stuff and really respected the way he navigated that creative [process]."
"I believe I can do work of this level with… other guys, they'd just be different. It wouldn't be the same. It would be a different character, a different angle, a different layer. Nobody would be able to be the 'Honorary Uce' other than Sami Zayn."
–Roman Reigns on working with Sami Zayn
But while Zayn's value within the Bloodline was being seen, his friendship with Kevin Owens appeared all but over. Owens would warn Zayn time and time again that the other shoe would fall and he would be a casualty within the Bloodline because he isn't their actual blood.
But much like the story of the ugly duckling, the beauty of the character wouldn't reveal itself until much later. Zayn would have to prove himself to the group once again at the 2022 Survivor Series: War Games event.
In a five-on-five match-up, The Bloodline (including Honorary Uce Sami Zayn) faced The Brawling Brutes, Drew McIntyre, and Kevin Owens. The match was an epic battle that tested each team's will and devotion. In the end, Zayn would hit his former best friend Kevin Owens low, setting him up for Jey Uso for his top rope splash leading to a pinfall and victory for his team. After the match, Jey embraced Sami with no more doubt as to his allegiance to the group.
Kevin Owens had said he was done with Sami, but he wasn't done with the Bloodline and was committed to ending the group. Owens would face Reigns once again for the WWE Undisputed Championship. This would be the third time the two would face one another, and this time it would be at the 2023 Royal Rumble.
But as this was all taking place, Zayn's role once again had come into question. Where did his allegiances truly lie with? At the WWE's Raw XXX show, Zayn was put on a tribal trial having to once again prove that he is Bloodline only.
While he was set to be found guilty at the hands of Solo, Jey would step in and point out time and time again of Sami's value and allegiance to the group. He had countlessly received a beating all to spare the Tribal Chief. Reigns said that Zayn' was not guilty…for now. What would follow was that he didn't want to see Zayn until the Royal Rumble at the end of the week.
At the 2023 Royal Rumble, Roman Reigns defeated Kevin Owens for the WWE Undisputed Championship. After the match, Owens was handcuffed to the ropes, and Reigns and The Usos proceeded to batter and beat down KO in the process. At one point, as Reigns was about to strike Owens with a chair while he was handcuffed, Zayn proceeded to step in and say to Reigns he was above it. Reigns then handed the chair to Zayn and expected him to strike Owens to once again show his allegiance to the Bloodline.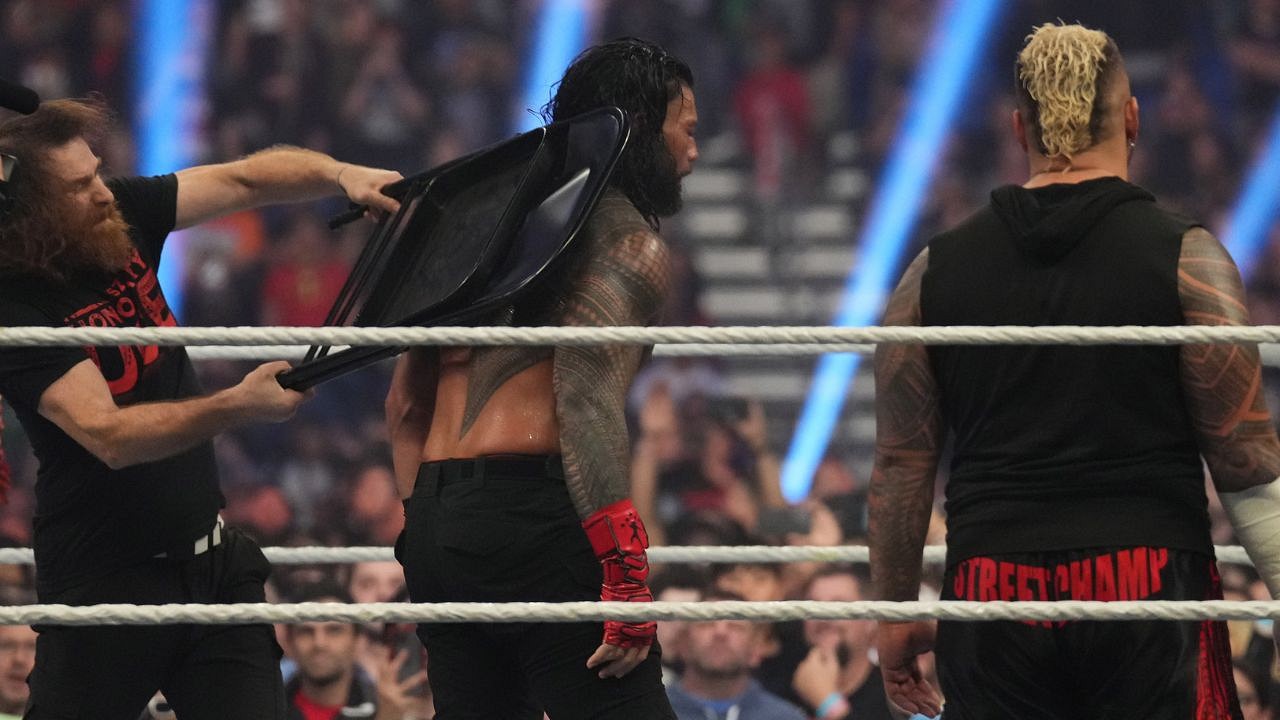 With chair in hand, Zayn would then reach back and strike Reigns in the back with the chair. At that moment, shock came over the faces of Solo Sikoa, Jimmy, and Jey Uso. A torn Jimmy would then hit Zayn with a superkick which was followed by Solo hitting Zayn, followed by Reigns.
As this all took place, Jey didn't take part in the beatdown of Zayn but rather left the ring and headed back on his own. In the SmackDown that followed the Royal Rumble, Zayn would charge the ring and attack an unsuspecting Roman Reigns. It would result in Zayn facing Reigns for the Undisputed WWE Universal Championship in Zayn's hometown of Montreal, Quebec, Canada.
All missing during this time was where Jey Uso would stand in his feud between Zayn and The Bloodline. Even at the Elimination Chamber in Montreal, Jey would appear, and even he would attempt to stop Reigns from striking Zayn. Only Jey would suffer a miscued attack by the Tribal Chief in the process. Despite Zayn's best efforts, he, unfortunately, would be defeated by Roman Reigns in the process.
But while the battle with Reigns may have been over with Zayn, that doesn't mean the war against The Bloodline was. On March 6th, Jey Uso would return, and when it appeared as though he was coming to align with Sami and move past all the turmoil that the Bloodline had caused all of them, it would be for not. Uso would superkick Zayn and then proceed to beat him down along with his brother, Solo Sikoa and Jimmy Uso.
The Bloodline was once again stronger than it had ever been. Jimmy, Jey, Solo, and Roman were all on the same page. In the process, they were steadfast in taking out Kevin Owens, Sami Zayn, and even Cody Rhodes, who would be challenging Roman Reigns at WrestleMania 39. Their deep-rooted hatred for The Bloodline would lead Kevin Owens and Sami Zayn to once again become friends.
The dominance of The Bloodline has seen the guidance of the wise man, Paul Heyman come into question, the solidarity of either Jimmy or Jey Uso come into question and the allegiance of Sami Zayn come into question. Throughout this time, Reigns has been able to manipulate all of his cousins with where their place in the family would be had they disobeyed him.