Hello, everyone. And welcome to another step on The Jarkaster Journey! I apologize for not writing any blogs since May. On top of living in our current pandemic world, my son arrived in the world in early October. And my drive and time to sit down, write, and find old photographs was compromised. I aim to rectify that now that I am on parental leave from my full-time job. I think some additional time off can rejuvenate me and reignite my writing spirit again. Hopefully, this blog can provide at least a brief respite from these difficult times we presently live in. Even if it is just for a brief, fleeting moment. My backyard wrestling days were a fun and ridiculous time in my life. And hopefully, you will find them entertaining and even remind you of some good times from your own past.
******
The Backyard Wrestling Days | The Jarkaster Journey
During a lunch period the week before spring break in senior year of high school in 2003, one of my best friends, Mike M, approached me about being on a backyard wrestling show. There were ones we took part in years past, but this one was going to be different. At that moment, Mike and I plus our friends Geoff Z. and Jake S. started down a path that took us into backyards throughout our hometowns and eventually the world of independent wrestling.
The topic of backyard wrestling was something extremely taboo in professional wrestling for years. Especially when I began training in 2006. Backyard wrestling could not be discussed because some 20-year indie wrestling veteran who wrestled in front of the same 20 people once a month would get angry and want to beat you up. 
That attitude exists more so now on the fringes of the wrestling business. The number of those vulnerable-feeling indie vets dwindled down. Many of the wrestling trainers these days used to backyard wrestle themselves. Now it is permissible to be open about the days when you and your friends wrestled each other just for fun in the backyard. It is fine to reflect on these good times from your youth – without someone making you feel guilty for not knowing a wrestling school or indie wrestling promotion that rarely advertised existed in your area.
My backyard wrestling past also is intertwined with the history of backyard wrestling in my hometown of Lancaster, New York. The earliest backyard wrestling I can trace back to was my middle school years in the late 1990s. A kid did shows at his house that included a "tree match." Where weapons were placed in the branches, and the wrestlers were supposed to hit each other with them while climbing.
The Jarkaster Journey
Since I was a diehard wrestling fan and not invited to these shows, I decided to start my own league. I typed out job applications for kids in my classes to fill out, and I offered to pay them $2 a match from working my paper route. Luckily for my meager pocketbook, the idea never took off, and I saved those precious dollars to spend on my football card collection.
The idea then laid dormant among my age group until my sophomore year of high school. Pat S. invited me to this backyard wrestling show he was putting on. He called the league "Schunk Extreme Wrestling" (Schunk was his last name). Its purpose was to record matches that made fun of the backyard wrestling tapes that gained underground popularity in the early 2000s.
I was down. My role was to wear my concert band bowtie and be the ring announcer and commentator. I called myself "Carter Valentine" (my street name and my middle name combined).  He picked that winter to do it so everyone would bump in the snow rather than the ground in his yard. We all bundled up and put on whatever ridiculous gimmick we came up with and taped it. The end of the show was a Royal Rumble in which I ripped off my bow tie and jumped in to try and win it. Things began to go wrong for me here. I did not realize wrestling was a work. So I ran into the rumble and was rather rough. After this show, I was not encouraged to come back for future ones.
The Backyard Wrestling Days | The Jarkaster Journey
I returned a year later, however. Mike, Geoff, and Jake picked me up from my job at a pizzeria one winter. I showed up in my work clothes with an empty pizza box. I was "Pizza Man" and entered the Rumble that night by saying, "Did somebody order a pizza?". Before striking the box over people's heads. I drank a lot of soda pop while still at work and was eliminated by four people forcefully pinning me down. Yeah, I still did not get it, and it was not until Pat said after the show, "you know wrestling is fake, right?" that it finally clicked in my head. Once again, I was not invited back for more shows.
Fast forward to that fateful day during my senior year. If you remember from my previous blog, I was heavily into football during my high school years. My high school football career ended a few months prior to that. On a personal level, I was looking for something to fill that gap in my life.
I jumped at the chance to be on the show when Mike asked me. However, I told him my knee was in bad shape. Years of football, bad squatting form in the weight room, and an accident while playing laser tag took its toll. I would just be the announcer and commentator for it rather than wrestle.
The Jarkaster Journey
Mike was cool with my roles. It was needed and not thought about until I brought it up. He told me the show was at his house while his family was away for the night on the last Friday before spring break. Mike, Geoff, and Jake were tired of doing things under Pat's direction. They wanted to put on a card with a focus on emulating actual wrestling and not just mocking it. They also wanted to bring people in that Pat did not want to use. People like me and our other friend Joe S. ("The Lebanese Sheik").
The first show was called "Backyard Wrestlemania." It featured the main event first, a triple threat for the inaugural SEW World Heavyweight Championship. Spoonman (Mike), "The Masta Plan," Abel McRae (Jake), and Grande Z (Geoff) were to face off. The big highlight of the night was Grande Z winning the belt after doing a "Z Splash" (frog splash) onto Spoonman off the house's roof. 
Since this was in the middle of April rather than the dead of winter, there was no snow on the ground. We did not use trampolines or mattresses. Everything we did was on the lawn. That included big aerial moves, suplexes, and slams of all sorts. The shocking part is no one ever got hurt from this. We sort of taught ourselves how to protect each other through pure luck and the urge to not wanting to get injured.
After the show, we brought the tape of the show to the school. We started showing it in classes. It was a Lancaster underground hit. People I never talked too much approached me and told me they saw me do commentary and thought it was hilarious. It was a little weird, but I dug it.
The Backyard Wrestling Days | The Jarkaster Journey
Random items were always around the yard during our matches to use as weapons. Like orange cones and water cooler jugs. A lunch tray was used in one of them, and it looked spectacular when it shattered over someone's head. People helped us steal lunch trays from the cafeteria after seeing that. With at least one teacher included! To the point where lunches were handed out on just Styrofoam plates. Whoops!
We continued with shows throughout the summer and moved them to our friend Jess W.'s house. Her backyard turned into "SEW Arena." Our home for the majority of our backyard days. The shows centered around our core group with others coming in here-and-there. At times, we even drew small crowds. Sometimes we had as many as 25 people coming to watch in-person. But most of the time, it was just ourselves doing what we loved.
As fall began, we officially rebranded to "Somewhat Extreme Wrestling" since Pat was no longer involved. It better reflected our wrestling style. On top of being the commentator, I also became the commissioner, both on and off camera. I took on more responsibilities in organizing and booking the shows. Around this time, my knee began to feel better. I got the itch to wrestle again.
We organized a "Legends of Backyard Wrestling" show at Meadow Lea Park (a small, secluded park in a quiet neighborhood on the other side of town). A few of us rehashed our old gimmicks from the original SEW days. I brought back Pizza Man and gave it a whirl. I survived, and I regained confidence in myself in being able to hang with everyone else.
The Jarkaster Journey
Now I was now knee-deep in backyard wrestling for many months at this point. But it was only around this time that my interest in pro wrestling was rekindled. To get more ideas on what we should do, Geoff, Mike, and Jake pushed me to start watching WWE again. As I mentioned in my last blog, pro wrestling may have fallen out of favor with me. But I never hated it. I always respected it. 
Geoff, in particular, was most determined to get me hooked again. He made it his mission to make me a fan again before he left for boot camp later that year. He succeeded. Geoff got me watching Raw and Smackdown on a weekly basis. We went to our friend and fellow backyarder Dan B.'s house ("Waldo" & "Boris") to watch the pay-per-views. Mike introduced me to TNA, XPW, and the indies. I was back in the wrestling swing, and this time, it would be permanent.
I returned to wrestling in the Spring of 2004. Wearing all black clothes and football eyeblack similar to an Alice Cooper design. I was now "Rev. Carter Valentine" – a dark, evil minister that formed a faction with Able McRae and our friend Janning S. ("Jenkins") called "The Theocracy." We feuded with a group called "The WHY," which was Spoonman, and our other friends Eric D. ("The Big Dybalski") and Matt D. ("Messed")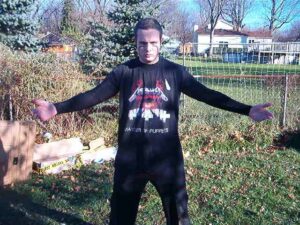 The Backyard Wrestling Days | The Jarkaster Journey
The Summer of 2004 also saw the rise of another Lancaster backyard wrestling promotion run by Dan called "DJBW" (his initials). Originally, it was set to compete against SEW, but it used most of the same people at its conception. Just with different gimmicks. I wrestled under two separate ones for DJBW. One was "The Gas Master." Where I wrestled with a lightweight gas mask that I took from Jake's car. The other was "2 Hot Aquarius," who was a wild raver. I developed a rivalry with my friend Jim K. ("Ole' Simme Wilkins") that summer, and it was a fun time. 
There was a Rumble on each DJBW show. With the most memorable being held behind a school in which we eliminated each other by tossing ourselves into an actual dumpster. I also enjoyed DJBW shows because I did not take part in the decision making so I could just focus on myself.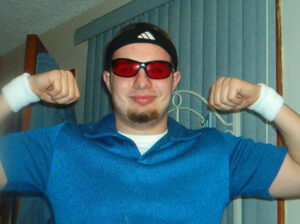 At the end of the summer, there was a general feeling that SEW was going to conclude. Jess was starting college out of state in the fall. And there was no other reliable place we could put on shows. We held one more big show in anticipation of this and drew about 30 people. It was the only show where someone got injured, and it was not even from wrestling. Janning jumped off a short deck running from a bee and sprained his ankle. And the only show in which the police were called on us as our music was too loud.
The Jarkaster Journey
There were a few more shows over the next few months when Jess came home from school. But these shows did not feel the same. By the Spring of 2005, a lot of our lives were headed in different directions. Whether it be focusing more on college, work, or the military. There were also some personal falling outs. SEW ran its last show in January 2005 – a Rumble event that never developed from anything afterward. DJBW ran a few months later at Jim's house when he came home from the military. Our backyard wrestling days did not end with the big bang we wanted but faded away into memory.
As you can tell, that would not be the end of wrestling for me. Mike wanted to pursue wrestling as a serious career – more so than any of us. He strongly contemplated moving to Atlanta to attend a wrestling school but eventually started training at one in Buffalo. He even talked Jake into coming along.
Then in November, while I worked at the front desk at my retail job, Mike stopped by to visit me. He asked me a question that started me on my next wrestling journey.
"Dave, will you come join our wrestling school?" he said.
******
I hope you enjoyed reading this and look forward to my future blog about my next wrestling chapter, where I began to train to be a part of the wrestling business. I hope the gap between posts is significantly shorter.
As always, thanks for reading.