The Asylum Wrestling Store has No Limits! Pro wrestling as a whole is a giant machine, and in order for it to work properly, it has various moving parts. Many of the parts that are crucial are often times overlooked, such as the referees, commentators, and managers. However, one of the most important roles in pro wrestling that is never highlighted is the promoter. The promoter is the most underappreciated individual in pro wrestling. Without the promoter, there is no show.
This article is about two men, Nick Francis and David Gold, who are not only passionate about pro wrestling but they have a vision on how to make it better and its co-founders, Mike Zecca and Rocky Turner. The story of the "Little Engine That Could" has always been a reference to overcoming the obstacle's and odds. People, especially pro wrestling fans, always enjoy hearing an underdog story. Both men have been able to overcome great obstacles in a short amount of time and make huge gains.
The Asylum Wrestling Store originally started out as just a simple Facebook page. They would have various events in which they would sell pro wrestling merchandise. Over time it grew, and in March of 2020, they decided to have their first signing in West Virginia. They worked with Hacksaw Jim Duggan and Buff Bagwell.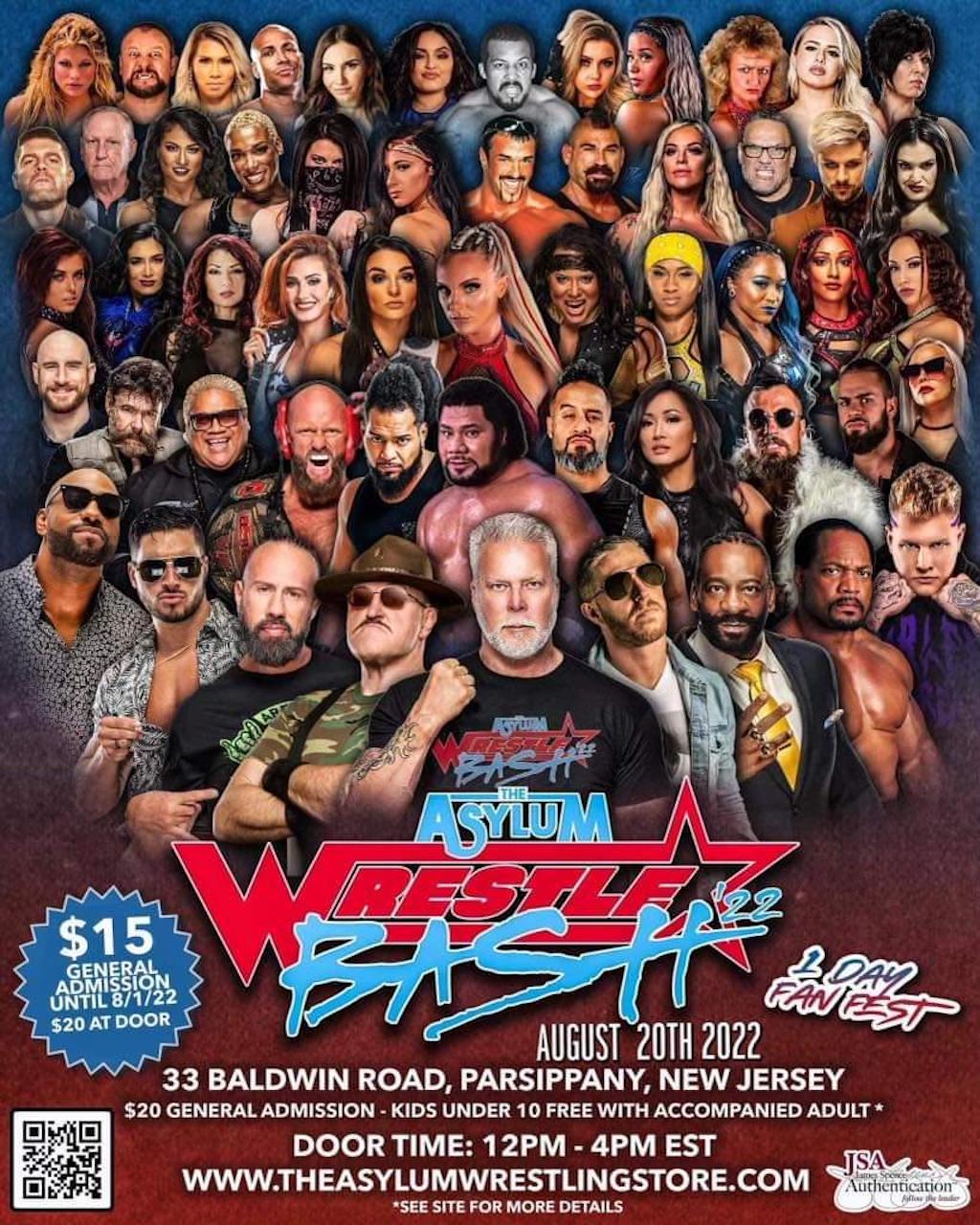 The Asylum Wrestling Store has No Limits!
They managed to adjust when the pandemic hit and the world shut down by having a virtual meet and greet where fans could have a conversation with the individual. Both Nick and David strategically decided that they could run their own convention, and this is what has birthed the very extravagant and fan-friendly Wrestle Bash 2022 so far; they have such superstars as NWA Women's Champion Kamille Brickhouse, Brandi Lauren, Alicia Atout, Leila Grey, Former WWE superstars Lisa Marie Varon, Heidi Lee Morgan, AEW's Orange Cassidy, WWE Hall of Famers Booker T, Kevin Nash, X Pac, AEW's Sonny Kiss, Rikishi, ECW original Angel Orsini and many more…
What does pro wrestling mean to you?
A: Pro Wrestling has been something in all our hearts. It was something all of our team have been watching since we were little kids. Pro Wrestling means a lot to us and gives us something to look forward to daily. From NWA to WCW to WWF/E to ECW to Impact/TNA, to now AEW and of course all of the independent federations as well."
Please explain Wrestle Bash?
A: "Wrestlebash 2022 is our first convention as a company. We wanted to bring together a guest experience for the fans to come out and see some of their favorite wrestlers, valets, managers, vendors, and toy vendors! It's in a nice town in New Jersey that will allow fans from all over to come and spend the day with us!"
What do you feel makes a good promoter?
"A good promoter goes above and beyond for the vendors, guests, etc. A good promoter advertises and does their best to ensure word gets around of the show. A good promoter runs a smooth and organized show all the way until it's over. A good promoter checks in with the guests while they are there and tries to assist with any concerns."
Favorite wrestlers of all time and why?
A: "Tough question do not want to speak for everyone, but there are a bunch. We enjoy all wrestlers from all eras! Everyone has their own individual favorites they root for now and as children."
The Asylum Wrestling Store has No Limits!
General Admission $15.00 Presale Special until 08/01/2022!!!
Guests, what does it take to get tickets for WrestleBash??!
Purchase your general admission ticket right here, it is only $15.00 until August 1st. If purchased at door or after it will be $20.00
Print a copy of your receipt, you can do this at any time as long as you bring it the front door with you.
We will check and verify your receipt and purchase and give you access to the convention. You will receive a wristband.
The show begins at 12 pm eastern and will end at 4 pm eastern.
KIDS UNDER 10 ARE FREE with the purchase of a General Admission ticket for an accompanying adult. 1 child to 1 adult.
For ticket information, click here.