Every year on May 23 I try to do something in honor of Owen Hart and say thank you. Whether it's watching his matches or more recently introducing my eight-year-old wrestling superfan son Emmett to his matches, I always do something in remembrance of the "King of Harts". This year, I've decided to discuss four, of my favorite Owen Hart matches.
WrestleMania X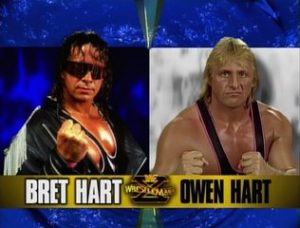 We can't list of Owen Hart matches without mentioning pro wrestling's quintessential sibling rivalry. Pro wrestling has seen its fair share of brotherly feuds. But none can match the overall greatness displayed when Owen and Bret were at odds. This match was built after months of Owen, the youngest of the Hart family, looking to step out of his older brother's shadow. It was a fantastic slow burn, that saw Owen become increasingly bitter towards his brother. That bitterness came to head at the 1994 Royal Rumble. After losing their tag team championship match to the Quebecers, Owen famously kicked Bret's leg out from under him. This was before giving him a scolding promo explaining why he did what he did.
The Hart brothers opened WrestleMania X and damn near stole the show.
Side Note: It's always a good debate between wrestling fans. Whether this match or the Intercontinental Championship Ladder Match between Shawn Michaels and Razor Ramon was the show-stealer.
Their Clinic of A Match
Owen and Bret put on a clinic of in-ring storytelling and the chemistry they had together was off the charts. Owen, out to prove he was just as good and possibly better than Bret, played the younger brother with a chip on his shoulder perfectly. Each man shines throughout the match as they go hold for hold and move for move in a match that had to feel like they were back in the infamous Hart Dungeon. In a truly shocking surprise, Owen gets the victory after countering Bret's victory roll attempt for the pin.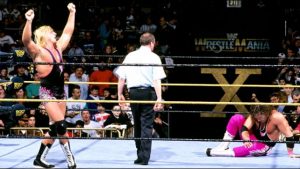 The continuance of their feud was foreshadowed after Bret won the WWE Championship that same night. As the show went off the air Owen is last seen menacingly staring down Bret during his in-ring celebration with the other babyface wrestlers.
SummerSlam 1994
WWE Heavyweight Championship Steel Cage Match
Owen Hart vs Bret Hart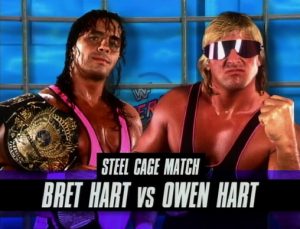 After defeating his brother at WrestleMania and essentially stepping out of his shadow, Owen continued his momentum. He went on to win the 1994 King of the Ring Tournament. Defeating Razor Ramon in the finals, Owen dubbed himself the "King of Harts" and had earned a shot at the WWE Championship.
Inside the vintage blue bar steel cage, the Hart Brothers once again stole the show. This time at the WWE's annual Summer event. The aggression in this match is much higher than their first encounter as they chose to brawl more than out wrestle each other.
The drama is heightened, with numerous camera shots. This included images of their various family members sitting at ringside. Owen attempting to dive out of the cage door multiple times proved just how bad he wanted to defeat his brother once again. Highlights for the "King of Harts" include a beautiful missile dropkick from the top turnbuckle followed by a kip-up and a picture-perfect pile driver midway through the match.
Thank You Owen Hart
Bound by Love and Hate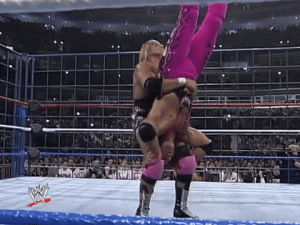 Owen applying the sharpshooter to Bret only to have his older brother reverse it into his own sharpshooter. It is an iconic throwback to their WrestleMania encounter months earlier. Also, most fans remember the super plex from the top of the cage, something that was a big deal back then and of course, the finish.
Both men were on the outside of the cage attempting to win the match. However, Bret slams Owen's head into the cage in the process. This causes Owen to fall backward. But his legs get caught in between the steel bars allowing Bret to drop to the floor for the victory. The post-match brawl involved the British Bulldog and Jim "The Anvil" Neidhart. Both of which had married into the Hart family.
Dungeon Match & Lion's Den Match
Owen Hart vs Ken Shamrock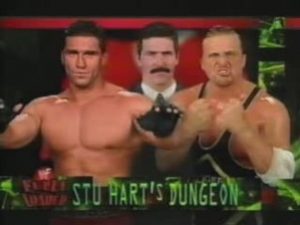 In 1998 Owen, as a member of the Nation of Domination. He found himself in an intense feud with former UFC Champion Ken Shamrock. After "The World's Most Dangerous Man" won the 1998 King of the Ring, Owen challenged him to a Dungeon Match.
The Hart Family Dungeon ran by the patriarch of the Hart Family Stu Hart.  Wrestlers and fans the world over know of tales of how hard and dangerous it was to train in the dungeon.
This match between the two was pre-taped in the dungeon. It aired during the Fully Loaded pay-per-view that year. This is no technical masterpiece, it's a short match that features both men attempting various submissions, but the unique environment makes it a one of a kind experience.
Thank You Owen Hart
The Ken Shamrock / Owen Hart Feud
Owen gets the win after Shamrock's kick attempt takes out special guest referee Dan Severn. Always one to capitalize on an opportunity, Owen strikes Shamrock with a dumbbell.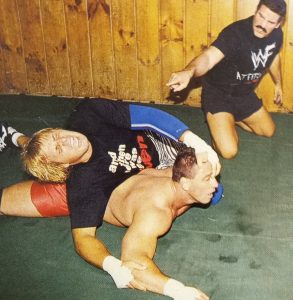 With an unconscious Shamrock at his disposal, Owen locks in a submission, and Severn calls for the stoppage. A month later at SummerSlam the two would meet again, only this time it was in Shamrock's domain, a cage similar to the UFC's patented octagon dubbed The Lion's Den.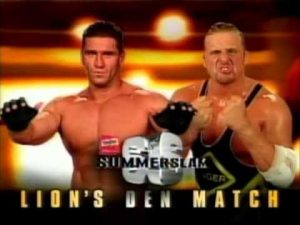 Once again this is not what you would consider a classic wrestling match by any means. But Owen and Shamrock make it work. Each man attempts to use the unique structure as a weapon and the two-mix various mixed martial arts holds and strikes with old fashion wrestling moves. Eventually Shamrock gets a measure of revenge forcing Owen to submit to his ankle lock.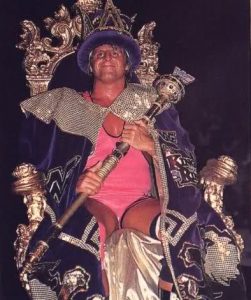 While neither of these contests will end up on any greatest matches of all-time lists, they are two unique matches. This is largely in part, to Owen Hart, being involved in them. These are just a few of the great matches Owen put on during his time in the WWE. His legacy in pro wrestling is one that is unparalleled. Therefore, I try to honor it every year on May 23rd. All hail the King of Harts. Thank You Owen Hart.