The Scuttlebutt Brewing Taproom is located at 3314 Cedar St in Everett, Washington (98201), tucked away in a vaguely industrial portion of the city. It has a gracious amount of parking, and there was a food truck out front with a taproom inside where beverages can be purchased. In the center of the large room with high ceilings was a wrestling ring surrounded on three sides by several rows of chairs. A long catwalk-like platform lead from the entryway into the facilities into the ring, which featured prominently in several matches. In the back of the taphouse, immediately behind the ring, were large cylindrical metal fermentation silos stood twenty feet into the air lining the back quarter of the building. It was a visual feast to behold, as Tap House Rules.
________________________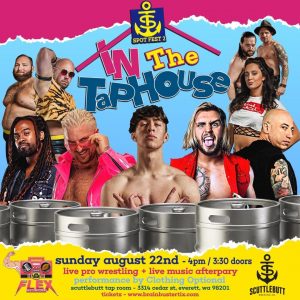 One of the most notable things when entering the taproom is the large open shipping doors which was perfect for those nervous about ventilation in the days of COVID19. This was especially nice for people who might have anxieties about being in an overcrowded venue. There was plenty of space to spread out and mingle without being packed in too tightly. This is also an all-ages venue, which means the whole family can come along and be a part of the spectacle.
Match #1: JaCub Soumis vs. Tony Tornado
Kicking off the festivities, we had a very special match. JaCub Soumis is well known here in the Pacific Northwest and well-loved on the local scene for many years. His opponent, on the other hand, Tony Tornado, was making his Professional Wrestling debut! It's always exciting to see a fresh new talent.
This was a relatively brief match; however, it is nice to report that Tony Tornado was able to hold his own against his seasoned opponent. Even though JaCub Soumis took the win here, it is very clear Tony is a promising newcomer on the scene!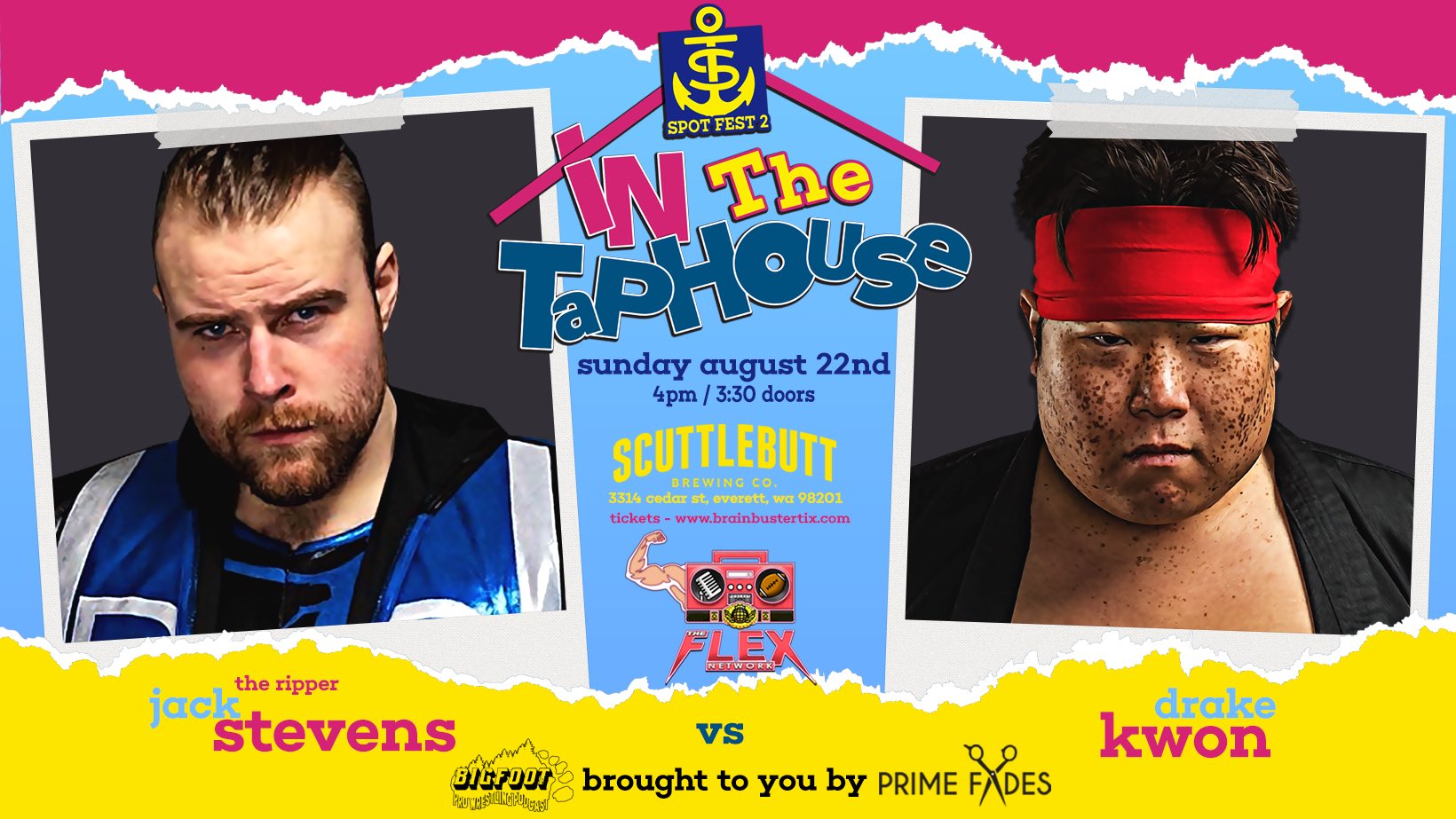 Tap House Rules
Match #2: Jack Stevens vs. Drake Kwon
Our second match on the card was with another local veteran who has put smiles on the faces of many a wrestling fan, Jack Stevens. Facing him is a relatively newcomer to the scene, but one who is proving himself a very talented individual is Drake Kwon.
There was a lot of technical work in this match, and we could see some great chemistry between these two. Both Drake and Jack are big guys, and you could feel the room rumble during their match. Drake took the win here on a count-out, getting the best of his opponent, but something tells me we haven't seen the last of these two in the ring together. There is unfinished business here.
Match #3: Chase James vs. Rashad Tyson
Chase James came out to a muted field of fans. A recent turn to the dark side hasn't set well for some of his former admirers. It may have something to do with his mullet, but that is only a working theory. Facing off against this menace from Spokane was the dignified and relatable Rashad Tyson.
This was quite a match! There were doors, chairs, and several cringe-worthy acts of violence. In the end, Mr. James came out triumphant despite the fact this audience was firmly behind Rashad Tyson. Will Chase James get his comeuppance? Probably, and it would be wonderful to see Mr. Tyson play a role in that event.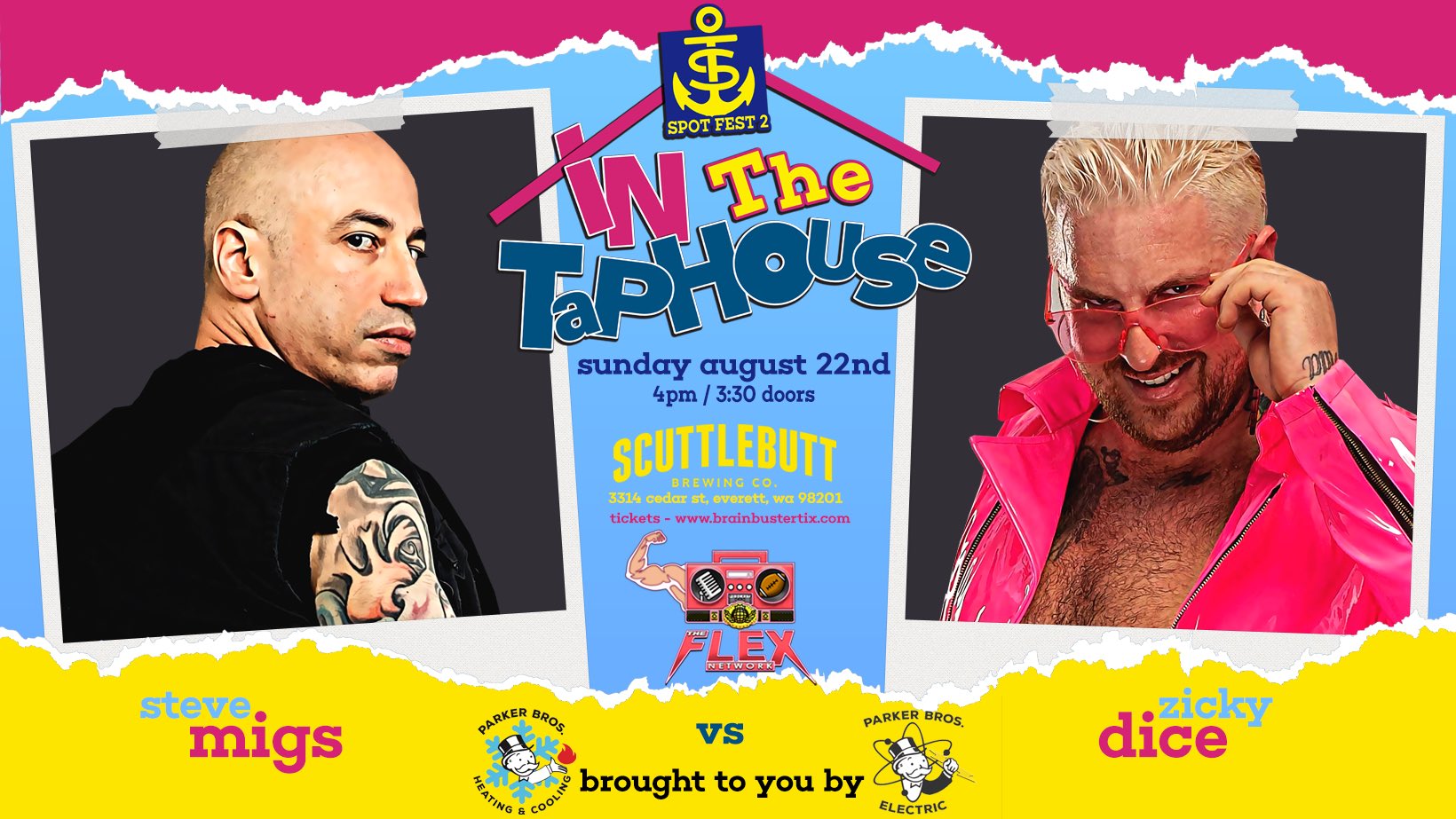 Tap House Rules
Match #4: Zicky Dice vs. Steve Migs
Making his way from the most outlandish places on the earth is none other than Zicky Dice! One simply cannot fault his gift for performance. He was received at Scuttlebutt with one of the loudest audience responses of the evening. Joining Zicky in the ring was often misunderstood and maliciously maligned by his lessors, Verified Champion Steve Migs!
This match was very entertaining, full of comedy, high jinks, and mayhem. While Zicky Dice made a very strong showing, it was our local champion and celebrity Steve Migs who came out on top. There are some who suggested Migs may have cheated; however, this writer is unable to confirm the use of illegal ring contraband.
Match #5: Kris Brady vs. Pitfall Jones
Pitfall Jones came out ready to go, it was after all Sunday evening, and he had papers to grade! Facing our adventurous professor was Kris Brady, a newer talent making a name for himself on the local scene. Kris entered the ring, clearly looking to spill our beloved professor's blood.
This was a vicious hard-fought battle. They both pulled out all the stops, and at one point, it looked like this was going to be a draw. In the end, Pitfall pulled out a difficult win!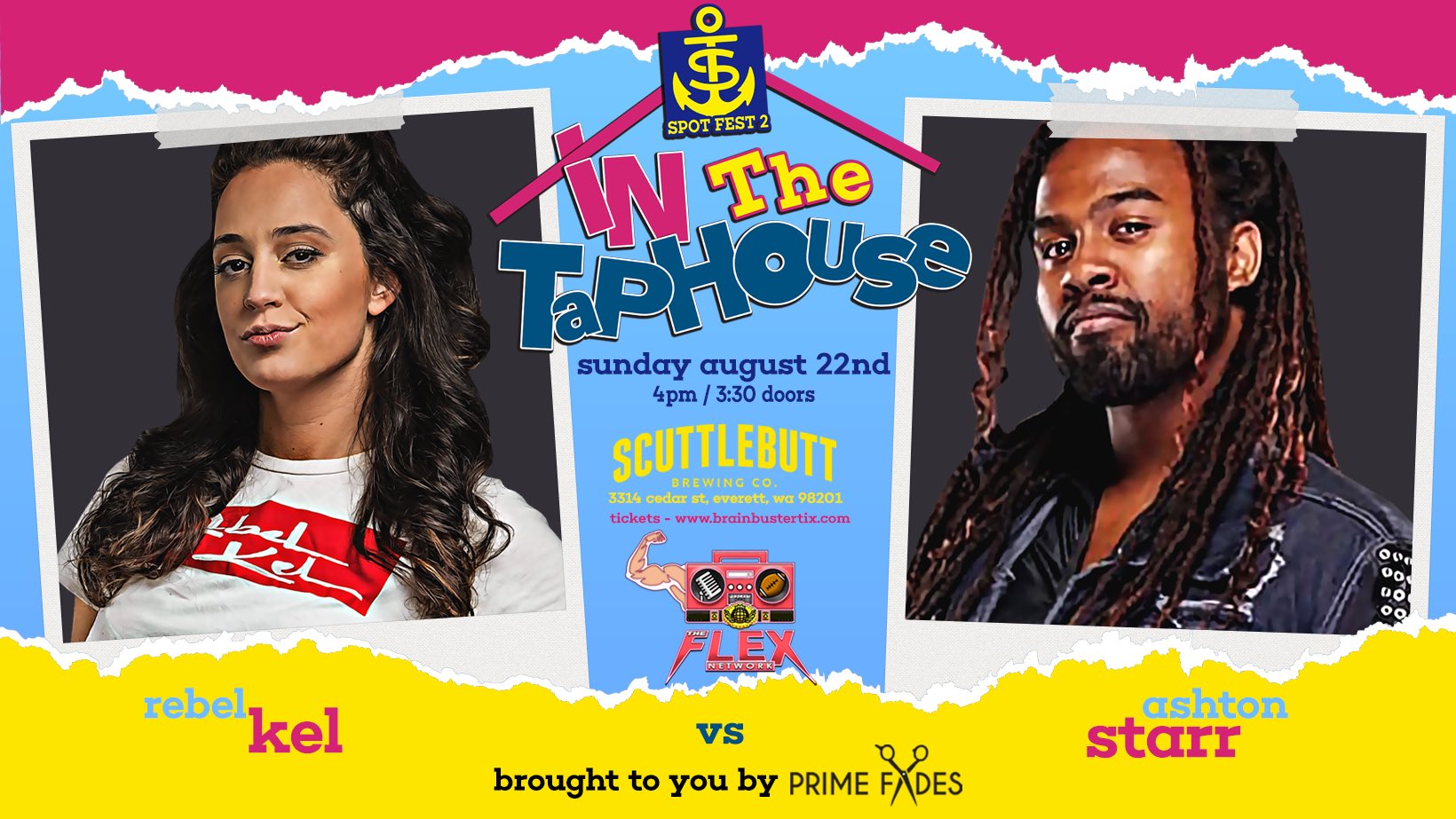 Tap House Rules
Match #6: Rebel Kel vs. Ashton Starr
Our local guide on the highway to hell, Rebel Kel, came out looking like a million bucks. She made her way around the ring, and it was clear this audience loves this six-foot dynamo! Facing her was a flying from the east coast, Ashton Starr, a fierce wrestler with a star shooting higher by the minute. Don't be surprised to see both these people end up with one of the big, televised promotions in the next couple of years.
These two had fantastic ring chemistry. Their physicality was well matched, and their ring banter was particularly entertaining. Even though Ashton was the lesser-known of the two, it is this writers' opinion he made a bunch of fans on Sunday evening here in the Pacific Northwest. Rebel Kel took the win, but with this match, it was really the audience that won.
Match #7: Bash Brothers vs. Cook Brothers
The Bash Brothers consist of two industry veterans Dave Turner and Chris Ross. Though they don't share any blood, brother is a relative term, and your family of choice is sometimes just as important as the family we're born into. Facing off against the Bash Brothers are the Cook Brothers, Brian, and Kevin! (They are brothers; I've met their mom!)
There was a lot of posturing in this contest, and it was clear this audience was behind the Bash Brothers. There were some brutal exchanges in this match, and it looked like the Bash Brothers was going to mop the floor with the Toledo duo; however, at the last minute, Kevin and Brian turned the tables and took home the win.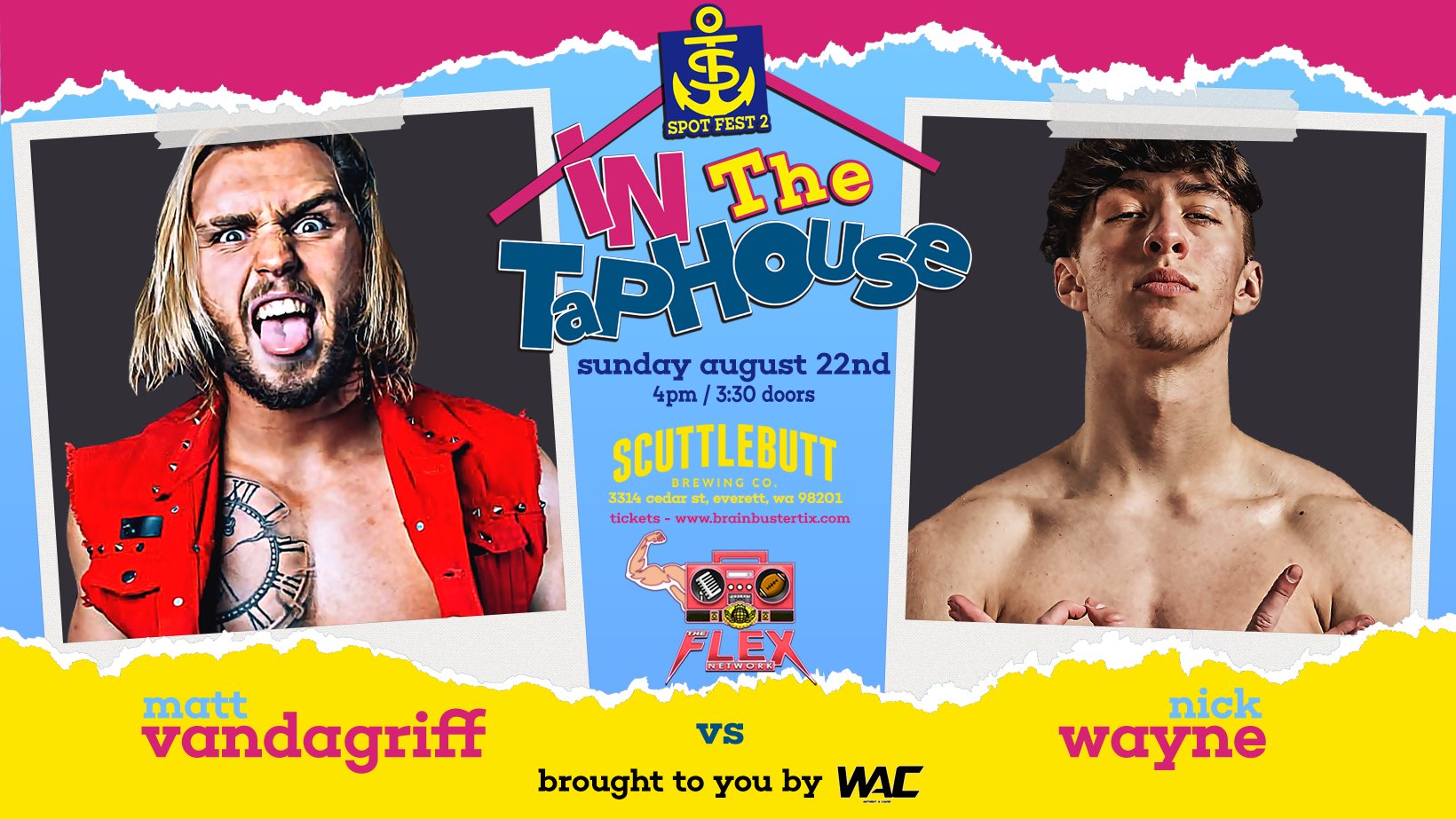 Tap House Rules
Match #7: Matt Vandagriff vs. Nick Wayne
There are few people in the region as hot as Nick Wayne is at this very moment. Son of legendary wrestler Buddy Wayne, Nick has is on the cusp of something huge, and all you need to do is watch him in the ring to know there is no limit for this young man. Facing our local wrestling prodigy is another talent who is making huge waves in the southwest region, Matt Vandagriff. This fantastic talent come up through the Santino Brothers wrestling school, known for churning out excellent talent, and Matt is a perfect example of their skill at developing great talent.
These two put on quite an impressive match. It was technical, and there was some great footwork in the ring. There were some impressive moves, and you could see Nick's mom standing on the sideline, covering her eyes and cringing as she watched her son doing some advanced moves and taking some of the most dangerous hits a wrestler can take in the ring. The match was so intense and brutal; it broke the ring. Literally, broke it. The ropes went limp, and the ring was questionably stable.
A true test of any talent isn't an evaluation of what they can do when everything goes the way it should. A true talent can adapt and adjust to the unforeseen elements that might impose itself on the match. These two gentlemen did exactly that. With no ropes to work with, they continued demonstrating their true professionalism and ability to roll with whatever comes their way. It was inspiring to watch.
The match came to an end with Nick Wayne capturing the win. He earned it; Matt did not hand him that win easily. This was the perfect feast of professional wrestling for a group of rabidly hungry fans!