New Japan Pro Wrestling star Tama Tonga gave an interview with the Wrestling Inc Daily Podcast last week. During the brief interview, Tama Tonga spoke with host Nick Hausman and comments about his youth, what's going on in NJPW, and what the future may hold.
After a brief discussion about the Tama's Island podcast, the conversation turned to the current situation with NJPW. Hausman began by asking Tama about what New Japan as been doing to support their workers. "Firstly they're letting us stay at home with our families," Tama answered. "Secondly, they're paying us to stay home during this hard time when the company isn't making any kind of money. So those are the two big things at the moment. They're not firing any of us right now. So I'm grateful. I'm very very grateful." Then Hausman asked about when NJPW will be able to open their doors again. "We're taking it month by month, week by week," Tama responded. "We just canceled BOSJ til June, […] So we're gonna go until June and see what the situation is then."
Tama Tonga Comments on Current NJPW Situation, Possible Future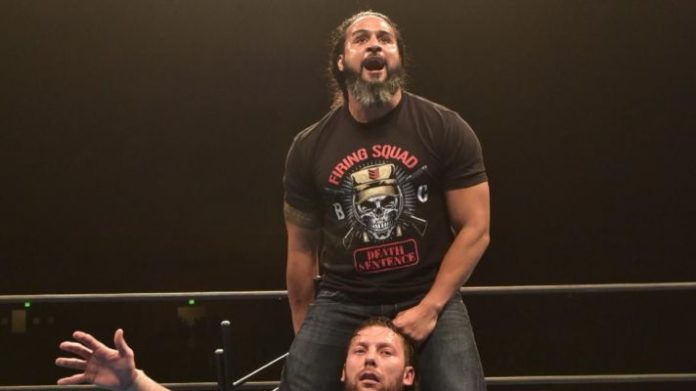 Hausman pivoted to what we can expect from Tama Tonga and The Bullet Club when NJPW returns. Tama first confirmed that we have not seen the last of the Firing Squad faction in Bullet Club. Hausman then asked about KENTA's inclusion in Bullet Club. "When I first joined New Japan, KENTA was hot sh*t," Tama said. "Then when he went to the other side, I felt like he got lost there and they didn't know what to do with him. I feel that bringing him into Bullet Club would reignite the KENTA from before but now with more experience, more knowledge, and deadlier than before."
Tama switched to defensive mode when asked about Karl Anderson teasing his return to NJPW. "Oooh now, take it easy," he began. "I've given you enough juice. I've given you enough juice. We'll let the world speculate but you know those are my brothers."
The interview concluded with a brief discussion of who Tama Tonga would like to face most when he can return to an NJPW ring. His answer, right away, was Tanahashi and Ibushi, adding that he and partner Tanga Loa want their tag team championships back.
Listen to the interview in full here
Be sure to stay tuned to the Pro Wrestling Post for this and additional stories from the wrestling world. Readers can rely on Pro Wrestling Post to bring them the most important news from around the globe. We provide readers with daily news, history and so much more. Please visit New Japan Pro Wrestling's official website for more information as well here.