One of the parts of a wrestling card that seems to have died off in the last few years is the strong promo.  One watches WWE and sees performers try to muddle through lines. They are produced by some writer in the back, and the results are at times painful. Beachballs, "What?" chants and general disinterest seem to be the results from a ten-minute speech. They are from someone who clearly doesn't believe in what they are saying. As we explore the Duke of Alberta Wrestling.
With that being said, one of the things I appreciate the most about Alberta Wrestling is the way the wrestlers can fire up a crowd.  Whether a face or a heel, Alberta is littered with men and women who can make a crowd rise to their feet or drop to their knees.
Dirty Duke Durrango has had enough of the Western Lions and decides to go it alone against Brandon Van Danielson. With a chance for the PWA Heavyweight Title on the line. 
There are so many great examples of great promos. Earlier this year, Chris Perish went from the most hated man to the most loved and cheered. All-American Steve Rivers barely needs to spit out three sentences to make all the Canadians in the crowd feel not only inferior but furious that Rivers is allowed in the Country.  Thaddeus Archer III is one of the most brilliant minds in manipulating a crowd. He is able = to feel all sorts of emotions.  Veteran Andy Anderson on more than one occasion has inspired near-riot conditions in numerous crowds. This is much like his time in Puerto Rico.
The Duke of Alberta Wrestling
But this week's Tales from the Ref is dedicated to someone who, in my opinion, rises above all others.  For the last eighteen years, Dirty Duke Durrango has been taking fans of the PWA on an emotional rollercoaster.  A graduate of the infamous Hart Family Dungeon, he has been a part of the PWA since their first show. While there he has won numerous titles, both singles, and tag. I could list a ton of stats and accolades for Duke, but that is what Wikipedia is for.
Dirty Duke Durrango taking on another PWA Alumni, TJ Wilson (known in the WWE as Tyson Kidd).
The thing I remember most about Duke is the interaction with the crowd, from cutting a scathing promo on his opponent, to verbally destroying fans with every catcall they attempt to throw his way.  I have seen fans, after being verbally punked out by the Dirty one, literally bow to the Verbal Royalty of the PWA.  He is the only wrestler I know has NEVER been at a loss for words. Regardless of what is said to him.  This man has been able to respond to anything said, and not your usual standard fare.
The Duke of Alberta Wrestling
The Best of The Bad Guys
Whether it be tormenting the seniors by stealing their straw hats, to reminding the hecklers in the third row that they need to get their diapers checked, Duke has not only been able to make fans engaged in a match, he has also kept it within a family-friendly atmosphere.  It takes a lot to think on the fly and not come out as crude or vulgar: the sign of a true promo king.
For those not familiar with Duke, the best way to describe him is he is a more seasoned version of Kevin Owens, without the limits of WWE "protocol".  A big man that knows how to move, but more importantly, knows the psychology of the game.  With just a few words, he can have a crowd enraged and want to see him get his butt kicked, without taking a single punch.  One strong move with feeling can make a lot more impact than 5 or 6 flips of some of the other wrestlers. Working smarter, not harder, has led to a long career.
The Duke of Alberta Wrestling
One of The Most Respected Men in The Business
As sound as Duke is inside the ring, outside the ring, he is one of the most respected men in the business.  Every time I visit with him, whether it be before or after a show, he is truly a class act.  One of the things I enjoy the most is when Duke comes in during our post-show podcast to give just the perfect one-liner. It is either intensify or lighten the mood, whatever is called for.  If I ever have an issue with anything going on with Alberta Wrestling or an issue with a wrestler. Duke has been the first one to message me to provide me words of encouragement or guidance.  For that, I will always be thankful.
The Western Lions are not strangers to Dirty Duke Durrango and his long-time Tag Partner Chris Steel.  Watch as the Lions took on Team Hall of Fame in Calgary, May 2015. 
Saturday, November 24, for the PWA in Edmonton, will be the final match for Duke. He teams up with his long-time tag partner Chris Steele, known as Team Hall of Fame. They take on two of the greatest wrestlers in Canada today, Michael Richard Blais and Brandon van Danielson. They are the Western Lions.  This night, Duke will say goodbye to the fans, to the business that he has given so much to, as one of everyone's favorites.  But one of the most important things is that wrestling fans will get one last chance to say thank you to one of the greatest that Alberta has ever seen.
Thank You Duke
One of the few regrets I have in my years in the wrestling business is I have not been able to call one of his matches.  But I will be forever thankful to be able to have experienced the man known as Dirty Duke Durrango.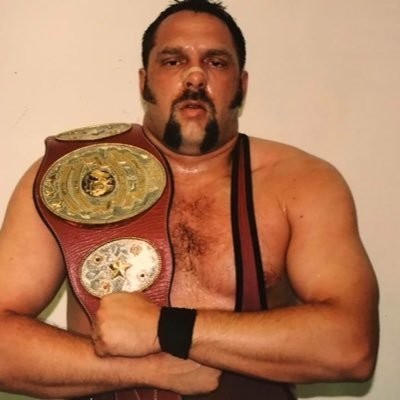 NEXT TIME… Fighting for our Right to Fight in Edmonton!!!