Tales and Lineage of The Black Glove
On May 27th, 2021, All Elite Wrestling posted a video on Twitter featuring a promo from Tully Blanchard to Shawn Spears. In the blistering promo, Tully rips into Spears for his recent shift in attitude. The following week on AEW Dynamite (June 3rd, 2021), the former Horseman gave his protege a gift that would help him find his inner darkness: A black fingerless glove. But why just the one? Well, the lone black glove has been a symbol of inner evil for quite some time. These are tales and lineage of the black glove and what it means.
Tales and Lineage of The Black Glove
Blackjack Mulligan
The first person to incorporate one black glove as part of his ring gear was Blackjack Mulligan. Mulligan, real name Robert Windham, was a big, tough Texan in black trunks, black boots, and a black cowboy hat. He devastated foes with his iron claw, delivered with his right hand in a black, fingerless glove.
The villainous Blackjack Mulligan had a handful of feuds in the WWWF with the likes of Pedro Morales and Bruno Sammartino before heading West to the AWA in 1971, where he would meet Jack Lanza. The duo formed a tag team known as The Blackjacks and went onto great success through the 70s.
Ted DiBiase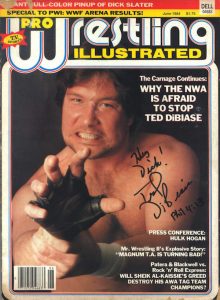 In the early-mid 80s, DiBiase was much, much different than the wrestler we'd come to know and love as The Million Dollar Man. During his time in Mid-South Wrestling not only was Ted DiBiase a babyface, but he was also one of the top babyfaces in the company. In mid-1982, Ted DiBiase was in an angle in which he had broken his right hand. He continued to wrestle with his right hand taped up and covered with a fingerless black glove.
Fans thought nothing of it until DiBiase's match with Junkyard Dog for the North American title. Towards the end of that match, DiBiase spilled to the outside, where something seemed to go wrong with his injured hand. JYD threw him back into the ring, only to get knocked out with a right hook. Ted DiBiase turned heel on his former friend, using a loaded glove to capture the North American championship.
Barry Windham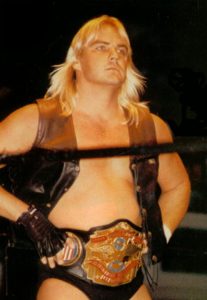 The man most synonymous with the black glove is
Barry Windham.
Windham had been teaming with Lex Luger against the Four Horsemen, following Luger's failed run as a Horseman. The pair had a feud with Tully Blanchard and Arn Anderson in 1988, which ended when Windham clotheslined Luger during a tag team championship defense.
After that, Windham joined the Four Horseman, donning the black glove and using his father's iron claw to end matches. This was the beginning of an incredible run for Windham and The Four Horsemen. For many fans, this incarnation of the villainous foursome is the most iconic, with each member holding a major title.
Other dark-sided pro wrestlers have also included a single black glove in their attire, but none to the same effect. Deisel, for example, usually wore one glove; however, he wore it regardless of whether he was face or heel.
During his days as "Mean" Mark Callous in WCW, The Undertaker sported one black glove, which he used to deliver a right-handed heart punch. Perhaps this was the inspiration for Kane's single glove, which he uses most often to perform chokeslams. A notable one-glover in recent times is Bo Dallas, who does so in tribute to his uncle, Barry Windham.
Shawn Spears receiving the glove from Tully likely signals a turning point in his career. While Spears has been more intense in AEW than he ever was in WWE, he's still missing something. As we've seen before, donning the black glove is usually the first step towards becoming a despicable but memorable heel.