For Storm Thomas, 2020 was a year of reinvention. The 2018 Cauliflower Alley Club Active Men's Wrestler Award winner began the year in familiar territory, wrestling at a huge event for Central Empire Wrestling. Read more about the Cauliflower Alley Club here.
_______________
As The Storm, Thomas made a name for himself in CEW, and his return for Bridge City Slam 2 last January was the prime opportunity to begin his reinvention. The promotions fan base gave him a hero's welcome but quickly realized this wasn't The Storm they grew up with. Gone were the bright colors and superhero persona CEW fans knew and loved.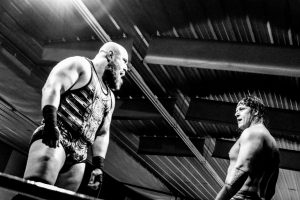 In its place was a more aggressive, no-nonsense, business-first approach for Thomas. 
"This is more of who I am. I had been playing a character for ten years. That superhero does no wrong character, just wasn't me. In my life outside of wrestling, if somebody slips up and says the wrong thing, I'm the first one to throw a punch."
"With my status in and out of the locker room, I need guys to see me for who I really am, not a character. I'm not here just to have a good match; I am here to win, I am here to hurt people, and I am here to make money."
Storm Thomas
That night The Storm defended his Full Throttle Pro Wrestling Golden Challenge Championship in a fatal four-way match. His opponents were "Suplex Cyclone" Curt Gannon, "Flawless" Brandon Wallace, and Mr. Anderson. Stepping in the ring with Anderson was an opportunity he relished in. Wrestling a former WWE Intercontinental Champion (Anderson) was something that lit an even bigger fire under his belt. Ending the night with his championship intact, Thomas earned Anderson's respect. A feather in his cap, with Anderson having once performed at the highest level of professional wrestling. 
Storm Thomas & His Return to CEW
The following month The Storm returned for a second CEW event. This time it was the 11-Year Anniversary show, and once again, his opponent was Curt Gannon. In the night's most physical and hard-hitting match, the two powerhouses stole the show. Having someone in Gannon match his newfound intensity and physicality was something Thomas enjoyed. 
"Curt Gannon is an animal; he's a different breed of human being. As hard as I hit him, he hit me back just as hard. The weird sadistic part of me really enjoyed that."



Just like at Bridge City Slam 2, The Storm emerged victorious. Returning to his home in Florida with two successful title defenses, Thomas continued wrestling for Full Throttle Pro Wrestling. As the Golden Challenge Champion, he took this as his personal duty to be the workhorse champion of the company. Something he compared to the glory days of the Intercontinental Championship. A time when the WWE's secondary championship was held in such high esteem. 
A Defending Champion
Willing and ready to defend the championship on any show for any company, this more aggressive Storm Thomas was beaming with confidence. Then the pandemic hit, and things for Full Throttle Pro Wrestling, like a lot of independent wrestling promotions, slowed down. This didn't keep Thomas from finding work. During the pandemic, he found himself wrestling for companies like North American Wrestling Alliance, Larry Otto Pro Wrestling, and World Wrestling Network. The latter, previous owners of Evolve, used Thomas in each of their promotional branches. 
Thomas worked for their American Combat Wrestling along with Full Impact Pro and serves as the assistant trainer at their training center in Florida. Keeping himself ring ready and answering any challenge, the next big opportunity arrived when All Elite Wrestling came calling.
AEW Came Calling

The second-largest wrestling company in the United States reached out to The Storm hours before the Tuesday night portion of their nationally televised show was set to tape. They needed a replacement to fill in for a tag team match, and The Storm dropped everything to answer the call. It was here where Storm Thomas was officially born. Having changed his attitude, look, and ring approach, the final piece of his reinvention puzzle came in the name change. Debuting as Storm Thomas, this was his big break in the next step of his pro wrestling journey. 
"Storm is who I have been and will always be part of me. Thomas is a family name and brought my story full circle."
On this episode of AEW Dark, Thomas tagged with Demetri Jackson against the Best Friends. 
Full match below:
Despite suffering the loss, this was Thomas' chance to show his new persona in front of a nationwide audience. An opportunity he relished in.
"I took so much humility away from my experience at AEW. Seeing all these guys who have traveled the world and wrestled for the biggest companies treating me like a long time friend of family member was a great experience."
Inspired by Cody
Taking inspiration from AEW head honcho Cody Rhodes, Storm Thomas now has a list of wrestlers he would like to face before hanging up the boots. Having wrestled for over a decade, Thomas is more interested in the matches that make sense for him and ones he knows can deliver the goods. Some names on this list include Jax Dane, Chris Masters, Cody Rhodes himself, and many others. 
After his AEW appearance, Thomas continues the grind of working independent wrestling shows while managing his own personal training business. Each show adding a little more aggression and physicality to his repertoire, Storm Thomas now sets his sights to an even bigger 2021.