Some of wrestling's top indie refs around the U.S. in no particular order begin with two longtime friends in the late/great Brian Hildebrand (who managed in Philly/Jersey as Evil Dr. Mean Mark Curtis and Scottie Dickenson of the Boston area. Whenever I came to shoot/cover Dennis Coralluzzo's shows, or those of ECW's predecessor Joel Goodhart's TWA or later ECW or any Philly/Jersey area indies (my second home) – both Brian and Scott were usually there for our hardcore midnight till dawn VHS tape watching parties of Sayama/first and best Tiger Mask vs. Dynamite Kid, Funks vs. Sheik/Abby (also in Japan), Dory vs. Terry in AJPW, Memphis and Nashville classics, etc. These are just some of the guys.
These were at Dennis' Deptford, NJ home, which he always insisted I stay at instead of the boys Red Roof Inn (infamously bad but 'our place' nonetheless). Others occasionally present included Terry Funk, Mick "Cactus" Foley, Eddie Gilbert, Bobby Eaton, young Chris Candido, his wrestler dad, and Tammy, etc. Superfan and wrestler pal Scott Goldstein would break out his shoot home movies of RnRoll Express, the Freebirds, and Jimmy Garvin aboard a rented sailboat, shooting on the biz and who they hated and thought were dumb booking ideas. No one had that kind of thing on tape in 1990 or the few years after saving Scotty. Fun times.
Some Guys
Other ref guy pals to current and in no particular order include Dallas legend and today's NWA ref great James Beard, of course, Red Shoes Johnny Duggan. NJPW's current Japanese "Red Shoes" senior ref has always been the most significant Red Shoes Duggan mark. He even copies his 70's outfit and mannerisms flying around the ring, etc. AJPW's papa Higuchi, WWWF's Dick Kroll and Dick Whorle, Lou Anthony, and "The Masked Referee" in my home base 70's Los Angeles territory as well as ref Jerry Murdoch. While Duggan was brought in regularly by Inoki in the '70s as a special guest ref for NJPW, Murdoch in the early '70s was brought in by Baba soon after he started AJPW.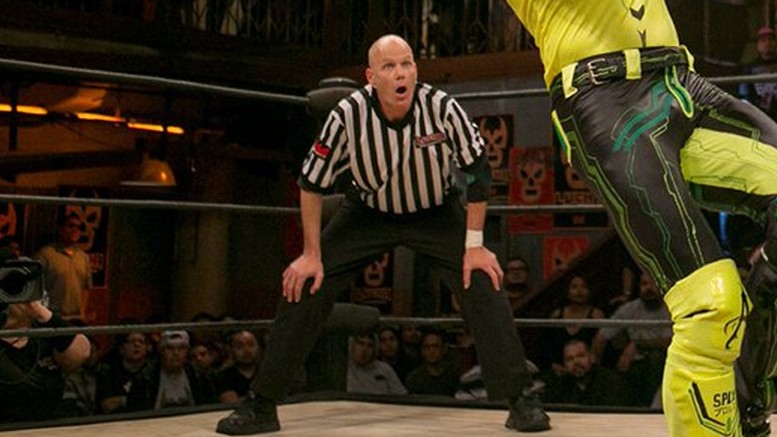 Top West Coast Refs Are Among Some of These Guys
APW and top west coast ref Sparky Ballard has his own massive APW Boot Camp and school. Plus his Gold Coast show promotion he hopes to get going again after the pandemic restrictions rescind. He also provides wrestlers to APW proper, which is owned by founder Roland Alexander's longtime last booker, Markus Mac. Chicago's Trevor Blanchard and his son are also famous global refs. I hope to include the many great Los Angeles, etc, indie refs in future columns. Including the likes of Pat Hernandez and some of PWG's celebrity refs like Rick Knox. Knox, who, of course, is one of AEW's lead officials. Pat and Rick have reffed for EWF and pretty much every major Southern California show for many years. Including XPW, WSX, Epic, Santino Brothers, Rick Bassman's old UPW y mucho mas(and many others).
By Dr. Mike Lano
Pro Wrestling/Boxing/MMA/Rock Concert Magazine Photographer/Writer Published Globally Since 1966 – please holler at me at wrealano@aol.com.
****
The critically acclaimed #350Days stars Bret Hart, Superstar Billy Graham, and 3 dozen all-time legends. It's available worldwide on Amazon, iTunes, Google Play, & Xbox and all major cable systems. Click here to view the trailer for 350 Days.