We've made it to the end of April! I don't know about you, but spring fever and cabin fever are both hitting me hard these days. I've gotten antsy spending so much time inside. The best remedy for this, though, is to watch more wrestling. When I say this, I mean to go outside your comfort zone, too. Watch wrestling promotions you've never followed. Get yourself caught up in a whole new culture while you've got a little time to catch up. Here's my Social Distancing Wrestling Watchlist!
This week's Wrestling Watchlist focuses on shows that I enjoyed watching (or in some cases re-watching) recently. I think you'll have as much of a good time as I did checking these events out. As always, everything is available on IWTV's video on-demand service!
Social Distancing Wrestling Watchlist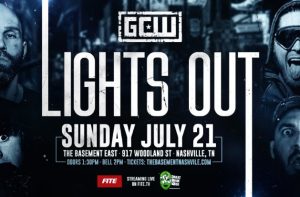 The outlaws made their debut in Nashville last summer and damn, did they leave an impression. GCW Lights Out was the second show on a two-day run of Tennessee. After I first saw this show live on FITE.tv I knew I'd have to make it to a live GCW event. Thankfully I did when they came back to Nashville that December! The re-watch factor of Lights Out is terrific. The show still holds up very well after almost a year. Highlights of the show include EFFY vs. Orange Cassidy, which was a hell of an entertaining fight.
Matthew Justice vs. Mance Warner vs. Brett Ison was also a banger match that had one of the biggest crowd reactions I've ever seen for Ison, the hometown favorite. Everything on this card was great, especially the commentary from Kevin Gill and Joey Janela. The main event had Marko Stunt going up against Nick Gage in one of Marko's last matches on the independent scene. Definitely one to check out soon if you're into GCW!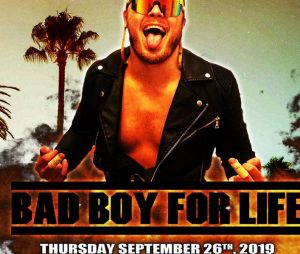 Absolute Intense Wrestling's farewell show for Joey Janela took place last September at Bad Boy For Life. At this event, Janela's last opponent in the promotion would be Alex Shelley – and an excellent bout it was! The road to AEW last fall was paved with a number of amazing matches for Janela, and when he went one-on-one with Alex Shelley it was an instant classic. This whole card was put together excellently. Other great matches on the show were Tre Lamar vs. Lee Moriarity, a literal ring-breaking match with KTB and Zach Thomas, Manders vs. Twan Tucker, and Dominic Garrini vs. Josh Bishop. The main event title match between Matthew Justice and Eric Ryan is also a brutal fight that's worth your viewing time as well.
Social Distancing Wrestling Watchlist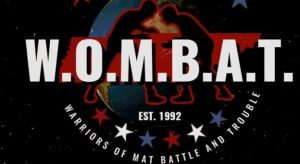 So you've figured out by now that I'm really into that GCW, right? Here's the show that'll help you understand why. When GCW made their debut in Tennessee last summer, they brought back W.O.M.B.A.T. to the dirty south. That's right, GCW has their own form of southern territory wrestling show in W.O.M.B.A.T. (or Warriors of Mat Battle and Trouble). IWTV recently aired the pop-up video version of this amazing event from last July. If you're into southern wrestling's over-the-top characters and tough as hell fights, then GCW has what you're craving. Plus the trivia that goes along with this show is just as hilarious as the commentary from Joey Janela, Kevin Gill, and Papa Stunt.
The ladder match for the W.O.M.B.A.T Hardcore Title must be seen to be believed. Actually all of this show really has to be watched in full to understand what the hell's going on. Old school style fans will have a damn good time watching Mance Warner vs. Doug Gilbert in the Tullahoma Two-Step Street Fight (watch for the trivia about Applebee's). There's a lot of great southern talent featured on the show as well. You'll enjoy the wild-as-hell tag match with The Carnies vs. The Smokin' Budz, too! It'll be fun to see which GCW show gets chosen next for pop-up style good times.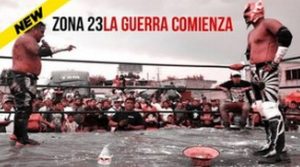 There's always a strong interest in the wild, dirty, underground style of wrestling. Yes, I love outlaws. I first saw Zona 23 late last year on IWTV. The mind boggles at the idea of wrestling in a Mexican junkyard. There was just something so 'Street Fighter' about it all. Zona 23 is all about the most hardcore individuals going toe to toe down in Mexico, and yes – the deathmatches take place in a ring set up in a junkyard. You're also likely to see the action spill out of the ring and out among the fans and wreckage that surrounds it all.
This particular show from last month stood out to me as it had a full card of names that were familiar to me. I found out about Ciclope and Miedo Extremo from previous Zona viewings and Super Crazy has been around being badass for ages. The biggest draw here, though? Matthew f'n Justice in Zona. I love watching Justice get wild in every promotion that books him. Zona is perfect for the guy, and having him on this show is an extra win.
Social Distancing Wrestling Watchlist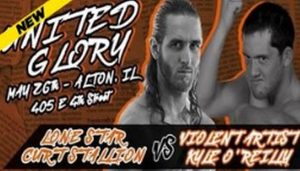 Time to throw it back a few years! Before all of the world-changing events of recent weeks took place, I was happily getting more involved with Glory Pro shows and looking forward to going to my first live one. Since those plans are on the shelf for the moment, I'm happy to get my Glory Pro fix by going a few years back in their catalog to 2017. The United Glory card's a roll call of current talent signed to a number of promotions (NXT, ROH, and MLW among others) and indie talent standouts just making their way onto the scene back in '17.
Among the matches, I enjoyed most were Shotzi Blackheart taking on Alexia Nicole, Keith Lee vs. Michael Elgin, and Curt Stallion vs. his mentor Kyle O' Reilly. Special mention goes to the 'Bad Seed' Myron Reed taking on Ray Fenix also; this card was full of classics.
I hope you're spending your quarantine time living the best life you can! Maybe that means finding treasures like these on IWTV. Maybe it means digging deep into your wrestling DVD or VHS stash. Take these recommendations and spread them around. Use every wrestling promotion out there as a part of your arsenal against stir crazy cabin fever!