Another week is in the books. We are definitely in that swinging Summer mode. Vacation mode for many, and we celebrate the anniversaries of Canada and the United States' respective births. This is the perfect occasion to share a toast. Here's to your health, I say cheers. This is Smackdown Synopsis for 7/3/20.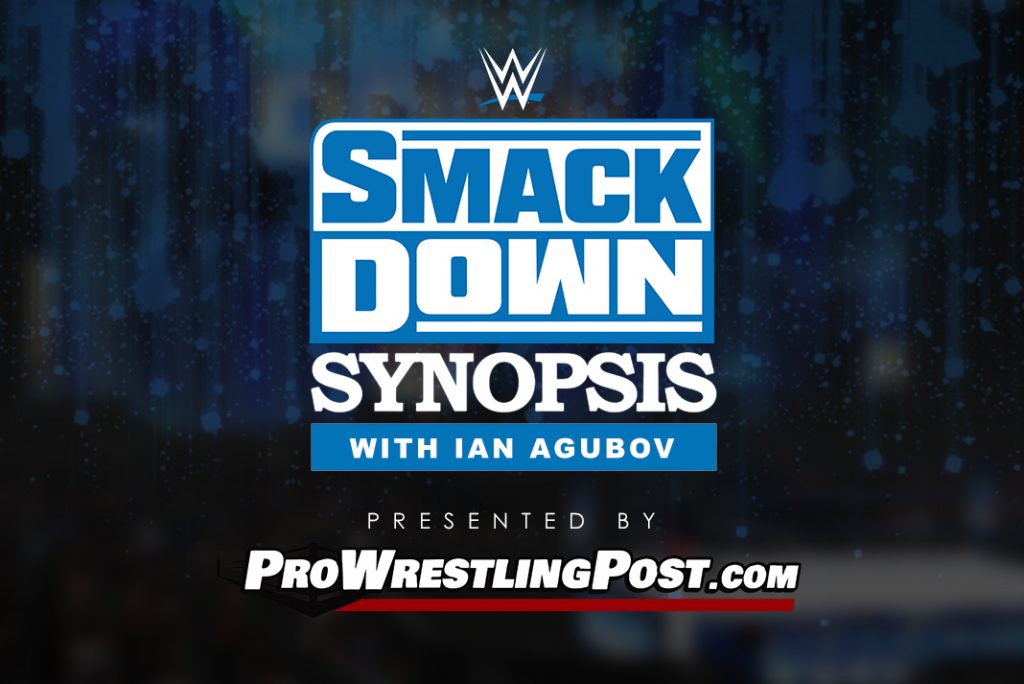 During Smackdown, Sheamus is going to offer a toast to Jeff Hardy. The Charismatic Enigma did wonders to uphold the Undertaker's reputation one short week ago by knocking off King Corbin. The heel, as mentioned earlier, besmirched the career and legacy of the Phenom.
Don't expect Sheamus'toast to be anywhere close to as affable as mine was to you. Bad blood runs thick and deep between the two. Expect a whole lot of the bubbly, as opposed to a little bit to be tossed around in Orlando. This could make the Raptors' 2019 dressing room celebration to look as dry as the Mojave desert.
Extreme Rules, re-named Extreme Rules: The Horror Show, most likely because of the Bray Wyatt -Braun Strowman match slated to take place at the birthplace of Strowman, the dreaded swamp which is part of the Wyatt Family Compound. Last week the champion teased the possibility of returning to his one-time evil ways. Before MITB, Strowman was impervious to Bray Wyatt's attempted intimidation and manipulation. Is the Monster Among Men playing mind games of his own and trying to get under Wyatt's alligator-like skin? Interesting to note that the Universal Championship will not be defended at the swamp match. Will this projected cinematic extravaganza still draw the attention of Wes Craven and Eli Roth.
TONIGHT on #SmackDown:

? @WWESheamus raises a glass to @JEFFHARDYBRAND
? @SuperKingofBros sits with @MichaelCole for ???-down
? @AJStylesOrg defends his #ICTitle against @DrewGulak
… and MORE!https://t.co/tg2qiBrrd1

— WWE (@WWE) July 3, 2020
Smackdown Synopsis for 7/3/20
Michael Cole and Matt Riddle
The ice will be BRO-ken tonight as Matt Riddle is set for an in-ring interview by Michael Cole. Look for Riddle to be attacked by somebody looking to stir and shake things up, leading to a confrontation at the Horror Show.
We begin our journey in the ring where Michael Cole interviews Matt Riddle. The newcomer to SD points out that appearing on SD is the lovechild of a lot of work and a lot of dreams. Speaking of the thrill of his upset win over A.J. Styles two weeks ago, Riddle mentioned.." Bro, I could get used to this." He also stated that he never wears shoes, even for a wedding or a bar mitzvah. His shoe shunning is rooted in a vicious bout of frostbite he had as a youngster while vacationing in Wisconsin.
The inevitable interruption was at the hands of SD's personal trouble-fete King Corbin. The kindly Monarch expelled Michael Cole from the ring and implored Riddle to bow down to him. Corbin alluded to Riddle's lack of respect for him last week at the end of the show and set up a match between John Morrison and Riddle as a punishment to the latter. It helps to have royal influence with the powers that be.
The flip flops are OFF!

HERE WE GO! #SmackDown @SuperKingofBros @TheRealMorrison pic.twitter.com/KVSkGVu4gI

— WWE (@WWE) July 4, 2020
Smackdown Synopsis for 7/3/20
John Morrison vs Matt Riddle
The hook up between these two high-flyers began with both men resorting to their ground game. Riddle started impressively with a Belly to Belly Suplex, which was followed up by an Ankle Lock. After a Corkscrew Crossline, Morrison pinned Riddle for a two count. Another count of two followed a pair of stiff Knee Shots by the Friday Night Delight. Matt Riddle regained his composure and was even able to head to the broadcast table to assault King Corbin with one of his flip-flops. Not exactly a move out of Dory Funk's repertoire.
Back in the ring and to more serious business, Riddle stunned Morrison with a Bro To Sleep and a German Suplex. Again, only for a two count. Two counts aplenty would follow. Morrison came close to putting the match away with a modified Tilting Crucifix, followed by a Standing Spanish Fly.
Matt Riddle would counter with a Power Bomb and a Running Knee only to fall just short. After continuous yet fruitless efforts to interfere in the match by King Corbin and The Miz, Matt Riddle arrived at victory road with a Rollup. The rising star was pulling off his second consecutive upset victory.
Winner: Matt Riddle
.@SuperKingofBros's celebration gets cut short by @AJStylesOrg… but not far behind is @DrewGulak! #SmackDown pic.twitter.com/8gaR2tc99F

— WWE (@WWE) July 4, 2020
His efforts were rewarded by A.J. Styles, who attacked him from behind. Drew Gulak set to take on the Phenomenal One for his Intercontinental belt came on to make the save. That bout would immediately follow.
Seconds before the bell rang, we were sent backstage where Corbin, The Miz, and Morrison plotted to make Matt Riddle's SD life miserable.
Smackdown Synopsis for 7/3/20
WWE Intercontinental Championship Match
Drew Gulak vs AJ Styles
Daniel Bryan did not accompany Drew Gulak, the native as mentioned above of Aberdeen, Washington, did join the broadcast via Zoom. While Gulak did have a few effective outbursts and near pinning predicaments, Styles was at the top of his game throughout. This match was a total contrast to the upset Gulak pulled off four weeks ago in a supposed tune-up encounter for Styles.
Throughout the encounter, Styles' frustration would build as he came so close to victory. He was able to focus on Gulak's left leg in the quest to apply a Calf Crusher. We then came within an eyelash of the evening's second upset. Gulak striking with four consecutive Running Dropkicks and a modified Michinoku Driver, you guessed it, nothing more than a two count.
A.J Styles then turned things up two notches. He hit his foe with a Powerbomb followed by the Styles Clash but chose to make a statement instead of merely emerging victorious. He added further icing to the cake by taking Gulak out with the Phenomenal Forearm.
This performance frames Styles as a menacing and dominant titleholder as opposed to the cowardly, paper champion.
Winner: And Still Champion AJ Styles
Still Champ. Still #Phenomenal.#ICTitle #SmackDown pic.twitter.com/XsTA6aiJ83

— WWE (@WWE) July 4, 2020
We all know the old saying, if you want something done well, do it yourself. Bayley and Sasha Banks followed suit by preparing and presenting their tribute. We were hence shown some video clips of their defining career moments. Bayley was adding to the festivities by alleging that The Undertaker called her to say that he was embarrassed by the accolades he received instead of those deserved by the golden role models. What can be said about imaginations that run just a bit too wild?
We all have our breaking points and limited patience for self-aggrandizing prattle. Nikki Cross and Alexa Bliss would storm the ring and halt the nonsense. Sasha Banks took a page out of her best friend's playbook and issued a challenge to Alexa Bliss to confront Bayley in an impromptu match. They were readily accepted by Alexa and about to unfold.
Ms. Bliss jumped out of the gate in this non-title match. Her decisive advantage is leading to an early pair of two counts. There we have our soup of the day.
.@AlexaBliss_WWE & @NikkiCrossWWE have heard ENOUGH out of @itsBayleyWWE & @SashaBanksWWE!#SmackDown pic.twitter.com/tNkpKnMWyA

— WWE (@WWE) July 4, 2020
Smackdown Synopsis for 7/3/20
Alexa Bliss and Nikki Cross vs Bayley and Sasha Banks
The momentum would shift to Bayley's favor as she went to work on Bliss, right arm and followed that up with a stiff Clothesline. A Running Bulldog was to follow. The match then spun out of control when Nikki Cross interfered from ringside. While from a purist's point of view, Bayley should have won via DQ, but the match was thrown out.
Winners: No Contest
Of course, Nikki Cross challenging Bayley in a little over two weeks at Extreme Rules: The Horror Show. The horror theme came primarily from the Wyatt Swamp Fight between the Monster Among Men and Bray Wyatt. We were shown a historical retrospective of both men's careers, focusing on how Braun Strowman cut his teeth as Wyatt's black sheep. No new footage or dialogue was shown, which was a bit of a letdown.
There is no letting up though in Shinsuke Nakamura nor Cesaro. The talented pair is hot on the heels of The New Day. The Artist Collective, as they were referred to in the Spring, feel overlooked, and seek tag team gold.
Smackdown Synopsis for 7/3/20
Shinsuke Nakamura vs Kofi Kingston
Tonight, Nakamura will face off against Kofi Kingston in singles competition. As the match got underway, Kingston was in control. Nakamura kicked off the apron and then thrown into the plexiglass. Plexiglass, so very unforgiving. While Big E laughed hysterically, Cesaro interfered while Kingston was on the top rope.
Before the match morphed into a demolition derby, the official banished both Cesaro and Big E. to the back. The opponents reeled off a succession of devastating and perfectly executed moves, both able to run up a pair of two counts.
Nakamura attempted to lock on a Sleeper hold to Kingston but took a shortcut instead by raking his opponent,s eyes. It was followed up by a Running Knee, and Shinsuke Nakamura garnered the victory.
Cesaro bolted back to the ring area and took out a table. Big E would follow immediately with a save that would impress even Carey Price. By earning the "W" tonight, Cesaro and Nakamura have a rendezvous with destiny next Friday when they finally compete for tag team gold.
Winner: Shinsuke Nakamura
EXCLUSIVE: @ShinsukeN & @WWECesaro are focused on their #SmackDown Tag Team Title Match next week. pic.twitter.com/AH0ksTtyC1

— WWE Network (@WWENetwork) July 4, 2020
A Toast To Jeff Hardy
Our very last segment was the infamous toast to Jeff Hardy. The Charismatic Enigma took to the ring, where an accommodating young bartender offered him a wide array of spirits. Sheamus then appeared via the Titantron, proposing a toast and some very questionable pearls of wisdom. Here are a few of his salient points… Jeff, you have a problem… your problem is facing reality. The first chance you get, you stick your nose in somebody else's business. "Being the kindhearted man that I am, I've found the perfect solution. It's in one of these bottles. With a drink in your hand, you'll never walk alone".
.@JEFFHARDYBRAND has had enough of @WWESheamus' shady antics! #SmackDown pic.twitter.com/w55j7i4ti6

— WWE (@WWE) July 4, 2020
Jeff was then offered a glass of champagne by the bartender, sniffed it, and simulated, putting it to his lips. Hardy subsequently poured its contents over the bartender's head, clubbed him with the bottle, and used the Swanton Bomb as a compelling and challenging last call. Jeff Hardy does not require a GPS to remain on the road to redemption. Sheamus was shown grinning on the Titantron. He knows that even as we left the air, this party is nowhere near over.
.@JEFFHARDYBRAND had ENOUGH of @WWESheamus' games on #SmackDown!

FULL RESULTS ? https://t.co/VNUT6DW1vv pic.twitter.com/YMXIkwKN7N

— WWE (@WWE) July 4, 2020