We enjoy professional wrestling or sports entertainment as an alternate reality. The art form is an excellent diversion from the stressful and troubling aspects of the real world.
This week though, has been hellacious in the wrestling universe. Multiple complainants came forward denouncing acts of indecency, illegality, and impropriety. Several performers were either suspended pending therapy or outrightly fired. These disconcerting events involve many federations spreading over several continents. Adding to the wrestling world's woes is that at least four people working for the WWE and present at the Performance Center regularly for Smackdown tapings have tested positive for the COVID virus. This list includes Renée Young, Kayla Braxton as well as producers-road managers Jaimie Gibson and Adam Pearce. This is Smackdown Synopsis for 6/26/20.
Smackdown Synopsis for 6/26/20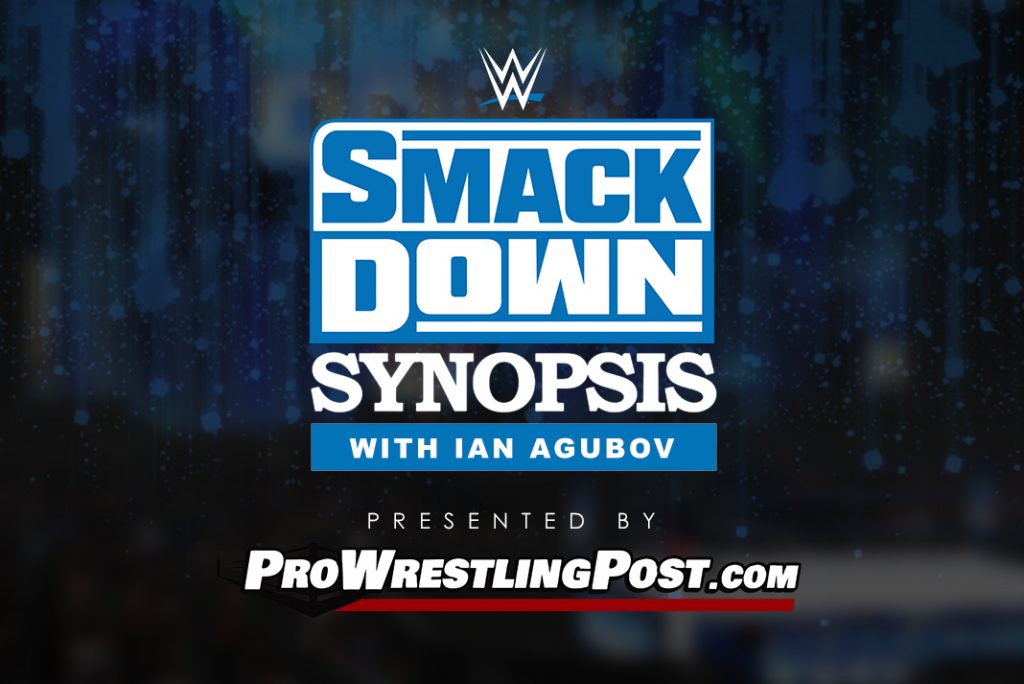 This week's Smackdown will take on a different look like the testing system in the federation is re-evaluated. Roughly half the show will be a tribute to 30+ plus year career of the Undertaker whose retirement was made known amid this week's unprecedented mayhem.
We take to the air with a historical overview of the Undertaker's career highlights, including his first match taking place on November 22, 1990, at the Survivor Series. Here is an interesting facet of that encounter. One of the Taker's adversaries was Dusty Rhodes. In many ways, this was a passing of the torch from one leader and legend to another. Who, though, could have known that way back when?
Throughout the show, several legends and Hall of Famers would attest to the Taker's passion, longevity, and leadership skills. That list included: HHH, Shawn Michaels, Kurt Angle, Bret Hart, Edge, Ric Flair, and Mick Foley.
With the @WWEUniverse still buzzing over @WWENetwork's #TheLastRide, #SmackDown will feature a special "Tribute To The Undertaker" tomorrow night.#ThankYouTaker @undertaker https://t.co/Q5TqsGoCph

— WWE (@WWE) June 26, 2020
Thank You Taker
The Undertaker insisted on going out on his terms and going out on a high. That point was made abundantly clear throughout The Last Ride series. In it, we saw to what extent Mark Calaway was hard on himself and how he would stop at nothing to refine his skills after twenty-five plus years in the craft. Surgeries and arduous rehabilitation stints were as commonplace to the Phenom as oil changes are to us.
Fittingly, the Wrestlemania Boneyard match was shown in its entirety AJ Styles was the Taker's hand-picked opponent, and the confrontation was a success on all levels. Shot, of course, in a cinematic style, featured not only the requisite suspense and drama but also haunted music and excellent lighting. This match featured unique storytelling without resorting to absurdity. It was able to stretch your imagination while staying within its boundaries. The Undertaker's acting skills at the end of the segment was also very praiseworthy.
The ending was perfect as the Taker rode off into the night to blistering guitar. The cowboy riding off into the sunset was the American Bad Ass on his Harley. An excellent end to a remarkable career both inside the ring and in the locker room.
Back at the Performance Center with the talent gathered around the ring in praise of the Taker, King Corbin looked to draw some Tandoor like heat by stating that the only way to have a thirty-year career is to be coddled by the owners and that the Phenom should have packed it in twenty years ago.
By this time, Jeff Hardy had heard enough of Corbin's prattle. He took to the ring to assault the King. That outburst in defense of the Undertaker's honor paved the way for tonight's final.
Smackdown Synopsis for 6/26/20
Alexa Bliss vs Nikki Cross vs Dana Brooke vs Lacey Evans
The first of three matches then took place, a four-way confrontation between Alexa Bliss, Nikki Cross, Dana Brooke, and Lacey Evans. The winner is getting a crack at Bayley's SD championship in just over three weeks at Extreme Rules. This was a match where all four competitors fought for their own self-interests. This was evident from very early on when Nikki Cross attempted a roll-up on Alexa Bliss for a two count.
Moments later, Dana Brooke hit a Top Rope Moonsault on Lacey Evans for that dreaded count of two! Alexa Bliss was off-target with an attempted Twisted Bliss and took herself out of the competition.
Dana Brooke telegraphed a Backwards Somersault on Lacey Evans only to be taken out with a thunderous Woman's Right. To the victor go the spoils, but in this case, it was Nikki Cross. The high energy performer is executing a Roll-Up on Lacey Evans, earning herself a shot at Bayley. The self-proclaimed role model who was at the announce table seemed enchanted with the opportunity to defend her title against Cross. Be careful what you wish for could very well apply here.
Winner: Nikki Cross
EXCLUSIVE: @NikkiCrossWWE is head over heels following her HUGE win tonight on #SmackDown. Next stop, #ExtremeRules! pic.twitter.com/zzl9xJfIYI

— WWE Network (@WWENetwork) June 27, 2020
Smackdown Synopsis for 6/26/20
The New Day and Lucha House Party vs The Miz, John Morrison, Shinsuke Nakamura, and Cesaro
Double your pleasure, double your fun. Next up was an eight-man tag team match featuring Lucha House Party and The New Day versus The Miz and John Morrison, who joined forces with Shinsuke Nakamura and Cesaro. The latter team beat the eight-time champions two weeks ago while ambushing them last week after beating the House Party. The bad blood is building up considerably here.
Big E and The Miz start this affair off with some hard-hitting action. When the adversaries know each other so well, there is no need for a feeling out process. A Splash quickly rattles the Miz on the apron for a count of two.
Dorado and Metalik would make their presence felt early as well. A Splash on Cesaro would also lead to a two count. Shortly after that, Kingston with a Missle Dropkick yet just the count of two.
A turning point of sorts would then ensue. John Morrison kicked Kofi Kingston out of the ring and was then dominated by the two teams opposing him. Kingston was finally able to tag in Gran Metalik while John Morrison was tagged in as well. A Sunset Bomb on the Friday Night Delight yielded yet another two count.
A dose of anarchy followed when the New Day and Cesaro and Nakamura took their fisticuffs to the back and abandoning the ring leaving us with just two teams.
Legitimate celebrations were in order for the Lucha House Party as Gran Metalic, aka the King of the Ropes, would walk across them before nailing the Miz with an Elbow Drop and picking up the victory.
Winners: Lucha House Party and The New Day
This 8-Man Tag Team Match is not just about scoring a win… these teams want to establish tag team ?????????! #SmackDown pic.twitter.com/HImw7yeoKP

— WWE (@WWE) June 27, 2020
Of the four participating teams on the Smackdown roster, everyone is winning except for John Morrison and The Miz. That we know can change in a heartbeat.
Strowman Calls Out Wyatt
Speaking of which, is Braun Strowman suffering from tachycardia after being called out last week by Bray Wyatt. The champion takes to the ring and admits that he felt real fear for the first time of his life in Bray Wyatt's presence. He told a story of when he was by a swamp with Wyatt. He witnessed Bray being bitten by a snake. Wyatt showed no fear. Strowman said that from that moment on, he knew Bray was the devil.
The Horror Show at WWE #ExtremeRules will become even more terrifying when Universal Champion @BraunStrowman and @WWEBrayWyatt meet in a non-title Wyatt Swamp Fight! https://t.co/1p18kZwNVV

— WWE (@WWE) June 27, 2020
The Monster Among Men then stated, "I started doing the devil's work, and I loved every second of it". He then challenged Wyatt to a match at the Compound where it all began. He added that there would be only two possible outcomes; either he will come "out of it the most evil sob. this earth has ever seen or… I will drag you in the swamp and let the alligators feast off you."
We all know how coveted the home field advantage is in sports. Will Wyatt has the whole world in his hands, that remains to be seen at Extreme Rules.
Smackdown Synopsis for 6/26/20
Jeff Hardy vs King Corbin
Jeff Hardy would close out the evening by taking on King Corbin and fighting for the Undertaker's honor. Corbin promptly floored the Charismatic Enigma. Outside the ring, Hardy seized the moment and flung Corbin over the announce table.
The momentum shift was extremely brief. Hardy missed badly on a Whisper in the Wind leaving Corbin in control and even mocking the Undertaker. Corbin is exhibiting agility, power, and speed. After bouncing back from a Basement Dropkick, the King would apply a Deep Six but only for a count of two.
By this late juncture, the roster had returned to ringside to encourage Hardy. It was then that Corbin ran himself into the ring stairs, which gave Brother Nero the chance to make it to the top rope, hit a Swanton Bomb, and carry the day.
Winner: Jeff Hardy
When Corbin attacked Hardy after the bell, the victor received the aid of BigE, Braun Strowman, and Matt Riddle, who laid out the King with the Big Ending, Powerslam, and Floating Bro respectively.
#ThankYouTaker.#SmackDown @undertaker pic.twitter.com/SfTdQNI2ud

— WWE (@WWE) June 27, 2020
The Titantron flashing a triumphant image of the Undertaker as this tribute show; left the airwaves.