Slammiversary, IMPACT Wrestling's flagship event, returns to pay-per-view this Saturday night. This year's installment, the 17th overall, has quite a reputation to live up to. Last year's Slammiversary was a real turning point (no pun intended) for the struggling company. With a shocking number of surprise returns and debuts last year, it's possible we could see even more this year. But even without the influx of new talent, Slammiversary 2021 looks like a real barn burner. Here's what you can expect from IMPACT Wrestling this Saturday night on Pay Per View.
W. Morrissey vs. Eddie Edwards
Undefeated since debuting at Rebellion, W. Morrissey has carved his own path of destruction through IMPACT Wrestling. On June 24th, Morrissey interrupted a conversation between Eddie Edwards and Satoshi Kojima. Following their loss to Violent By Design, Eddie told Kojima how honored he'd be if the NJPW legend took him on in singles action. That's when Morrissey arrived, telling both men he thought they were a pair of frauds.
While they both hold legendary status in IMPACT Wrestling, they're both shells of the wrestlers they used to be. Eddie responded by challenging Morrissey to a match at Slammiversary. Morrissey accepted the challenge and proceeded to show Edwards the mistake he'd made by defeating 3 men at once. Will Eddie Edwards be the man to break Morrissey's winning streak? Or will he be just another step in the rise of W Morrissey?
Brian Myers & Tenille Dashwood vs. Matt Cardona & TBA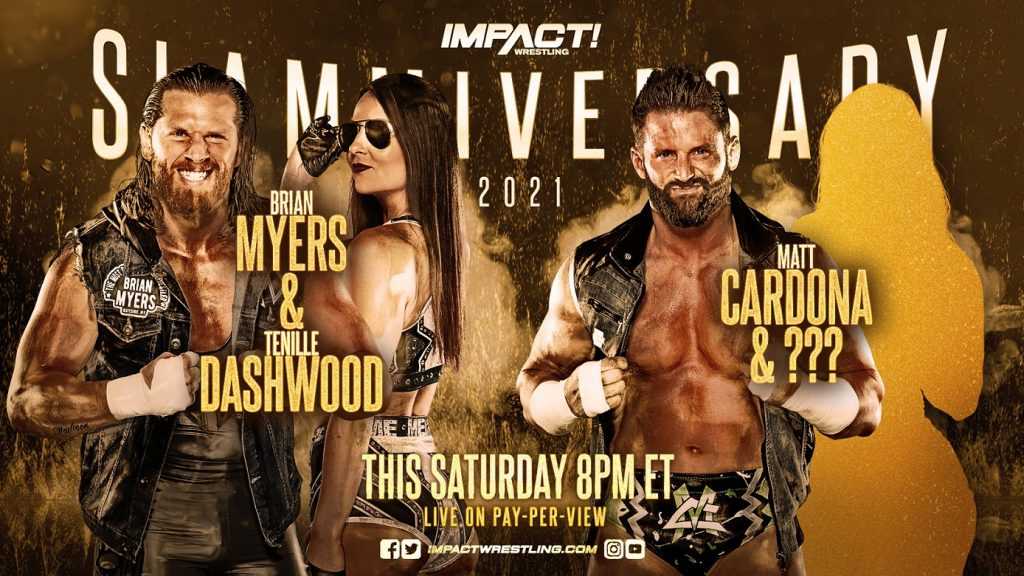 After Hernandez refused to beat up Matt Cardona at the behest of Brian Myers, The Most Professional Wrestler took an alternate route. This week, he joined forces with somebody from Matt Cardona's past. As Cardona helped fend off Myers and Sam Beale from their beatdown on Jake Something, Tenille Dashwood appeared to give Cardona a low blow.
It seems Dashwood still has some hard feelings from the time she and Cardona were a couple. She has the chance to take it out on Matt Cardona on Saturday night. But who will Matt Cardona choose as his tag team partner? And is this all just a ploy to keep Jake Something out of the match?
Slammiversary 2021
Petey Williams vs. Trey Miguel vs. Chris Bey vs. Ace Austin vs. Rohit Raju vs. Josh Alexander (c)
– Ultimate X Match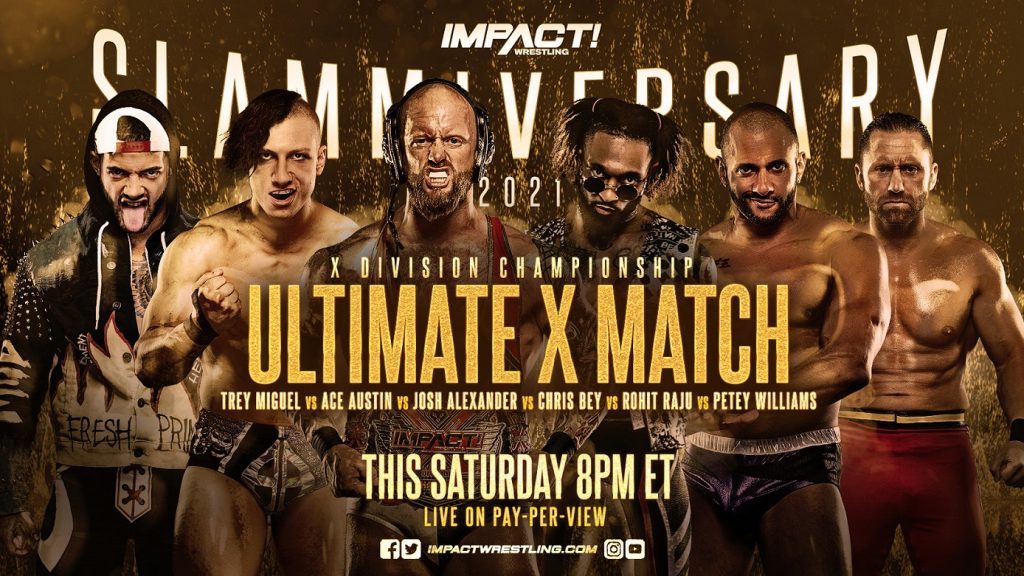 With IMPACT World Champion Kenny Omega spending most of his time in AEW, all eyes are on Josh Alexander. When Omega defeated Rich Swann for the IMPACT World Championship at Rebellion, The Walking Weapon became a de-facto top singles champion. This has put a huge target on his back, and everyone wants a piece. With so many potential challengers, it's hard to establish a pecking order. What is IMPACT Wrestling Executive VP Scott D'Amore to do? For the first time in almost 3 years, we're going to see an Ultimate X-Match.
IMPACT Wrestling's answer to the ladder match, the Ultimate X Match, sees the X-Division title belt hung on two intersecting cables hung on lighting rigs 15 feet above the ring. The winner is the first person to retrieve the belt; however, the competitors may not use a ladder. Josh Alexander has his work cut out for him on Saturday night as a technical wrestler in a ring full of high-flying talents like Trey Miguel, Chris Bey, and Ace Austin. However, only one competitor has any experience in the Ultimate X Match. Petey Williams has 5 previous Ultimate X appearances under his belt. Expect an IMPACT Wrestling classic when these 6 men compete for the X-Division championship this Saturday night!
Havok & Rosemary vs. Fire 'n' Flava (c)
– Knockouts Tag Team Championship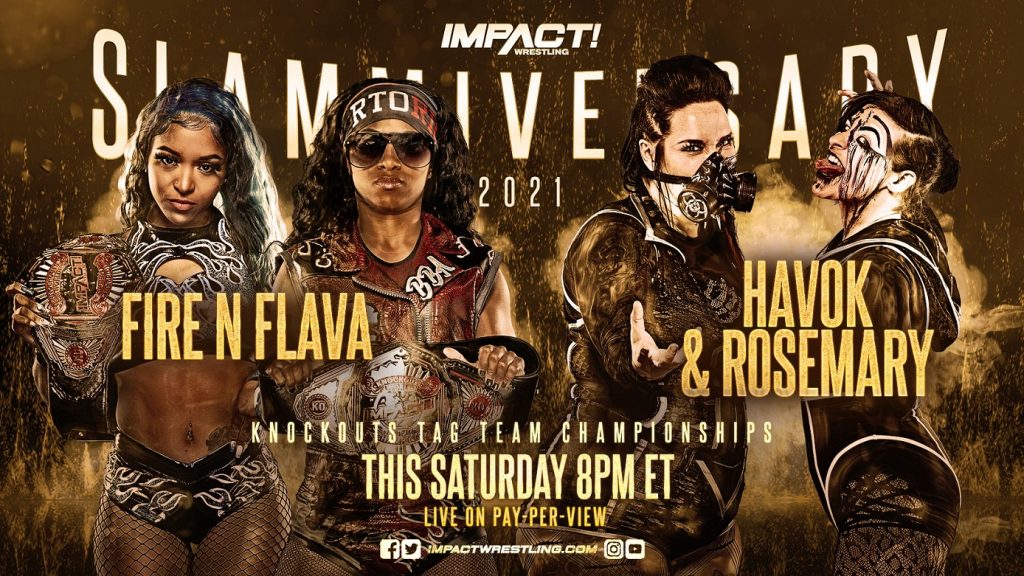 For those just returning to IMPACT Wrestling, seeing Havok and Rosemary's names next to each other in a tag team context may be confusing. For the lion's share of their time together in IMPACT Wrestling, the forces of darkness in the knockouts division simply could not get along. But in recent weeks, Havok and Rosemary have managed to work together in efforts to bring Tasha Steelz and Kiera Hogan down a peg.
The reigning knockouts tag team champions Fire 'n' Flava have been rather obnoxious in recent weeks. They've pestered security, cleaning staff, and even Scott D'Amore into talking about how great they are. But, on Saturday night, they'll have to put their money where their mouths are and prove it against Havok & Rosemary, two of the most monstrous women in the knockouts division.
Chris Sabin vs. Moose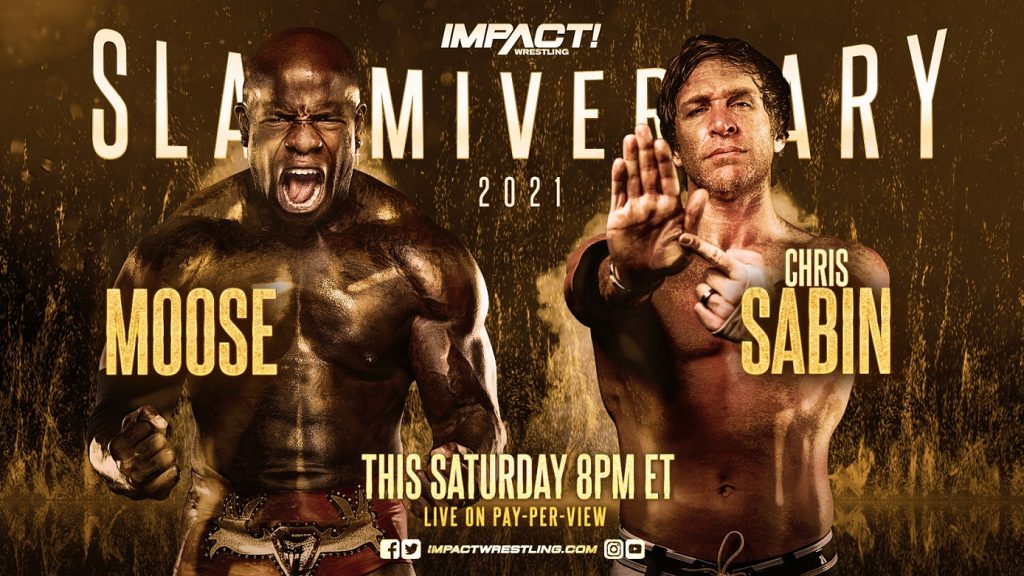 At Under Seige, Chris Sabin participated in the 5-way #1 Contender's Match, a match that defined the next few months in IMPACT Wrestling. During the match, Moose injured Sabin, putting him out of action for the next two months. Then, three weeks ago, Moose hijacked the show to demand an audience with Scott D'Amore. Little did he expect Chris Sabin to return with a steel chair. Instead, Sabin battered Moose out of the ring and proceeded to throw both his shoes at the former champion.
On July 1st, Tommy Dreamer got Chris Sabin and Moose on the same page long enough for them to fight Kenny Omega and The Good Brothers. But Moose and Sabin couldn't hold together, costing their team the match. So on Saturday night, Chris Sabin has the opportunity at revenge when he takes on Moose, the man who put him on the shelf, in singles action.
Slammiversary 2021
Deonna Purrazzo (c) vs TBA
– Knockouts Championship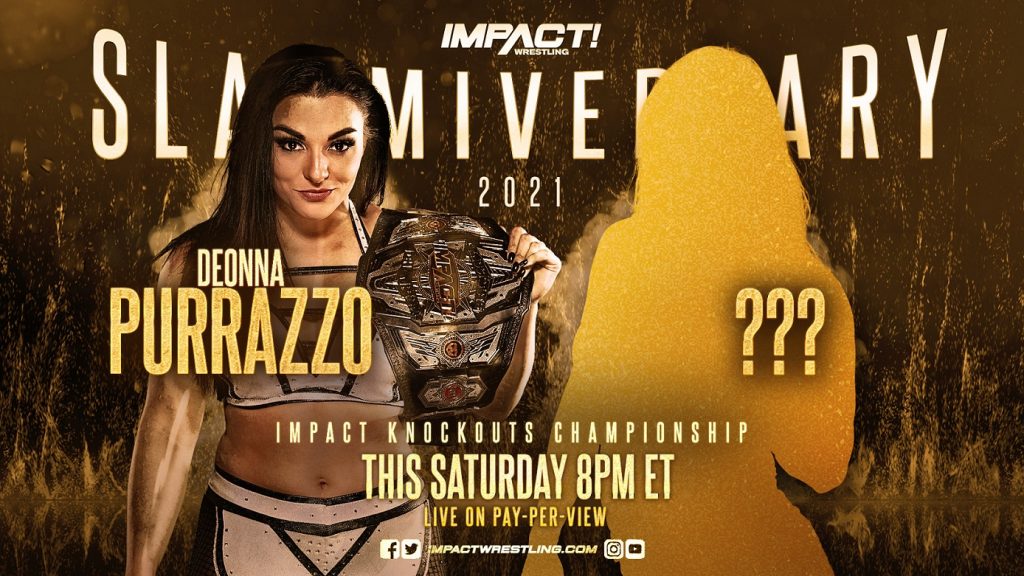 It's been a long time coming, but things have started to fall apart for Deonna Purrazzo. Shortly after she captured the Knockouts Championship, she developed her own killer instinct. It started with the use of foreign objects to retain her title, which she clung to like Gollum and The Ring. However, it grew to include two henchwomen in the form of Kimber Lee and Susan. But after months of abuse, Kimber Lee and Susan have split off from The Virtuosa.
On July 8th, Gail Kim returned to IMPACT Wrestling to announce Deonna Purrazzo would be defending her title at Slammiversary. The Virtuosa said she would be glad to face Gail Kim, but the former 7-time knockouts champion informed Purrazzo that she was happily retired. So who could Deonna Purrazzo face on Saturday night? A new face? A returning champion? Or could it be one of her former proteges? Find out at Slammiversary.
Slammiversary 2021
The Good Brothers vs. Willie Mack & Rich Swann vs. TJP & Fallah Bahh vs. Violent By Design (Joe Doering & TBA) (c)
– IMPACT Tag Team Championship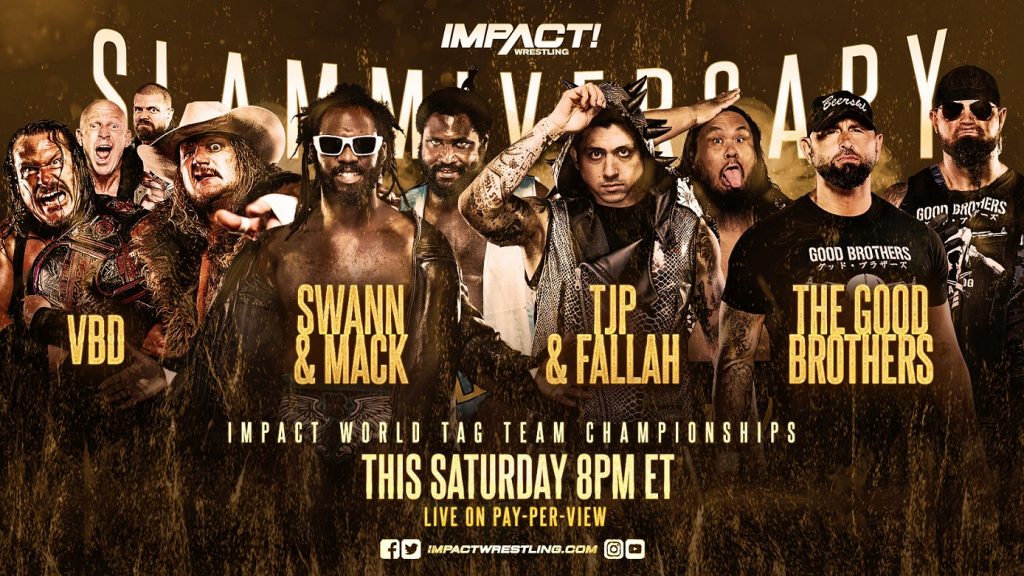 On July 1st, Rich Swann & Willie Mack faced TJP & Fallah Bahh in a match with championship implications. Seeing the competition in the ring, IMPACT Tag Team Champions Violent By Design stormed the ring, breaking up the match. The following week, all three teams confronted each other in the ring, joined by The Good Brothers. That's when IMPACT Wrestling's new advisor, Tommy Dreamer, announced Violent By Design would defend the titles in a 4-way match at Slammiversary.
At the outset, the odds in this match favor The Good Brothers and Violent By Design. TJP & Fallah Bahh recently rejoined the tag division, and Rich Swann & Willie Mack returned to the division only two weeks ago. But, the old adage goes, "Never say never in wrestling." Will somebody finally topple Violent By Design on Saturday night at Slammiversary 2021?
Slammiversary 2021
Sami Callihan vs. Kenny Omega (c)
– IMPACT World Championship
No-DQ Match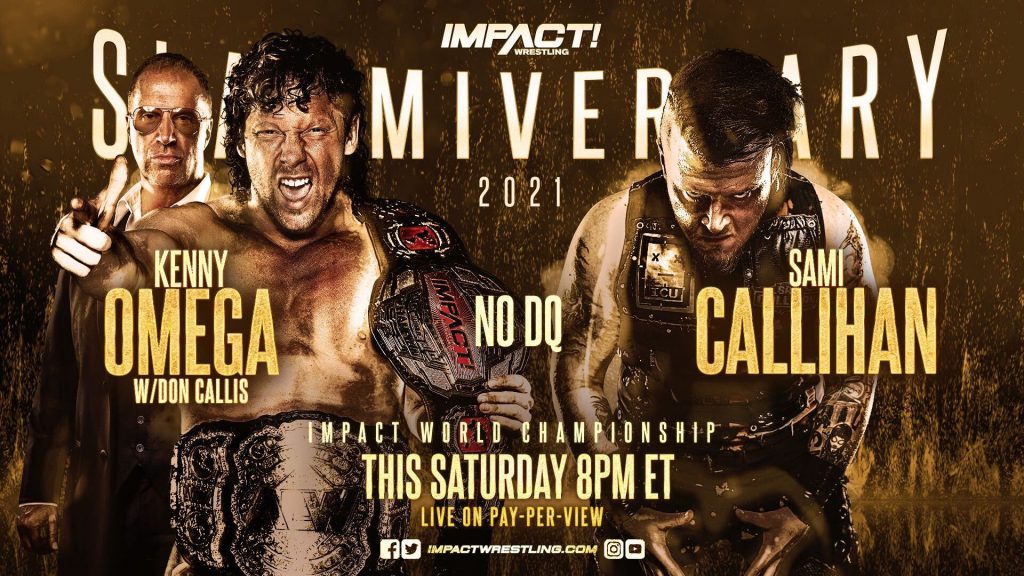 This IMPACT World Championship match has been a long time coming for Sami Callihan. After Rich Swann lost IMPACT Wrestling's top prize to Kenny Omega, practically the whole locker room lined up for a shot. At Under Siege, Kenny Omega's henchmen Doc Gallows and Karl Anderson interfered to take Sami Callihan out of the 5-way #1 Contender's match. Then, at Against All Odds, Callihan made his presence known in Jacksonville, attacking Kenny Omega and The Young Bucks. IMPACT Wrestling executive VP (and Kenny Omega's Manager) Don Callis fired Sami Callihan for these actions.
Two weeks later, the IMPACT Wrestling board of directors re-hired Callihan, and Scott D'Amore announced he would face Kenny Omega at Slammiversary. Last week, however, we learned that Kenny Omega and Sami Callihan will meet in a No-DQ match. This puts Omega at risk of receiving a beating with the Callihan Slugger, a prospect Kenny has been keen to avoid since becoming IMPACT World Champion. But will the No-DQ stipulation be enough for Sami Callihan to bring the top tile back to IMPACT Wrestling?