The path to crown an Interim Cruiserweight Champion continues tonight, along with Shirai vs Ripley which marks Rhea's return to the ring, last seen in action at Wrestlemania 36! From Full Sail University, This Is NXT Weekly for 5/21/20…
In Memoriam
Prior to the kickoff for tonight's production a moment of silence is observed for the recently deceased Shad Gaspard, with a graphic of the beloved wrestler.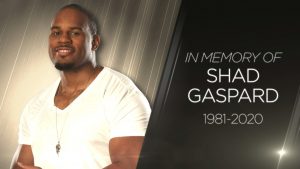 Liam Gray vs. Karrion Kross
Viewers are once again treated to the elaborate and impressive entrance of Scarlett and Kross. As was the case last week, Scarlett sings along to the entrance, the words "fall and pray" repeated multiple times and rising to a final crescendo as both pose in the ring.
The bell rings, Kross slams down Gray, applies the Kross Jacket, and this one is over as quickly as it began.
Winner: Karrion Kross
Post-match, Tommaso Ciampa enters the arena and addresses both Scarlett and Kross. He formally introduces himself and tells Kross that he's standing in his home. But Kross already knew that which is why the pair attacked him several weeks ago. Ciampa says he gets it, and almost even respects it.
Kross stands out, according to Ciampa. His size, his weight, his entrance. Everything is special. 
"Do you know what else is special? ME. That's why I had to come out here and look you in the eyes and let you know on June 7th, at Takeover, it's going to be Ciampa vs. Kross. Now THAT'S special. Welcome…to The Main Event" – Tommaso Ciampa
El Hijo del Fantasma vs Akira Tozawa
Interim NXT Cruiserweight Title Tournament Group B Match
Fantasma is 1-1 going into this match, while Tozawa is 2-0. Chops from both competitors to each other's chests. Tozawa feigns a chop and slaps Fantasma across the face in a psych-out. Tozawa runs the ropes and blocks a Pop-Up Powerbomb from Fantasma; changing it into a Hurricanrana instead which sends him to the outside. Tozawa attempts a Tope but stops short of diving to the outside, instead, he composes himself and hits yet ANOTHER Hurricanrana followed up by a running Cannonball into the barrier! 
Back inside the ring a quick striking exchange ends with a German Suplex from Tozawa to Fantasma that allows Akira the time to climb to the top rope, looking to hit a Senton. Fantasma senses this and thwarts the attempts. He then attempts a top rope Phantom Driver before Tozawa slips away. 
Back on the canvas Fantasma gets Tozawa over his shoulders for a Phantom Driver but Tozawa counters it into an Octopus Stretch. Fantasma uses his size advantage and strength to escape, and finally hits The Phantom Driver for the pinfall victory! In group B both Fantasma and Tozawa are now 2-1.
Winner: El Hijo de Fantasma
Tap Out vs. Knock Out
A video package is replayed from last week showing the dissolution of Matt Riddle and Timothy Thatcher. Thatcher then tells Riddle he wants a re-match from last week, Tap Out or Knockout only. A graphic for the Shirai vs Ripley main event is shown.
Mia Yim vs. Santana Garrett
NXT Weekly for 5/21/20
A quick match in the Women's Division here, Garrett gets a pin attempt early on, but Mia Yim hits a Dragon Suplex followed by Protect Ya Neck for the three count.
Winner: Mia Yim
Post-match, Candice LeRae and Johnny Gargano come out and mockingly congratulate Yim for winning a match (finally). They then proceed to tear her down for dropping the ball last week against the NXT Women's Champion Charlotte Flair.
LeRae states that if it was her in their last week instead of Yim, she would have made the most of it and not blown it as Mia did.
"How about we show you what happens in OUR NXT when someone gets and opportunity that they don't deserve." – Johnny Gargano
Gargano and LeRae surround the ring and Candice attempts to hit Yim from behind. Mia gets the better of the exchange and charges LeRae, only for Johnny to hold the bottom rope out and sending Mia crashing to the outside.
Before the power couple can take advantage, the NXT North American Champion Keith Lee rushes down the ramp for the save! Lee helps Yim to her feet and the pair send Mr. and Mrs. Wrestling retreating to the back in a hasty fashion.
Cameron Grimes is backstage boasting about his win over the first-ever Universal Champion Finn Balor last week. He states that it's Grime Time….which is most definitely a bit too soon. Once again, the main event of Shirai vs Ripley is hyped.
Drake Maverick Is Still Fired
Backstage, fired WWE Superstar Drake Maverick is interviewed about his match later tonight. Drake states that he is done second-guessing himself and that he has to win.
Roderick Strong vs. Dexter Lumis
NXT Weekly for 5/21/20
This match is a result of a Zoom roulette held by The Undisputed Era last week, where Roderick Strong was chosen to face off against Lumis after the mysterious enigma has proven to be a thorn in UE's side as of late.
Lumis enters from beneath the ring, while Strong is accompanied by fellow UE members Adam Cole and Bobby Fish. Both men are evenly matched as the bout begins. Eventually the action is taken to the outside where Strong drives Lumis's back into the ring apron, scientifically proven to be the hardest part of the ring.
Lumis turns the match back to his favor with a Thesz Press followed by a series of punches to the jaw of Strong. Lumis lands a Slingshot Suplex off of the top rope for a two count on The Messiah of the Backbreaker.
Strong finds a way to retain control and unloads with a barrage of blows. Lumis is visually unfazed despite the physicality unleashed upon him. Strong is shaken and hits the ropes, only to be met with a Spinebuster from Dexter. Almost immediately afterward, Strong transitions a submission layup into a pinfall to steal the victory!
Winner: Roderick Strong
After the bell rings, Lumis wraps his arms around the neck of Strong to choke the life out of him, seemingly undisturbed as Cole and Fish land blows in an attempt to wrangle Dexter off of their brother.
Suddenly, Velveteen Dream arrives to even the score and to return the favor for Lumis, who has acted as Dream's ally the past few weeks. Cole and Fish as thwarted and retreat to the back while Dexter stroked the hair of Strong with a far off look in his eyes.
Danny Burch and Oney Lorcan vs. EverRise
NXT Weekly for 5/21/20
While Burch and Lorcan haven't been seen on NXT for a while, the veteran Tag Team makes the most of their return against EverRise in a quick match that sees the two ground the high flyers with their signature smashmouth style.
Lorcan hits the Blockbuster and then locks in a Half Boston Crab for the submission as Danny Burch thwarts the other half of EverRise with a Crossface!
Winners: Danny Burch and Oney Lorcan
Bask In His Backstage Glory
Keith Lee has requested an interview to address the Gargano's.
"This new Gargano way….I've got a problem with it. And I have a feeling it reaches its limit at Takeover. Go tell the world." – Keith Lee
Outside Full Sail, Fantasma offers props to Tozawa for their match. Akira accepts in a show of good sportsmanship. However, right as Fantasma is about to drive away, the same masked goons from previous weeks ambush Tozawa and attempt to throw him into their white SUV. Fantasma exits his vehicle and chases the thugs off. The Shirai vs Ripley main event is advertised as coming up later.
Riddle Wants Thatcher in a Cage
Backstage, Matt Riddle accepts the challenge that Thatcher set out earlier in the program. Riddle names the stipulation: a Steel Cage Match!
Drake Maverick (Fired) vs. Kushida (WWE Employee)
Interim NXT Cruiserweight Title Tournament Group A Match
The action begins fast and furious with this one. Maverick is fighting for his life and for one more week of TV time presumably with this match. 
Back and forth both opponents go, with fellow Group A Cruiserweight Jake Atlas at ringside to cheer Maverick on. 
Ultimately, Kushida attempts an Arm Bar but Maverick is able to use the forward momentum to gain the pinfall in an upset victory! 
Winner: Drake Maverick
Maverick is now 2-1 in the tournament, as is Kushida and Jake Atlas. Because of this, Byron Saxton informs the three that next week there will be a Triple Threat Match to determine who in Group A advances to the finals of the Interim Cruiserweight Championship Tournament! Still to come, Shirai vs Ripley!
Damian Priest Wants The Prince
A video promo from Damian Priest is played where he talks about scoping out multiple targets, all in the name of ensuring his legacy lives. He then addresses the attack he orchestrated on Finn Balor several weeks ago; indicating he has no intention of backing down from his actions.
"Finn Balor's name will burn to ash. And the name Damian Priest…well you know…it's gonna live forever" – Damian Priest
Io Shirai vs. Rhea Ripley
NXT Weekly for 5/21/20 

The match that marks Ripley's return to NXT is unfortunately cut short, despite an excellent matchup between the two stalwarts of the division. Near the end of the battle, Charlotte Flair's music is heard through the speakers and The Queen makes her way down to the ring.
Shirai uses a Head Scissors to throw Ripley into Charlotte, which doesn't do any favors in ingratiating either woman to Flair. Flair enters the ring and hits a Big Boot on Shirai to land a DQ finish.
Winner by DQ: Io Shirai
Immediately after the bell rings Flair hits a spear on Rhea. With both women down, The Queen holds court and raises the belt in the middle of the ring, glaring down on her subjects as NXT goes off the air. This ends another week of NXT Weekly for 5/21/20.