Sasha Banks has finally captured the one title that has alluded her throughout her career. After fighting valiantly against former friend, and now bitter foe Bayley, Sasha Banks captured the WWE SmackDown Women's Championship. Throughout this matchup, the storytelling was a clear indication that it was as much about finally reaching a culmination of a friendship that came to a bitter closure.
Their story began when the duo's feud with Asuka led to suggestions that something was bound to happen. When Asuka first defeated Sasha Banks to capture the Raw Women's Championship after not being successful against Bayley, it seems a slow rift between them. Both women were seemingly inseparable, but something was different. In a friendship where both women held the individual and tag team gold, something seemed odd. Sasha would often sacrifice herself for the betterment of her friend Bayley.
As their story would unfold, it would be sure to be one where the one fans thought would be tired of giving in was, in fact, the one betrayed. After losing their rematch for the WWE Women's Tag Team Championship, Bayley turned on Sasha, attacking her seemingly without reason. A beat down of Sasha's leg led to a steel chair being wrapped around Banks' head and neck. It showed further brutality was coming for her. Bayley would then proceed to jump off the second rope onto the chair around her friend's neck.
These actions set off a series of events. These were actions that proved that Bayley was shedding herself of her relationship with Banks. What happened next showed that Banks was more in pursuit of vengeance than anything else. The championship was secondary to her but taking it away from Bayley symbolized so much more.
Sasha Banks captures the WWE SmackDown Women's Championship.
As this match took place, both dressed the part. Much like representatives of the old west, Banks was dressed all in white with Bayley all dressed in Black like heroes and villains of the past. As the match went on, both women certainly took liberties with one another. Whether it was chair shots to one another or Meteora's into the steel cage, it was all about making a statement. Five years ago, these two women faced one another and, in doing so, were unlike who they are today. After that match, they showed a mutual admiration and respect for one another. Tonight it was about Banks gaining retribution for that loss.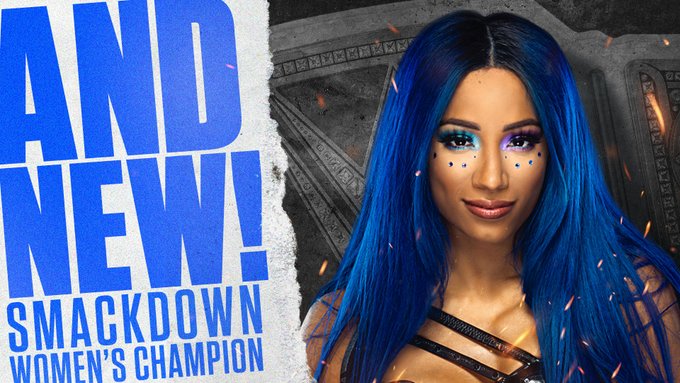 ****
Be sure to stay tuned to the Pro Wrestling Post for this and additional stories from the wrestling world. Readers can rely on Pro Wrestling Post to be their daily source for all things inside the squared circle. As a result, readers can expect daily news, history, and so much more. Please visit WWE's official website here for news on the promotion and upcoming events.