'On This Day' is a commemorative article series. It is dedicated to specific events, matches, and occurrences in wrestling history. We revisit those key moments and look back at how they went down and what they meant to the wrestling industry. Kenta Kobashi vs Samoa Joe is that match.
On October 1st, 2005, the wrestling world was treated to a rare dream match. A legend from Japan came to the United States to take on one of the biggest stars in Ring of Honor (ROH). The match those two wrestlers had was fantastic and took place in front of a legendary crowd. The audience was so spellbound by the action that they made a crowd of one thousand sound like a stadium full of screaming fans. It was so great that it was voted Match of the Year in 2005 by the Wrestling Observer Newsletter.
Today we revisit that legendary match. It's the dream singles match between Samoa Joe and Kenta Kobashi.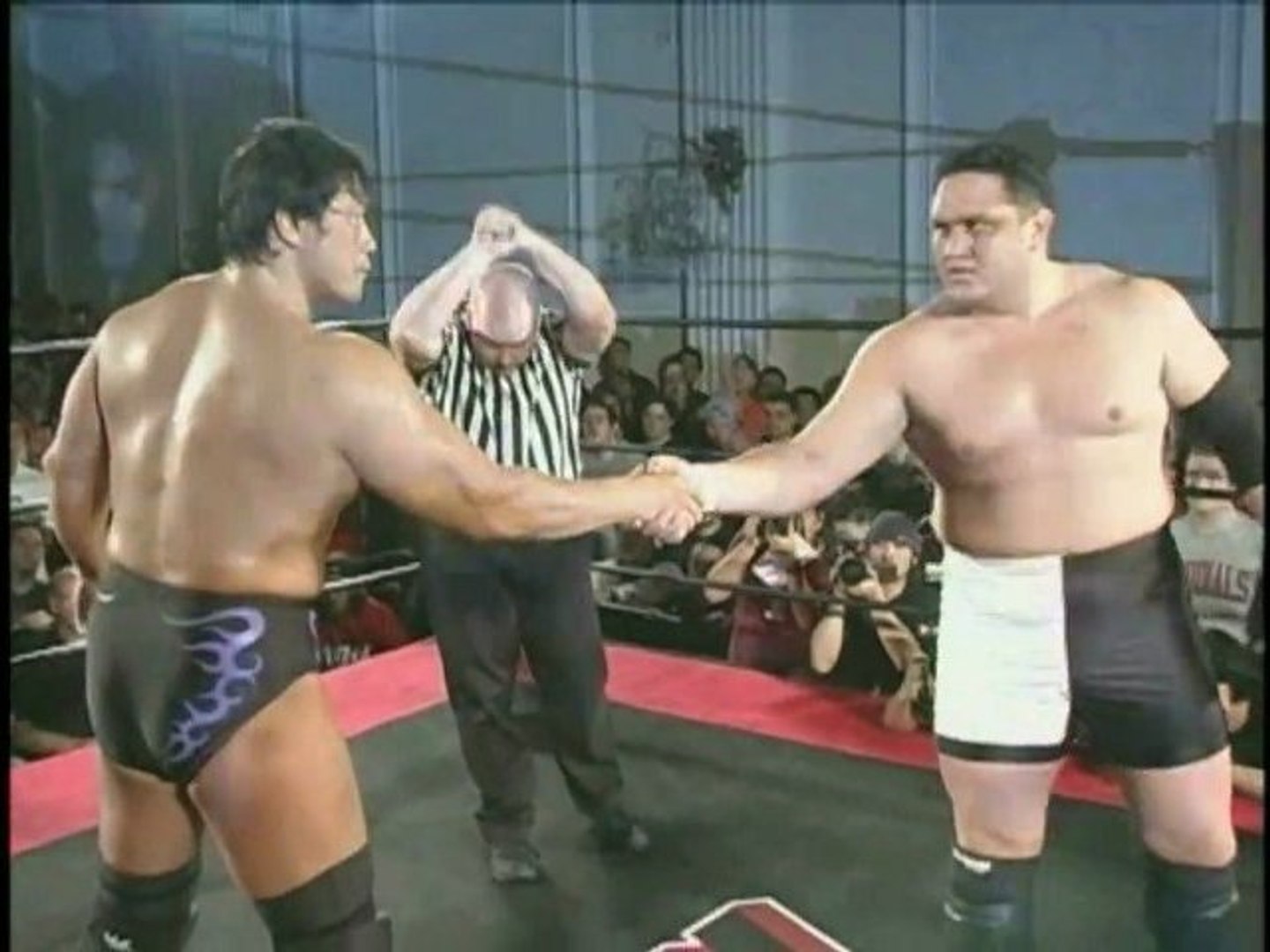 Background
Samoa Joe vs Kobashi
In 2005, both Kobashi and Joe were on top of their respective promotions. Kobashi's legendary two-year run as NOAH's world champion had ended and he transitioned to the role of the company elder statesman. Three months prior to this match, he had another legendary match with NJPW's Kensuke Sasaki in front of over 60,000 fans in the Tokyo Dome.
Joe, meanwhile, was a rising star in ROH. He had held the ROH World Championship for 645 days (a record that stands to this day) and had made a name for himself all over the independent scene as an incredible wrestler in his own right. In fact, less than a month prior to this match happening, Joe participated in another legendary match in TNA that, just like this one, was rated 5-stars by the Wrestling Observer's Dave Meltzer.
Going into this match, Joe needed another big opponent to help elevate his status even further, and ROH had the right person for him. They had formed a working relationship with Pro Wrestling NOAH and wanted Joe to face one of their top stars to elevate both companies. And so entered Kobashi.
Kobashi's uncertainty
Interestingly, Kobashi was actually a bit hesitant about coming to the United States. As told by Samoa Joe on 'Stone Cold' Steve Austin's podcast, Kobashi was convinced he wouldn't receive a good reception.
"Kobashi coming to America, he really thought that nobody knew who the hell he was. And he also thought that he wouldn't get a reaction. He thought he was going to be booked like he was Mr. Fuji or something. That was really his perception of what would happen in America. And I'm trying to tell him my conversational Japanese that, you know, 'everyone out there knows you, your tapes have been sold illegally to all these people long before this match was put in place.' So when we started putting together this match, he's making it really into a 1960's I'm-the-evil-Japanese-guy. And I remember at one point stopping him and telling him, 'trust me…big babyface.'" – Samoa Joe on Kobashi's thoughts prior to the match.
And so, the stage was set. The rising star Samoa Joe would take on the legendary Kobashi, with Kobashi flying into Manhattan to wrestle on Joe's home turf.
An Unexpected Response
And yet, even though the match was on Joe's home turf, he didn't get the loudest reaction. When Kobashi's entrance music started, the crowd jumped to their feet. And then, as Kobashi appeared, he was greeted by an EXPLOSION of cheers. The crowd went absolutely nuts at the sight of him, putting his uncertainty to rest. Even Kobashi himself seemed awestruck at how he was being treated. And when ring introductions were done, Kobashi was absolutely covered in streamers. This was a perfect way for Kobashi to understand how much he was adored. In Japan, the more streamers a wrestler gets, the greater their popularity. So given that Kobashi was showered in streamers to the point of being almost completely covered head to toe, it was clear he was surrounded by people that adored him.
The War Begins
Samoa Joe vs Kobashi
The tone was set within the opening seconds when Joe slapped Kobashi in the face. To which Kobashi answered with his first of MANY knife-edge chops that sounded like a gunshot going off. Seconds later the two heavyweight beasts were nose-to-nose as the crowd leaped to their feet, cheering wildly. Joe took the match over quickly by out-powering Kobashi, which wasn't something the Japanese legend was used to. he got taken out by his own running shoulder tackle, followed by a Misawa-style elbow suicida. This was proof of just how much the King's Road style influenced the independent scene during the 2000s.
Joe continued to brutalize Kobashi by combining his usual move-set with other AJPW stuff that Kobashi had suffered in the past. He made a point to bust out some of Toshiaki Kawada's trademark moves like the Stretch Plum, the step kicks, and the sitting chop/kick combo. All of those moves had been staples of Kobashi's previous wars with Kawada, which became one of AJPW's most notable rivalries and best-kept secrets.
The Ironman Fights Back
But despite this, there is one rule most wrestlers never seem to learn: Kenta Kobashi is a human freight train. He takes a ton of damage to slow him down, and even more to keep him down. Joe thought he could stay in control by busting out moves that had beat Kobashi in the past, but this wasn't the case. Kobashi answered Joe's offense with even more vicious chops, most of which reverberated throughout the arena. And each big hit got en enormous 'OOOOOHHHH' out of the crowd, who loved every second of the action.
Kobashi was so good at bringing intensity and controlling a crowd, and he proved that once again in this match. Midway through, he began a sort of comeback and all he used was chops. That's it, just one move with a few variations on each one. And the crowd bought into everything he did.
Joe's not done
But just as Kobashi thought he was in control, Joe countered a rolling chop into an STO. From there, Kobashi went on the defensive as Joe nailed him with one big move after another, including a Bucklebomb, a move Kobashi created. He followed this with a vicious Muscle Buster and a Folding Powerbomb, but neither move could keep Kobashi down. Then he tried one submission hold after another, but Kobashi's iron will would not be denied. Each time Kobashi came close to reaching the ropes, Joe would transition into something else. And each time he did this, Kobashi came even closer to tapping. But as good as Joe was, Kobashi was just better. He had better ring awareness and knew how to escape submission holds by using his feet, which is oddly rare in American wrestling nowadays.
No Escape
Samoa Joe vs Kobashi
After that lengthy sequence, Joe tried to charge Kobashi but walked right into a Half-Nelson Suplex. From there, Joe's days were numbered. As soon as Joe got cornered, Kobashi got the opportunity to tenderize Joe's chest with machine gun chops. By the time Kobashi was done, Joe's chest looked like he had the worst case of sunburn ever seen.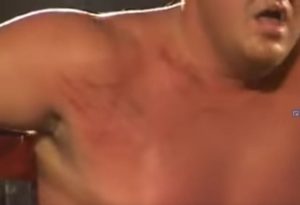 Joe tried and tried to mount a comeback but it never came. Kobashi dropped him with one brutal suplex after another, leaving Joe almost catatonic. And once he tried firing back with pathetically-weak slaps, everyone knew he was done. Three savage rolling chops and a murderous running lariat was all Kobashi needed to put Joe down for the three count.
After the match ended, the audience gave both men a standing ovation. Kobashi respected Joe and held his hand up, even though Kobashi was the winner. And as a final sign of respect, the New York crowd chanted 'arigato' to Kobashi, which he acknowledged.
Legacy
Samoa Joe vs Kobashi
This match is one of those chicken or egg situations. It's difficult to say whether the match makes the crowd or the crowd makes the match. The crowd was absolutely insane for every single move, giving even the simplest of actions a thunderous ovation.
But they weren't making noise to entertain themselves; they were fully invested in the match that took place before them. Joe and Kobashi had a very simple match, yet it felt incredibly brutal at the same time. It was centered on Joe trying to prove himself a better wrestler than Kobashi by out-powering him and getting under his skin using callbacks to some of Joe's previous matches and opponents. But no matter how much brutality Joe unleashed, Kobashi was too tough. He wasn't called the Ironman of Puroresu for nothing. He absorbed Joe's offense like a sponge and dished out even worse punishment back. But in the end, Joe looked like a million dollars in defeat. He took an absolute thrashing and Kobashi made him look like a star.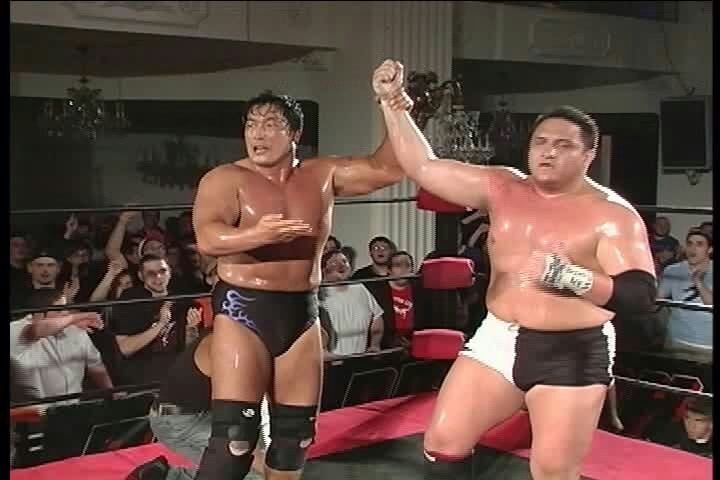 Everyone benefitted in the end. Kobashi from coming to the US and helping increase NOAH's exposure. Joe for surviving such an intense and incredible thrashing. The fans, for witnessing such a great match and making it even better through their incredible noise. And of course, ROH for having all three of these elements come together so well.