Tonight AEW moves on with the TNT tournament with Kip Sabian against Dustin Rhodes and Darby Allin vs Sammy Guevara. Kenny Omega will be in action and we will hear from Matt Hardy.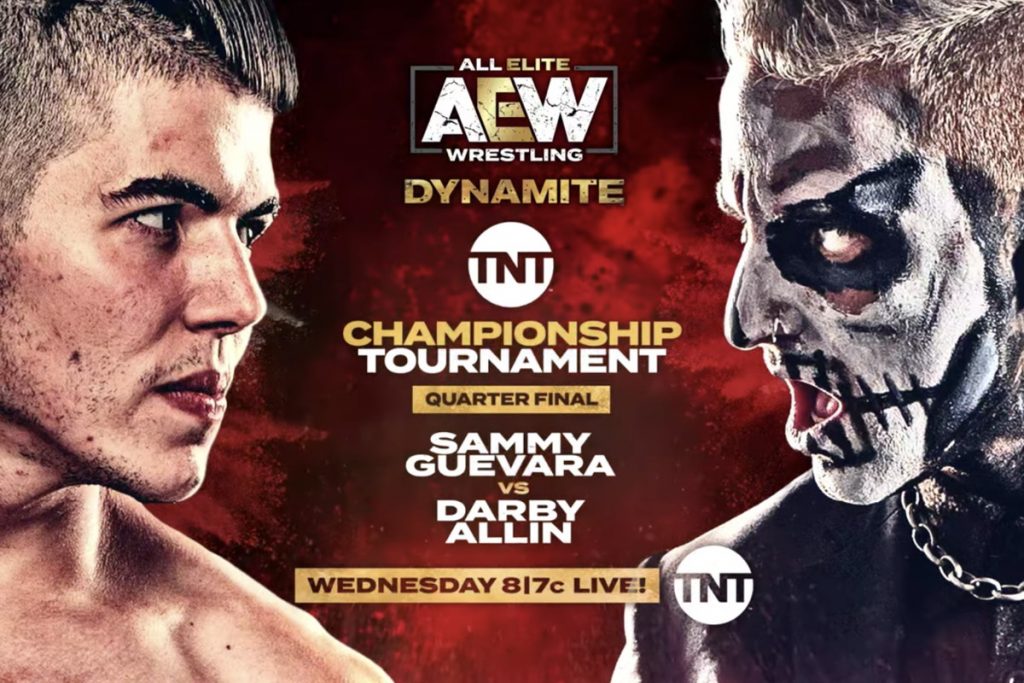 Sammy Guevara vs Darby Allin
Sammy walks into this match on a 3 match winning streak. Guevara attacks Darby while he is on his way to the ring. Darby is thrown into the ring and into the guard rails. Sammy sets Darby up on a ladder set up on the ring and guard rails. Sammy hits a big splash on Darby. Referee Audrey Edwards is checking on both men to find out if the match can go ahead just before the commercial break.  Sammy rolls Darby into the ring after the break and earns a quick two count. Darby retreats to the corner and Sammy doesn't relent. Sammy attempts a suplex from the top rope but Darby counters by attacking the foot of Sammy and removing his boot. Sammy retreats and manages to fight Darby off from the ropes before hitting a springboard cutter.
Darby manages to counter Guevara to get him into an ankle lock before both men exchange blows from the ground. Both men continue to exchange blows back on their feet Sammy gets the better of the exchange and counters a spear from Darby with a kick to the face. Darby misses a dive to the outside and collides with the guard rail. Guevara rolls darby back in before hitting a 450 splash from the top rope. Darby hits a stunner on Sammy before missing a springboard but countering Sammys catch into the last supper for the win.
Winner: Darby Allin
Darby Allin advances into the semi-finals of the AEW TNT Title Tournament. Darby will face Cody in their bracket.
Matt Hardy speaks about his invitation to Chris Jericho about him not responding to his invitation to the elite deletion. Hardy invites Sammy Guevara to the Hardy compound where he will sentence Sammy to deletion. Matt talks about his history with Chris Jericho and his friendship with the elite. Matt Hardy promises to kick Chris Jericho's ass.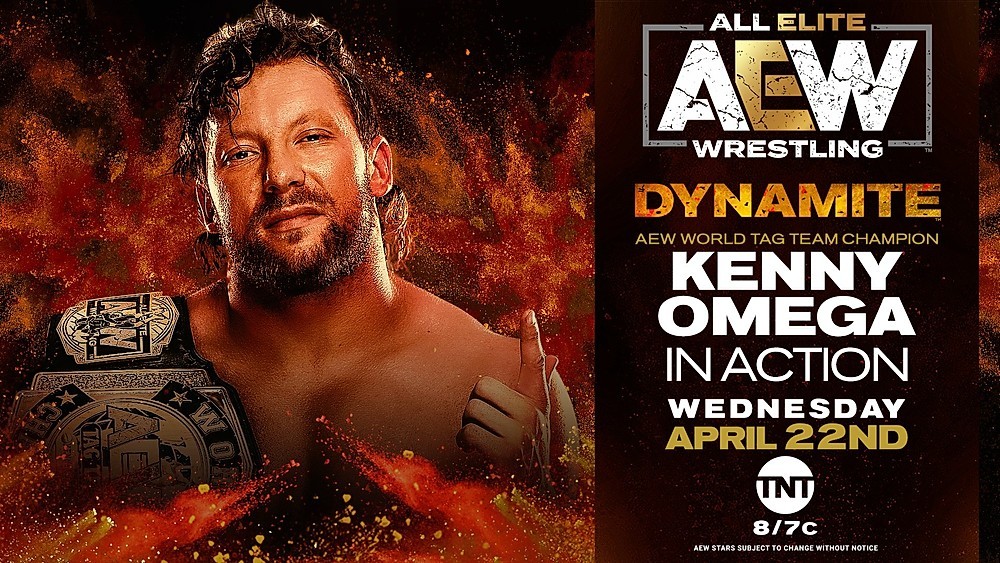 Kenny Omega vs Alan Angels
Alan and Kenny tentatively lock up and Alan gets a quick kick in. Kenny takes Alan down and the men exchange holds until Kenny hits a shoulder block. Kenny attempts a snapdragon suplex but Alan reverses and gets some offense in. Omega manages to get some offense in and hits a standing clothesline. Angels drags the ring apron from under Kenny and hits a dropkick. Omega hits the snapdragon suplex before hitting a V trigger at the ropes. Omega hits a powerbomb and a second V trigger for the three count.
Winner: Kenny Omega
AEW takes a look at Scorpio Sky and Scorpio talks about this being all he wants to do. He talks about his back injury and coming back from it. Scorpio talks about finding it hard to get a spot in a promotion. He mentions forming SCU but the look at his career will be continued later.
Footage of Cody listening to Dustin's voicemail is shown. Cody is looking concerned that his brother is putting his career on the line against Kip Sabian.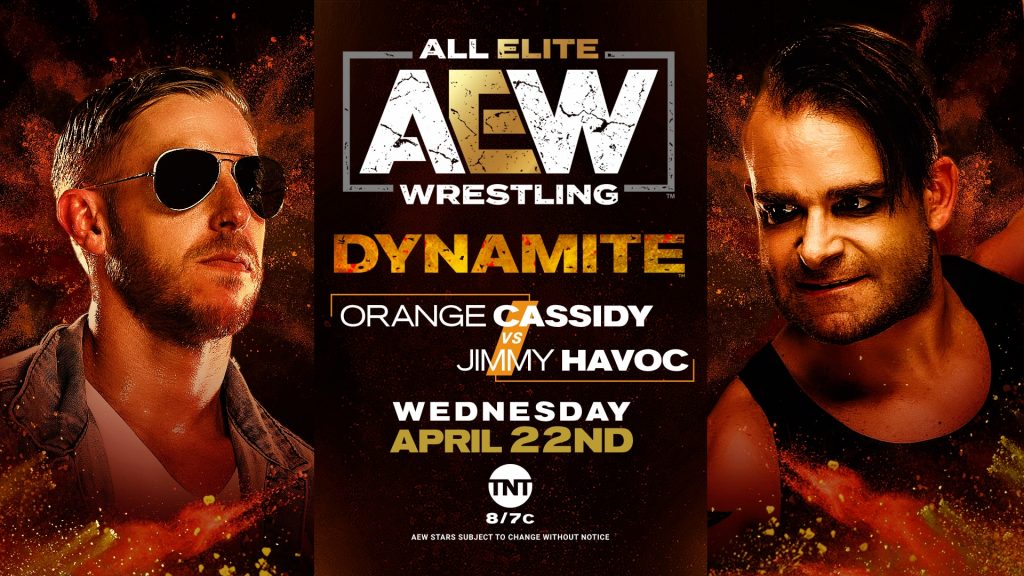 Orange Cassidy vs Jimmy Havoc
Jimmy Havoc attacks Orange Cassidy just as he enters the ring. Havoc attacks Orange in the corner and chokes his with his shirt. Jimmy throws Orange into the guard rail before suplexing him off the guard rail. Havoc hits Cassidy's head into the post before continuing with chops to the chest. Jimmy throws Cassidy into the ring before continuing to assault Cassidy. Orange manages to get some boots up to fight off Havoc but Jimmy just hits him with a driver. Jimmy gets the armbar on Orange and starts pulling at his fingers. Havoc beats on Orange in the corner forcing his hands back into his pockets.
Orange hits a dropkick and a dive onto Havoc after Havoc rolled out the ring before hitting a crossbody back inside the ring. Havoc hits Orange with some shots and Orange hits some slaps of his own before knocking Havoc Down. Penelope Ford got on the apron to distract Cassidy before Chuck Taylor would get involved allowing Kip Sabian to dive onto him from the top rope. Penelope would attempt to hit Orange from the top rope but would miss allowing Orange Cassidy to roll Jimmy Havoc into a pinning position for the win.
Winner Orange Cassidy
Havoc and Kip Sabian attack Cassidy after the match before the Best Friends run in to make the save.
MJF gives an update on his injury from his home. MJF talks about the depressing times we live in without MJF on our televisions. Max talks about while gambling he hurt his arm while throwing the dice and promises when he's back he will become AEW World Heavyweight Champion.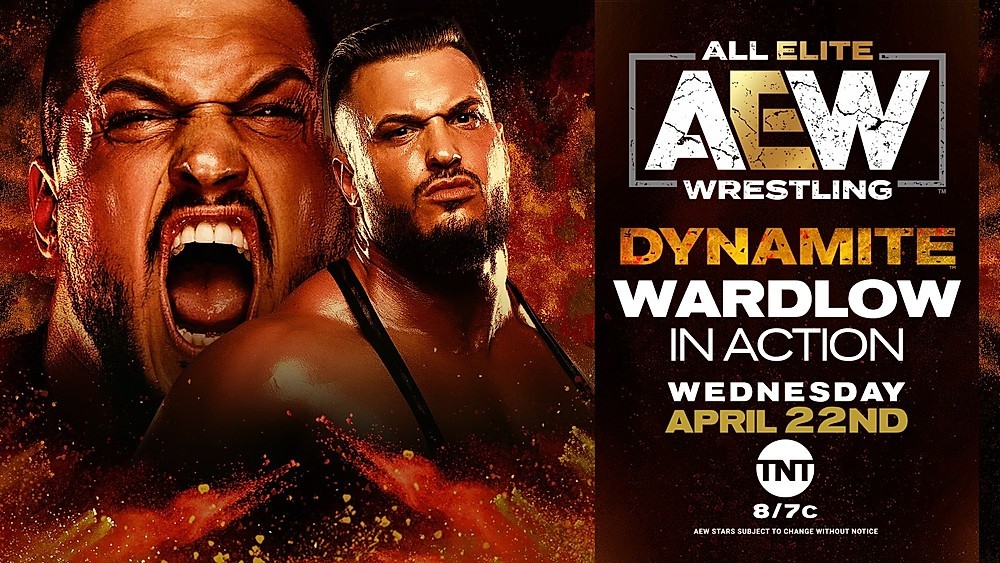 Wardlow vs Lee Johnson
Wardlow hits Lee with a big knee and follows up with lifting him over his head. Lee counters with a dropkick Wardlow picks him up again and slams him down again before hitting several big throws. Lee counters a throw by landing on his feet and hitting some quick shots. Wardlow gets some hits and carries Lee to the turnbuckle before hitting a big knee to the face. Wardlow hits a spinning throw before pinning Lee Johnson for the Win.
Winner: Wardlow
A video package airs with a man drinking and a woman breaking up with him by voicemail. The man visits the Dark Order website and signs up. Brodi Lee thanks someone for visiting him and understands the frustrations. Someone answers questions about his height and his work ethic. Brodi offers them success and power with strength in numbers.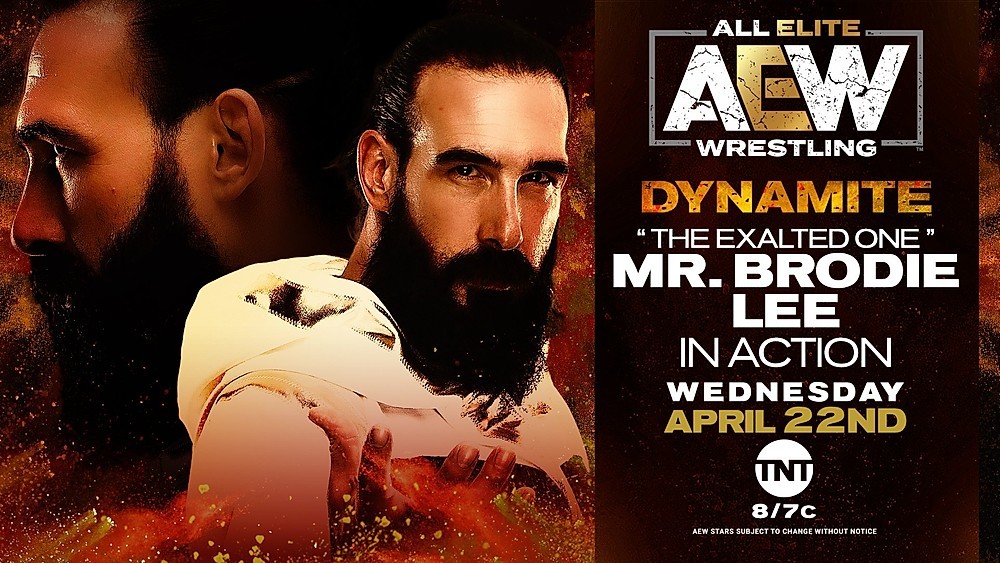 Brodi Lee vs Justin Law
Lee Backs Justin ti the corner and starts hitting Justin with chops before Justin rolls away and Brodi hits a big superkick. Lee hits two suplexes on Justin before another chop, Brodi hits a spinning slam before hitting the discus lariat for the three count.
Winner: Brodi Lee
Brodi goes to stare Marko Stunt at ringside down before leaving.
The Bubbly Bunch segment stats with Sammy working out and talking about things not going well. Santana talks about the only certainties in life being death, taxes, and the inner circle being on top. Jake Hager promises that he will beat Moxley next time. Chris Jericho says they're all going to dance to cheer themselves up. Ortiz suggests they do the flim-flam Sammy is still upset. Jericho promises the winner a prize of hand sanitizer Sammy is overjoyed by this. The Inner Circle proceed to do the Flim Flam. Chris Jericho calls Sammy a show-off and tells him to enjoy the hand sanitizer.
Dustin talks about his 33 years in wrestling and his legacy. Kip talks about his goal of becoming champion. Dustin talks about needing to step up to Kip Sabian in this match. Kip talks about Dustin being at his prime and talks about this being his moment.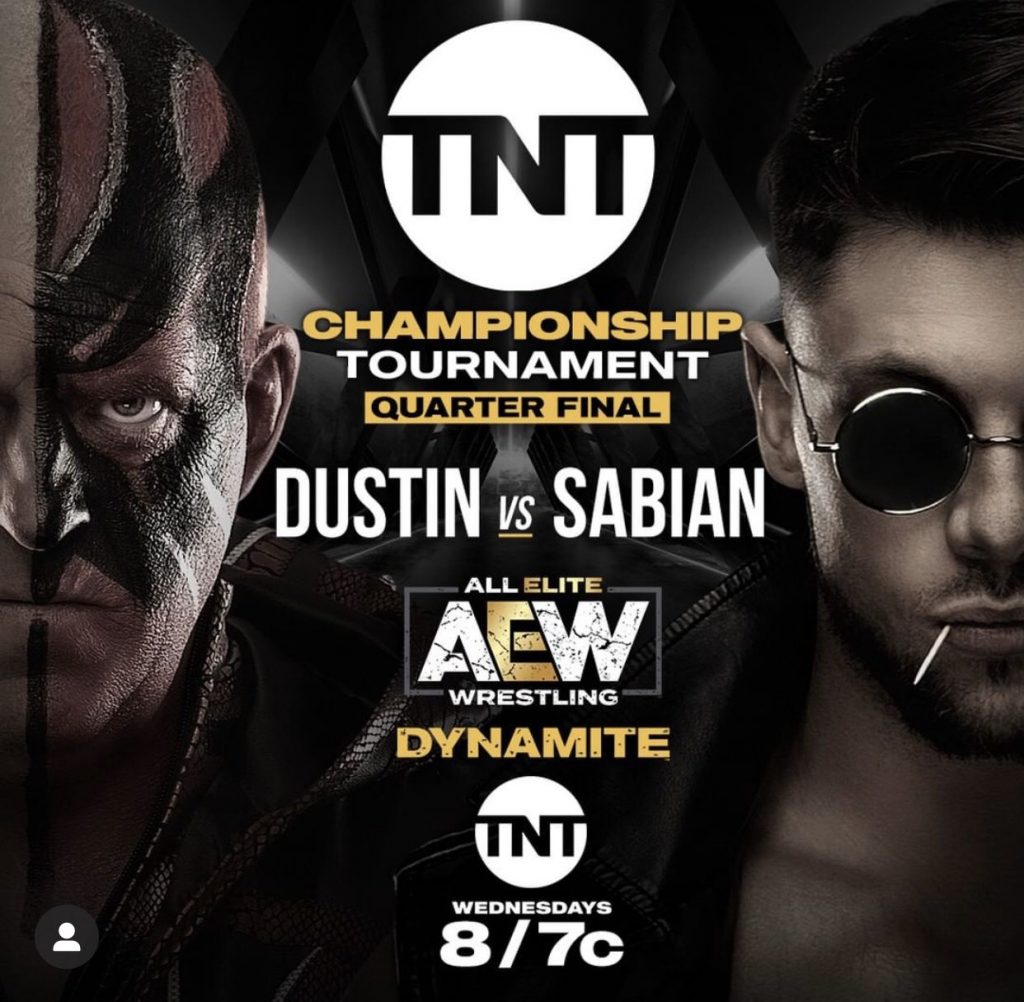 Kip Sabian against Dustin Rhodes
Rhodes career is on the line in this match against Kip Sabian. If Sabian wins he progresses in the TNT Championship Tournament. Rhodes will also retire against Sabian if he cannot defeat him. Brandi Rhodes accompanies Dustin to the ring to help cancel out the potential effect of Penelope Ford. Rhodes locks up against Sabian. Dustin gets Kip in an armbar. Kip uses his speed to get in some offense until Dustin hits an uppercut and gets Kip back in the armbar. Dustin gets some chops in before having his Irish whip reversed and sent to the opposite corner. Kip's first attempt at some offense is countered Penelope grabs Dustin's boot to stop a second counter. Kip hits a running enziguri and a kick to the face of Dustin.
Penelope chokes Dustin at the ropes until Brandi gets involved. Dustin hits Kip in the corner before missing a running knee. Kip takes advantage and gets a leg lock on Dustin to inflict more damage. Sabian sends Dustin to the other corner but Dustin can't stay on his feet allowing Kip to get some stomps in on the leg. Kip hits a dropkick on Dustin before a 2 count which is countered into a pin attempt by Dustin. Dustin gets a flurry of hits in on Kip before falling in an attempted scoop slam attempt.
Sabian gets an armbar against Rhodes on the ground.
Dustin gets some hits in and an attempted roll up for a two count. Kip hits a knee to the face and follows up with a lariat. Sabian gets a headlock in on Dustin. Dustin gets back up before Kip hits a snap mare and a kick to the back. Kip runs at Dustin but is countered into a spine buster. Dustin hits a running bull dong but takes time to capitalize but hits a power slam for another two count.  Kip counters at the corner before hitting a spinning DDT. Kip starts hitting shots on Dustin and is pulled off by the referee. Penelope gets in the ring to attack Dustin but Brandi hits a spear to stop her. Rhodes hits the Code Red against Sabian to get the pinfall victory.
Winner: Dustin Rhodes against Kip Sabian

Dustin Rhodes will advance to face Lance Archer in the next round of the TNT Championship Tournament.