Ron Simmons was a unique athlete. He excelled at everything he did. On the football field, he became an All American twice. In WCW, he became the first recognized African American World Heavyweight Champion in history. In the WWE, he led a Nation into greatness and had a beer with his best friend on the way to winning tag team gold on three different occasions. He continues to give back to wrestling even though he has hung up the boots. A true pioneer, Ron Simmons's legacy will never be forgotten by the wrestling universe.
___________________
Ron Simmons
Football Years
Ron Simmons was born in Perry, Georgia, in 1958. His first passion was football. Simmons took his passion and ran with it. In 1976 he was named linebacker of the year. He was drafted directly out of high school to the Florida State University Seminoles. From 1977 to 1980, Simmons played defensive nose guard for FSU. He became an All-American in 1979 and 1980. In 1988 his jersey was retired. This is only the third time any jersey was retired in FSU history. In 2008 Ron Simmons was inducted into the Orange Bowl Hall of Fame.  Little did he know it wouldn't be the gridiron he would be most known for, but the squared circle.
Impending Doom in WCW 
Ron Simmons began training with Japanese legend Hiro Matsuda. After paying his dues in the ring, he finally made his wrestling debut in the National Wrestling Alliance in 1986.  His first match was at the Great American Bash on July 1, 1986. Simmons's biggest victory was on August 1, 1986, when he defeated Ivan Koloff in St. Louis, Missouri.  That victory propelled him on an undefeated streak, including victories against The Barbarian and a young Yokozuna. The streak lasted until he faced Koloff again. This time Simmons was defeated by the Russian Sickle.
In Feb 1988, Ron Simmons began showing signs of frustration. His in-ring attitude became more brutal. He was put in a match with Junkyard Dog. However, what JYD did not know was Simmons had referee Teddy Long in his back pocket. He defeated JYD due to a fast count from Long. Shortly after that, Teddy Long managed Ron Simmons.  Long was fired as a referee. Simmons began a tag team with the Natural Butch Reed. They also had a valet named Woman by their side. Simmons and Reed were now renamed Doom. They wore masks and were referred to as Doom#1 and Doom#2.
Ron Simmons & The Debut of Doom
Doom made their pay-per-view debut on October 28, 1989, at Halloween Havoc against the Steiner Brothers. The masked duo defeated the Steiners. However, shortly after that match, Doom began to go on a losing streak. Woman became frustrated with the tag team and dropped Doom in favor of managing the Four Horseman. The date of February 6, 1990, spelled doom for Doom. They lost to the Steiners and, due to the fine print on the contract, were forced to unmask. After that loss, Simmons and Reed rehired Teddy Long as their manager. Under Longs' guidance, Doom became major "playas" in the Tag Title Division.
On May 19, 1990, Doom defeated the Steiner Brothers to become the NWA Tag Team Champions. It was during this time that a new organization was splitting off from the NWA. World Championship Wrestling became an entity all to its own. Doom became the first WCW Tag Team champions. However, on February 24, 1991, Doom lost to the Fabulous Freebirds. The writing was on the wall; Doom's days were numbered. Butch Reed had enough of Ron Simmons and attacked him. This lead to the two former tag team partners having a match at Superbrawl. Simmons defeated Reed.
Shortly after that, he challenged WCW World Heavyweight Champion  The Total Package Lex Luger but came up short.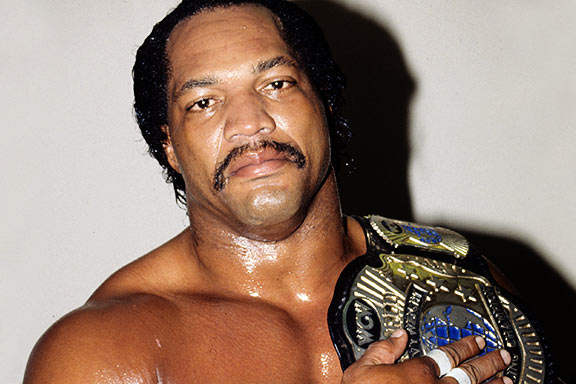 WCW World Heavyweight CHampion
A year later, on February 29, 1992, Ron Simmons defeated Cactus Jack at Superbrawl II. At the same event, Sting defeated Luger for the WCW World Heavyweight Championship.  Shortly after that, Vader would defeat Sting and take the title. These title changes would indirectly affect Ron Simmons' future in WCW. On August 2, 1992, a match between Vader and Sting for the WCW Championship was supposed to take place. However, due to Sting's injury from Jake Roberts, a replacement was needed. A raffle was held to determine the number one contender.
As luck would have it, Ron Simmons's name was drawn. Big Van Vader appeared to have met his match. Simmons even dropped the mastodon with a running tackle. As the match progressed, Vader did make Simmons feel the pain with several headbutts and a splash. Vader even hit the Vader Bomb, but Ron Simmons kicked out. He would not be denied. When Vader went for a Vader Bomb, Simmons reversed it and caught the almost 500 pound  Vader in a power slam. The referee counted 1,2,3. Ron Simmons realized his dream of becoming the new WCW World Heavyweight Champion.
Ron Simmons
Making History
Even more significant, Ron Simmons became the very first recognized African American World Heavyweight Champion in history. He kept the title until Vader won it back on December 30, 1992.  After the loss, Ron Simmons was never the same. He became bitter and blamed the fans. Simmons went on another losing streak. He attacked Sting and Marcus Bagwell.  Unfortunately, both Sting and Bagwell got the better of him. His last match for WCW was on WCW Worldwide, a syndicated tv series. Simmons left WCW and spent some time in ECW before finally leading a nation to domination in the World Wrestling Federation.
Ron Simmons
We Are The Nation Of Domination
Ron Simmons was no more. He was now known as Farooq Asad. Farooq made his WWE debut on July 22, 1996, on Monday Night Raw. He now was dressed as a gladiator, complete with Sunny as his manager. Farooq immediately targeted WWF Intercontinental Champion Ahmed Johnson. He injured Johnson to a point where Ahmed had to vacate the title. This left the championship up for grabs. Unfortunately for Farooq, his plan backfired when he was defeated by Marc Mero in a tournament to crown a new Intercontinental Champion.
After that loss, Farooq ditched Sunny and the gladiator wear. In its place were the colors of pride. Farooq became the leader of a Nation. Soon he began adding members to his nation. First was Caribbean Superstar Savio Vega. Vega was a tag team partner with the returning Ahmed Johnson. At Royal Rumble 1997, Vega turned on Ahmed and joined up with Farooq. Soon after, the nation added Crush and his attorney Clarence Mason. This was followed by PG 13 as hype men at ringside and D'lo Brown. Farooq was developing his nation…
The Nation of Domination
This led to Wrestlemania 13 on March 27, 1997, in a six-man tag. It was the Nation against Ahmed Johnson and The Legion Of Doom in a Chicago Street Fight. It seems they brought everything to the ring for this match besides the kitchen sink. Oh, wait, someone did bring the kitchen sink too. The Nation lost that match. In the weeks following, the NOD kept losing. After the 1997 King of The Ring, Farooq fired all The Nation members except D'lo Brown.  Farooq added Kama Mustafa as well as surprisingly  Ahmed Johnson to the group.
Shortly after becoming a Nation member, Ahmed was injured and left the WWF. Former members Crush and Savio Vega started their own groups after being kicked out of the nation. Crush led The Disciples of Apocalypse, and Savio Vega led Los Boriquas. Both groups became main rivals of Farooq and the new nation. Since Ahmed was gone, Farooq needed a replacement. Coming off of an injury, Rocky Maivia returned to the WWF. This time the smile was gone. Rocky Maivia was now known as The Rock. The Rock became a Nation of Domination member.
Ousted from The Nation
Unfortunately for Farooq, The Rocks ego began to cause a split in the Nation. He had defeated Stone Cold Steve Austin and was again the Intercontinental Champion. He also began to butt heads with Farooq over who the true leader of the Nation was. At Wrestlemania XIV, The Rock defended the Intercontinental title against Ken shamrock. In the closing moments of the match, Shamrock had The Rock in the ankle lock. It looked like Farooq would save his fellow nation teammate, but he walked away at the last minute. The Nation was starting to fall apart.
The next night on Monday Night Raw, The Rock and the rest of the nation overthrew Farooq. This led to him challenging The Rock for the Intercontinental title at Over The Edge  In Your House on May 31, 1998. Once again, Farooq did not defeat the Rock. Now Farooq found himself a leader without a Nation. 
APA….Everybody Needs Protection
Farooq began a tag team with Too Cold Scorpio in the summer of 1998. This tag-team did not last long. Around this time, Justin Hawk  Bradshaw was in singles competition but wasn't really going anywhere either. The two formed a tandem, and now Farooqs life was going to change. Farooq and Bradshaw were two of the most powerful, angry wrestlers in the WWF. Together they were unstoppable. They were called the Acolytes. On an episode of Raw, The Acolytes attacked Dennis Knight to sacrifice him to the Undertaker. The Acolytes were officially now members of the Ministry of Darkness.
The Acolytes destroyed everyone in their path. On May 31, 1999, They defeated WWF tag team champions Xpac and Kane with the help of Shane McMahon, who now merged with the Ministry. The Acolytes kept the titles until the Hardy Boys surprisingly defeated them.  The Undertaker suffered an injury causing the breakup of the Corporate Ministry. The Acolytes were no longer working for the Corporate Ministry, so they went into business for themselves. The Acolytes Protection Agency was born.
According to JBL,  he got drunk one night and ended up running into Vince McMahon. Vince actually gave Bradshaw a ride back in his limo. When Farooq saw Bradshaw stumble in, he asked him where he was. Bradshaw told him he was in a limo drunk with Vince. Farooq thought for sure this was the end. The next day, Vince Mcmahon calls them into his office. Instead of firing them, he wanted Farooq and Bradshaw to do what Bradshaw did in the limo. Bradshaw had no idea what Mr. McMahon was talking about. He wanted the Acolytes to just be themselves. They love beer and beating people up. 
Bradshaw and Farooq would be the muscle for hire…..
If the price was right, and the beer was cold. APA was seen in bar brawls at the Friendly Tap. They were also frequently filmed having poker games in the locker room. Just boys being boys.  The APA even had a brawl with New Age Outlaws that won't soon be forgotten. They would rent their services out to anyone. As long as they had the cash, APA would kick the a$#. The team was even hired to watch Chris Jericho's back the night he defeated HHH for the WWF Championship. Jericho only held the gold for 15 secs, but still, the APA delivered. 
Eventually, they defeated the Dudley Boyz to win their third WWE Tag Team Championship on the July 9th, 2000, episode of Monday Night Raw. However, the WCW/ECW invasion had begun.  The APA lost their WWE tag team championship to Diamond Dallas Page and Kanyon with help from Test.  It was around this time that Farooq started using the word Damn.  Many fans wonder how that catchphrase actually came about. According to Ron Simmons himself, whenever he would jump off the top rope and miss, he'd yell the word Damn. He said that fans heard him, and it caught on. They just started chanting it. The rest is history.
APA ….Out of Business
In 2002 The WWE held the first draft. In this draft, tag teams were split up. This happened to be the case with the APA. Farooq went to Smackdown, and Bradshaw went to Raw. Bradshaw went on to win a few singles titles. However, as we all know, he also won the WWE Championship as JBL later on. Farooq, on the other hand, didn't fare as well. He changed his name back to Ron Simmons and began feuding with another victim of the draft Rev Devon Dudley.
On June 19, 2003, The APA reopened for business. While the Undertaker was getting ganged up on by the Full Blooded Italians, The APA came to his rescue. The following week on an episode of Smackdown, The APA hosted their own Bar Room Brawl. At the end of 2003, Ron Simmons started to consider retirement. On the March 18, 2004, episode of Smackdown, General Manager Paul Heyman made a tag title match. The APA would wrestle for the tag team championship. However, if the APA did not succeed, both Bradshaw and Farooq would be fired. The APA lost. Paul Heyman kept his word.
However, he said that Bradshaw could stay, but Farooq is gone. Farooq kept waiting for Bradshaw to walk out with him as a sign of solidarity, but Bradshaw did not move. This was the beginning of JBL. Farooq left Bradshaw with the final words, "well, I'll be damned."  In reality, JBL never did turn on Ron Simmons. He decided it was time for him to go home and spend time with his family. It was solely Ron Simmons' decision. 
Ron Simmons
WWE Hall of Fame 
Ron Simmons was done with being in the ring, but he realized he needed to give back to the business that gave him so much. He became a road agent and imparted his knowledge to the future WWE stars. Simmons was also awarded a WWE legends contract. He made appearances on random episodes of Raw and Smackdown, usually ending with that famous one-word catchphrase. On Nov 20, 2006, He returned to the ring for one night at Survivor Series on Ric Flair's team of legends against the Spirit Squad.  He also made an appearance at  Teddy Long's storyline wedding to Krystal Marshall.
On Dec 3, 2007, He rejoined JBL for one night only as the APA when Hornswoggle hired him as outside the ring protection against Johnathon Coachman and Carlito. On March 31, 2012, Ron Simmons was inducted into the WWE Hall of Fame by none other than JBL.  In his induction speech, Ron Simmons stated that this whole journey has been completely unreal to him, and if he could just sum it up with one word, it would be ….Damn.