On the January 18th, 1993 edition of Monday Night Raw, Ric Flair, and Mr Perfect brawled all over the arena. The Nature Boy Ric Flair attacked Mr. Perfect during his matchup with Terry Taylor.
On this particular episode of WWF Monday Night Raw, which emanated from the Manhattan Center in New York City. Later on in the show, Perfect returned the favor and attacked Flair during his match against 'El Matador' Tito Santana.
But before we can look into their eventual match with one another, we have to look back at their history with one another. Upon entering the WWF, Mr. Perfect would act as an advisor/secondhand to Ric Flair. During their time together, Flair captured the WWF Championship.
As 1992 was drawing to a close, Randy Savage was to initially face Ric Flair. However, the departure of the Ultimate Warrior would signal the need for a replacement. That replacement would be Mr. Perfect. Perfect's inclusion here came about with a face turn tired of the shenanigans of Bobby Heenan and Ric Flair, whom Mr. Perfect had both been associated with.
The world's been spinning around Bobby Heenan, been in a wind tunnel. But I'm not a stranger to the rain. Not even a blink to it. Now I've got a name I'd like to throw on the table on Prime Time. This is a word that is not synonymous with the name I am about to give you, and that's trust.

But this is the Survivor Series. Do you understand that? It's about Survival…
How are you going to put anything together with anyone in 24 hours? I mean, how are you going to have any tag teamwork done?
Sometimes in your life, you have to take a chance, and I've been one to do that on occasion. Not everything in life is right down that four-lane highway.
So I've got a guy that I would like to find out if he has the guts to be my tag team partner. I don't know if he complements (my style) or not because I don't even really like the guy.
But like I say, sometimes you have to take a chance. And it's a gut check for this guy because I've never even wrestled him. I don't know if he can beat me or if I can beat him.
He knows my opponents way better than I do, which is an advantage. Does that sink into you, Bobby The Brain? You're supposed to be so intelligent.
Possibly this guy could be the perfect tag team partner to go against Razor Ramon and Ric Flair. It's Mr. Perfect. – Randy 'Macho Man' Savage
You do make sense, Savage, perfectly. This man knows more about Ric Flair personally. He knows more about him in the ring. He knows everything there is to know about Ric Flair. He's guided him to the championship twice. Of course, you'd want him. Why wouldn't you want him? – Bobby 'The Brain' Heenan
But on this night, that was a distant memory. As Terrific Terry Taylor came to the ring, he would then await the arrival of Mr. Perfect. Perfect was once again a fan favorite and embraced the accolades of those in attendance.
With Perfect clearing in control of the match, the Nature Boy Ric Flair would come out to confront and distract Mr. Perfect. As Perfect turned his attention away to face Ric Flair, Terry Taylor hit him from behind, knocking Mr. Perfect to the floor.
It was at this point when Flair pounced. With the referee distracted, Flair beatdown Perfect and then proceeded to toss him back into the ring. When Taylor was attempting a suplex, Perfect countered it into a Perfect Plex for the three count and the win. Immediately after the bell sounded, Perfect was in pursuit of Ric Flair. It wouldn't be the last that these two would cross paths on this night.
At the end of the show, El Matador Tito Santana would face the Nature Boy Ric Flair. As Flair avoided Santana's flying forearm causing El Matador to land on the outside, Mr. Perfect charged the ring after Flair.
Flair would reach in and pull Flair out, returning the favor for what happened earlier. The two would battle all the way to the back and back out to the ring. As Perfect is being restrained, Flair makes his way to the other side of the ring.
Once at ringside, Flair approached Vince McMahon, who had his microphone in hand, and addressed this situation with Mr. Perfect, along with following it up with a challenge.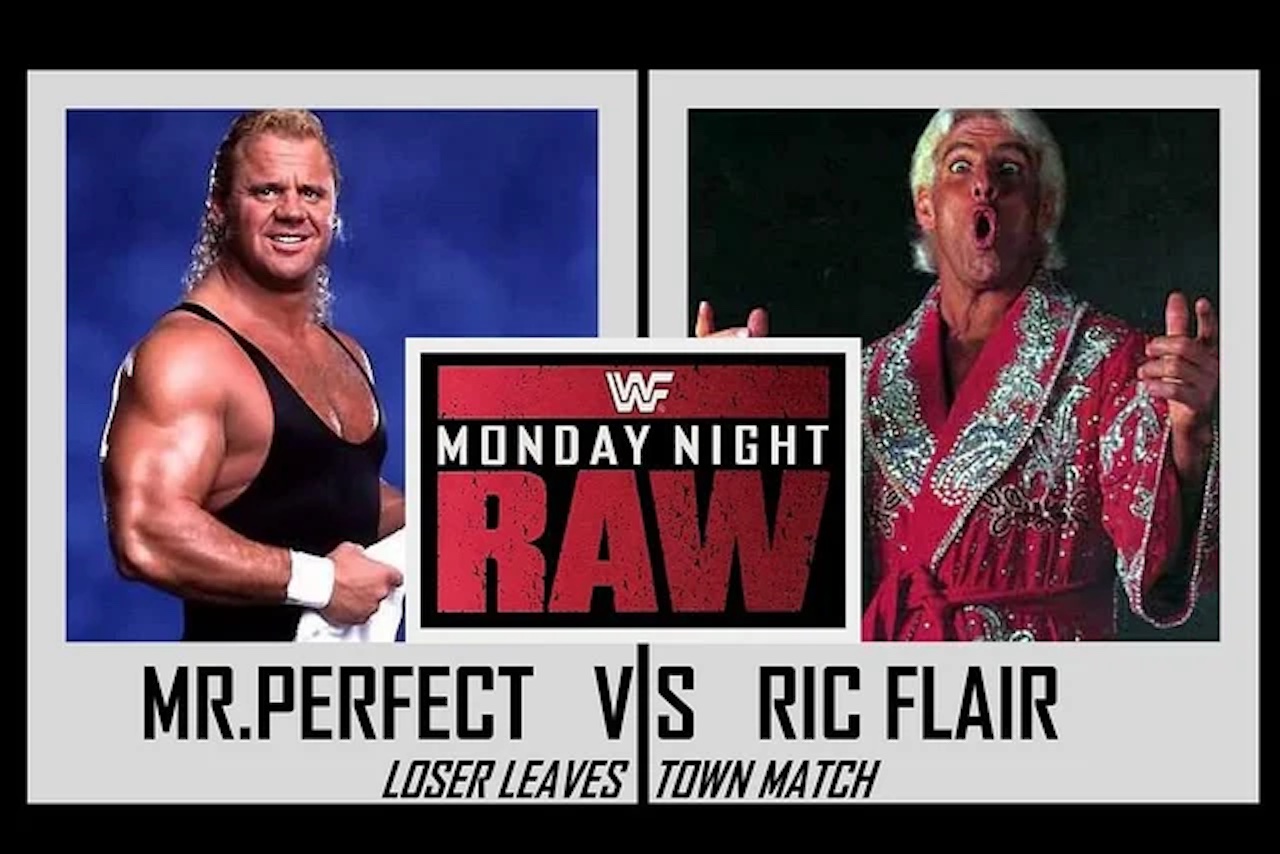 Ric Flair and Mr Perfect – Loser Leaves The WWF
You don't talk to me about the rules. The WWE isn't big enough for me and Mr. Perfect. So right now, here, live in front of God and the whole world. Here next week I want Perfect. One of us stays. One of us goes. Not out of the building but out of the WWF.
I can tell ya right now. You're not man enough. You haven't got the guts. And you will never see the day in your life. You beat Ric Flair. – Ric Flair
After Flair had left the ringside area, Mr. Perfect approached Vince McMahon and was skeptical of this upcoming challenge and the risks that came with it for either man.
You're talking about beating Ric Flair? And the loser has to leave the World Wrestling Federation? Are you kidding me? I'll take that in a heartbeat.
Ric Flair, you are gonna be gone. McMahon, you know me. Everybody knows me. I am what I say I am, Ric Flair. You want me? You got me right here.

Is this what it has to take? Ric Flair, is that what it has come down to? The two greatest athletes in the World Wrestling Federation and only one man will stay in the World Wrestling Federation? I'll take that challenge. I'll put my career on the line. – Mr. Perfect
What wasn't known was that their match actually took place in a taping that same night but didn't air until the following week. But it would air the day after the 1993 Royal Rumble. With it being a different time altogether and access to online spoilers wouldn't be prevalent, the idea of keeping the result quiet was quite simple.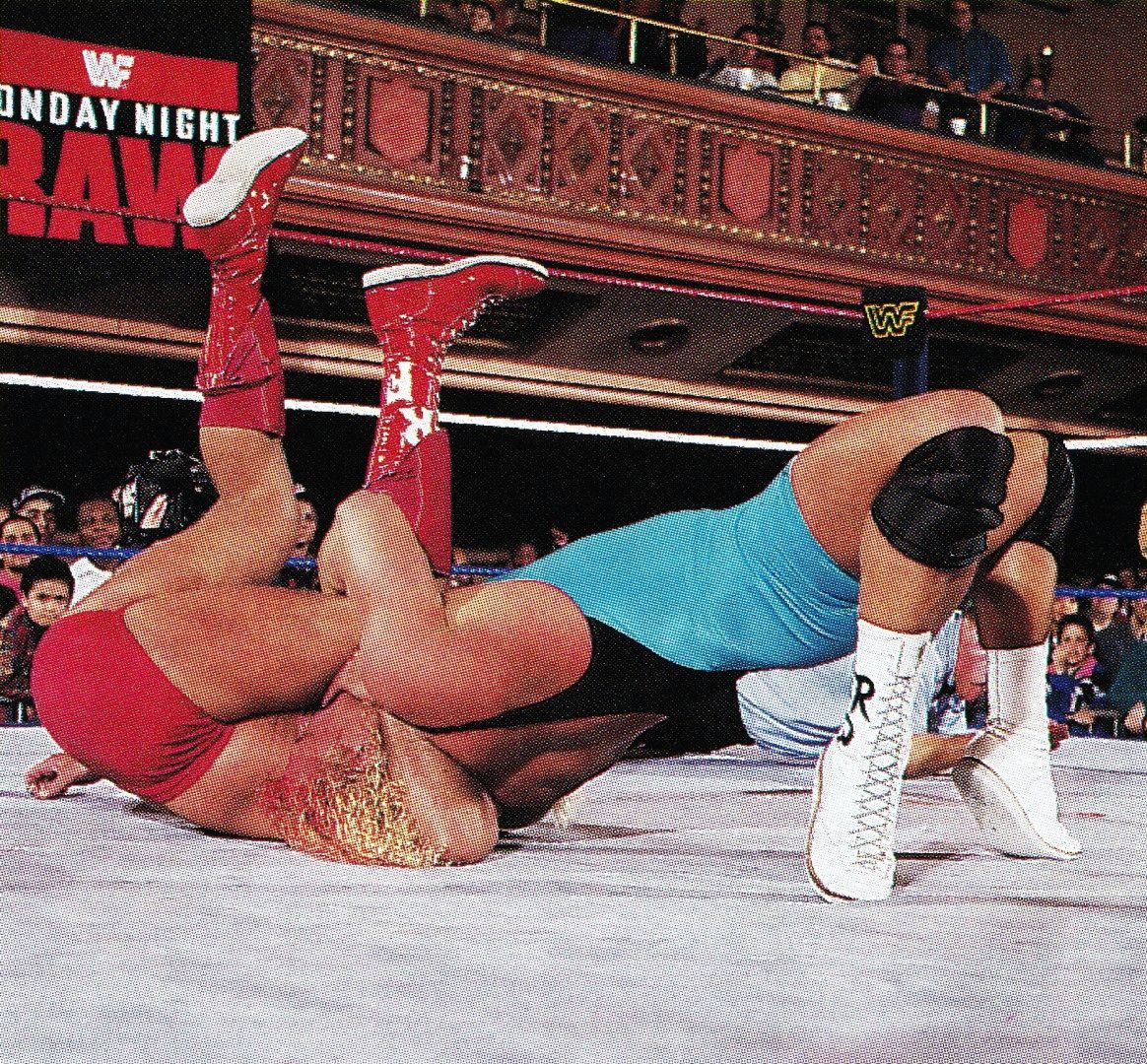 With the two men crossing paths during the Royal Rumble, it would, in fact, be Mr. Perfect who would eliminate Ric Flair from the Rumble match. This elimination would only fuel the fire between the two.
As it turned out, Mr. Perfect would, in fact, go on to defeat Ric Flair as part of their on-screen feud. This was all tied together to help align with what would be Ric Flair's departure back to World Championship Wrestling. Flair would remarkably not return to the company for another eight years. He would return in 2001 after WCW would close its doors forever.