SPW New Zealand recently had an event that was loaded with epic memorable moments that will set the company on a brand new path as we head towards the end of 2019 with Halloween Haunting.  The Corinthian Centre was completely sold out as fans anxiously waited to find out if the SPW New Zealand Championship would return to New Zealand.  It was in the summer when SPW joined Melbourne City Wrestling to do a cross-promotional show with the Southern Rumble 2019.
The Southern Rumble was held in New Zealand wherein the main event the fans were left in disbelief as SLEX The Business became the first Australian to win the SPW New Zealand Championship and take the championship away from New Zealand.  SPWNZ Presents Halloween Haunting was the perfect setting for the company to do whatever is possible to bring the championship back home.  All of this coupled with the match to crown new SPWNZ Tag Team Champions, it really makes for some very remarkable moments.  So now let us take a look at how the matches played out at SPWNZ presents Halloween Haunting.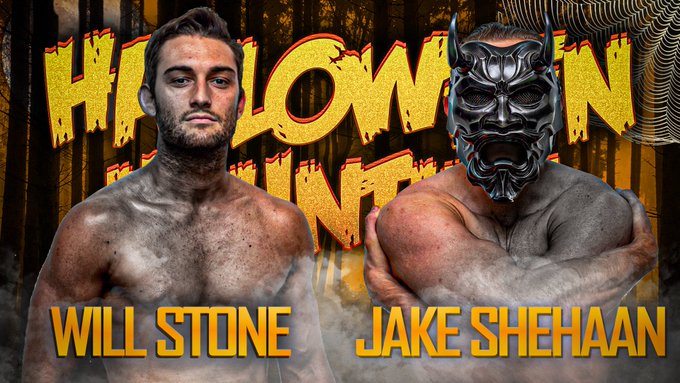 Will Stone vs Jake Shehaan
Opening up the evening is a match where we got to see a lot of heart and tenacity from Will Stone.  Jake Shehaan the leader of the faction CTRL is very dastardly individual but there is no denying his strength and the brutality he can inflict once the bell rings.  The other members of CTRL were at ringside as would be expected, and they also used their numbers advantage to help wear down stone providing a clear advantage to Jake Shehaan.  Shehaan takes clear control over the match grounding Stone and taking away every bit of his offense.
Stone having the heart of a warrior manages to shake off the cobwebs and bounce back, the excitement truly picks up when Stone uses Stones Throw to launch Shehaan in to the members of CTRL.  This really gets the fans roaring and setting the tone for what is going to be an incredible night of action.  In the end, Shehaan manages to hit the Purge Vertibre on Stone and it is enough to get the victory in this match.  The match was a solid start to the night, getting the fans geared right up like this is a perfect way to just set that tone.  Great performance from both competitors which resulted in Jake Shehaan continuing his dominance along with CTRL.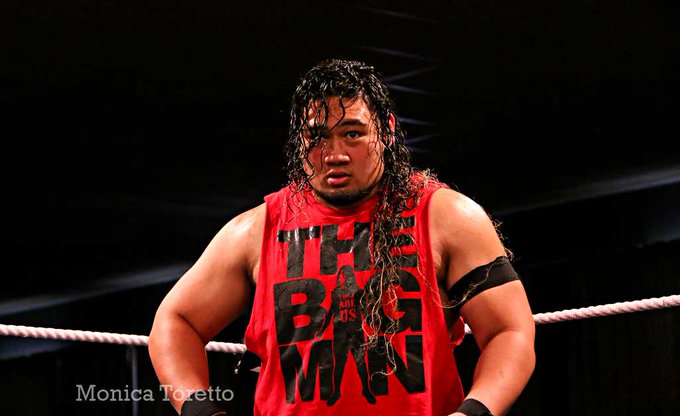 Jamie Tagataese vs Corey Cutter
It was a pleasant and very big surprise to witness the arrival of The Big Man and undefeated IPW New Zealand Champion Jamie Tagataese to SPW New Zealand.  Tagataese has been dominating current boasting an undefeated record that has had him with 600+ victories.  This is an epic run but Tagataese finds himself on new grounds here, and Corey Cutter has got every intention to make his name by putting Tagataese's winning run to a screeching halt.  Corey Cutter is one of the newest members of the SPWNZ roster, a recent graduate of their training academy this kid has got promise.
Corey Cutter has already claimed a victory of Winston Whyte and would love to add another victory in this encounter.  Despite the will to want to win, the size and strength of Tagataese prove to be far too much for young Corey Cutter to take.  In the end Tagataese hits Warhammer on Corey Cutter and picks up the victory, and so the undefeated run continues for Tagataese.  Tagataese is a site to see, a combination of both strength, size, and quick pace make him a real dominant threat between the ropes.  This match did an excellent job of introducing SPWNZ to Tagataese and letting the fans know that this is someone they really do need to keep their eyes on.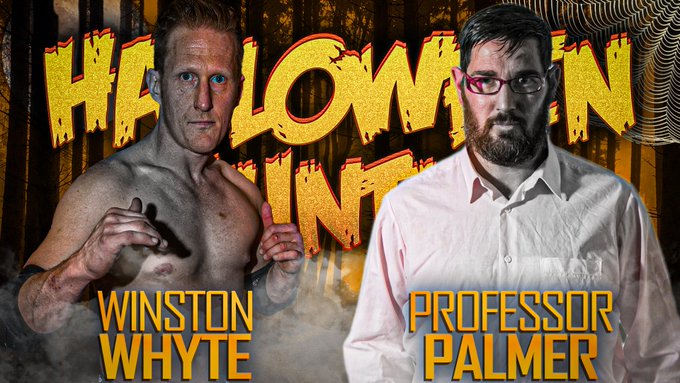 Winston Whyte vs Professor Palmer
Professor Palmer has had a real strange hold over the career of Winston Whyte.  Whyte has been forced to follow Palmer and do as he is told.  It was at the Southern Rumble where Winston Whyte finally did something for himself and he eliminated Palmer for the Southern Rumble match.  This is what has sparked this match as well as the corresponding stipulation.  If Professor Palmer wins this match then Winston Whyte will have to head for the exit as he will be fired.  However, if Winston Whyte picks up the victory he becomes free from Professor Palmer and will be a member of the SPWNZ roster.
This match wastes no time in getting things started, during Winston Whyte's entrance Professor Palmer comes from behind with a chair and begins an all-out assault upon his opponent.  Once the chaos is over the two finally end up inside the ring and the beat down continues.  Winston Whyte does manage to regain his composure and bounce back from the senseless assault that has been inflicted.  Whyte hits Stampede on Palmer which is enough to keep Palmer down and giving the victory to Winston Whyte.  Whyte now is officially free from Professor Palmer and an official member of the SPWNZ roster.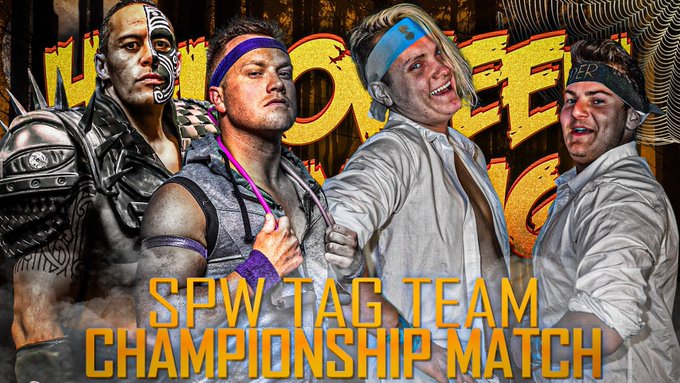 SPW Tag Team Championship match
Will Power & Hammer vs Detention
Sky and Ryder of Detention know what it is like to the top of the tag team division in SPW.  Detention was formerly the tag champions and went on a very solid run as the champions.  Now Detention has the opportunity to make history and become the first team to win the SPW New Zealand Tag Team Champions twice.  Will Power a former SPW New Zealand Champion knows how to utilize his speed and agility to get the momentum of a match on his side.  Hammer is a physical specimen and uses his strength and brutality to wear down his opponents in the ring.
Hammer for all his time as a competitor has not yet held championship gold in SPWNZ, so this opportunity is something that Hammer really wants to capitalize on. Detention with their team experience boasts a real threat as they know exactly what it takes to get the job done. Detention looks to have a real strangle hold on the match deep into it. Then during a disagreement Sky decides that he has had enough of Ryder and Detention as well, Sky makes his feelings known as he walks off and abandons his tag team partner.
The match at this point becomes a handicap match and becomes a huge advantage for the team of Power and Hammer. 
Will Power manages to break down Ryder and then the big man Hammer goes to the top ropes and hits a vicious looking frog splash to Ryder followed by Stone covering for the victory.  Hammer and Power become the new SPWNZ Tag Team Champions to a thunderous ovation from the crowd in attendance.  This match was a real standout as it featured the turning point with the break up of Detention.  Then you have the magical moment where Hammer finally gets his hands on SPW gold along with his great friend and now tag team partner Will Power.  Great match and a huge congratulations go to the new tag team champions.
Halloween Luchadors vs Carnage & Wolf of CTRL
As it is Halloween titled show it would definitely need a Halloween moment, and well there is no better moment then a couple of Halloween Luchadors.  The unfortunate part for these Halloween Luchadors is that they are coming face to face with Carnage & Wolf of CTRL.  This match ends up being a real squash as you would expect and that is the purpose it intended to provide.  CTRL looks strong and dominant as they should, so this match did exactly what it was put there to do.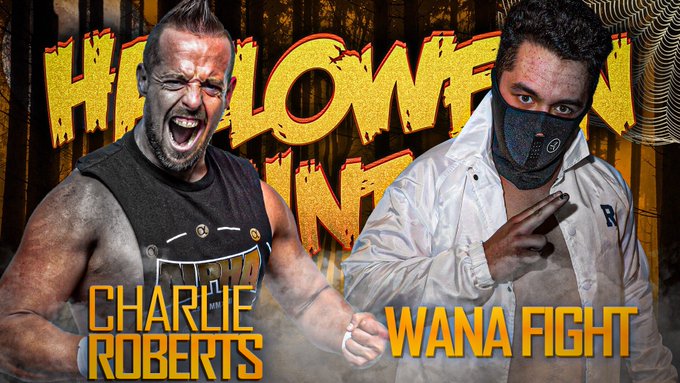 Charlie Roberts vs Wana Fight
Wana Fight was recently an established tag team wrestler among the ranks of SPWNZ, now turned to singles competition Wana Fight is looking to really establish himself once again.  Charlie Roberts requested the match with Wana Fight for this night and so the match was set.  Roberts felt like he has a score to settle seen as it was Wana Fight that had to eliminate him from the Southern Rumble.  Charlie Roberts really takes the fight to Wana Fight in this encounter.  These two men put on an entertaining encounter and then Charlie Roberts hits an elbow drop from the top roles and picks up the victory.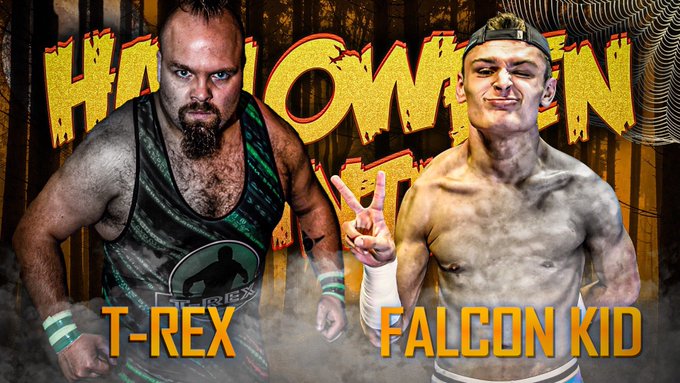 T-Rex vs Falcon Kid
It is now time for the whole Falcon show as Falcon Kid gears up to tangle with T-Rex.  T-Rex is a big man who will utilize whatever tactics are necessary in his match to come out victorious.  Falcon Kid relies on speed a high flying in order to wear down his opponents.  Once again this match came about because of what went down at the Southern Rumble.  T-Rex was shocked when he was eliminate by Falcon Kid setting in motion this one on one encounter.  Quick strikes seem tom work extremely well for Falcon Kid as he tries to break down T-Rex in the match.
Falcon Kid though finds himself ineffective with the high flying move that are often blocked or slowed down by the big man T-Rex.  There is a jaw-dropping moment in this match when Falcon Kid hits a Spanish Fly to T-Rex from the top ropes.  It was not quite enough to get the job done though, a roll-up pin from Falcon Kid ends up catching T-Rex off guard and allows Falcon Kid to pull off a massive victory.  After the match is over T-Rex is angry and he goes as far as to assault the referee,  While this is all going down the new man Jamie Tagataese comes out to confront T-Rex and then the two Goliath's have a staredown teasing what would be a very hard-hitting encounter.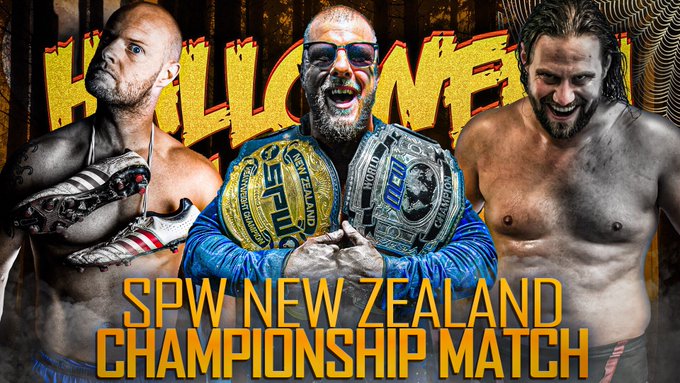 SPWNZ Championship Match
Hooligan vs SLEX vs Shane Sinclair
The main event of the evening has now arrived and the fans are on the edge of their seats waiting to see if one of two men involved here can bring the championship back home.  SLEX won the SPWNZ Championship at the Southern Rumble defeating Hooligan with assistance from Shooter Shane Sinclair.  It was this action and aligning with Professor Palmer that got Shooter Shane Sinclair added to this championship match.  The match is triple-threat but you have to defeat both of your opponents in order to come away with the championship.
To the surprise of everyone, SLEX was the first wrestler eliminated assuring that there will definitely be a new champion and the championship would be coming home.  The match comes down to Hooligan and Shane Sinclair, and the insurance policy of Professor Palmer comes in to play in order to secure the big win for Shooter Shane Sinclair and making him the new SPWNZ Champion.  This match was everything that the main event match needs to be, it was full of excitement, charisma, drama, and a new champion as well.   The championship comes back home and Shane Sinclair is on top of the mountain in SPWNZ.
SPWNZ Presents Halloween Haunting was a well-paced event where the matches and their placement on the card all felt like they belonged there. 
Matches were utilized well to really showcase the rising stars and current crop of top names as new stories begin to unfold for the entire company.  Halloween haunting 2019 makes for a very exciting and entertaining time that I personally recommend taking the time to watch.  Watching is possible by signing up for SPW On Demand through the SPWNZ website.
Not only are Halloween Haunting and other SPW events full of excellent wrestling, but they also are accompanied by some astonishing production values which are seen through their hard-working team behind the scenes as well.  So many great matches and wrestlers graced the ring for SPWNZ presents Halloween Haunting and made the entire event one that is well worth the watch.  Many props go out to the entire team at SPWNZ for the outstanding work that is being done there all the time.  Keep it up and everyone go and invest your time in watching SPWNZ presents Halloween Haunting.