It was a spectacular night at Arena Mexico this Friday as we build to their next big show "Homenaje A Dos Leyendas" (Homage To Two Legends) where Angel De Oro and Niebla Roja challenge Bestia Del Ring and the 2019 Universal Champion El Terrible to a Double Hair vs Hair match in the main event. Last week saw El Terrible win said Universal Championship tournament where CMLL gathers 16 of their various Champions, pit them in Two Gauntlet matches and the two winners face off in the Final on the third week.
Before we get started since this is the first CMLL review here, here's a couple of details. For one, the entrance ramp also has a high stage and to get down we have large stairs. Second, as wrestlers enter to commercial music (which leads to some interesting theme choices) they have cheerleaders dancing about. The entrance ramp is elevated to the ring apron as WCW and TNA had done on several occasion. Unlike WCW and TNA there's also a ton of ringside space to compensate for said elevated ramp. CMLL broadcasts live via ClaroSports.tv though it might be geolocked. They'll also tend to stream on Youtube and Facebook but sometimes they forget. All matches are best of 3 falls. Tag team matches require pinning both men to win. Trios match you either pin the team captain for the automatic win in the fall or pin the other two. Got that? It's a little tricky but it's neat.
First Match: Magnus & Arkalis vs Metalico & Hijo Del Signo. The veterans Signo and Metalico are the heels with Metalico singing himself to the ring. Wicked Norteño singing from the man. Opening matches in CMLL tend to be a waiting game for the crowd to fill in since they don't do pre-show matches but that wasn't the case here. The first fall is basic as the four take turns switching in and out and doing mat work but that breaks down quick as the heel just jump in to double team Arkalis. A Powerbomb from Signo leads to a Standing Figure Four to submit him. Metalico tries a Backbreaker off a flying Magnus but Metalico falls in a botch. He's quick to get up though and just submits him with a Reverse Figure Four to win the fall.
Second fall is extremely short as the babyfaces just mount their comeback and hit a pair of big moves to each of the heels and pin them simultaneously.
The final fall is more competetitve as the 4 exchange blows. Arkalis hits a Huracanrana on Signo on the outside for a big spot (a high spot you could say). After a short scuffle in the ring Metalico submits Arkalis with a sort of Reverse Package. (one of those famous wacky lucha submissions). Signo hits a Canadian Destroyer to Magnus to win the match.
It was a solid opener that really warmed up the crowd and had the theme of veteran heels vs young babyfaces which would happen again later tonight.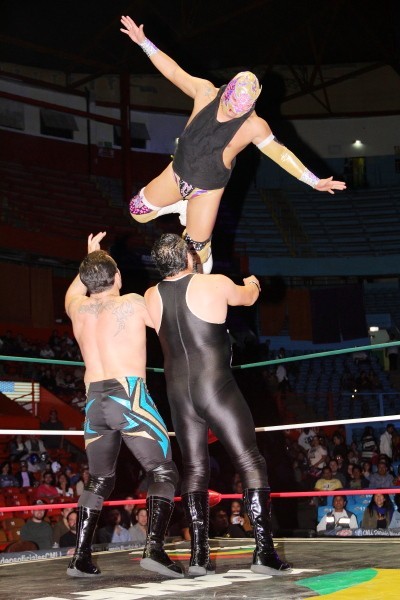 Second Match: Drone, Fuego & Pegasso vs Virus, El Sagrado & Misterioso. Much like the opening match, this is high flying babyface youngsters vs rugged, veteran heels. Fuego has made many appearances in NJPW and is best known for his great little dancing shimmie. El Sagrado comes out to "Kouen". The theme of the Akatsuki for you Naruto fans. Drone and Virus are the respective captains as they start exchanging Bow and Arrow submissions. Outside we get a big Huracanrana from Drone to Sagrado on the floor and stereo Topes Mortales (the Undertaker-style dive over the top rope). Drone tries a Moonsault but gets a boot to the face and gets pinned giving the heels the first fall.
Before we start the second fall, we cut to the crowd and recap the first fall as usual with CMLL but in the crowd you can spot a maskless Sexy Star.
Second fall starts and its time for the fiery babyface come back. The heels triple team before Drone sends Virus outside and Baseball Slides onto a Splash at ringside. Fuego pins Misterioso with La Quebrada (the Lionsault to a standing opponent) and Pegasso pins Virus with a Victory Roll for the tie.
Final fall has Drone hitting an elevated Corner Dropkick and doing push ups to show off. Fuego ducks a Clothesline from Sagrado and does his little shimmie and flies to the outside with a Moonsault but in the ring Pegasso and Drone hit Gory Specials to win the match. Another solid match here in a more fast-paced version of the opening match.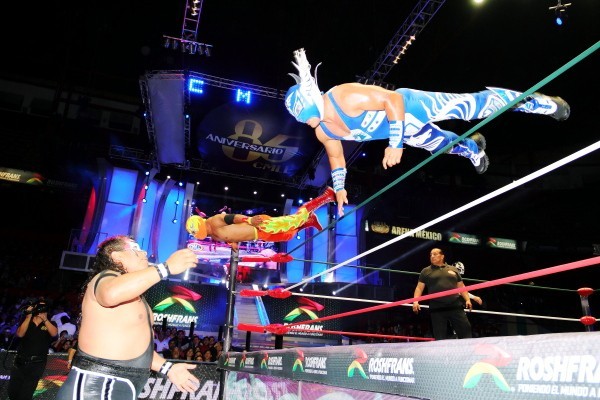 Third match: Kraneo, Volcano & NWA Historic Welterweight Champion Stuka Jr vs Shocker, Hechicero & El Felino. A quick talk about the title. As you notice, Stuka is a "Historic" Champion. Basically when the NWA withdrew from CMLL in the late 80's, rather than crown new Champions, CMLL kept them, but added the "Historic" label. Kraneo was formally known as "El Alejibre" a big midcarder in AAA in the 90's. Now he plays a very out of shape comedy wrestler. Shocker is a veteran who used to be quite amazing in the ring in the early 2000's but sadly substance abuse has caught up with him.
Stuka and Shocker are captains here as the first fall is mostly comedy. To be honest, most of the match is comedy. Felino (which translates to Feline) tries to Slam Kraneo. Silly idea. Stuka comes in for some excitement flying outside with a Missile style (his gimmick) Suicide Dive while Kraneo and tall boy Volcano squash Hechicero and Shocker to win the first fall.
The second fall has more shenanigans with Kraneo and Volcano though this time Hechicero, the more balanced wrestler for the heels, takes control of matters. He catches Stuka trying another Missile styled move, a Splash with a Bow and Arrow submission to win the fall.
The heels go full heel for the third fall attacking all at once and ripping masks to the point that Kraneo's actually falls off and everyone has to play dumb to avoid the off-script DQ that would cause. The heels throw Volcano onto Stuka and Kraneo gets pinned off a Sunset Flip to win the match. A simple stop gap to calm the crowd down for what was to come and OH BOY what indeed came.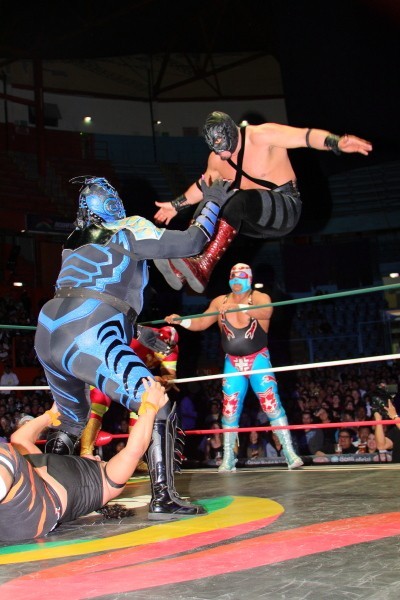 Fourth Match: Titan vs CMLL National Jr. Heavyweight Champion Barbaro Cavernario. Fourth matches on CMLL cards are dubbed "Special attractions". Normally these will be standard one on one matches but are contested under "Lightning Rules" Meaning one fall to a finish with an enforced 15 minute time limit (as in there's an ever present clock). But not this time. CMLL just told two of their best young talents to go out and have a total barn-burner. And they did.
Cavernario is tecnically a comedy character. A freaking caveman. Bone through hair, flails like a crazy person…… flips gum….. I'm not sure there was gum in the prehistoric days, but yeah. He's also an amazing wrestler. Titan, well he's a masked luchador. A great one too. The first fall is simple enough. Basic chain wrestling to warm up the crowd before Cavernario hits a Crucifix style Bucklebomb and one of his finishers, the Slingshot Splash (think Vader Bomb off the ropes) to win it.
The second fall keeps building the heat. Cavernario has his Mini second (seconds are the term used for people at ringside) Zacarias, a bird, to hit a 619 on Titan. From there he just keeps the beating coming. Throwing Titan outside. Through the crowd, drops him on the barricade. A total pounding. But suddenly Tital explodes, hits a Spinning Headscissor into a sort of Reverse Small Package for the sudden pin and the crowd EXPLODES.
The crowd is now firmly on their feet for the third fall and all of the sudden its amazing high spot after high spot. Titan flies with a Sasuke Special but Cavernario ducks. Doesn't matter though because Titan redirects with a Huracanrana. Cavernario hits a Suicide Dive through the turnbuckles a la Sami Zayn. They exchange Surfboard Stretches only for Titan to trip Cavernario to the outside for a big Asaii Moonsault. Cavernario tries the Slingshot Splash that won him the first fall but Titan saw it coming this time and boots him and covers for a massive near fall with the crowd absolutely wild. Titan goes to the well again trying a second Asaii Moonsault but repetition is a mistake and Cavernario trips him then drops from the top turnbuckle all the way to ringside with a massive Splash. He rolls Titan to the ring to try his winning submission hold, La Cavernaria, but Titan surprises him with his own winning submission El Nudo Ciego to win the match.
A match of the year contender here just as good as a Kota Ibushi vs Will Ospreay. Just an amazing display of high flying with subtle storytelling bits like moves not working more than once sprinkled in. It also masterfully displayed how to use the 2/3 falls rule to great benefit as the second fall made the crowd go from calm to suddenly explode with amazement. A definite must-watch here.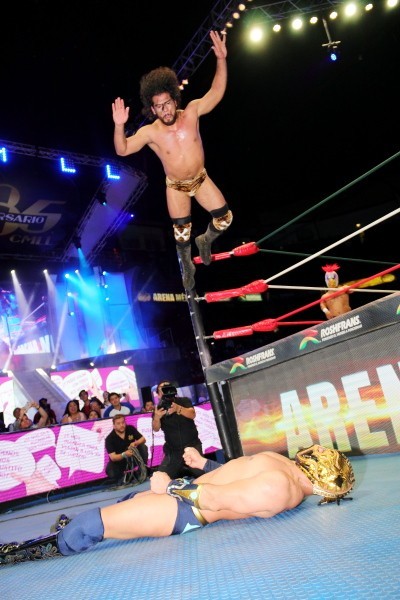 Semi-Main Event: Gilbert El Boricua, Bestia Del Ring & CMLL National Heavyweight Champion El Terrible vs Angel De Oro, Niebla Roja & Diamante Azul. From an amazing match, we go to pushing the top feud of the moment. As said at the start of this review, Terrible and Bestia del Ring of Los Ingobernables are feuding with Niebla Roja and Angel De Oro who are sick of the cheating heels and want their hairs. Meanwhile Gilbert (Mil Muertes of Lucha Underground fame) and Diamante Azul seem to be having their own budding feud.
This one goes by quick as the first fall is just Los Ingobernables and Gilbert beating on the babyfaces all over the place. They stomp Niebla Roja for so long, the referee calls for the Disqualification to end the first fall.
The second fall has Gilbert and Diamante constantly butting heads over the match and exchanging blows. Bestia pins Angel De Oro after a Cradle Tombstone but as Terrible goes to finish off Niebla Roja by climbing the ropes, Angel comes back and hits him with a low blow giving Niebla Roja the opening to win the match in a play to what Los Ingobernables have been doing to them.
After the match, Angel De Oro and Niebla Roja cut a promo asking Los Ingobernables how it feels to lose like that and remind them of their upcoming Double Hair vs Hair match.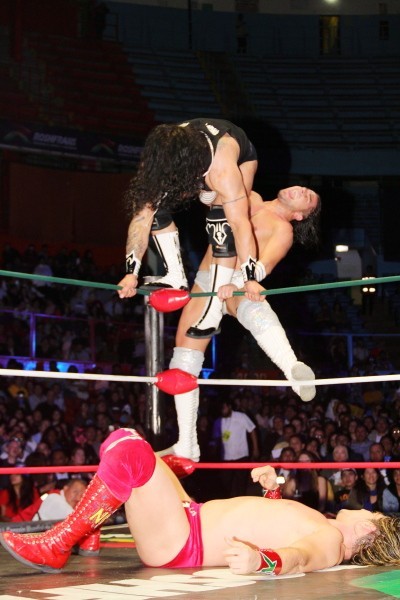 Main Event the Dream Team of Caristico, Mistico and Volador Jr vs Los Nuevos Dinamita, CMLL National Trios Champions Cuatrero, Sanson & Forastero. The Nuevos Dinamitas are the sons and nephew of Cien Caras and follow the lineage of Cien Caras' team with his brothers Mascara Año 2000 and Universo 2000. Volador is a mayor star for CMLL, Caristico is the original Mistico and original Sin Cara in WWE. The current Mistico is the brother of Dragon Lee and Rush and son of Bestia Del Ring.
The show is 10 minutes off the usual 2:20 mark of these shows so you know they're going to work fast here. The first fall is near instant with the Dream Team clearing the ring. Caristico and Volador fly with Suicide Dives. In the ring, Mistico submits team captain Sanson with La Mistica for the first fall.
The second fall has more high flying as Caristico flies with an Asaii Moonsault while Mistico and Volador go for more Suicide Dives, all at once. After a little bit of miscommunication between babyfaces, Sanson and Cuatrero return with their own Topes to the outside letting Forastero pin team captain Mistico off an Argentine Powerbomb to end the second fall.
Final fall as the heel team starts triple teaming for a long while. They get cocky though as they form a pyramid while standing on Volador (this is a common spot here) which lets Caristico come in with a Huracanrana and he mounts the comeback. Mistico runs down the entrance ramp and leaps over the ropes and into the ring with his own Huracanrana before leaping off the corner to ringside. There's a triple nearfall for the babyfaces and then, of all things, a parade of Canadian Destroyers. One after the other until the ring is cleared. Volador pins Cuatrero off a Reverse Rana and Caristico submits Forastero to win the match. A fun affair with a lot of high flying from the Dream Team but on this night, it fell short to the amazing Titan vs Cavernario match.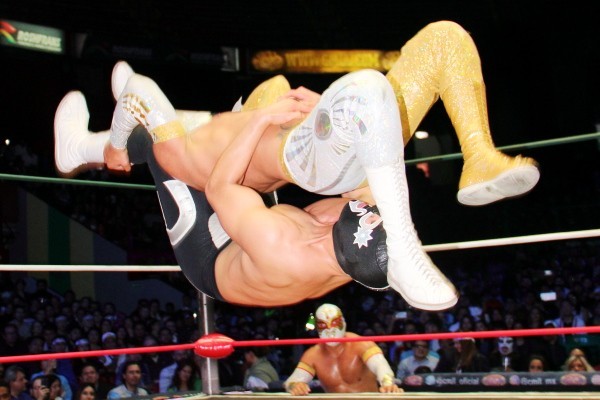 It was a very fun show this week as it had several great matches and a match of the year contender. A highly recommended one and you can watch it here.
Follow me at Twitter and Facebook.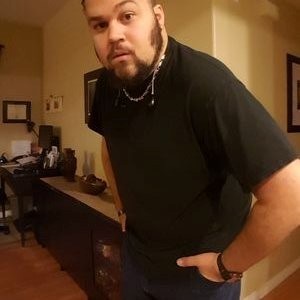 Originally written by AB Morales