Even with Christmas on the horizon, the festive season didn't stop Bar Wrestling from putting on a corker of a show with some amazing matches from start to end. Here we presented Bar Wrestling review of the show Mistletoe Can Be Deadly If You Eat It, but I really recommend you go and watch the full show to really understand how great it was!
Ray Rosas v Aaron Solow
From the get-go, it was easy to see that the crowd favourite was definitely Ray Rosas and it's pretty understandable because PPRay are a Bar favourite – you could almost feel bad for Solow! The match started off extremely quickly with counter after counter, dropkick after arm drag and some good ol' fashion knife edge chops to get the crowd excited for the show ahead. It initially seemed as if Solow may have the advantage with the height difference, but both were equally matched throughout, and both gained an advantage over their opponents at different parts of the match.
What was surprising was even though both guys are tag team specialists, they are both equally good in singles matches and it was crazy to see how fast pace the match was with a great mix of high flying and just brutal strong style. After an amazing match with reversals and a great Styles Clash from Rosas, the match ended with Rosas elbow of the top rope to give him the 1, 2, 3. This match was a great way to start of such a festive show and having Peter Avalon on commentary rooting for his tag team was an added bonus.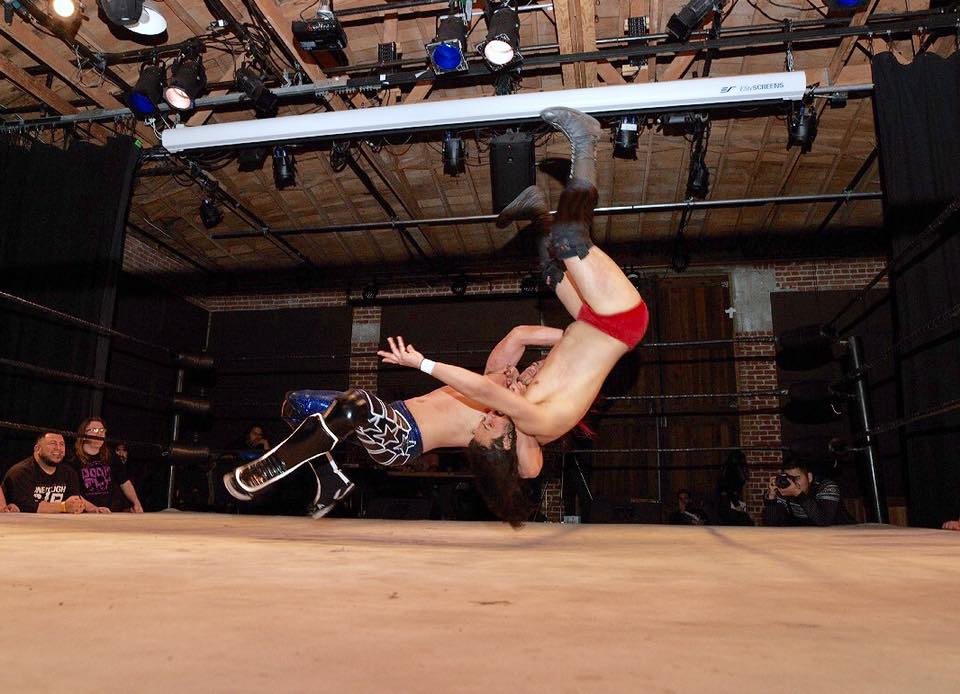 Bar Wrestling Presented Mistletoe Can Be Deadly If You Eat It
Delilah Doom v Nicole Savoy v Shotzi Blackheart
Is there going to be some bias towards Delilah Doom from DoomFly…no (but it was clear who the crowd's favorites were). There was some real excitement about this match because this triple threat was the Bar debut of Shotzi Blackheart and combined with Nicole and Doom, it was a match of differing styles and personalities which just makes a match that more exciting. We've got Doom's scrappiness and aerobic style, the strength of Nicole (from her time in Japan) and Blackheart's brutal edge.
We had each wrestler show off their best offense from suplexes, knees, chops, dives out of the ring and strikes galore and, with the math being no DQ, it just gave an added sense of unpredictability and madness to the match. Even though it was Blackheart's Bar debut, it seemed as if Doom and Nicole stood out a lot more in the match and I just wanted Shotzi to shine a bit more from the get-go. It almost seemed like she needed some time to find her feet before she really shone in this match of strong personalities and styles. Although sometimes slightly chaotic, after Savoy hit Blackheart with a TKO, it was a good but surprising way to end.
Luchasaurus v PJ Black
This match up probably excited so many Bar fans because we've got Bar favorite Luchasaurus and the worldwide phenomena Daredevil PJ Black. A lot of matches that Luchasaurus has normally seen him get the advantage over his opponents because of his size and skillset. However, PJ Black and Luchasaurus were such an equal match in terms of their strength and agility both being second to none and it was also a surprisingly fast-paced match for two guys of this size.
It almost seemed to a short match after it looked like Luchasaurus knocked Blackout, but both athletes were so dynamic that there seemed to be a lot of false finishes that had the crowd on the edge of their seats with DDT's, splashes, roundhouse kicks, and a chokeslam moonsault. Who knows what it would take to keep one of them down because neither of them had an advantage for long – it was tit for tat the entire way through. It was a massive surprise at how fast paced and high risk this match was and all it did was just make it more exciting, even with the sneak ending with Black countering Luchasaurus and rolling him up for the victory. It was definitely an amazing match and if you have time to only watch a few matches, this has to be one of them!
Bar Wrestling Presented Mistletoe Can Be Deadly If You Eat It
Killer Baes (Laura James and Heather Monroe) v RockNES Monsters
These are two of my favourite teams in Bar wrestling from Laura James and Heather Monroe's singles stuff to RockNES just being awesome RockNES and this was always going to be a fun and interesting match to watch! It initially seemed as if RockNES were taking the Killer Baes too lightly and it was all a bit of fun at the start with knees and windmills. However, Laura James soon pushed that out of their heads with her agility and speed that really rocked the Hunky one Kevin.
Then, when James and Monroe got together and showed some tandem offense, that's when the Baes became a real threat to the Monsters, especially in the corners of the rings. What I liked about this match was, after the initial hesitation, the Monsters treated the Killer Baes like any other team with backbreakers and chops galore (with a few space booty's to James in the meantime). But I think all it did was fire James up to get the tag to Monroe who used her phenomenal agility and speed to get the Baes back on top to rival the strength and size advantage of RockNES Monster's. After an amazingly brutal match, with a double space sharpshooter on the Killer Baes, the Baes got the win with a Doomsday Device and it was a great end to a great match where either team could've won
Jungle Boy v Eli Everfly
From the start, this match seemed very evenly matched except for the distinct height difference (with Jungle Boy towering over Eli) which always makes a match a lost more excited and less predictable, it was also my first-time seeing Jungle Boy fight. Both guys started off extremely fast and with a few rude hand gestures, but it seemed to start off as a tit for tat match with counter after reversal. What's so good about such a fast-paced match was the high risk with Everfly flying off the top turnbuckle, suplexes on the floor and kicks onto the neck off the steel railings (which all looked as painful as they sound).
However, we had the usual traditional kicks and chops which were traded throughout the match and meant that it was a great hybrid match that anyone could enjoy. It never ceases to amaze me seeing the things that Eli Everfly can do from the top rope and that must've made him such a hard opponent for Jungle Boy. Yet, Jungle Boy seemed to get up from whatever Everfly threw at him but, in the end after a to and fro match that had my head spinning, Everfly got the win after a crazy move off the top rope!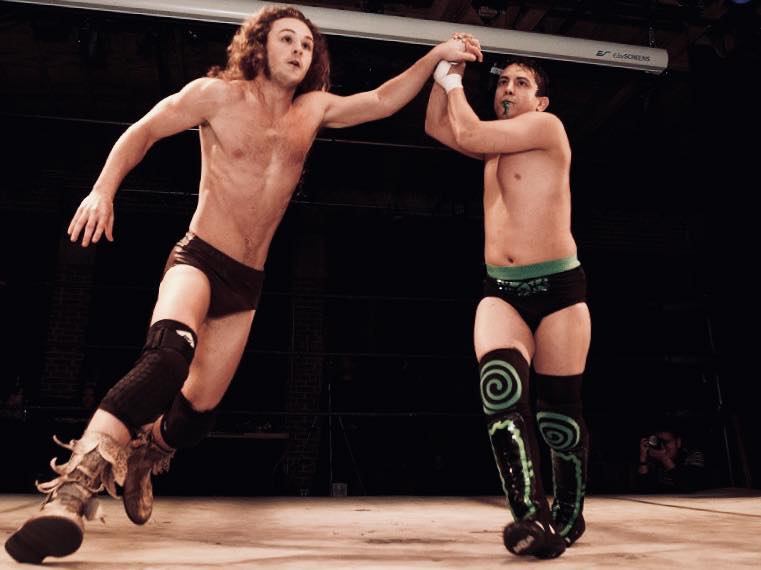 Bar Wrestling Presented Mistletoe Can Be Deadly If You Eat It
Wakanda Vice (Scorpio Sky and Watts) v Violence Unlimited (Brody King and Tyler Bateman)
What a match with some of the best athletes in the business and definitely favorites of Bar Wrestling crowds. The match started with the unorthodox Tyler Bateman and the athletic Scorpio Sky. Bateman tried playing some mind games and using his strength against Sky with some chops and waist locks. However, this is SCU and Scorpio Sky isn't one of the best athletes around for no reason. Also, you can tell that Wakanda Vice's tag team chemistry has improved so much (and could rival Violence Unlimited) and once we have Watts and King in the ring together, it's the battle of the big, mountain men (those chops at the start echoed through that room).
One thing that gave Violence Unlimited what seemed like advantage was that they're brutal men who don't care how they get things done as long as it gets done, they also knew to keep an exhausted Sky in the ring rather than allowing him to tag in the big man Watts. However, never count out Scorpio Sky and by tagging in a fresh Watts, suddenly Wakanda Vice had the advantage and it's still amazing seeing a man of Watts's size jumper that top rope. So, after an amazing match with 4 amazingly diverse athletes, Wakanda Vice hit their double team move which I can't even describe and picked up the win!
Obviously, we were meant to have Brian Cage v Chris Ridgeway, but this couldn't happen which was a shame. However, that's why we saw a singles match between Eli Everfly and Jungle Boy rather than the tag team match between DoomFly and Shotzi Blackheart and Nicole Savoy. Hopefully, we can see this match one day, but it didn't take away from what was an amazingly festive and high-quality wrestling match. Also, having Peter Avalon on commentary throughout was a great present for Christmas and I'd love to hear him on it again, but obviously PPRay all the way.
This show is a perfect example of why Bar Wrestling is so special and hopefully this review will persuade you to go and watch the promotion! So if you're in the LA area, go and watch the show or catch them on-demand at https://barwrestling.pivotshare.com/ or apps like Powerslam TV for the latest shows!