Remembering the Dream Warrior on National Indigenous Peoples Day. I can't even remember the year. I'd guess about 2002 – in the dead of winter. It was night. I was driving a rear-wheel, two-door, brown 1980-something on the Trans-Canada Highway in the middle of an ungodly snowstorm.
In the passenger seat was a near-300 lb. (OF MUSCLE!) An indigenous wrestler named Dream Warrior. We were in a car that we borrowed just for this trip. We wrestled in Portage la Prairie earlier that day, a small town just outside Winnipeg, Manitoba.
At the time, there weren't a lot of First Nation wrestlers in Canada – at least that's how it felt. Off the top of my head, there was me, Dream Warrior, and of course, The First Nation Sensation Wavell Starr. I checked in with Wavell when I began writing this article. Wavell and the Dream Warrior were good friends.
Remembering the Dream Warrior
"Mel was like a brother to me," Starr said. Dream Warrior, whose real name was Mel McGhee, was a close friend of Starr for 20 years. "I was very impressed to see another Indigenous athlete in such good shape," Wavell recalls. The Dream Warrior did have big plans for his wrestling career, but as Starr says, "His wrestling goals were nowhere near as important once he became a father."
Trained in Minneapolis by Brad Rheingans – a decorated amateur wrestler who had pro stints in AWA, WWE, and NJPW – Dream Warrior had the look and the ability to make a run in some of wrestling's larger companies as well. It is said that Dream Warrior turned down a WWE offer to focus on his family.
"He wasn't one of those guys that went out there and tried to do 100 different moves, but the moves he did, he did really well. He knew exactly how to build up to them and get the most crowd reaction out of every movement,"
Starr describes. Dream Warrior's character was almost exclusively babyface, and he always made sure he had time for the fans.
My own personal memories of Dream Warrior often bring me back to that night on the highway, driving in a snowstorm with him. If you've ever driven on a highway in a snowstorm in the night, you'll know that you only see two colours: the black of night; the white of snow. It basically looks like you're flying at warp speed in space as the snowflakes streak towards your windshield in the glow of the headlights.
"Aww f**k. I always knew I was gonna die on the highway,"
Dream Warrior said. He repeated this phrase a few times as I drove him through the black and white. I could tell he was on edge. Normally, the Warrior was always laughing and enjoying himself. He was doing neither of those as he sat in the passenger seat.
The few times I was lucky to step into the ring with the Warrior, I immediately elevated in status. Right from the lock-up, he wrestled at full speed. I don't mean he was too fast. I mean that if you weren't in shape and ready to go, his intensity in the ring brought you up to his level pretty quickly – simply as a survival mechanism.
That intensity in the ring was different from the intensity we both felt driving on the snowy highway. As we drove in the night, I could see a sanding truck in the rearview mirror. The orange siren lights provided comfort, knowing that I could pull over to drive behind it on a fresh layer of sand as opposed to a layer of ice. That moment of comfort did not last.
With a subtle turn of the wheel to pull over, the car lost control. We then slid across the solid yellow line dividing the traffic. Then we both stared blankly into the windshield, not saying a word hoping not to see a pair of headlights coming towards us in the whiteout.
We hit a bank, and for a moment, we felt airborne before crashing into a snow-filled ditch. "Are you OK!?" Warrior said. Aside from the shock, I was fine. At the time, I'd only been wrestling for a couple of years. But the Dream Warrior was already a seasoned veteran and road warrior.
Warrior got out of the car and began walking towards the highway. I didn't know what else to do, so I followed him. I remember stepping onto the asphalt and realizing it was a couple of inches of ice, and I watched him walk across the road and wave down an oncoming van.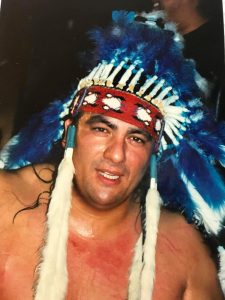 Remembering the Dream Warrior on National Indigenous Peoples Day
To my surprise, the van pulled over. I'll never forget the words I heard from the driver's seat. "Mel! Mel McGhee is that you!? What the hell are you doing on the highway?!" The driver was a friend of the Warrior; they hadn't seen each other in years. Reunited on the highway, just in time for us to jump in the warm van and catch a ride to the town of Moosomin, Sask.
His friend Wavell remembers a time they were both following a wrestling promoter to a show. The promoter took a wrong turn and ended up in the wrong First Nation community. "The place we were supposed to be was an hour and a half away," Starr says.
"We were already cutting it close."
When they got to the proper community, the venue was packed. Starr and the Warrior began helping set up the ring, and the fans joined right in to help. Perhaps it was the fan help, or perhaps it was just an old weld, but the ring didn't last the length of the show. "Mel dropped a leg across the arm of Massive Damage, and the ring broke!" Wavell says with a chuckle. "All we could do was laugh it off and finish the show." Despite the issues, the fans went home happy.
That's how the Dream Warrior is remembered by those who knew him. He was always willing to make the best of a tough situation. He didn't let the negativity slow down his drive to solve a problem.
On September 23, 2016, The Dream Warrior passed away. Many of his peers in the wrestling community didn't know he was battling cancer because he wanted to fight that battle on his own. "Mel was like a big brother to me. His passing hit me quite hard," Starr says. "Whenever I saw Mel, he'd tease me and say, 'Relax, man! Geez! You're so wound up!' and he'd laugh at me."
It is so fitting to end this article with his laughter because those who knew him, can't help but remember his spirited laugh.
Thank you for reading as we are remembering the Dream Warrior on National Indigenous Peoples Day.