Remembering Brodie Lee
The day after Christmas, I finished snow blowing and shoveling around our house. I undressed from my winter clothes and sat on my couch. Was ready to treat myself after digging my family out from the latest snowstorm to hit our area by drinking some hot tea provided by my wife and watching some football for the rest of the night.

I decided to check my phone as I saw some alerts popped up while I was outside. Seeing that I received two text messages from friends and a slew of Facebook messenger notifications. They all said the same thing.
It took me completely off guard, as I imagine it did for most of the wrestling community. It was incomprehensible at first. Brodie? This could not be true. I immediately went into a denial because it made no sense to me. Even during a year when not much actually did.
So I checked out Facebook and Twitter and saw many legitimate sources confirm the terrible news – he indeed passed away. I began to mourn, but I still remained puzzled. I just could not comprehend what occurred. How could Brodie, a man who seemed in the prime of his life, who seemed to have so many great things going for him, suddenly pass away? It did not click for me.
As the news spread, so started the memorializing of Brodie's life. From the top stars of the wrestling business to those that knew him from his roots in the Upstate New York independent wrestling scene. It was immediately obvious that Brodie left a highly positive impact on the lives of everyone he encountered in our profession.
Remembering Brodie Lee | The Jarkaster Journey
The outpouring of stories and praise he received from so many people was beautiful to see. But at the same time, so sad. It hurt knowing that such a wonderful person that brought so much happiness into this world was now gone.
I began to think about his interactions with me. I was not as close to Brodie as other people in the Western New York wrestling scene were to him. However, I was lucky to work with Brodie several times before he signed with World Wrestling Entertainment. The times I shared with him were also memories, likewise, with many others in wrestling.
Brodie was very congenial. Even if you were not one of his tight friends, his warm demeanor made you feel like you could be one of his good buddies. This carried over into how he planned his matches, as he was easy to work with. His matches were also learning experiences for me. As in why things are done a certain way, how doing something one way can create a certain effect, etc.
Throughout this piece, there will be some YouTube videos of Brodie Lee matches I refereed. Here's one I refereed from 2009…
Outside of laying out matches, I remember talking to him about sports a good amount. He was a big hockey fan. There was no need to ask Brodie who his favorite hockey team was. You knew by the Toronto Maple Leafs gear he wore all the time. I nearly broke down when I noticed the Leafs posted a tweet regarding his passing. I bet he is so happy to be acknowledged by his favorite team. And then the following day, by his favorite player, Doug Gilmour.
Remembering Brodie Lee | The Jarkaster Journey
Brodie also enjoyed talking about football. One time during a pre-show meeting, he kept trying to debate that Tim Tebow was better than Ryan Fitzpatrick. During this time, he would occasionally do the Tebow prayer pose in the middle of his matches. We were both in some of the same fantasy football leagues, as well.
Another fun memory was when we worked a show that was filled with several matches featuring wrestling legends versus Canadian indie wrestlers. We sat on the balcony and watched "All Ego" Ethan Page face Bushwacker Luke in a singles match. We were both amazed to see Bushwacker Luke hustle in the ring that night. Bushwacker Luke epitomized being a "bump factory" by taking all of Page's offense as if he was half his own age. And the match went much longer than we anticipated. We both got a kick out of it.
Another quality that Brodie exemplified was humbleness. Despite being the top wrestler in the Western New York indies, he still did ring crew at the end of the night. If anyone did not need to help with teardown, it would have been him. But he insisted on carrying boards like a greenhorn. This also showed his willingness to help people out without wanting anything in return. I remember seeing him on numerous occasions talking to younger wrestlers after their matches giving tips and encouragement. He did not need to care as much as he did, but he did so anyway.
How well Brodie treated everyone at shows, regardless if you were a wrestling legend or just a student looking to break into the industry, reminded me of what an old friend once told me.
"Good things happen to good people."
Remembering Brodie Lee | The Jarkaster Journey
As simple as the saying is, it felt so true when Brodie signed with WWE. To this day, I feel his earning of that opportunity was not based on his immense in-ring talent alone. But also due to possessing the best attitude possible outside of the squared circle.
Everyone locally rooted for Brodie when he reached the big time. He was an inspiration for all of us in Western New York. Not only because he was the best between the ropes out of everyone, but also in how hard he worked to get there and doing it with such great character. In many ways, this runs counter to how many people in the business conduct themselves. Unfortunately, there are still those who attempt to achieve their means by backstabbing others. Lying, using circus carney tactics, acting underhanded, and being overly cynical. He proved that none of these negative attributes were necessary in wrestling. That good people do indeed make it to the top.
After signing, I did not see him again for several years until he hosted a seminar at the Grapplers Anonymous wrestling school in late 2018. I was the referee for several practice matches in which he gave feedback to each of the wrestlers involved. Afterward, there was a long question and answer session. Brodie gave a lot of good, honest advice on what is needed to reach the highest levels of the wrestling business. Once again, this was not something he needed to do. He was out of action due to injury and wanted to be around wrestlers again in a positive atmosphere. This is another example of his unselfishness. This would be the last time I ever saw him in-person, as well.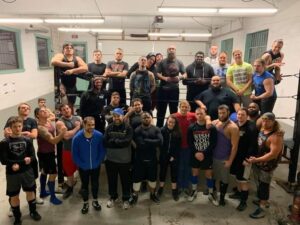 Remembering Brodie Lee | The Jarkaster Journey
Thinking about all this makes me proud to have known such a nice individual. But at the same time, it breaks my heart. I cannot fathom how sad his close friends and family are feeling now. In the long run, I only got to know him in several relatively brief stints and came away with a profound respect for Brodie. I imagine the bonds between him and those that knew him better were very strong. I sympathize greatly for their loss. You could tell how much he loved his family and that he enjoyed fatherhood immensely based on the number of pictures of his children he posted online. The grief they endure must be incredulous. My heart goes out to all of them.
Thus it is very heartwarming to see so many people step up to help his family. Like All Elite Wrestling giving one of his sons an actual contract. To CM Punk and Mick Foley giving proceeds of their tee-shirt sales to the family. Through tragedy, we tend to see the good come out in others. Especially in the wrestling community uniting to help Brodie's family in the wake of such difficult times.
Now that some more time has passed and things begin to sink in more, I started wondering about the next steps in commemorating Brodie's life. What is the best way to honor Brodie's legacy? How can we ensure that his memory lasts for generations to come?
Remembering Brodie Lee | The Jarkaster Journey
The best way to see that Brodie is remembered is maybe through something that is not tangible at all. I think the most important thing to do is preserve his spirit through the way we live our lives. By treating everyone as they are your friend. By respecting others for who they are. And by helping each other unconditionally. By encouraging others to succeed in life. Oftentimes, the cold, hard world we live in tends to make us forget these ideals. But if we can hold ourselves to the same standards of kindness and being nice to our fellow human beings as Brodie did, we can make our individual lives and those of the people around us better and happier. And it would all be in the name of Brodie Lee.
Happy trails, Brodie. We will all miss you, but we will not forget you.