Redwing regains Magnum Pro Title At Anniversary Volume X.
For Redwing, "The Barbarian," revenge was served inside the confines of a steel cage last night. In the main event of Magnum Pro Anniversary Volume X, Redwing won back the Magnum Pro Championship. Defeating the man who took the title from him back in October, TJ Benson.  Redwing's path to victory wasn't an easy one as "Bad Boy" Benson did everything in his power to keep his grasp on the title. Benson and his ally Damien Saint attacked the challenger during his entrance. Hoping their sneak attack would give Benson an added advantage once inside the cage. 
________________________
The dastardly duo proceeds to throw Redwing against the cage multiple times, and they unleashed a bevy of kicks to the former champion. Redwing finally stops the onslaught by throwing both his enemies face-first into the cage. With Saint temporarily dispatched, the two competitors finally step inside the cage.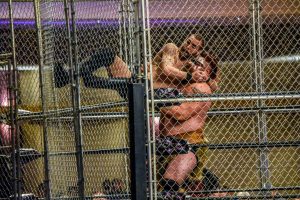 Redwing Demonstrates His Incredible Strength
Redwing shows off his brute strength early, hurling Benson around the ring. Not to be outdone, Benson, who is also an MMA fighter, shows how comfortable he is inside a steel cage, using the cage walls to pull off multiple moves. Highlighting this offense is a beautiful cage assisted bulldog. 
Eventually, Benson makes his way up the cage in efforts to escape and emerge victorious.  However, Redwing thwarts this escape attempt before suffering a powerbomb from the top turnbuckle.  With his challenger down, Benson once again ascends the cage. Instead, this time, he doesn't try to escape. From the top of the cage, Benson takes a risky leap, which proves costly as Redwing moves away just in time. Now Redwing uses the cage as a weapon, repeatedly slamming the champ back first into the steel mesh. 
Returning the favor from earlier in the match, Redwing power bombs Benson from the top turnbuckle after the champs Frankensteiner attempt is reversed. The tide continues to shift back and forth between these two warriors. Each holding the advantage throughout.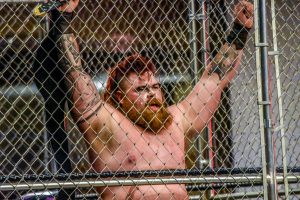 Redwing Regains Magnum Pro Title
At one point, Benson removes his shoes and knee pad in an effort to unleash maximum punishment with his kicks. Benson even hits an impressive German suplex on the much bigger Redwing. The two find themselves scaling the cage once again. Redwing gains the advantage with a plethora of head butts that leave the champion on dream street at the top of the cage. From here, Redwing power slams Benson from the top turnbuckle eliciting a boisterous ovation from the crowd. A simple three count later, and Redwing is once again the Magnum Pro Heavyweight Champion. 
After the match, Benson and Saint return to the locker with their tails tucked between their legs as Redwing embraces the adulation of the crowd inside the confines of the steel cage.