The night of Sunday, April 25th, promises to be a historic one as IMPACT Wrestling presents Rebellion 2021. The stars have aligned in time for the culmination of Tony Khan's promise to open "The Forbidden Door" between IMPACT Wrestling, AEW, and NJPW. Sunday night, we will see stars from all three promotions battle not only for honor but for championship gold. Such an astounding collection of talent could only come live on PPV. Here, we break down the card for this historic wrestling event.
______________________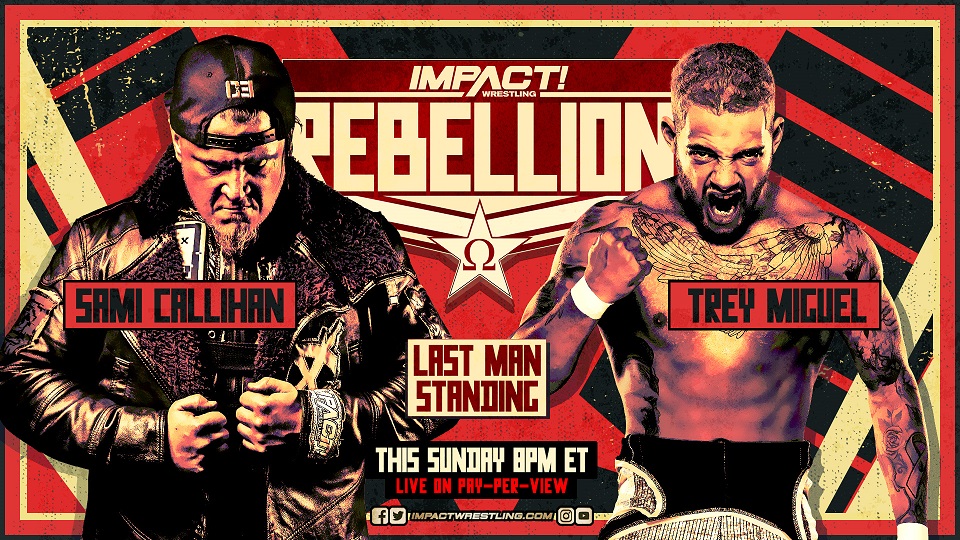 Rebellion 2021
Sami Callihan vs. Trey Miguel
– Last Man Standing
On January 26th, Trey Miguel returned to IMPACT Wrestling to help Rich Swann, Tommy Dreamer, and Willie Mack take on Moose, Sami Callihan, Ken Shamrock, and Chris Bey. A few weeks later, Sami Callihan called out Trey Miguel about his respect for the locker room. Callihan said that Trey left not because The Rascalz left but because he was losing. On March 2nd, Callihan invaded Trey Miguel's wrestling school and brutalized his students. On March 16th, Sami Callihan and Trey Miguel met in an intense main event, with Callihan coming out on top.
Then, Trey and Sami teamed up to defeat XXXL in tag team action on April 8th. Last week, Sami Callihan asked Trey to join forces, but Trey refused, leading to a vicious in-ring brawl. On Sunday night, Sami Callihan and Trey Miguel are going to settle the score once and for all in a last-man-standing match.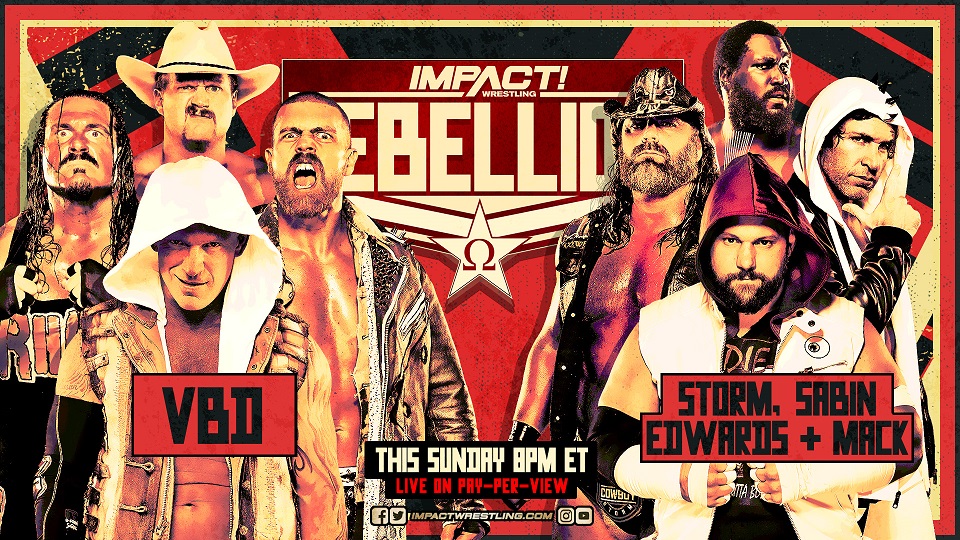 Rebellion 2021
Violent By Design vs. Eddie Edwards, Willie Mack, Chris Sabin, and James Storm
Since Turning Point on November 14th, Eric Young and Joe Doering have been wreaking havoc on IMPACT Wrestling. The duo has gone wherever they wanted and brutalized whoever they wanted. Clearly, their actions had a significant measure of appeal, as their group has expanded to include the former Cody Deaner and Rhino. At Hardcore Justice, Tommy Dreamer, Eddie Edwards, Willie Mack, and Trey Miguel stepped up to put an end to VBD's reign of terror.
After winning the match, Violent By Design assaulted IMPACT Wrestling commissioner Tommy Dreamer. Last week, Eddie Edwards and Willie Mack called out Young for attacking Dreamer. Eric Young came out flanked by the rest of VBD, who circled the ring. As it looked like Edwards and Mack were going to be VBD's next victims, Chris Sabin and James Storm came to the rescue. On Sunday night, Eddie Edwards, Willie Mack, Chris Sabin, and James Storm step up to put away Eric Young and Violent By Design once and for all.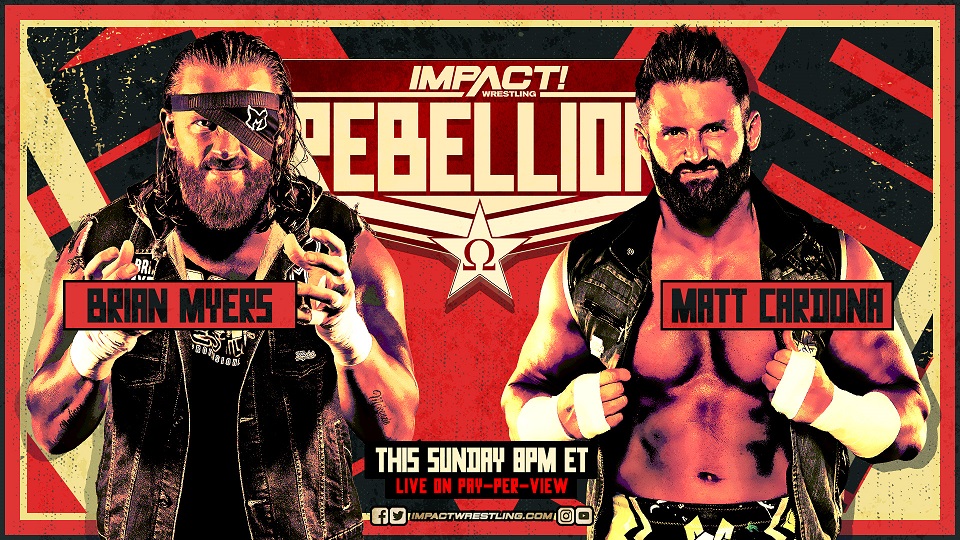 Brian Myers vs. Matt Cardona
Brian Myers and Matt Cardona have been on a collision course ever since Cardona debuted at Hard To Kill. When Cardona debuted, Myers was racking up a winning streak, but that all ended when Myers had to face Eddie Edwards. On March 2nd, Myers faced Edwards in singles competition with Cardona as special guest referee. During the match, Myers clocked Edwards with a foreign object before going for the pin. As Cardona went to count the fall, he saw the evidence stashed in Myers' elbow pad.
Following the match, Brian Myers accused Matt Cardona of following him to IMPACT Wrestling to steal his spotlight. Cardona responded by challenging Myers to a match, which Myers did not hesitate to decline. The next week, Matt Cardona faced Jake Something when Myers arrived to layout both competitors and officially accept the challenge. Sunday night, former best friends and WWE Tag Team Champions face off to determine the stronger athlete once and for all.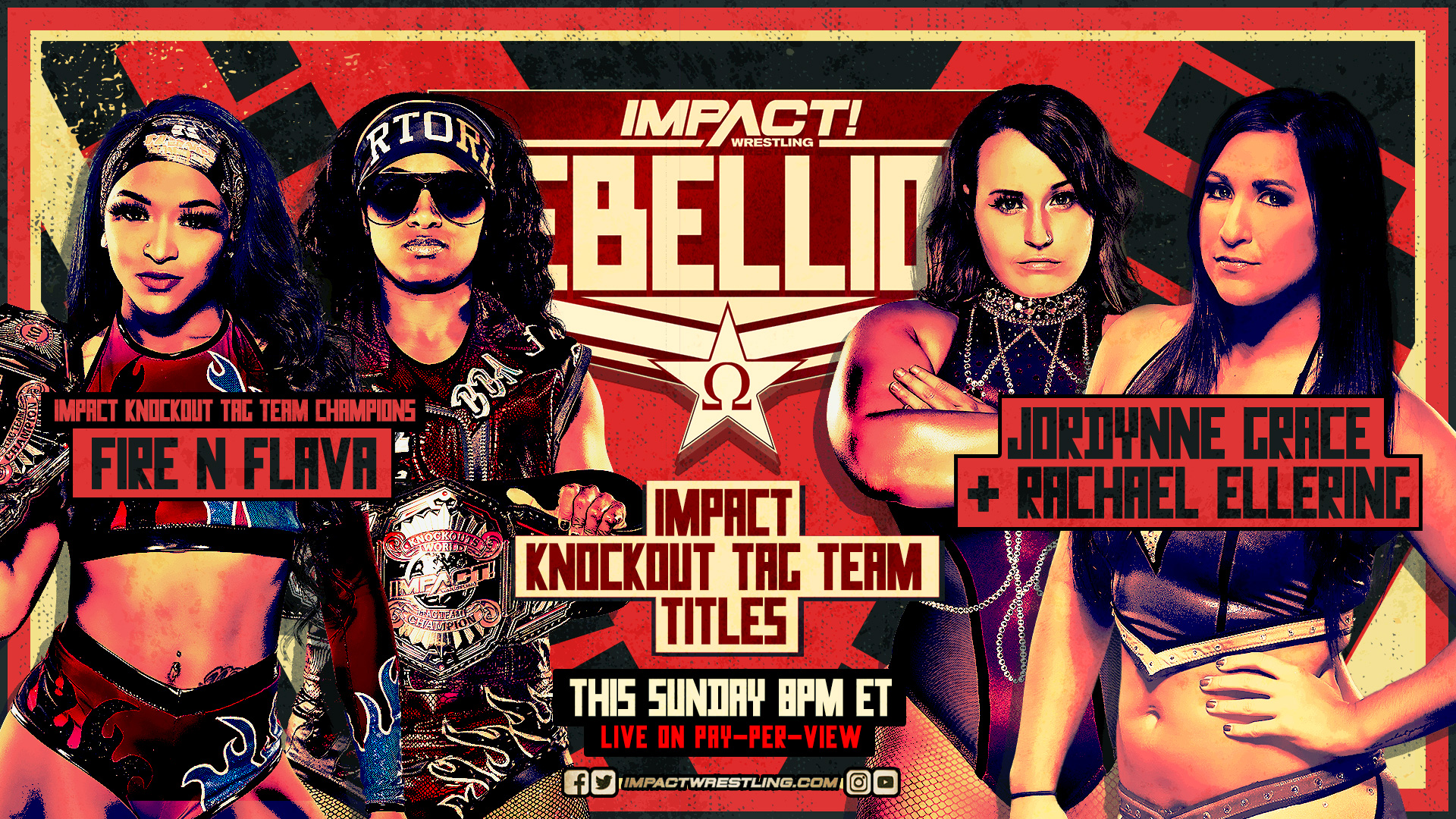 Rebellion 2021
Jordynne Grace & Rachael Ellering vs. Fire 'N Flava (c) – Knockouts Tag Team Championships
On last week's episode, IMPACT Wrestling said farewell to the retiring Jazz. While the WWE/ECW legend made her farewell speech, Tasha Steelz and Kiera Hogan arrived to steal the spotlight. The Knockouts Tag Team Champions insulted Jazz for failing to live up to her promise to retire on top. This lead to an impromptu tag team match between Fire 'N Flava and Jazz & Jordynne Grace. In the end, Jazz pinned Tasha Steelz, officially retiring, having beaten the champions.
This week, Executive VP Scott D'Amore offered Jazz & Grace a title match at Rebellion; however, Jazz held to her word, staying retired. However, Jazz offered to find her partner a suitable replacement. This week, Jordynne Grace took on Kiera Hogan in singles action, with Tasha Steelz coming in to assist in a beatdown. When things looked darkest for Jordynne Grace, we witnessed the debut of Rachael Ellering in IMPACT Wrestling. Sunday night, Jordynne Grace and Rachael Ellering take on Fire 'N Flava for the Knockouts Tag Team Championship.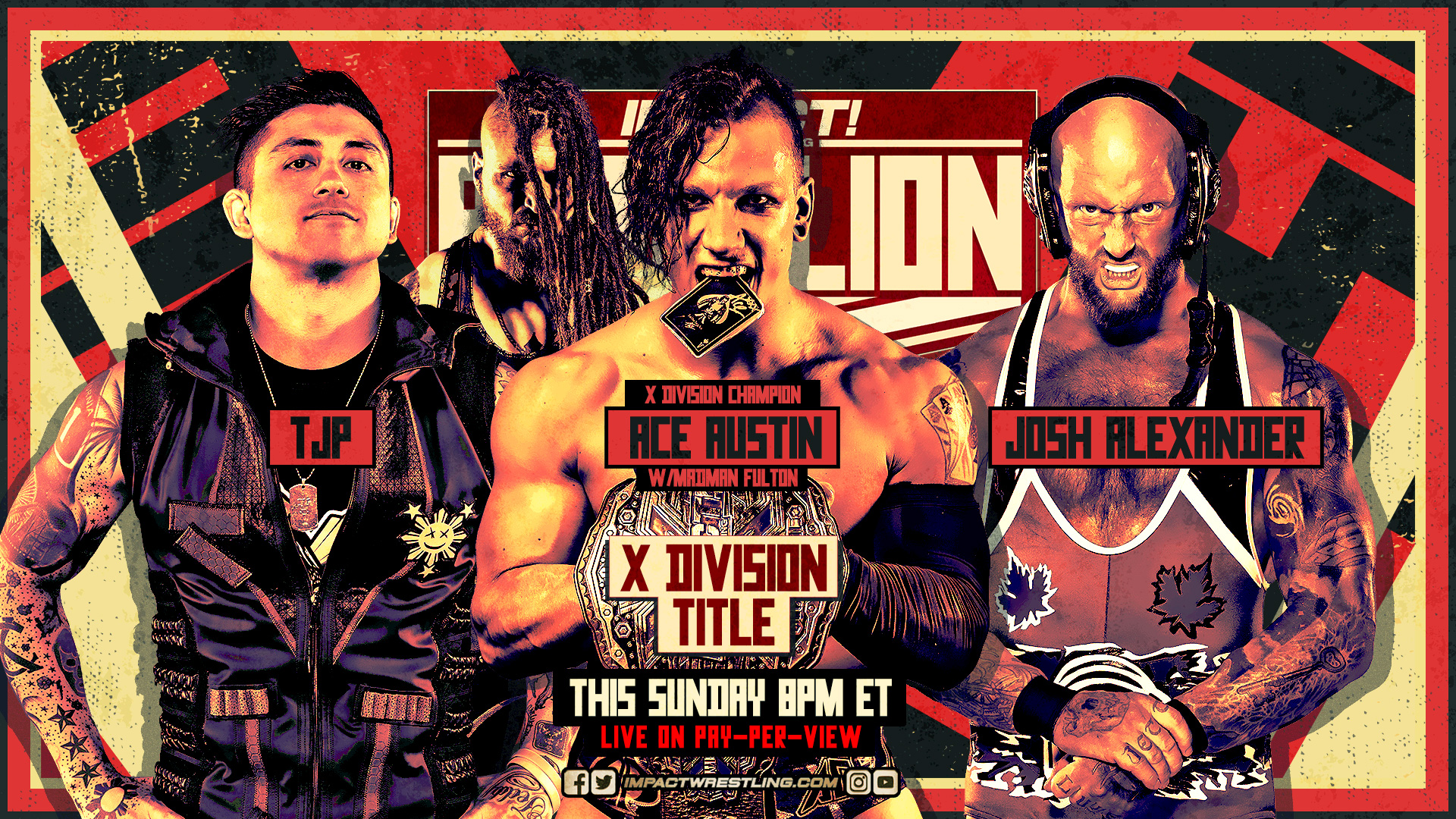 Rebellion 2021
TJP vs. Josh Alexander vs. Ace Austin (w/Madman Fulton) (c)
– X Division Championship
After Ace Austin captured the Super X Cup at Genesis, it was only a matter of time before he captured the X-Division Championship. At Sacrifice, he finally got his match with TJP, unseating the champion. However, at this time, Josh Alexander started showing up more and more in the conversation around the X-Division. With Alexander's star rising, he challenged TJP a number of times, finally defeating him on April 15th. However, having lost the title to Austin at Sacrifice, TJP's rematch clause is still in play. As such, Scott D'Amore announced that Ace Austin would defend against both TJP and Josh Alexander at Rebellion.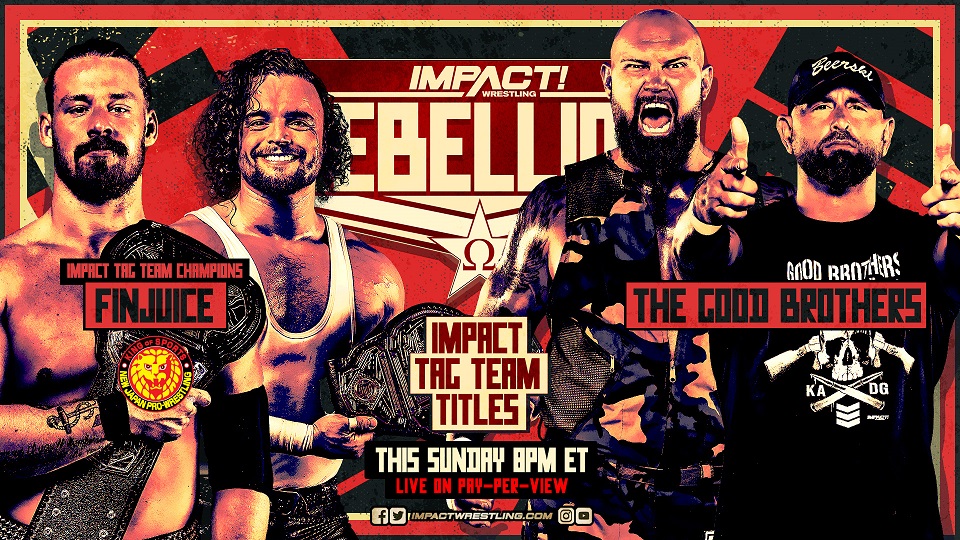 Rebellion 2021
The Good Brothers vs. FinJuice (c)
– IMPACT Tag Team Championships
When Tony Khan announced that he had opened "The Forbidden Door" nobody expected NJPW talent to arrive in IMPACT Wrestling. But at No Surrender, we learned that David Finlay and Juice Robinson were on their way. When FinJuice arrived on February 16th, they wasted no time picking a fight with The Good Brothers. The two teams clashed for the IMPACT Tag Team Championships at Sacrifice on March 13th, with FinJuice capturing the titles.
Since then, David Finlay and Juice Robinson have been busy overseas with NJPW. As such, former champions Doc Gallows and Karl Anderson couldn't invoke their rematch clause. Gallows and Anderson have been practically beside themselves over this, snapping at anyone who brings it up. On Sunday night, they finally get their rematch, but will they be able to reclaim the IMPACT Tag Team Championships?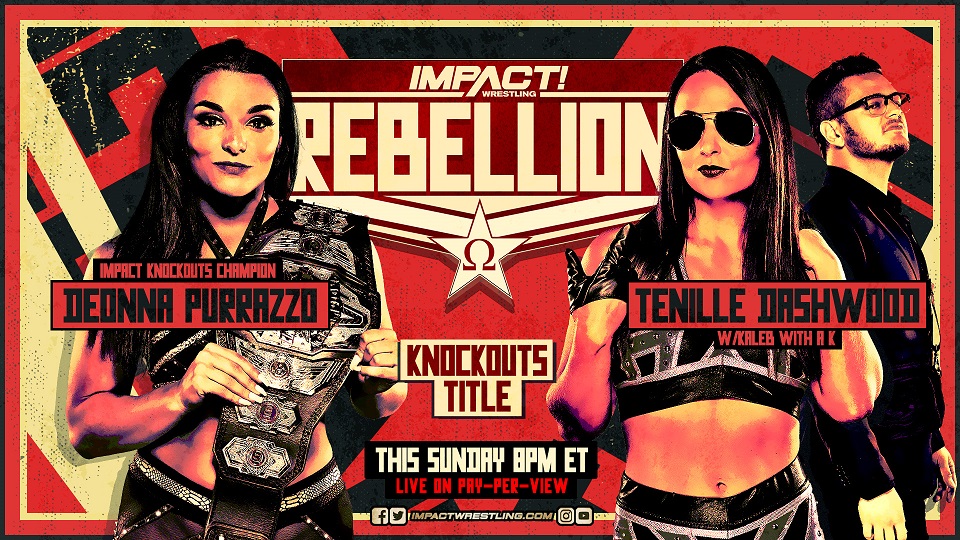 Rebellion 2021
Tenille Dashwood (W/Kaleb with a K) vs. Deonna Purrazzo (c)
– Knockouts Championship
Since she captured the Knockouts Championship at Slammiversary last year, Deonna Purrazzo has held onto that title by hook or by crook. It started when she clocked Jordynne Grace with the belt to secure the final fall in their 30-minute Ironwoman match at Emergence. Then it grew to incorporating a crew of loyal henchwomen, namely Kimber Lee and Susan. Indeed, it seems like The Virtuosa has become something of a Triple H figure in IMPACT Wrestling.
At Hardcore Justice, Tenille Dashwood defeated Alisha Edwards, Jordynne Grace, Havok, Rosemary, and Su Yung in a 6-woman hardcore match to become the #1 contender. For the first time in a long time, it appears as though we have a level playing field for a Knockouts Championship match. While Purrazzo has her lackeys, Tenille Dashwood tends to bring her personal photographer, Kaleb with a K, to ringside. Kaleb has often interfered in matches to Dashwood's advantage.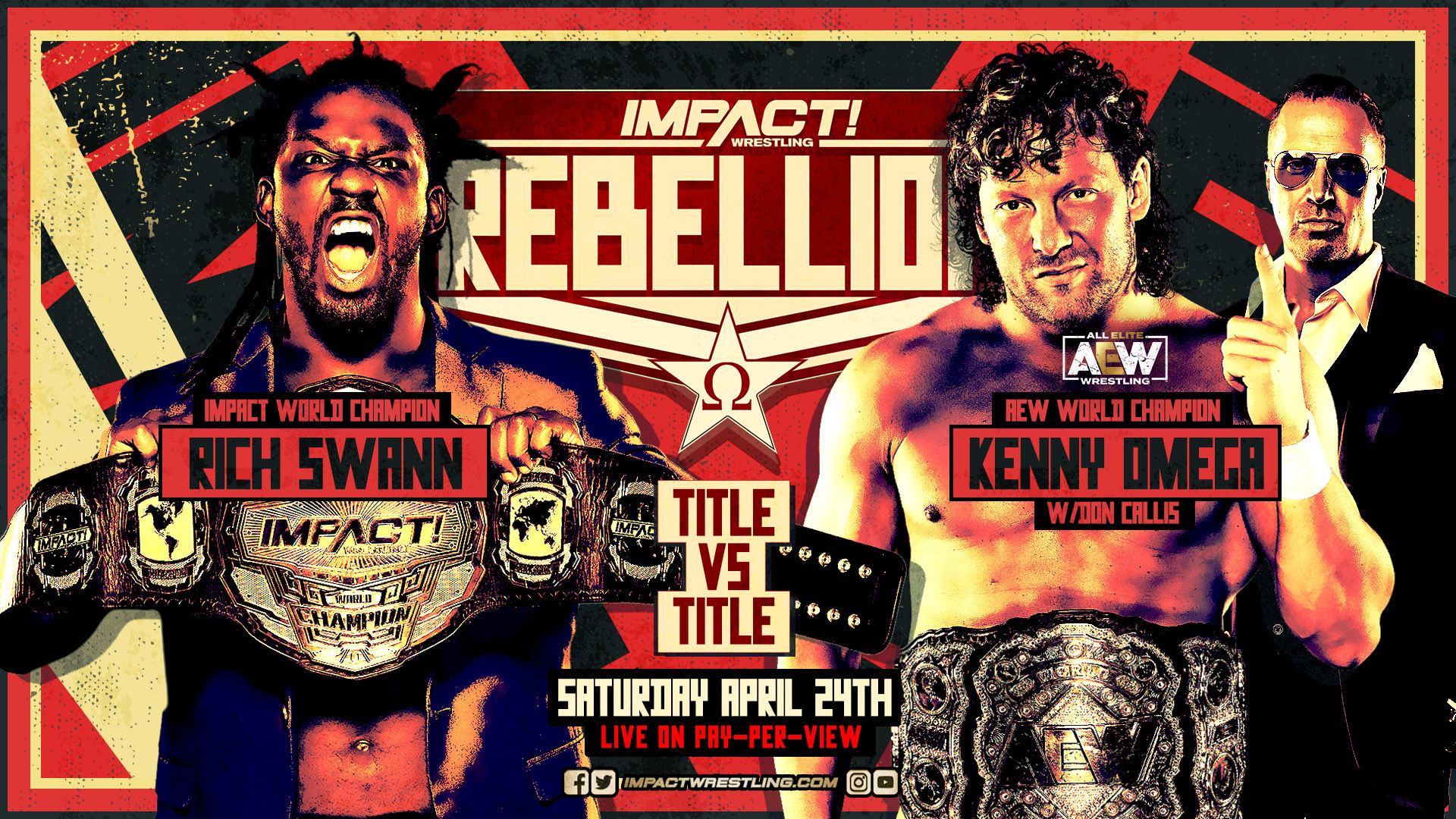 Rebellion 2021
Rich Swann (IMPACT) vs. Kenny Omega (AEW)
– Title Vs. Title
This is it, the moment we've all been waiting for since Tony Khan announced he would open "The Forbidden Door." Back in December, Kenny Omega arrived in IMPACT Wrestling, announcing his intentions to become both AEW and IMPACT World Champion. However, before he could challenge IMPACT World Champion Rich Swann, there was some controversy to clear up. Since Rebellion in 2020, Moose had been walking around with the old TNA World Heavyweight Championship, claiming he was the best wrestler in IMPACT.
On March 9th, Scott D'Amore made the decision that Rich Swann would face Moose in a title unification match at Sacrifice. And then, D'Amore announced that the winner of that match would go on to face Kenny Omega in the main event of Rebellion. On Sunday night, Rich Swann will defend not only the IMPACT World Championship but the very honor of IMPACT Wrestling when he faces AEW Champion Kenny Omega with both titles on the line.
*****
Be sure to stay tuned to the Pro Wrestling Post for this and additional stories from the wrestling world. Readers can rely on Pro Wrestling Post to be their daily source for all things inside the squared circle. As a result, readers can expect daily news, history, and so much more. Please visit IMPACT Wrestling's official website here for news and information on the promotion and upcoming events.