Monday Night Raw opens with Kevin Owens coming down to ringside. They air a video package of what's been happening lately with he, Seth Rollins and the AOP. Kevin says he's got a few things to get off his chest tonight but before he can get started, he's interrupted by Mojo Rawley. He tells Kevin that what he should be doing is apologizing for embarrassing him on Raw a few weeks ago. After refusing to apologize, he tells Mojo they have a no DQ match up next. Rollins is set to face Mysterio later in the evening.
Kevin went on the offensive early; he dumped Mojo outside the ring and attacked him before throwing several chairs into the ring. He grabbed a table as well but Mojo cut him off before he could get it set up. Rawley then went on an onslaught himself, nailing Owens with several chair shots to the ribs and back. He set up four chairs and launched Kevin from the top rope right on top of them. Frustrated, Mojo eats a superkick before Owens hit a Stunner in the middle of the ring. Kevin wasn't finished there; he set a table up in the ring and hit a Popup Powerbomb through the table for the victory.
He's in a FIGHTIN' mood…

So what's it gonna be @WWERollins @Akam_WWE @Rezar_WWE?! #RAW @FightOwensFight pic.twitter.com/Q6KV9VeKPE

— WWE Universe (@WWEUniverse) December 24, 2019
After dispatching Mojo Rawley, Kevin grabbed a mic and demanded that Seth Rollins and the AOP come to ringside and fight instead of jumping him from behind the way they've been doing.
Seth, Akam, and Razar come to ringside but Seth tells AOP to wait outside. He entered the ring and tried to talk Kevin down from the ledge, even extending his arm for a handshake. Owens took a step back and hit Rollins with a superkick. The AOP hit the ring and the numbers game became too much as they again left Owens laying flat in the middle of the ring.
From the commentary table, Samoa Joe issued an ominous warning to the superstars in the locker room that things could only get worse if Seth and the AOP are allowed to run roughshod over everyone else.
"You let these guys tell the story, things are gonna get real dark around here."@SamoaJoe has seen guys like @WWERollins @Akam_WWE & @Rezar_WWE before… #RAW pic.twitter.com/vdgz3HQcvm

— WWE Universe (@WWEUniverse) December 24, 2019
WWE 24/7 Champion R-Truth was in Times Square looking for The Rock to help him light his Christmas tree. He asks a stranger for directions, but his 'invitation' is written in Japanese and the Rockefeller Christmas tree has lit for weeks now. Tozawa appears with a referee and rolls Truth up to become the new 24/7 Champion.
Bobby Lashley took on Cedric Alexander in singles competition. Midway through the match, Lana got in the ring and just stopped the action by telling Cedric not to hurt Lashley because they're getting married next week on Raw.
She suggested turning their contest into a Greco-Roman wrestling competition. This went on for about three minutes while the crowd reigned down heavy boos. The little momentum Alexander had was quickly snuffed out and he fell victim to a massive spear as Lashley picked up the victory.
A gleeful @LanaWWE looks on as her future husband @fightbobby steps into the ring with @CedricAlexander on #RAW just ONE WEEK before their wedding! pic.twitter.com/t8FW0Aee18

— WWE (@WWE) December 24, 2019
24/7 Champion Tozawa is still in New York City running from R-Truth and they run into a stranger at a food truck. They cause him to drop his food before they run away with Truth giving chase.
Drew McIntyre took on Zack Ryder (accompanied by Curt Hawkins) in a one-on-one match. The Scottish Psychopath made short of the Long Islander and put him down with a Claymore Kick to pick up the 1-2-3. After the match, he also attacked Hawkins, who came into the ring to check on his buddy. After laying him out with a Claymore, he grabbed the mic to say that 2020 is going to be his year.
Raw Women's Champion, 'The Man', Becky Lynch delivered an in-ring promo demanding that she be allowed to face Asuka and that the WWE brass isn't doing enough to make it happen.
The Women's Tag Team Champions, The Kabuki Warriors came out on the ramp and Asuka responded (in Japanese mostly) by suggesting that Becky put her Raw Women's Title on the line at Royal Rumble. There was no agreement reached or any official match set, but it was a step in that direction.
.@WWEAsuka wants to be #Asuka2Belts. #RAW pic.twitter.com/DqjsBo7Mng

— WWE (@WWE) December 24, 2019
Aleister Black defeated local jobber Deonn Rusman in pretty short order with a Black Mass. As he was going up the ramp, Buddy Murphy's music hit and they exchanged glances. Murphy took on and made short work of another local jobber named Joeasa. It was a handshake to begin the match, followed quickly by Murphy's Law and a three count.
After the match, Black rushed back into the ring and extended his hand to Murphy who brushed him off and attempted to leave the ring. Aleister Black had other plans, as he nailed him with a kick to the face before sitting down next to him, Indian style. The two face off in a rematch next week.
Ricochet took on Tony Nese in a fast-paced match between two of the companies' best high flyers. Ricochet would secure the victory with a Recoil.
Tozawa is still in New York City, this time hiding behind some Christmas trees. R-Truth discovers him, but Tozawa makes another escape with Truth in tow.
They air a video package for NXT Women's superstar Chelsea Green as she's set to make her Raw debut against Charlotte Flair. Green gave a spirited effort against the 10-time Women's champion, but a big boot followed by a Figure Eight would end her night.
Beyond proud of this woman…even though we both lost on #Raw tonight ?…I LOVE YOU @ImChelseaGreen! pic.twitter.com/REJIHBIhCv

— Matt Cardona (@ZackRyder) December 24, 2019
Back in NYC, Tozawa and Truth ran into Santa Claus, who convinced Truth to leave and nailed Tozawa with his gift bag to become the new 24/7 Champion.
The Viking Raiders and Randy Orton battled The OC in a six-man tag match. Orton had his knee wrapped to sell the beating The OC gave him. The end saw Karl Anderson eat an RKO while trying to stop Orton from giving AJ Styles a hanging DDT, which gave Styles time to recover and nail Orton with a springboard Phenomenal Forearm to pick up the victory.
Back in NYC, 24/7 Champion Santa Claus hopped a horse and carriage trying to escape R-Truth and Tozawa, who hopped a horse and carriage of their own as they continued to give chase.
Rowan talks to his caged 'thing' backstage before we go to the Street Profits. They talk about next week's Lashley/Lana wedding, but Dawkins is only concerned about the bachelor party.
Erick Rowan decimated Travis Horn, who tried to appease the redwood with candy canes. No Bueno, as he suffered a pair of Iron Claw Slams. Rowan then fed his mystery 'pet' candy canes.
Oh, right. He doesn't.#RAW @ERICKROWAN https://t.co/niNe0V4nsY pic.twitter.com/VgPumx3ihJ

— WWE Universe (@WWEUniverse) December 24, 2019
Back in NYC, R-Truth pins Santa Claus to take back the 24/7 title. Tozawa attempts to take the title back for himself before the referee tells them he's tired and it's too cold for this. He and Santa both leave. Truth and Tozawa leave together.
Rusev defeated No Way Jose with a Machka Kick before joining the Conga Line and partying with Jose's revelers.
I'm LOLing so hard @RusevBUL A.) You're so clearly not over ME that it's comical. You can't stop talking about ME. Just like the entire @WWEUniverse can't stop talking about ME! B.) My wedding day falls on #LANADAY ! C.) Thank ME for creating #RusevDay & making it relevant again https://t.co/47Oi0WgKYS

— CJ "Lana" Perry (@LanaWWE) December 24, 2019
Seth Rollins with AOP accompanying him to ringside prepared to challenge United States Champion Rey Mysterio for the title in a one-on-one contest. It was as action-packed as one might expect, but the action after the bell is what got the WWE Universe talking between Rollins and Mysterio. The AOP saved Rollins from a 619, causing a disqualification over Mysterio.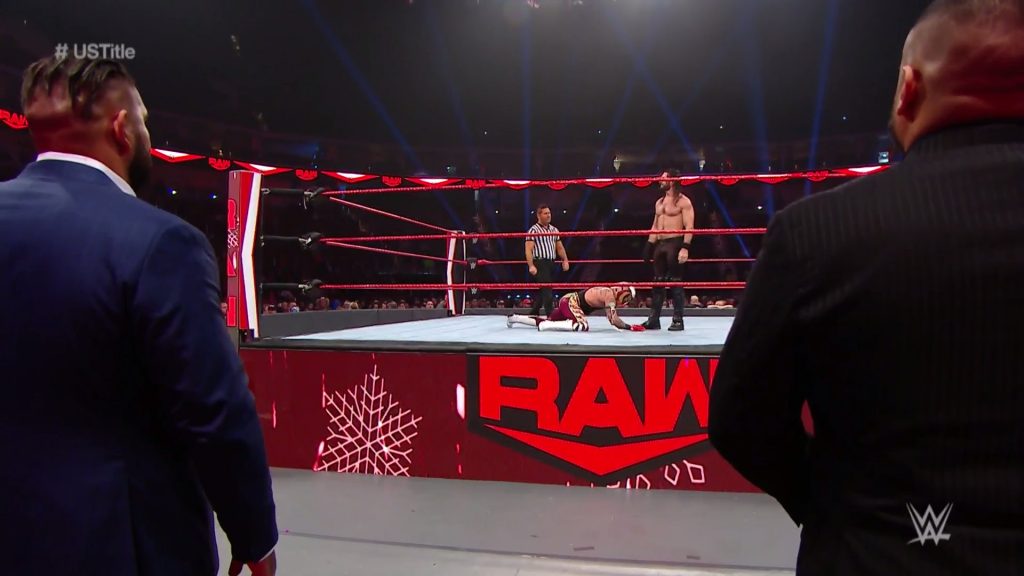 They beat him down mercilessly and drug him up the ramp. They approached the announce table, but Samoa Joe refused to move. Rollins tried to play peacemaker between Joe and the AOP but eventually turned them loose on him. Rollins then hit a Curb Stomp on Rey Mysterio and ordered AOP to put Samoa Joe through the announce table. Rollins and the AOP stood tall on the ramp as the show concluded.
.@Akam_WWE & @Rezar_WWE just sent @SamoaJoe CRASHING through the #RAW announce table! pic.twitter.com/3FOha2n21M

— WWE (@WWE) December 24, 2019