It's Monday Night Raw, and this is the final edition of Raw before WWE shakes things up in the draft. Which means next week, we'll be looking at all change on the WWE's two weekly broadcasts. We're on the highway to Hell in a Cell as well, and Raw has some stories boiling for sure. We have Kevin Owens hosting Bray Wyatt on the KO show and a massive six-man tag. There's also the issues between Seth Rollins and the Mysterio family that have been raging on for some time. Let's unpack all the goings-on on Raw in Advance for 10/5/20.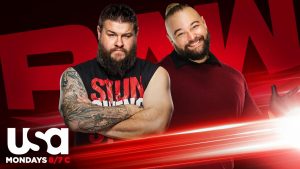 Bray Wyatt on the KO Show
Kevin Owens made a trip to SmackDown to get some answers from Alexa Bliss on what the deal has been since her encounter with the Fiend. Owens would have his meeting with The Fiend, who hit KO with the mandible claw before taking Bliss's hand. Kevin Owens has invited Bray Wyatt, the vessel of The Fiend, to appear on the KO show on Raw. Bray seems to change from the fun-loving host of the firefly funhouse to the monstrous Fiend. Owens will have questions for Bray Wyatt, but how much can Wyatt divulge? We've seen hints on the funhouse in the past that it seems Bray isn't quite fully aware of everything The Fiend does.
Kevin Owens is going to face off with the Fiend this Friday on SmackDown. Owens wants to have as much information on The Fiend as possible and who better to speak to than Bray. This is an excellent opportunity to add some layers to this developing story.
Raw in Advance For 10/5/20


Secrets Within The Mysterio Household
While nothings confirmed for this week, we will most likely here from Rollins or the Mysterio family as their saga continues. This rivalry has taken so many twists and turns throughout the year. Seth famously took the eye of Rey at Extreme Rules and beaten Dominic with kendo sticks. We'll have to see how things go since Rollins has revealed that Rey's daughter Aaliyah and Murphy are involved with each other. Murphy's reaction to Seth was less than appreciative of his actions. Dominic has vowed to end things with Seth when they next meet. There'll undoubtedly be follow up to this, and it could go in any direction.
Seth has been cold towards murphy since their loss to Rey and Dominic at Payback. He attacked Murphy following his steel cage match with Dominic and leaving Murphy out to dry in tag competition. There's a lot of possibilities but is The Monday Night Messiah making too many enemies for himself?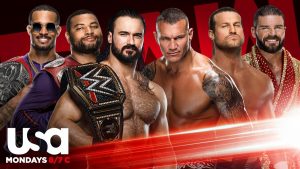 Raw in Advance for 10/5/20


Drew and Orton Meet In A Six-Man Tag 
Randy Orton looked inspired as he attacked the legends who involved themselves in his match at Clash of Champions last week. Randy is persisting on his quest to kill the legends of WWE and to recapture the WWE championship. Drew meanwhile last week beat a returning Bobby Roode, who has quickly realigned himself with Dolph Ziggler. Dolph also has a history with the WWE champion, will team with Roode and Orton to take on Drew and the Street Profits.
This story continues between Drew and Orton. They've been at it for months now. Orton's most recent attack will not go unanswered by the champion. It'll be interesting to see what transpires between these two tonight and whether it may have implications going into Hell in A Cell.
****
Be sure to stay tuned to the Pro Wrestling Post for this and additional stories from the wrestling world. Readers can rely on Pro Wrestling Post to be their daily source for all things inside the squared circle. As a result, readers can expect daily news, history, and so much more. Please visit WWE's official website here for any upcoming news and notes.