Art is the most subjective thing there is. Whether it appeals to you or repulses you, true art should illicit an emotion. What constitutes as art varies from person to person. While people may be fake, emotions are not. Prince Iaukea learned that art is better when you are the artist.
Michael Hayner was born in Honolulu, Hawaii, in August 1964. He spent several years in the military after finishing his education. He was already a thirty-year-old family man when he decided to chase his childhood dream.
He was trained as a wrestler by Dean Malenko. He helped Hayner to get his foot in the door at World Championship Wrestling (WCW). The company was unsure about him due to his age and inexperience. They initially checked him out because they had so much respect for Malenko's opinion.
Then one of the agents learned about Hayner's military background. They felt that Hayner had earned an opportunity through his service. They also suspected he would be the perfect fit for a new character they had planned.
They considered giving Sgt. Craig Pittman a lackey. Hayner made his first appearance as that sidekick at the Fall Brawl pay-per-view in 1996. He portrayed a Marine private who distracted Cobra at the start of his match. This allowed for Pittman (a genuine Marine) to abseil from the ceiling and sneak into the ring behind Cobra undetected. Hayner had played the simple role to perfection, even though management decided not to keep the character going.
Hayner was given another shot at the next set of television tapings. One of them was a tag team match against Kevin Sullivan and Chris Benoit. Sullivan was greatly impressed by Hayner's backstage attitude and professionalism. The booker had Hayner signed to a contract. Then Sullivan created a new character for him.
Prince Iaukea – The New Power Generation Superstar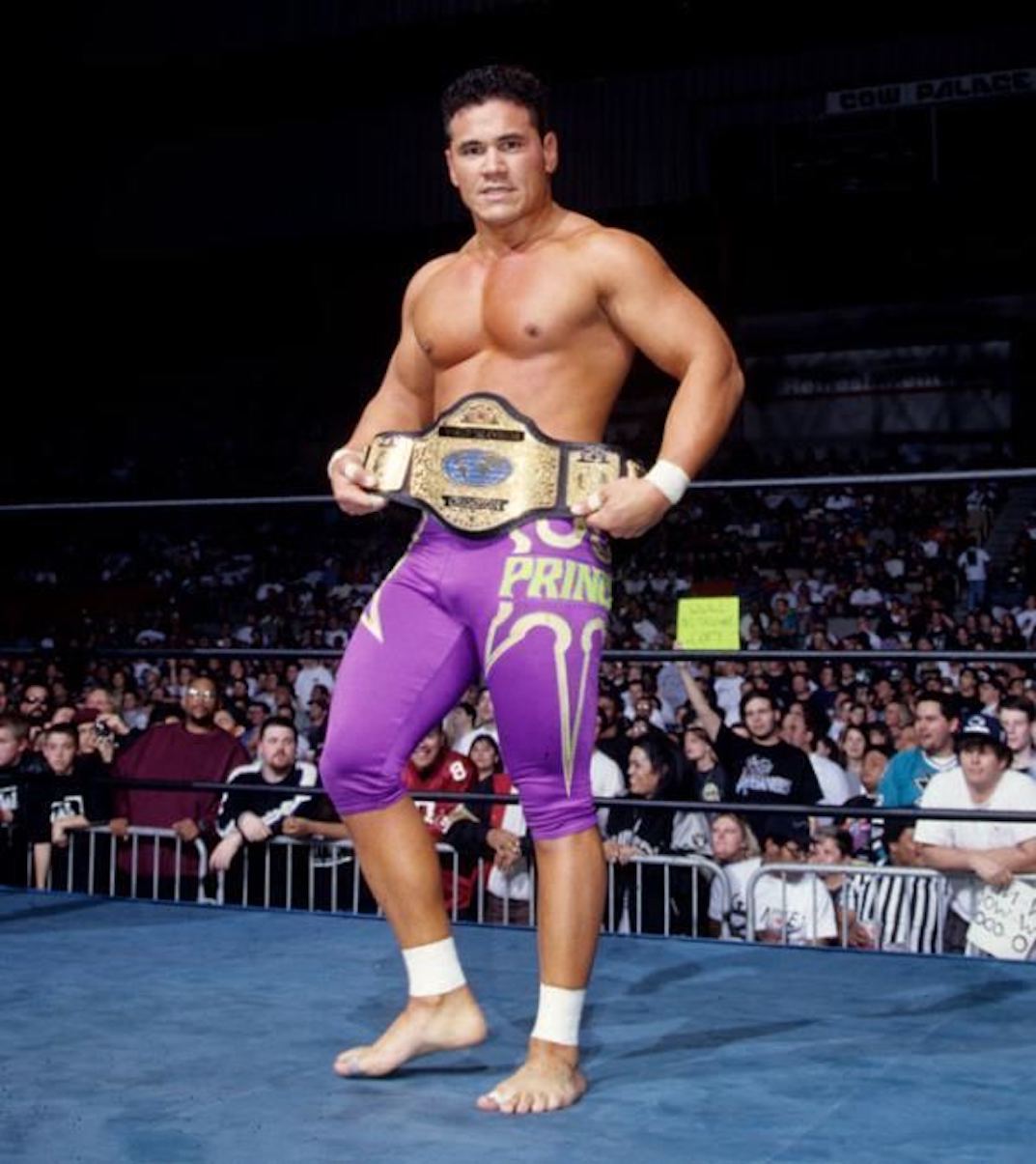 "Prince Iaukea" was the (fictional) son of King Curtis Iaukea. Curtis was arguably the most famous wrestler from Honolulu. He was named after his grandfather, a consort to the last King and Queen of the Kingdom of Hawai'i. Curtis began his career as the Republic of Hawaii was transitioning into a U.S. state.
He mainly competed along the Pacific coastline and in Australia. He spent the last ten years of his career as a manager to heel stables. Sullivan would be his longest-serving client and student. Curtis developed a cult leader character that Sullivan would adapt for himself. He would follow his protégé to other promotions, including WCW. Sullivan treated Curtis as the mastermind behind his own genius, both onscreen and in the office.
Sullivan intended for the Prince Iaukea character to be a tribute to his long-time friend and mentor. He was somehow unaware that Curtis' actual son Rocky was already competing with the same ring name. Rocky and Hayner often get confused, despite not looking alike or competing in the same promotions. Curtis still gave his blessing to Hayner's character. He told Hayner that he liked his work, and that he was family.
Iaukea made his official debut on WCW Saturday Night on June 1, 1996. His ring gear was loosely based on the same gear that other Samoan wrestlers wore, such as "High Chief" Peter Maivia and the Wild Samoans. His braided hair, bright colours, and the lei he wore around his neck signified that he was from Hawaii. His official debut saw him score a victory over The Gambler.
He soon had his first appearance on Monday Nitro. He was beaten by Sullivan. Commentator Tony Schivone was not familiar with King Curtis Iaukea. He repeatedly mispronounced his last name (the "au" is supposed to sound like "oh"). Management decided to run with this, and quickly dropped all references to Prince being related to King Curtis.
He was booked differently according to the type of show he was on. For Saturday Night tapings and untelevised events, he was a popular babyface who beat enhancement talents and rookies. When he featured on Nitro, he typically lost to more established stars. He impressed agents with his fast-paced grappling techniques and quickness to adapt.
Iaukea observed that many of his opponents used a high-flying style and worked some of it into his own. This was not an easy task when you compete barefoot. He had no protection for his feet when he jumped unto the steel ring ropes or made landings. He continued to be mentored by Malenko, Benoit, and Eddie Guerrero. Sullivan held off on pushing Iaukea until he had gained more experience.
His moment came suddenly on February 17, 1997. He defeated Lord Steven Regal for the WCW World Television Championship on Nitro. It was considered an upset because Iaukea did not appear to be in contention for any title, and Regal was due to defend it against Rey Mysterio, Jr. at SuperBrawl VII that weekend.
The commentators had been promoting the PPV match before and during Iaukea's shot. Their tone implied that they suspected Iaukea's title win was an error. They were even less sure when other babyfaces came out to celebrate with Iaukea.
The timing created speculation that WCW were trying to turn Iaukea into one of the World Wrestling Federation's newest stars. Nobody today needs an explanation about who Dwayne "The Rock" Johnson is. He made his WWF debut in November the year before. He won the Intercontinental Championship on February 13 at a Monday Night Raw taping.
WCW were definitely aware of this, as they had been scouting all Raw tapings. Iaukea's title win happened live at almost the same time The Rock's win was broadcast. The fans drew more parallels, including their look and ethnicity. Former WCW President Eric Bischoff still denies that they were trying to make Iaukea more like The Rock.
Iaukea successfully defended the TV title at SuperBrawl VII, and then at almost every televised event for the next few months. While fighting a broad range of challengers, his main rival was Regal. The Englishman seemed happy to walk away from their clashes without the title provided Iaukea was unable to walk away.
Regal "injured" Iaukea just before a defense against Ultimo Dragon. The advantage allowed the Japanese sensation to win quickly and easily. Critics theorized that management had given up on Iaukea. Dragon was a transitional champion who passed the belt unto Regal. Iaukea failed to beat either man in subsequent rematches.
"We're taking a guy that, quite clearly, anybody involved with the process said, 'Look, he's got a good look. He's a good kid. We see potential in him. Let's try to make it work.' Was he that bad that he didn't deserve an opportunity to learn from somebody like Steven Regal?
Steven Regal was never a breakout top star either in WWF, or WCW, or anywhere else. He just happens to be one of the very best there is at what he does. It just never took him to that top spot kind of a position. But in terms of a teacher.
Somebody that you could put into a ring with somebody that maybe has some potential, and groom him in front of a live crowd, under the pressure of a pay-per-view. Because let's face it, you can't learn this s**t in a f**king gym."
– Eric Bischoff defends putting Iaukea in a title feud with Lord Steven Regal.
He was part of a delegation sent to represent WCW in New Japan Pro Wrestling. This was his first time in Japan, despite confusion between himself and Rocky Iaukea. He competed mainly in the Junior Heavyweight division against local talents. Even though he lost most of his matches, he was still booked to look strong.
He quickly won over booker Riki Choshu with his ring work and attitude. Iaukea hoped that the positive reports from Japan would reinvigorate his stagnating WCW career. He would have to be patient for a few more months.
Malenko engaged in a feud with Cruiserweight Champion Chris Jericho. As one of his trainees, Iaukea took Malenko's place when he took some time off. Iaukea won almost every one of his matches during this period. The only time he lost was when the title was on the line.
Jericho would have to go to greater lengths to retain against Iaukea each time. His ultimate victory seemed to be inevitable, yet it would not happen. Malenko returned to settle the score with Jericho. Meanwhile, Iaukea plummeted down to the bottom of the roster.
Iaukea was taken off the road for several months. When he returned, he was relegated to being an enhancement talent on WCW's lesser shows. There had been rumors that Iaukea had engaged in an affair with a high-level executive. Management was particularly sensitive about this after the Sullivan-Benoit debacle a year earlier.
The two veterans had been in a storyline where Benoit was in an affair with Sullivan's actual wife. The affair would become real, and she divorced Sullivan to be with Benoit. Hayner had always denied the allegations made against him. As he was a part of Benoit's group backstage, he was not given the benefit of the doubt.
His ring work began to deteriorate as he struggled to get back on good terms with management. In one unfortunate incident, he almost ended Alex Wright's career. The German was in line for a run with the United States Championship. He was supposed to collect a series of wins before claiming the gold.
He had been trying to hide a concussion at the time. He was afraid that if anyone found out about it, he would be made to take time off and would miss his opportunity. Iaukea accidentally caught Wright in the back of the head with a stiff kick. Wright managed to finish the match despite quickly losing his eyesight.
"During the match, he gave me an enziguri kick to the back of the head, and then blood vessel popped. During the match, my vision went away, away, away. I kept wrestling. I finished the match. When I went through the entrance curtain, I was totally blind.
They rushed me to the emergency hospital. It was one of the hardest calls. To tell my wife I am blind and don't know how future will be now."
– Alex Wright on the injury that caused him to become temporarily blind.
Wright was fully blind by the time he reached the curtain. Agents took him to the emergency room. Scans revealed he had suffered brain trauma and swelling. He regained his vision the next day, but was confined to his head perfectly still for the next week. Several doctors insisted his in-ring career was over.
He kept asking for second opinions until he found one that gave him a sliver of hope. Before he could return to the ring, WCW made him sign new contract. It forced him to acknowledge he risked dying from any bump he took. He returned to television as Berlyn, a character he had created himself.
Fans did not know about his career-threatening injury and assumed he had taken time off to prepare his new character. Berlyn served as a perfect explanation for his shaved head and more mat-based style. It is possible that Iaukea may not have known about Wright's injury. Either way, management were skeptical about Iaukea's ability to work safely.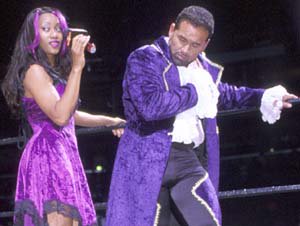 The moment that many believe killed WCW was one that saved Iaukea's career. WCW poached the creative team that had helped the WWF beat them in the ratings. Vince Russo based his original characters on how the wrestler looked to him, or on some other show he enjoyed. He did not get the Prince Iaukea character. He then repackaged him as "The Artist formerly known as Prince Iaukea".
Prince was one of the biggest-selling musical artists of the 1980s. In 1992, he became obsessed with a new concept. He tried to define it with a symbol he created himself. This symbol had no name or pronunciation, making it impossible to say. When anybody asked him about this concept, he either referred to this symbol or gave vague answers that only made sense to himself.
He tried to adopt this symbol as his own name. His record label dispatched floppy discs with a custom font so that media outlets could type his new name. Many simply referred to him as "The Artist formerly known as Prince" (or "TAFKA Prince" to save space). Years went by before he finally accepted that his new concept and direction were not resonating with the public.
The concept behind "The Artist formerly known as Prince Iaukea" was much easier to explain. He was based on Prince from before his bizarre concept change. Critics still blast this character as being one of the worst ideas WCW had during a period of particularly bad ideas. Iaukea had been given a new look, outfit, and persona.
His new image was hyped through a series of short videos. He had new theme music and his entrance now consisted of lighting effects, ticker tape, and props. The company was putting more focus into Iaukea than they ever had before. Not only was Iaukea about to start a major push, but the eighteen months of misery were finally over.
The first look at TAFKAPI showed him dressed as Prince in a room adorned with velvet. It was lit with candles and purple lighting. He had a white dove perched on his finger. He said nothing and let the imagery and theme music do the talking for him. The purple lighting and candles were there when he made his ring entrances.
Purple ticker tape descended from above. For those who didn't recognize the theme song being similar to 'Purple Rain', the commentators made sure to point out the Prince references.
The most crucial part of the TAFKAPI was his muse, Paisley. Sharmell Sullivan was a former Miss Black America. After years of being a dancer for various musical artists, including James Brown, she became a Nitro Girl. As Shadow, she was one of the most popular Girls and featured front and center on Nitro's opening sequence.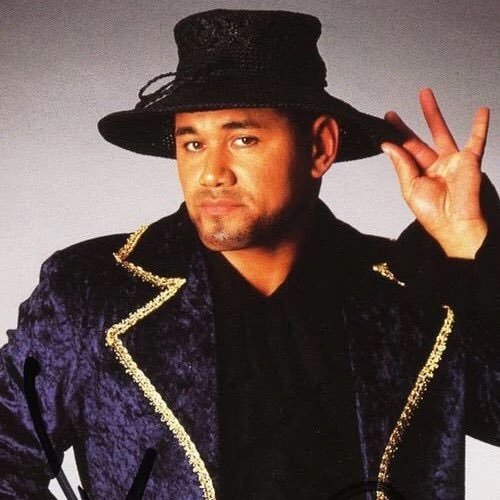 Sharmell was unsure about becoming a manager but was open to the experience. As Paisley, she was the object of TAFKAPI's desire, and he was hers. Only she alone was allowed the privilege of hearing his voice.
Iaukea was a heel for the first time in his career. He became more aggressive in the ring, and cheated to win. He played heavily into the "artist" aspect of his character. Paisley would prepare fans in advance for the creative genius they were about to witness. He added extra flourishes to his moves. He paused frequently to admire his own handiwork.
He got into the heads of opponents and fans with his almost bipolar behaviour. One moment he would flirt with his critic, then the next he may come at them with a fast fury. He took the opponent's attempts to fight back as a personal criticism of his art and responded more violently.
Paisley would often help the commentators explain the deeper levels to his work. Should it appear that he was in trouble, his muse would provide inspiration in the form of a distraction.
"I was told on a Friday night that on Monday, that following Monday, I going to be this character 'Paisley'. I really didn't have a lot of time to prepare. But I am a huge Prince fan. That kinda came easily to me. I would just draw on what I feel Prince would do. That came easy."
– Sharmell Sullivan on how she portrayed Paisley
TAFKAPI won a tournament to win the vacant Cruiserweight Championship at SuperBrawl 2000. The victory was bittersweet. The title, and much of WCW's content, had been decimated by the poor creative choices of Russo and Ed Ferrera. Madusa was more than capable of being a great champion even if she was a woman in a men's division.
She won the title when her onscreen lover lay down for her, and she lay on top. She then lost the belt to Oklahoma, an insulting parody of WWF commentator Jim Ross portrayed by Ferrera himself. Oklahoma would vacate the title due to him being above the maximum weight limit to compete in the division.
These were jokes that insinuated that Ross disliked women wrestlers and was overweight. Both Russo and Ferrera would be demoted and briefly fired for the direction the company product had taken. TAFKAPI's title win meant that he was being trusted to bring back legitimacy to the title.
To make things worse, he would have to do it without guidance from his support system. Kevin Sullivan was reinstated as booker. Benoit, Malenko, and Guerrero became concerned about the directions their careers would take while he was in power. To prove that there was no bad blood, Benoit was booked to win the World Heavyweight Championship in the main event of SuperBrawl 2000. This was not enough, and they asked for their release the next day along with Perry Saturn. Now that they were gone, TAFKAPI could no longer go to them for guidance.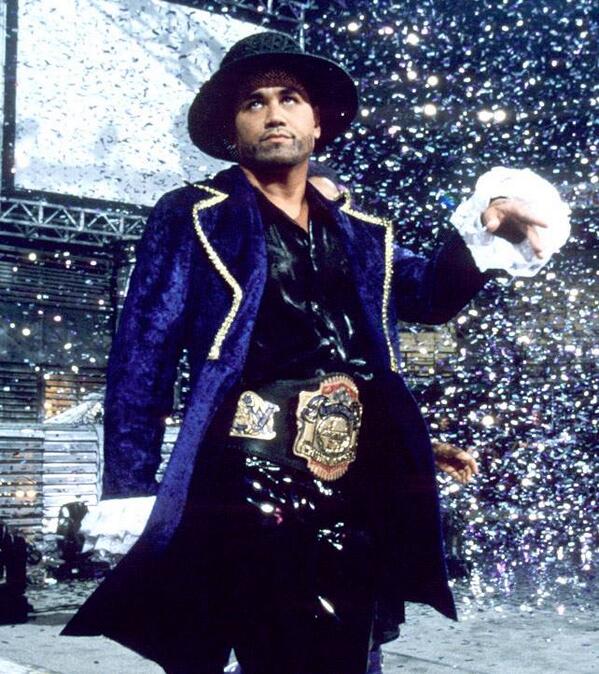 His ring name was shortened to "The Artist" for simplicity. He and Paisley both became more methodical. Paisley maintained that The Artist controlled the Cruiserweight division while he was champion. He studied the matches of Cruiserweight's more intently to learn their weaknesses and flaws.
He also tried to influence the outcome of matches to ensure he only defended the title against opponents of his choosing. The couple even became more creative in how they tried to win matches, although this sometimes became their downfall. He lost the title to Billy Kidman, but regained it the next day.
Bischoff and Russo were both reinstated and put in charge of WCW. The duo "rebooted" the company on April 10, 2000. Part of the relaunch involved vacating every active championship. All but one of them would be won by members or associates of the New Blood stable. The Artist was featured in a six-way match to try and reclaim his gold.
He was pinned by Chris Candido. He and Paisley would feud with Candido and Tammy Lynn Sytch. When this rivalry ended, Paisley began paying more attention to Kwee-Wee. This made The Artist jealous and unfocused. This also took away a vital component in The Artist's character. He wrestled in street clothes for the rest of his appearances. He had dropped all aspects of the gimmick, apart from the name.
"I loved Prince Iaukea's character. I don't know who came up with it. If it was Vince Russo, it was probably the only good idea he's ever had. If it was somebody else, then hats off them. But I loved his character, and he did it very well."
– Eric Bischoff praises the TAFKAPI character.
Throughout August, WCW tried to save money by offloading a large portion of their talent roster. This was evident on television due to the heavy repetition of matches on all their programming with the performers that were left. Those who had been let go had two realistic options; try their luck on the indy circuit while they still had recognition, or retire. Hayner was faced with this choice and chose the former. One thing that held him back was that his former employers owned the rights to the characters that had made him famous.
In early 2001, the WWE acquired the rights to both WCW and Extreme Championship Wrestling within the same fortnight. Two of the three largest televised companies in North America were suddenly gone. Businessman Kevin Harrington launched X Wrestling Federation with Jimmy Hart.
His intention was to form a new WCW to compete against the WWF. They relied very heavily on established names who were not signed with their main competition. Hayner was brought in as part of their Cruiserweight division. He competed as "The Tongan Prince", a character that was similar to his former Prince Iaukea gimmick.
XWF filmed ten episodes of their television show in the same sound studio that was used for WCW Worldwide Wrestling. None of these episodes were ever broadcast due to a lack of a television deal. Many of the bigger names that had appeared on the shows had since signed with the WWF and were no longer available.
XWF then tried to hold a series of untelevised events around Florida and Texas. Most of them had to be cancelled due to poor sales. The company closed for the first time in 2002. At that point, Hayner retired. He used his military background to become a security contractor overseas.
Hayner tried to console himself with the notion that he was putting his family first. His kids were wrestling fans, and his soon seemed determined to become a wrestler too. Hayner was worried that he would face the hardships and politics that he had to endure. At the same time, all this talk made him long to be a part of wrestling again. He looked up his old ring name and discovered that the WWE had let the ownership lapse (they had acquired it as part of the purchase of WCW). He snapped it up. From there, it seemed like a waste to not make use of it.
Prince Iaukea founded 3SX Entertainment in 2007. It stood for 'Samoan Strong Style Xtreme Wrestling and Entertainment'. His vision was to create meaningful entertainment and opportunities for Samoan youth. He wanted to include a wrestling school and mixed martial arts dojo.
Hayner believed that these things would teach young people discipline and encourage them to stay away from drugs and crime. He also wanted his promotion to give a platform to wrestlers based in American Samoa.
Making his dream work meant coming out of retirement. 3SX were dependent on having a partnership with a larger promotion. He made a deal with Pro Wrestling Fusion based in Florida. They could not match WCW in terms of pay or audience reach. But they offered him much greater freedom with his own career.
Should he ever have professional disagreements with management, he could leave any time he wanted. He also had more control over his schedule. This gave him more time to spend with his family. This became crucial as his own son entered the business too.
Iaukea won the NWA Florida Junior Heavyweight Championship in November 2008. He held it for six months before turning his attention to the PWF Heavyweight Championship. He would not win the title, but he would win the top titles in other indy promotions around Florida. He and his son, who competes as Nick Primo, continue to work with PWF and other local companies.
Art is subjective. Prince Iaukea could not be happy with how his life looked until he took control of it. While he will always have critics, their opinions are nothing more than that. He has seen the work he has put into his art. Slowly but surely, he continues to turn his life into a masterpiece.