wXw Germany has been having a memorable calendar year with some of the most memorable matches in the industry.  wXw consistently is producing some of the most exciting new names in wrestling today.  With their star on the rise, one would wonder how this company could up their game from what they have already delivered so far in 2019?  Well, our questions and also our prayers are going to be answered with the line up for wXw as they present Superstars of Wrestling 2019 which will be live on Saturday, June 1st.  Not only are the best of the best from wXw on the card, but there are also some exciting guest appearances on this card as well.
Photo / www.wxw-wrestling.com
Joey Janela is getting an opportunity at the wXw Unified World Wrestling Champion Bobby Gunns.  Joey Janela needs absolutely no introduction as anyone who follows wrestling already is quite familiar with the work of this exciting wrestler.  Wrestling fans may not yet be quite as familiar with the current wXw Unified World Wrestling Champion Bobby Gunns but if the excitement of an encounter with Joey Janela draws eyes here then soon the world will remember who Bobby Gunns is.  Bobby Gunns has been holding strong with outstanding performances which make him the perfect fit as the top dog is wXw today.  Joey Janela's resume speaks for itself though and he will have every intent on adding the wXw Unified World Wrestling Championship to his resume.  This match should hopefully bring some new eyes to the wXw product, this company time after time is putting out some of the most exciting wrestling going on today.  Expect a very exciting match up here between these two superstars of wrestling.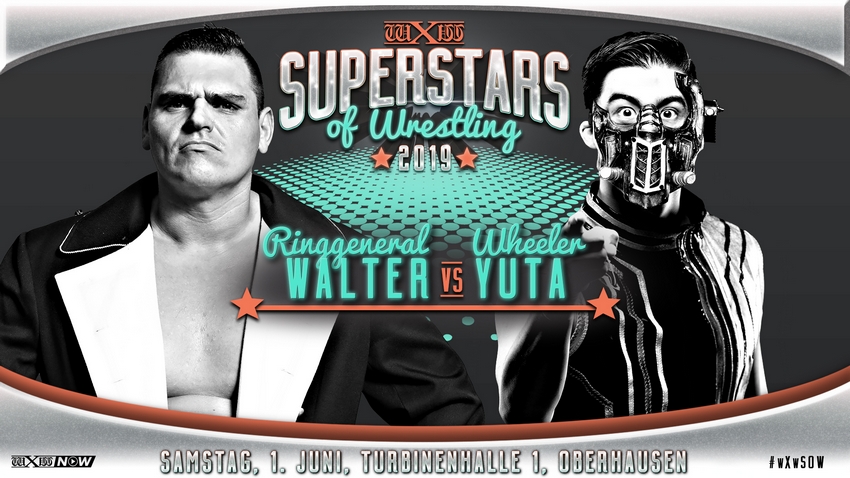 Photo / www.wxw-wrestling.com
Speaking of the current calendar year has there been a more imposing and dominant superstar then Walter?  Walter has been tearing it up everywhere he goes and the wXw roster has had to encounter some grueling matches with this behemoth of a man. Wheeler Yuta is not a superstar that is going to take Walter lightly, you can absolutely guarantee that Yuta has studies Walter and prepared for everything that is in store for him on June 1st. One thing is for certain is wrestling fans are going to be treated to one memorable encounter.
Photo / www.wxw-wrestling.com
When it comes to guest appearances it is without a doubt that Ken Shamrock ranks up there with one that peaks the imagination.  If you grew up as someone tuning in to the Attitude Era of WWE then you may remember Ken Shamrock as an in-ring competitor.  If you remember prior to his run with WWE Ken Shamrock was dubbed the World's Most Dangerous Man because of his stellar run inside the octagon in the early days of the UFC.  Ken Shamrock made a remarkable transition from the octagon to professional wrestling and the opportunity to see what he still can do is quite exciting.  Veit Muller is not going to make this encounter easy for Shamrock as he is well aware of just how dangerous his opponent can be.  Veit Muller definitely has what it takes to go toe to toe with any man that wears the moniker of the most dangerous, so Shamrock will want to be very cautious in this one on one encounter.  No matter who comes out on top this match is going to be everything and more.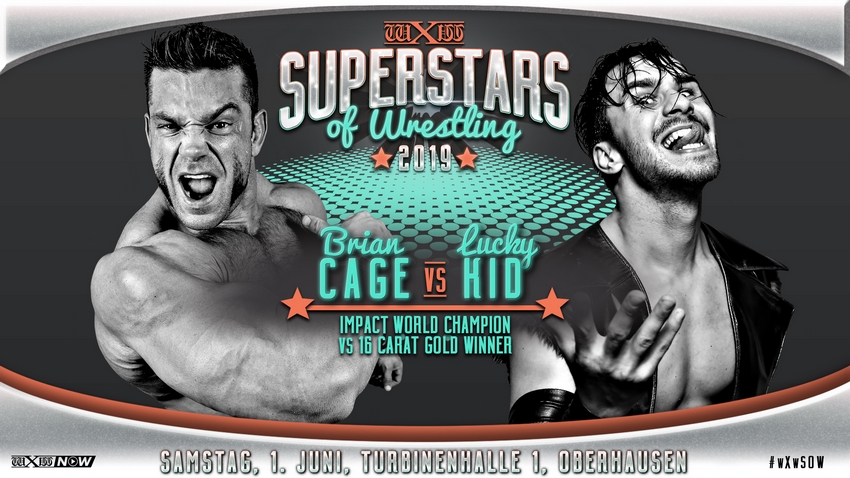 Photo / www.wxw-wrestling.com
The big names on this card just continue to grow and this match is one that any wrestling fan should pay very close attention to.  Brian Cage the Impact World Champion has been a star on the rise for quite some time.  Brian Cage continues to wow audiences around the world and recently turned heads when he came to the new Impact World Champion.  It is a proven fact that superstars who has won the 16 Carat Gold tournament have gone on to become some big names within the industry.  Lucky Kid will hope that he can follow in the footsteps of other previous winners of the 16 Carat Gold Tournament and reach the top of the mountain.  Lucky Kid is no stranger to being the smaller competitor in the ring with a big man, in fact, it was Walter who fell victim to a superstar who has the will and tenacity to continue to push himself to the limits and beyond to stand out as the next great name in the world of professional wrestling.  On June 1st the clash between these two men is going to be memorable and for all of the right reasons.  Brian Cage is hitting all new strides with his career and only seems to get stronger with each and every opponent that he encounters, but Lucky Kid is making the most of every single opportunity that is placed in front of him.  Brian Cage vs Lucky Kid has all the makings of an instant classic and a show-stealing matchup.
Photo / www.wxw-wrestling.com
wXw Women's Champion Toni Storm is really going to have her work cut out for her as she defends her championship in a 4-way dance.  Killer Kelly, Amale Winchester, and Valkyrie are all very strong contenders for the wXw Women's Championship.  Toni Storm may be one of the biggest names in women's wrestling right now but her opponents for June 1st would love to make their name at the expense of the current wXw Women's Champion.
Photo / www.wxw-wrestling.com
In one of two 6 man tag matches on the card, Absolute Andy and Jay FK will go up against Aussie Open and their partner for the night Hardcore Holly. This special six-man tag match is sure to showcase a diverse set of skills and experience both past and present for wXw Germany as they showcase the upcoming Superstars of Wrestling 2019 show.
Photo / www.wxw-wrestling.com
Also in 6 man tag team action Pace, Leon, and Avalanche will take on Crown and Sitoci.
wXw already boasts one of the strongest overall independent wrestling rosters in the entire world.  Take all of these top names that the company has already produced and then add them to a card with other top independent talent and returning wrestlers and you have yourself one hell of a night to look forward to.  wXw Superstars of Wrestling is going to be a night of action with something for every kind of wrestling fan on the card.  If you have not seen the work of wXw before then you should give their streaming service wXw NOW a try so you can catch up on all of the action from wXw Germany as they present Superstars of Wrestling 2019.