wXw Germany presents Road To Fan on September 7th.  Fan is the show where the fans will get their input into what goes down on that night, including a live voting for a match stipulation.  On the way to that event though there will be a  night of incredible action to prepare for this big event on the wrestling calendar.  Road To Fan has a solid line up of matches so let us break down what we can expect to see on this card. As it stands there are a few matches reported but with any event more additions or subtractions to the card appear to be very much in the cards as wXw Germany is prepared to bring out some of the promotions best to showcase their talents.
Holidead vs Killer Kelly vs Faye Jackson
Faye Jackson is making her return to wXw Germany for Road To Fan and also Fan 2019 as well.  In this encounter, she has definitely got her work cut out for her.  Holidead and Killer Kelly are both top names in the women's division and all three women are going to bring some of the best wrestling you can see to this matchup.  Each one of these women would be hard pressed not to be a pick to walk away as the winner of this match up. Triple threat matches always delivery nonstop nail-biting action that fans love to sink their teeth in to.  This match should bring that and so much more, so expect a memorable match from three of the best. Fans are best not to sleep on Holidead that is world traveled and prepared to do everything in her power to ensure that she walks out on top.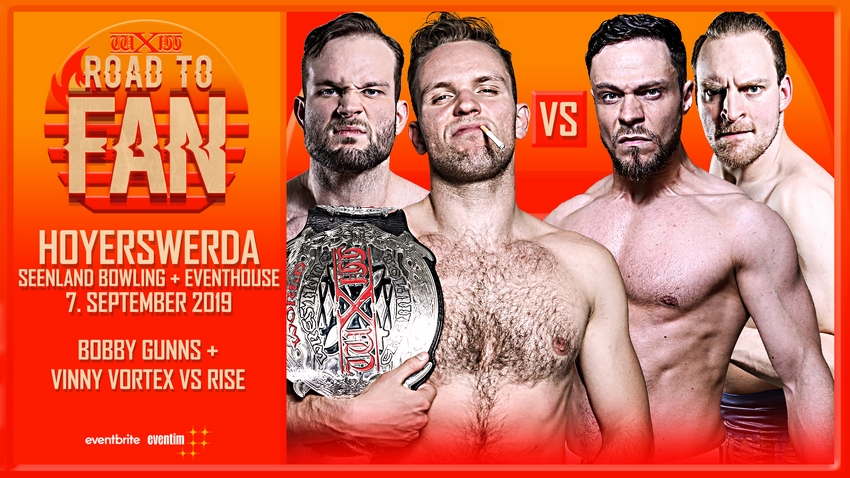 Bobby Gunns & Vinny Vortex vs RISE
RISE are going to find themselves in the fight of their life at Road To Fan.  Vinny Vortex in his own right is going to be difficult company inside the squared circle, but then you have the wXw Unified World Wrestling Champion Bobby Gunns that you also have to contend with. Gunns certainty walking into this match is could prove to be detrimental to his partner in this tag team matchup.  Bobby Gunns has been owning the squared circle in 2019 and posses quite a threat to any and all opponents that he steps in the ring with.  RISE will be looking to use their tandem teamwork in order to come out victorious over their opponents. Who amongst them are likely to be the one's to walk out victorious in this match up?
Emil Sitoci vs Veit Muller
Veit Muller is in quite the interesting position here with this match.  First off he has got himself in the ring with Emil Sitoci the wXw Shotgun Champion.  Emil Sitoci is a master inside the ropes and poses a serious threat to the momentum of Veit Muller.  Veit Muller really needs a win here as this match leads into his upcoming wXw Unified World Wrestling Championship match.  A win here certainly would give Veit Muller all the momentum in the world going into his championship match, but a loss here could be detrimental to his psyche. Will Muller be able take the title away from Sitoci or will the current Shotgun champion remain the loaded gun he is often showcased as?
Avalance vs Jurn Simmons
Avalance and Jurn Simmons are going to lock up and provide a hard-hitting encounter to really get the crowd roaring with excitement.  This simply is a contest between two men who know how to bring the pain and that is exactly what they will do on the to Fan 2019. This event appears to be a prelude of what is still to come for the company with the upcoming Road to Fan 2019 happening only a week removed from this match up.
The Road To Fan 2019 is the build-up on the way to one of the most exciting fan experiences in the wrestling community this year.  wXw, continue to grow off the back of their continued success with each and every single performance that they put on.  The popularity of the product is a true credit to all of the wrestlers who grace a wXw squared circle.  If you are one of the few who have yet to check out a wXw show then you need to get on top of it right now.  Go get yourself caught up on all of the amazing, jaw-dropping, wXw wrestling action and prepare yourself for travel down the Road to Fan 2019.